We hoped that visiting Myanmar (aka Burma) just five years after the country opened up for tourism would allow us to experience the perfect travel balance: early enough so the country would not yet be overrun by other tourists, but late enough for sufficient infrastructure to develop to allow for a stay of relative comfort. Thanks to our cab driver (aka Columbo), we didn't have to wait long to find out whether we had the timing right. Columbo welcomed us from the Yangon International Airport into his immaculate cab with a selection of mints, candy, and hand wipes. En route to our hotel, he asked us if we would like to charge any of our devices (he could accommodate up to three) or perhaps have a rest after our flight with one of the two travel neck pillows he had in stock. And what did this five-star, forty-minute cab ride cost us? 6,000 kyat (or $4.68).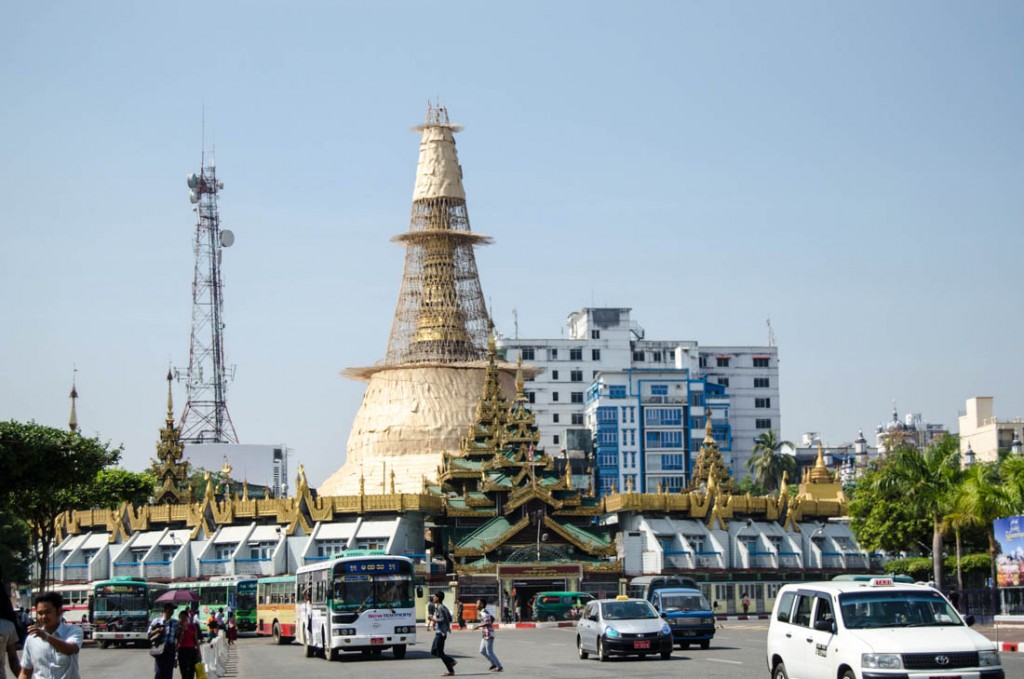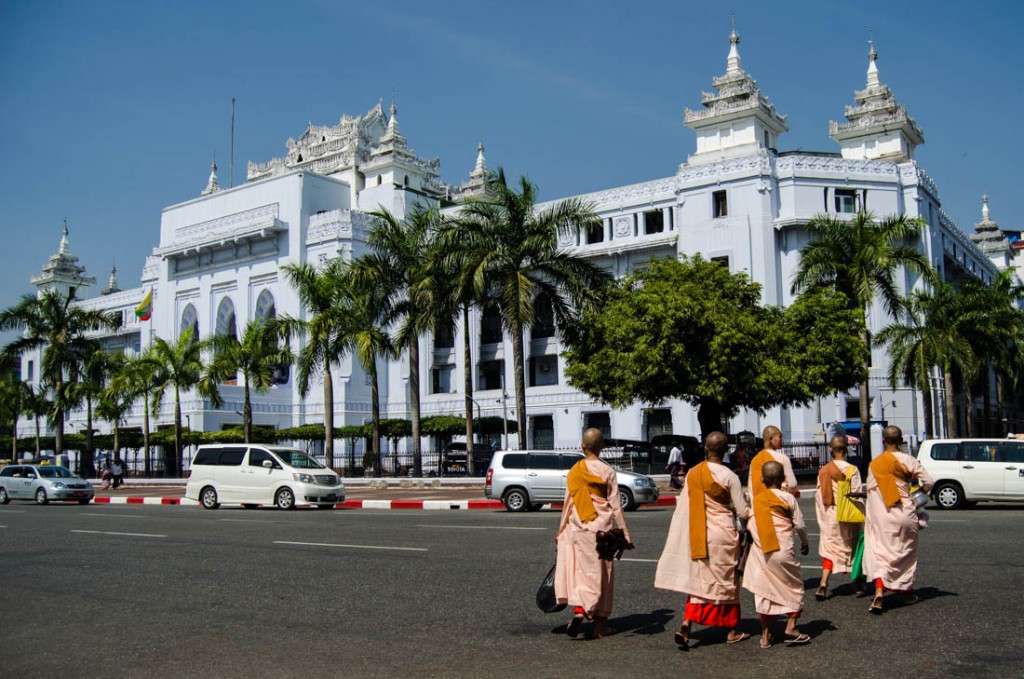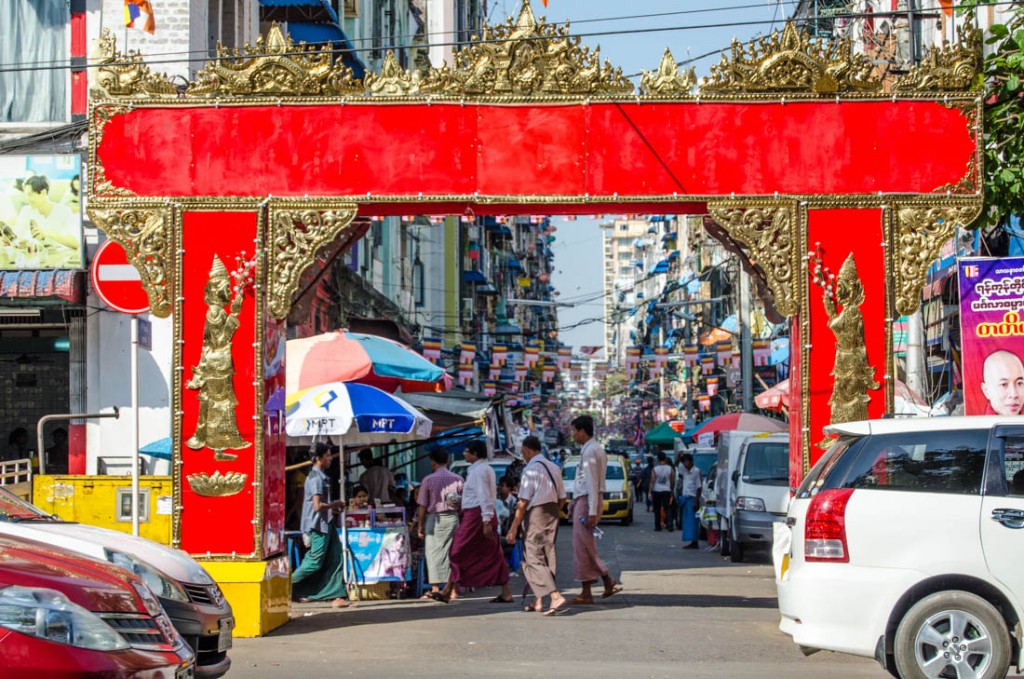 Before I dive into other similarly wonderful experiences like this that we had in Burma, let me try to distill this country's tumultuous recent history into a few key points: Brits rule Burma for about 120 years, Aung San helps negotiate Burma's independence after WWII, Aung San assassinated by political rivals in 1947, coup d'état in 1962 and formation of a military junta, some seriously rough times incite widespread protests that are brutally suppressed over the years, junta changes Burma's name to Myanmar (and the former capital of Rangoon becomes Yangon), Aung San Suu Kyi (daughter of Aung San) held under house arrest for 15 years, sanctions and internal pressure eventually cause junta to formally disband in 2011. Nowadays everything is not perfect (many military officers are now party leaders in the new government), but things are generally moving towards the better.
This background is important to understanding modern-day Myanmar and appreciate why this enchanting country remained closed off for so long. It's also important for deciding what to call it. Many political opposition groups and Western countries continue to refer to it as Burma as a protest against the legitimacy of the ruling military government that changed its name. The United States still officially refers to the country as Burma, though President Obama has taken to using Myanmar as well during state visits. Chris and I have been using both names interchangeably on our trip.
This history is immediately apparent when strolling the streets of Yangon. There are dozens of grand old colonial buildings that are now crumbling after decades of neglect. Families pack into these dilapidated buildings, and tea shops set out plastic stools under the canopy of satellites and pirated power lines. Burmese men look incredibly elegant walking around in traditional longyis, which are sheets of fabric, usually plaid, tied much like a sarong. And Burmese women can often be found with a white paste made from tree bark—called thanaka—applied to their faces, which acts as both a cosmetic and a sun protectant.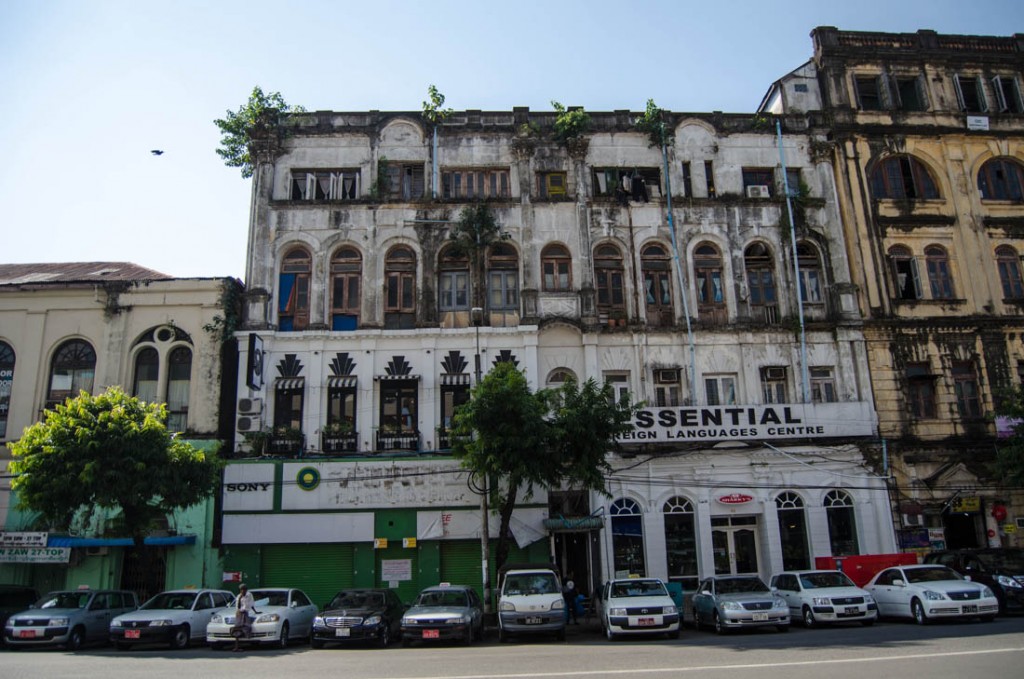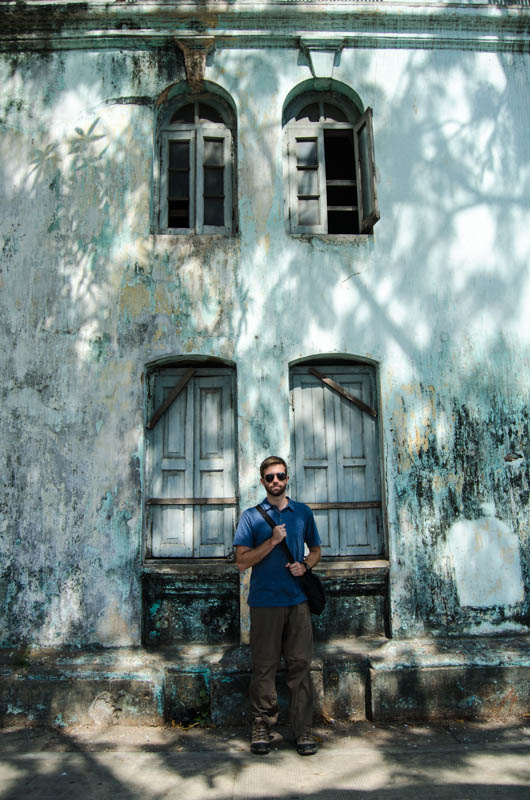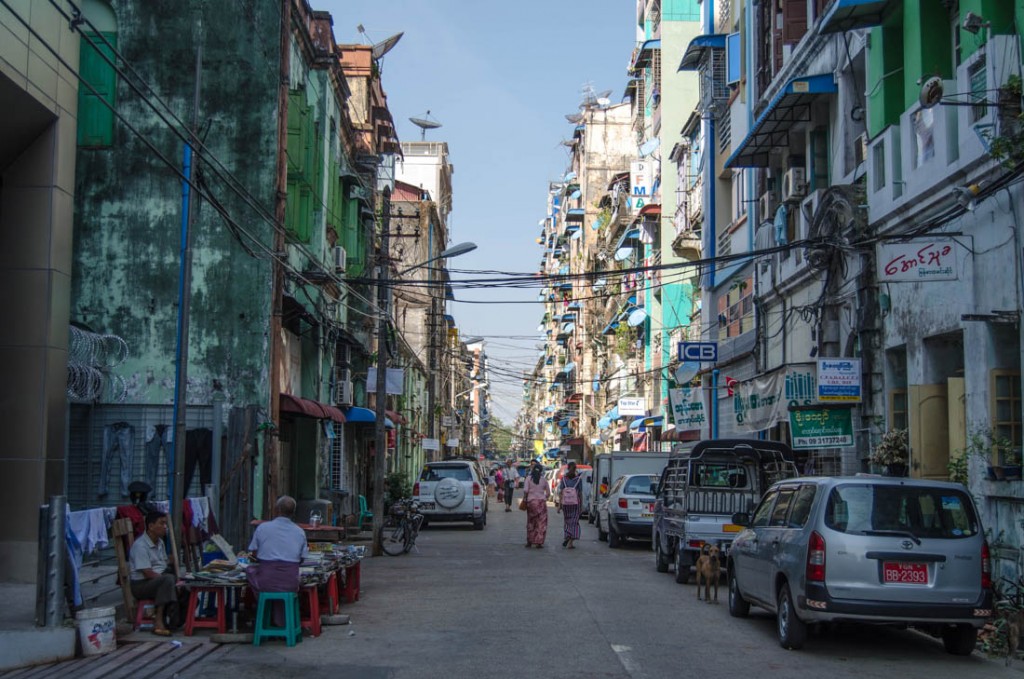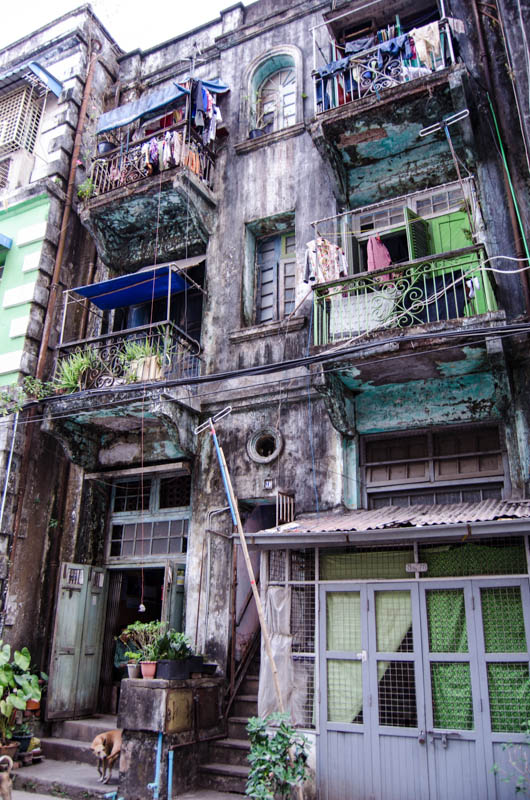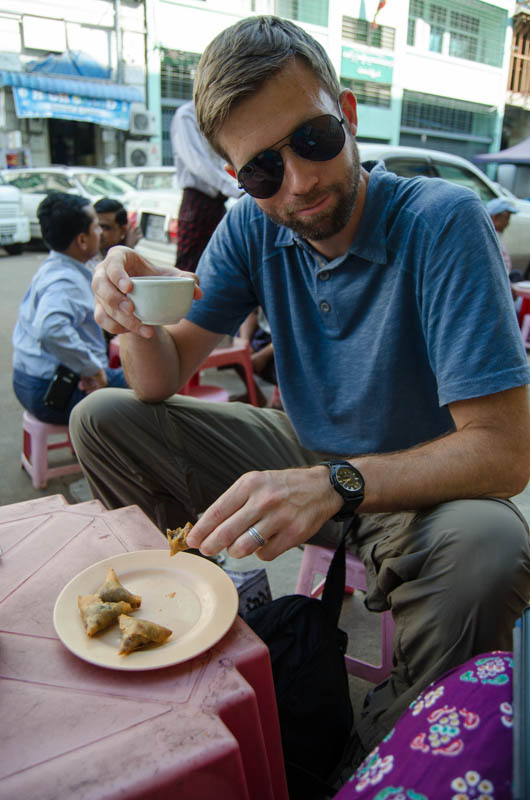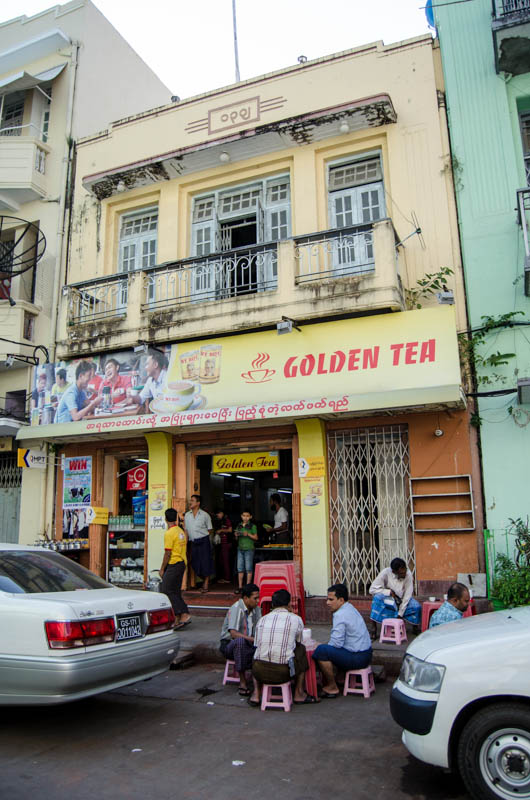 While Chris and I could have walked around the streets of Yangon and sat in tea shops for days, most people come to Yangon to see its gilded Buddhist pagodas. Shwedagon Pagoda is the most famous in all of Burma and was built to house several religious relics (including eight of the Buddha's hairs) sometime between the 6th and 10th centuries. Later on in its history, it was covered in gold plating. The pagoda, which is situated at the top of a hill, and its gilded spire can be seen from all around the city. Sunset is the best time to take in this beautiful sight.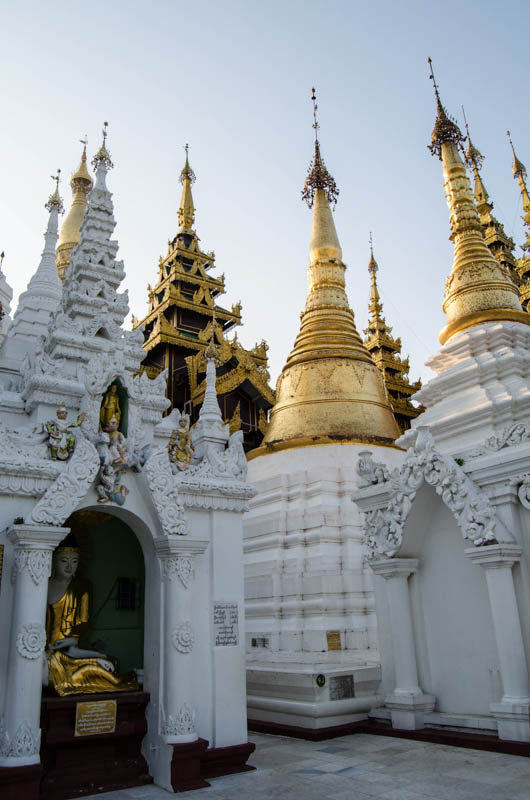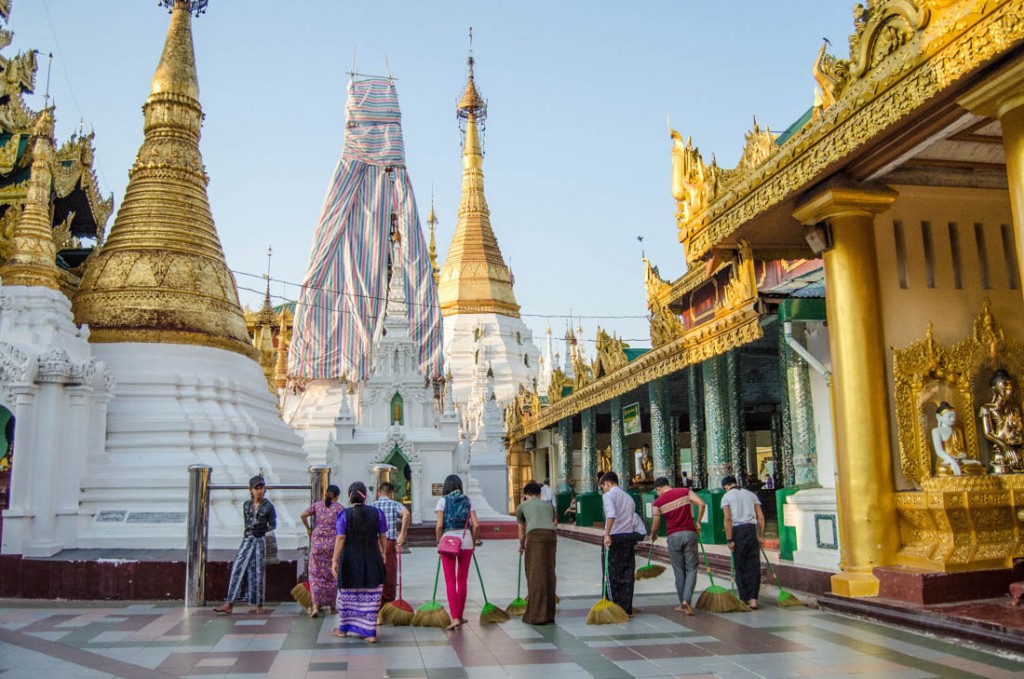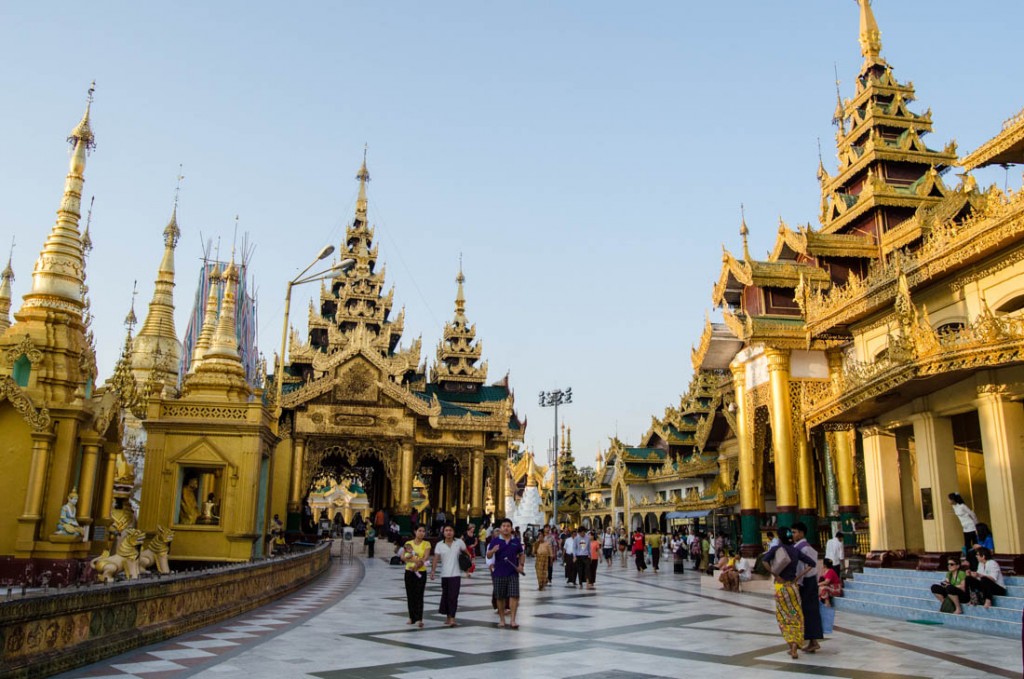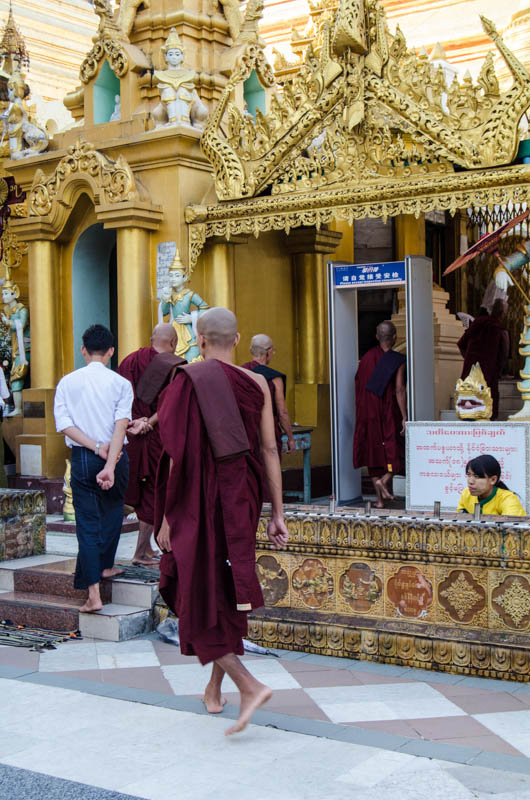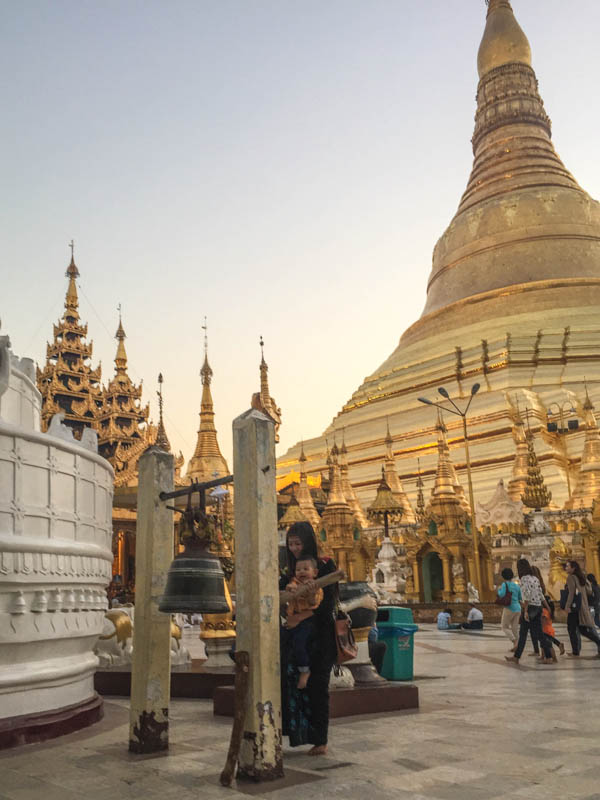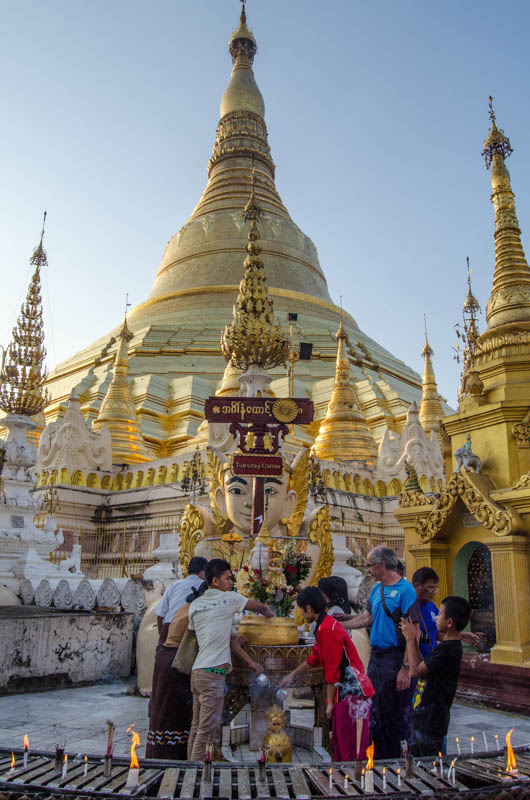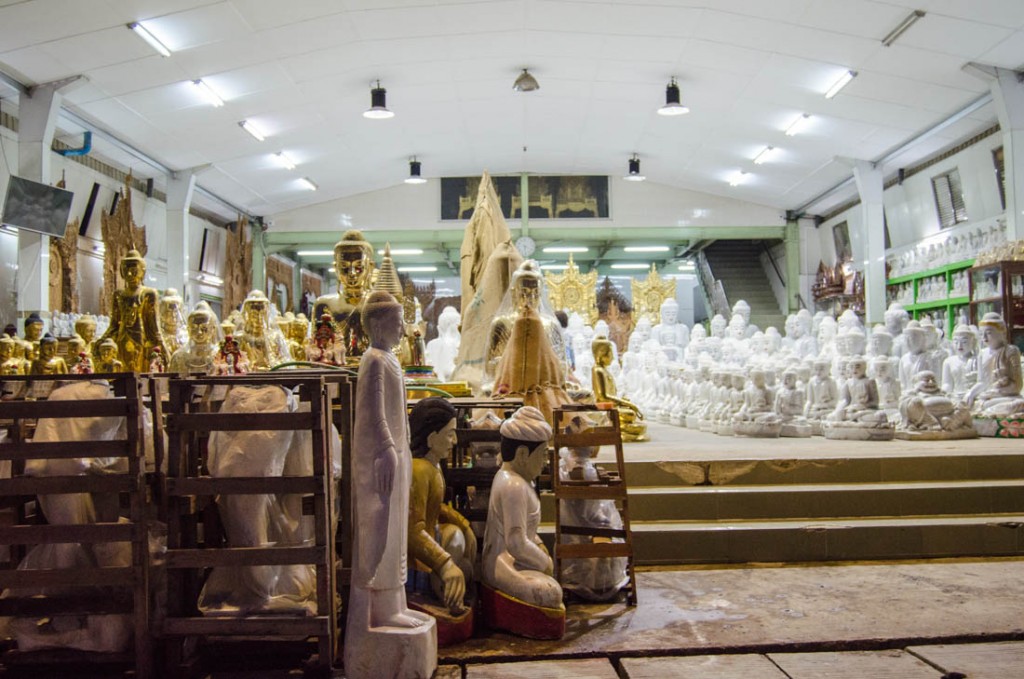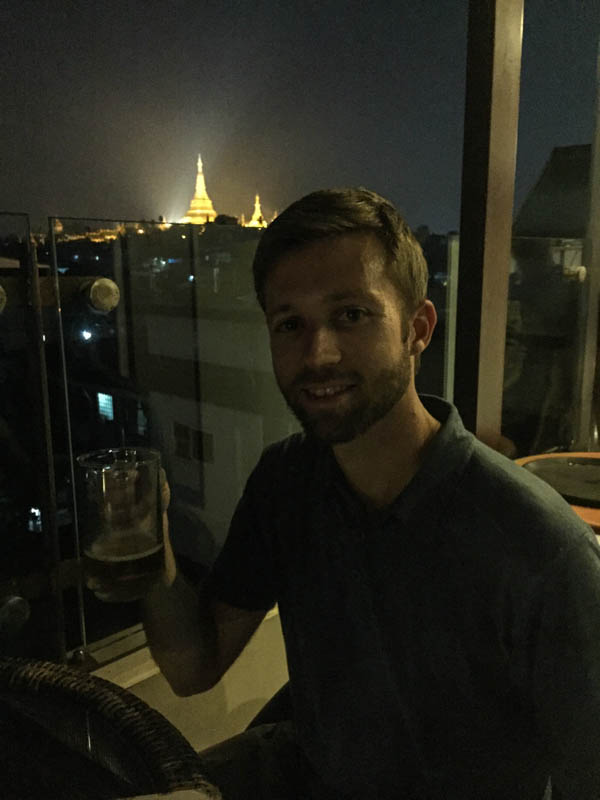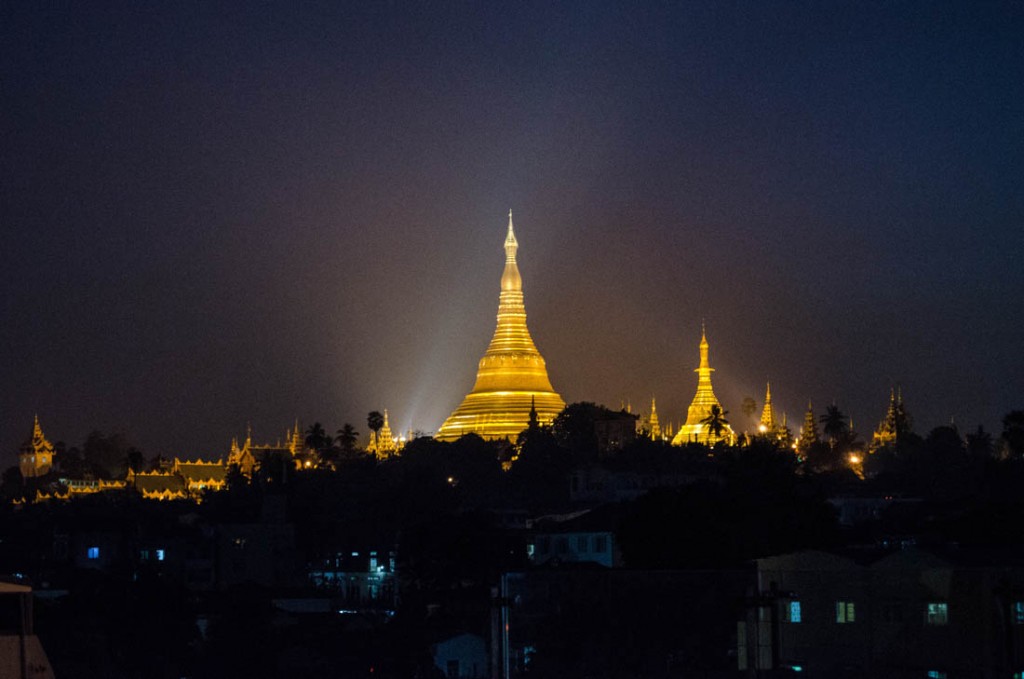 Shwedagon Pagoda is Yangon's most striking sight, but we also visited a couple other, less-crowded destinations in the city. At Botataung Pagoda, we were able to walk inside the spire through golden halls and admire a pile of Scrooge McDuck-worthy donation cash. And at Chauk Htat Gyi and Nga Htat Gyi, we were able to admire the largest reclining and seated, respectively, Buddhas we've ever seen.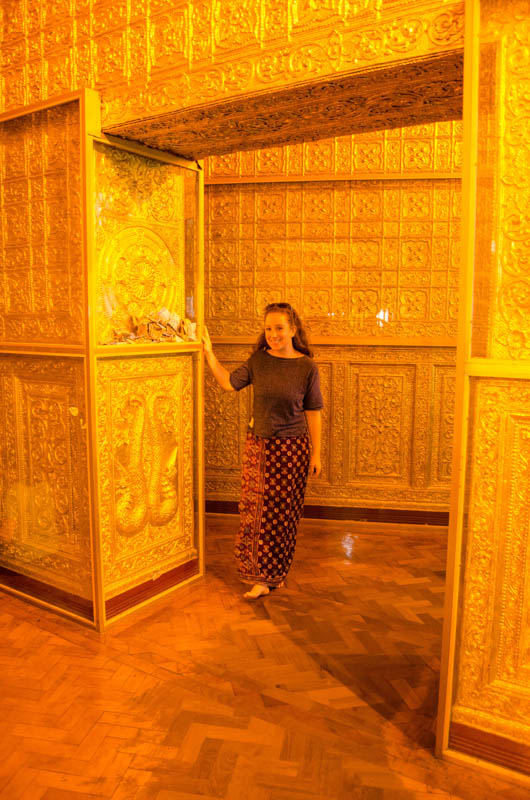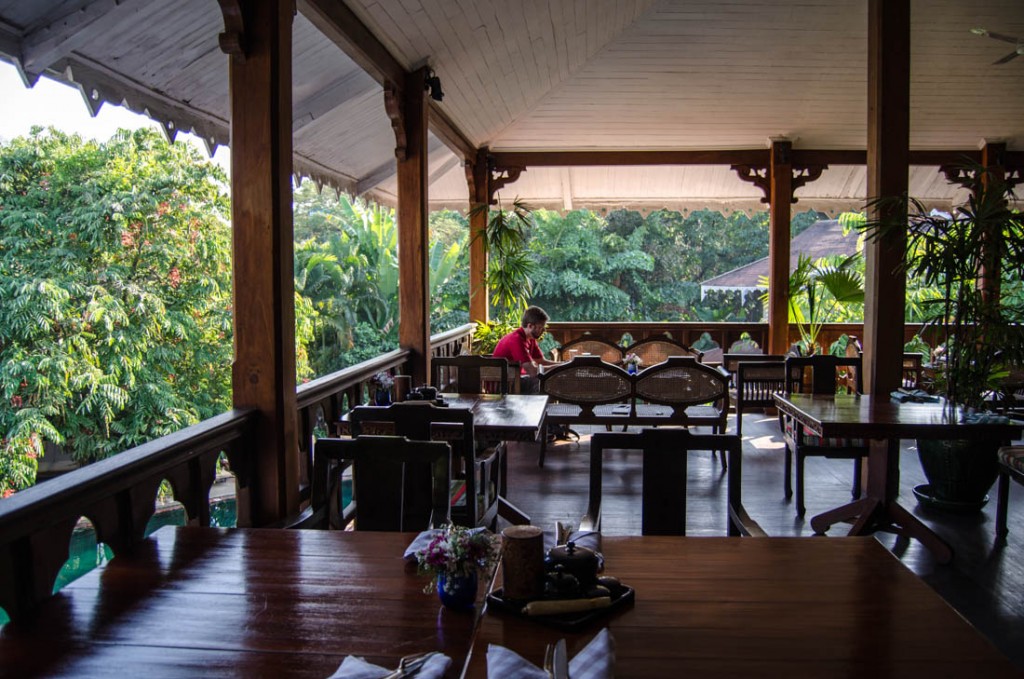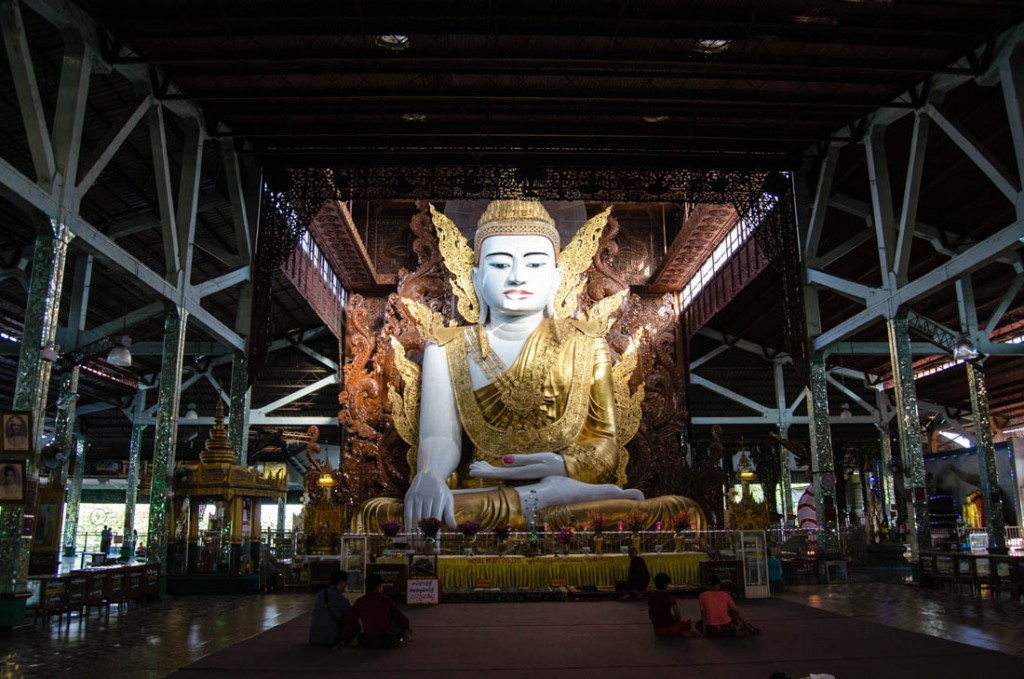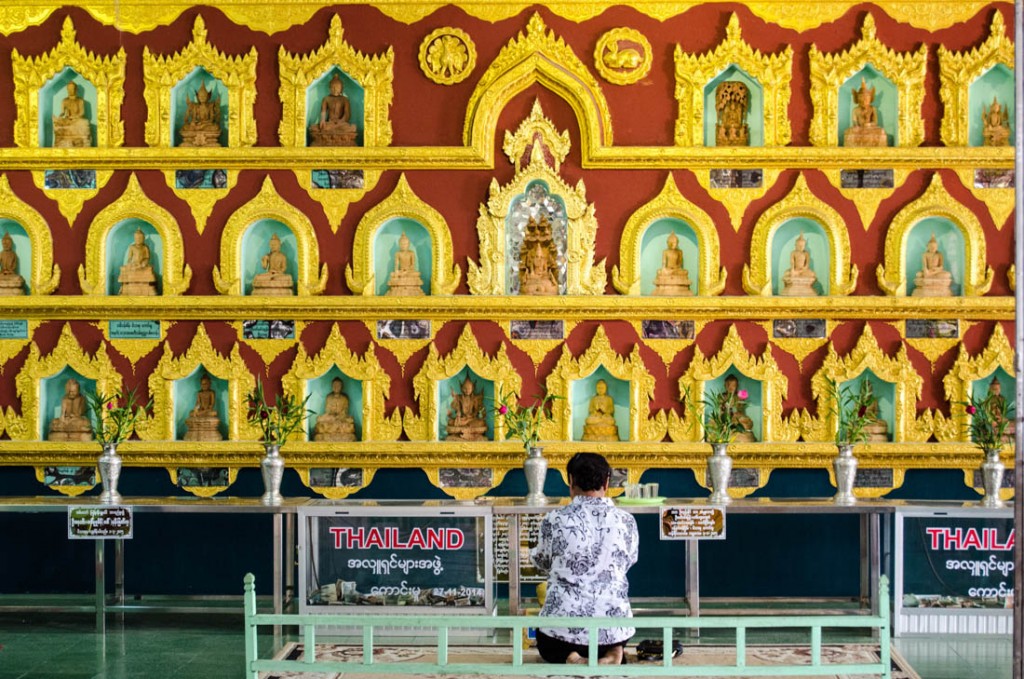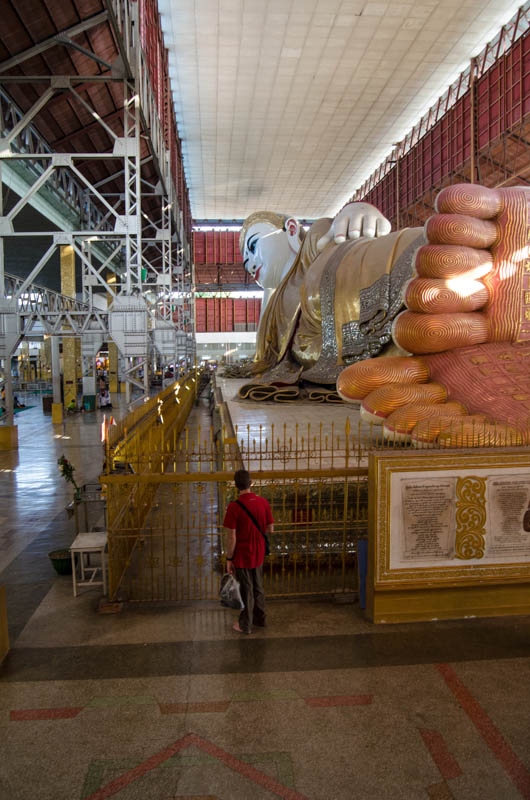 Yangon gave us a fantastic introduction to Burma, but after three days, we were ready to check out Bagan, Burma's most picture perfect setting.