Our spending in China came in at a grand total of $1,112 for two people over 10 nights. Our visa costs and decision to see most of the important sites put upward pressure on that number, but cheap dinners and public transit helped us keep it still generally on the cheaper side (at $55 per person per day, including all accommodation and flight costs).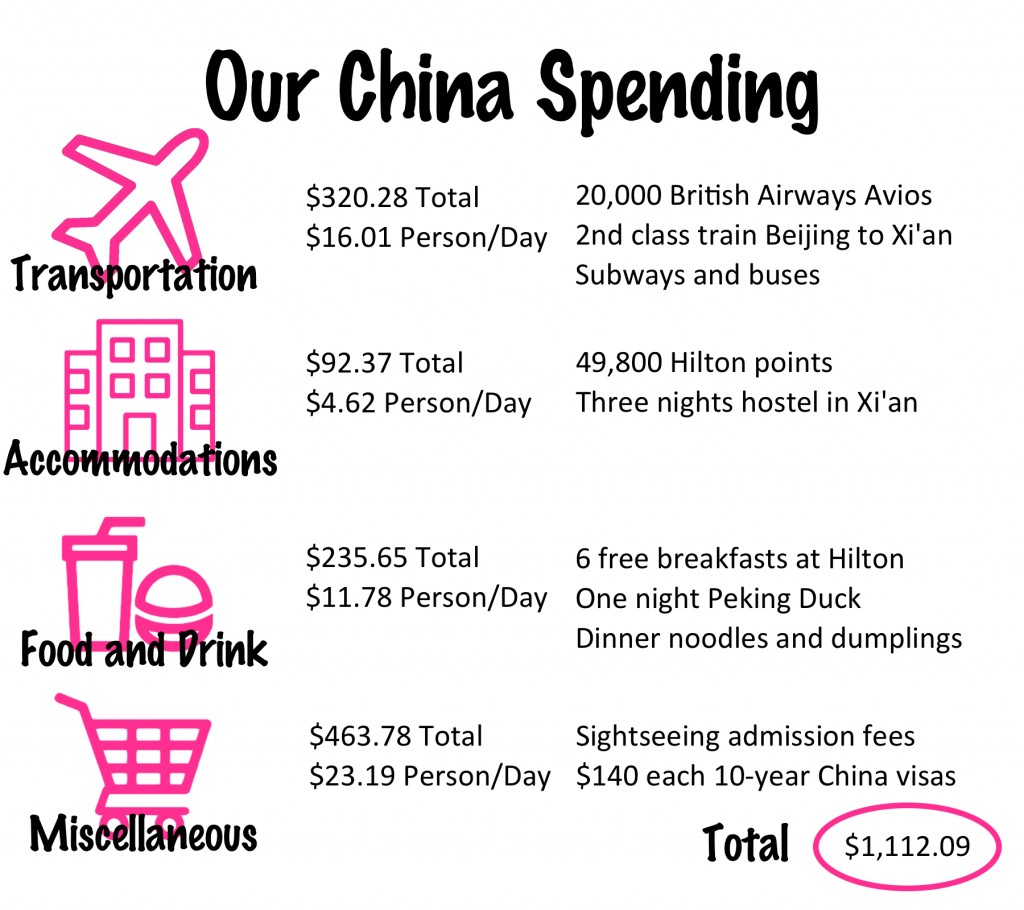 Transportation
Sadly, our days of First Class Japan Airlines flights were behind us. But, happily, we still flew nearly for free on 20,000 British Airways Avios (because they are great for short-haul flights and can be used on any oneworld alliance flight) via Japan Airlines economy class. Our biggest transportation cost in China was our six-hour bullet train seats from Beijing to Xi'an. We opted for the ~$80 apiece 2nd class seats, saving about $100 total compared to the 1st class seats chosen by most foreign travellers.
Also, a huge bit of savings came from our DIY trip to the Great Wall. Most folks hire a private car for the day at a rate of 800-1000 RMB (~$130-$160). We ended up taking the public transit route less travelled and got there and back for under 20 RMB a person(!). Sure, there were several instances that day of doubting whether or not a bus would come along or whether we got on the right connecting line, but that, my friends, is how you can afford to travel for year.
Outside of trains and buses, we traveling primarily by subway in Beijing and Xi'an at the budget-friendly rates of $0.50-$1 a ride.
Accommodations
We stayed for six nights at the Beijing Hilton for a total of 49,800 points (the odd point number is because you get the fifth night free when staying on points at Hilton—and Marriott while we're on the subject—a great perk) and $0 cash. Also, having Gold Status with Hilton gives you free wifi (which can cost as much as $20 a day) and free breakfast (a huge perk for us since we loaded up on the massive buffet in the morning and didn't need to eat again until dinnertime). Also, we felt special getting to check in at the Executive Lounge…. even though our hiking boots and backpacks set us apart from the businessmen that made up the lounge's other inhabitants.
Going into the trip, we had 200,000 Hilton points stashed away, and now we're down to about 140,000 after our stays at the Hiltons in Narita and Beijing. The Gold Status is automatically conferred when signing up for a Citi Hilton Reserve card, but a chunk of our rewards came from the sign up bonus with the American Express Hilton Surpass card. After hitting the sign up bonus, we cancelled the Surpass card since it has foreign transaction fees (a big no-no when using it to stay internationally) and plan to keep the Citi card indefinitely.
I've already talked about how important free wifi and breakfast can be (the card has a $95 annual fee, and we believe we've more than gotten our money's worth so far, one week into the trip, with breakfast alone!), but you also get an upgraded room every time you stay and—very importantly—two free nights in almost any Hilton the year you sign up. You could use them for a weekend in expensive NYC, or better yet, here. Or here. Or here (where we are hoping to use ours)!
Careful of spoiling ourselves too much on western hotels and free breakfasts, we opted for a private room in a highly-reviewed hostel in Xi'an. While the place was lovely and only $30 a night, the shower drain didn't work very well, so we were left dreaming of the Xi'an Hilton across town.
Food and Drink
With free breakfast for two-thirds of our trip and bountiful cheap eat options, we left China spending under $12 a person each day. And we definitely didn't feel like we skimped. We split an entire Peking Duck one night and visited two fantastic microbreweries, which (I'm shocked to realize this as I do the math) made up one-third of our entire food expense for 10 days! I guess that's why the locals mostly stick to <$2 bottles of Tsingtao and Yanjing. Luckily, most of the time, we feasted on some of the most fantastic dumplings and noodle bowls we've ever tasted and our wallet was only lighter by $10 each time.
Miscellaneous
The largest portion of our Misc budget for China was our $140 each 10-year visas. Thanks to some new and friendlier immigration laws, US citizens can now apply for a 10-year multiple entry visa at the same cost as a single entry. If you think there is any chance at all that you'll return to China within the next 10 years (as we do), then this option is a no brainer. So we won't have to pay that fee again for the next decade.
Also in this bucket are fees for the Great Wall (admission plus toboggan down) and the Terracotta Warriors—each about ~$45 for two people.
Tips for Visiting China
Language
We learned hello= nǐ hǎo (knee-how) and thank you=xie xie (shay-shay), but still struggled with the complicated rules for how to pronounce words that appeared to be written exactly the same. Thankfully, most things can be accomplished with pointing and smiling. Sometimes your intended destination may not have a sign in English. It's useful to screenshot the name and address in the local language (available via Trip Advisor) and ask locals to point you in the right direction frequently along the way.
Money
China is another heavily cash-based society, so it's always a good idea to have more bills than you think you need at the ready. Research ticket prices and deposit fees ahead of time so you don't have to make emergency trips to the ATM. We didn't realize the Terracotta Warriors would cost nearly three times our admission to the Great Wall and found ourselves having to persuade a taxi driver (thus forfeiting the money we saved by taking public transport rather than a tour) to take us into town to the nearest foreign card-accepting ATM.
Culture
Coming from the uber polite and mind-your-own-business mindset of Japan, adjusting to crazy, hectic, crowded Beijing took some time. For instance, why is the man behind me pushing me against the glass when the subway door isn't even open yet? I have nowhere to go! But once we realized that it wasn't personal and just the name of the game in a country with a population of nearly 1.4 billion people, we went with the flow and soon found ourselves elbowing with the best of them. We found most people to be incredibly hardworking as well and kind when you interacted with them. Our opportunities to glimpse this side of the Chinese ethos–especially among the women we interacted with–100% matched the wonderful experiences I had working with my former Morningstar colleagues from China.
Also, some random observations on fashion: men rolled up their shirts to bare their midriffs on hot days, sweatpant capris were everywhere, and we saw a lot of girls wearing awesome (Carrie from Sex and the City style) tutu-type skirts out on the weekend in Beijing. Chris nixed my entreaties to get one as apparently a tutu isn't practical for a RTW trip.
Survival Tips
Bathrooms in China are BYOTP. Always carry lots of Kleenex.
Highlights and Lowlights of China
Favorite Dining Experience
Hers: Dumplings at Zuo Lin You She and beer at Great Leap Brewery
His: Peking Duck at Biànyífāng and beer at Slow Boat Brewery
Favorite Sightseeing Experience
Hers and His: Great Wall of China at Mutianyu
Most Frustrating Travel Experience
Hers: The often-unreliable maps of Beijing's rapidly-developing subway system
His: The perilous street crossings (and plain ol' sidewalk walking) of Xi'an