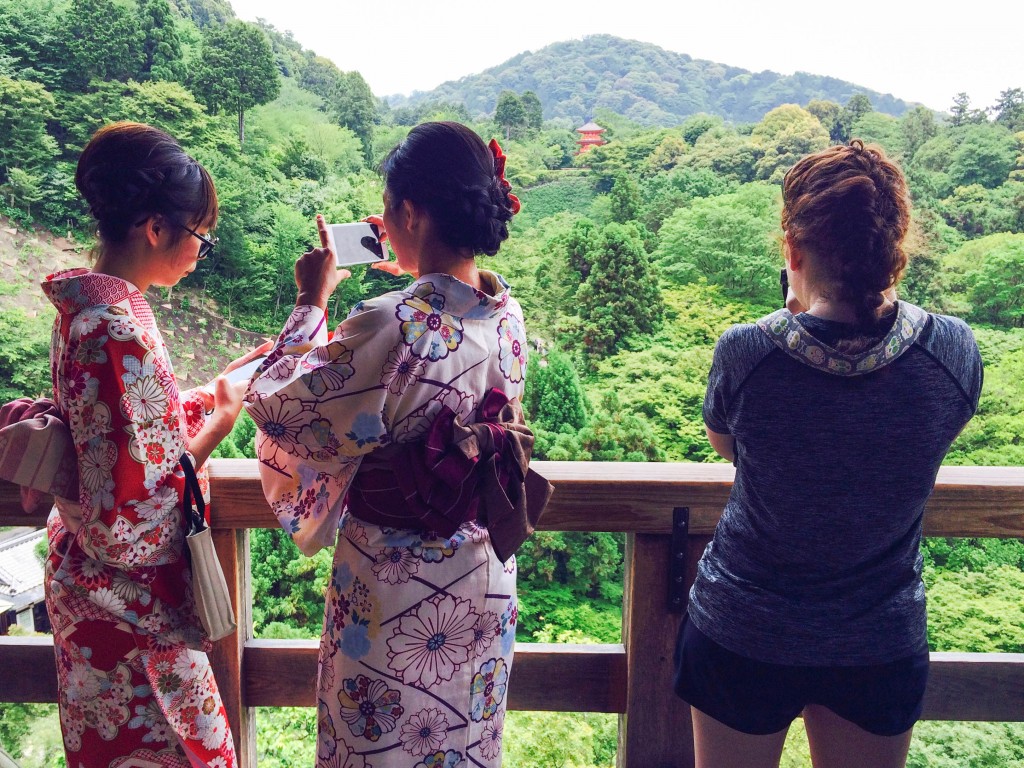 Kyoto is regarded as Japan's cultural epicenter, and with 17 Unesco World Heritage Sites and more than 2,000 temples and shrines packed within its perimeter, it is no wonder why millions of tourists flock to this former capital of Japan. We saw many more westerners here than in Tokyo (perhaps because there were fewer locals to dilute us), but we also were joined regularly at the sites by throngs of visiting Japanese school groups from all over the country (who asked us several times to snap a photo with them!).
We started our Kyoto visit at Fushimi Inari Taisha. This shrine was originally dedicated to the gods of rice and sake in the 8th century, but it has since come to represent prosperity in business overall. In fact, we saw a ceremony in a side temple with four Japanese businessmen praying (we were guessing whether they beat earnings and were giving thanks or missed earnings and were praying for a change of fortune). The hallmark of the shrine is the pathway lined with thousands of red (or to be more specific, "vermilion") tori (gates), which are donated by businesses and vary in size depending on the size of the donation.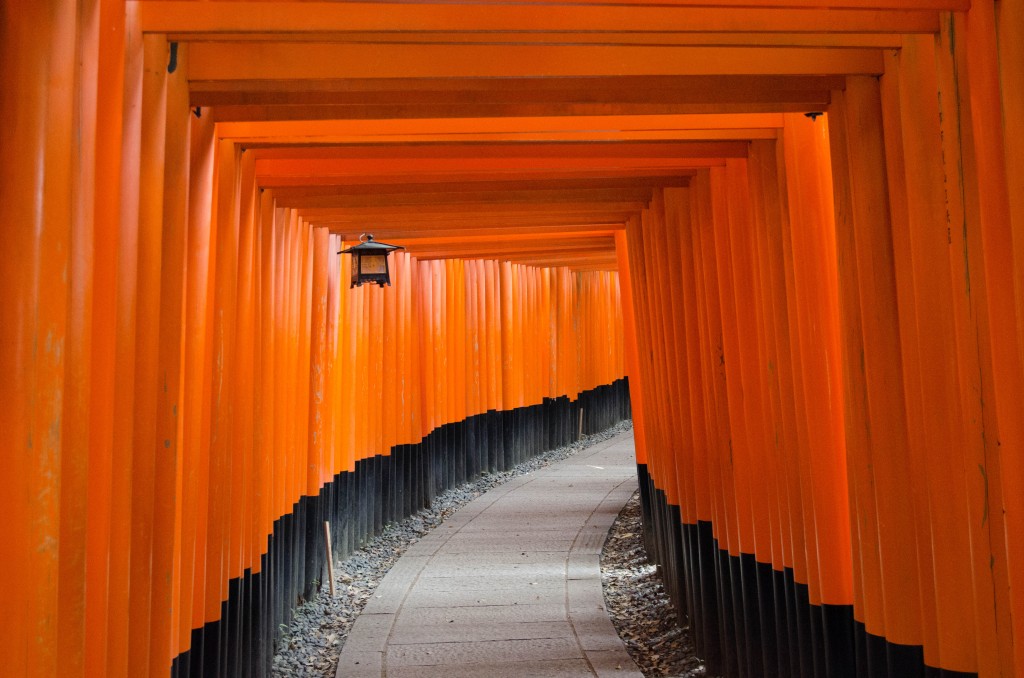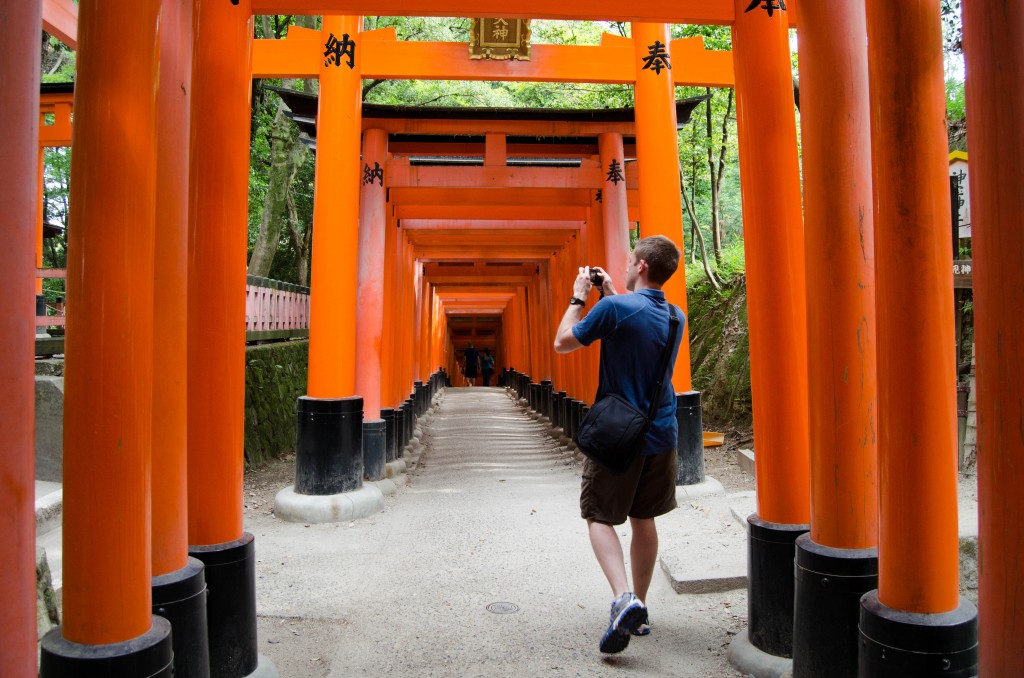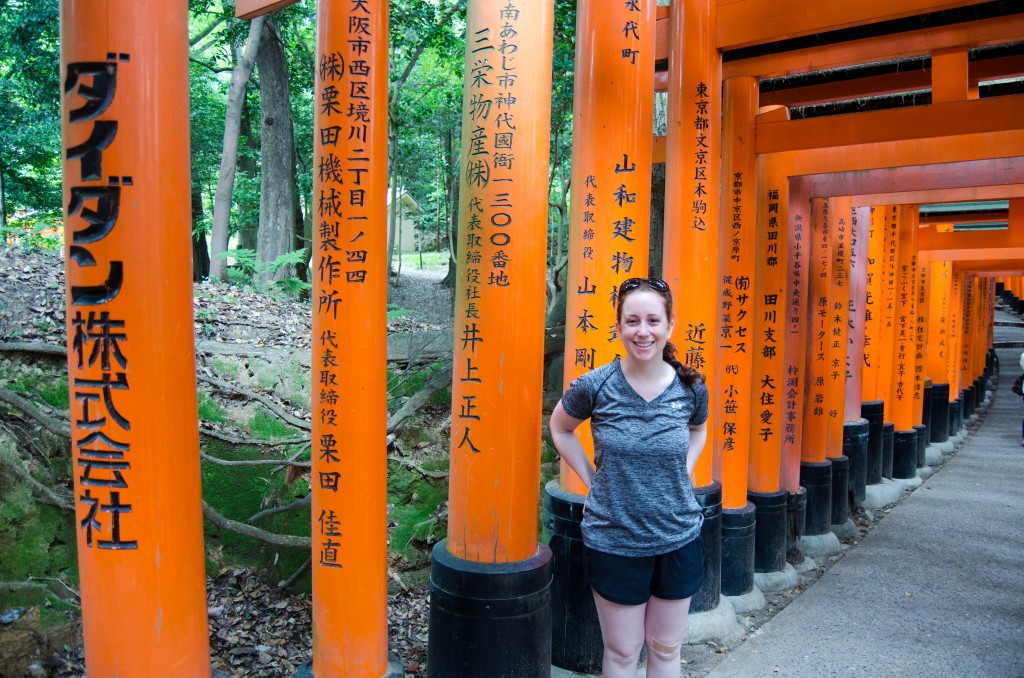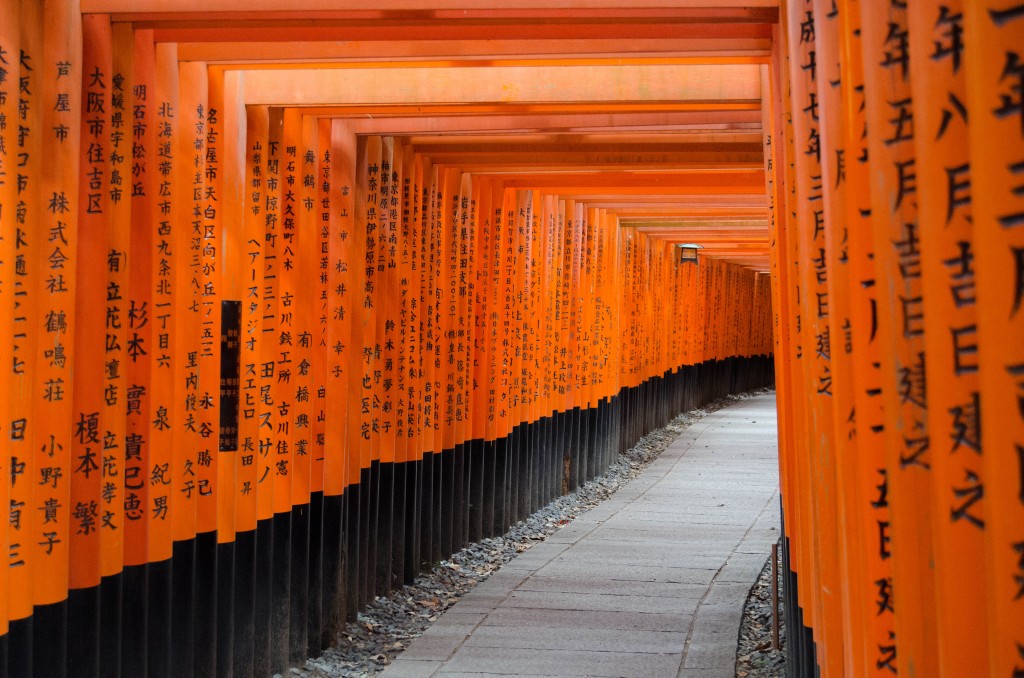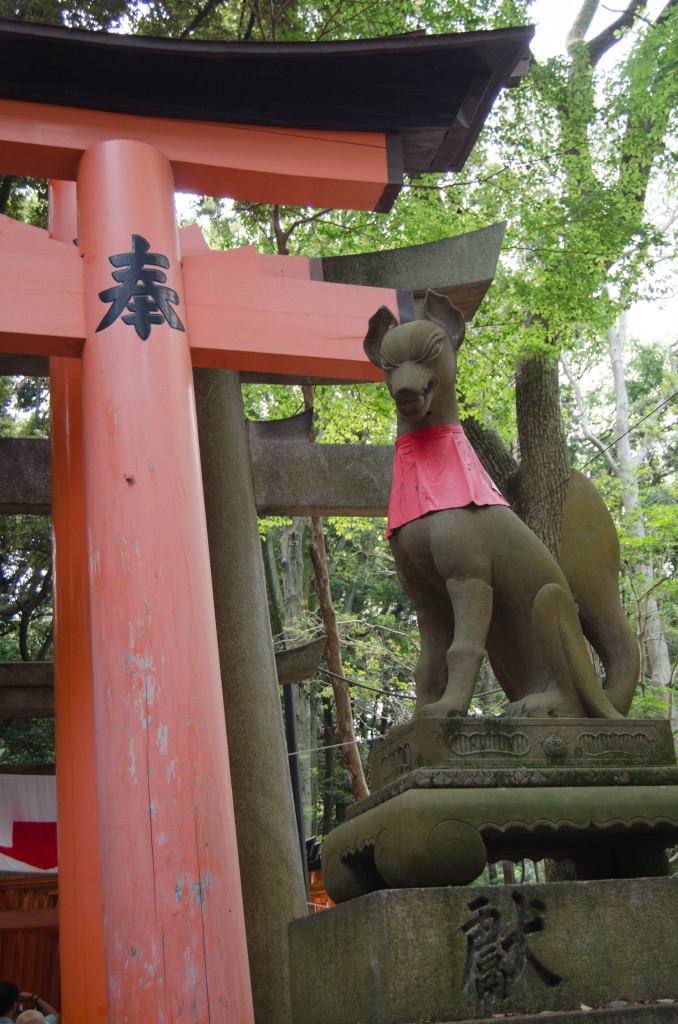 After leaving Fushimi Inari, we spent a good deal of time in the Higashiyama (east) district, which is chock full of gorgeous temples everywhere you turn. At the recommendation of the New York Times, we visited the Sanjusangen-do temple, and were blown away by what was inside: 1000 golden statues of the Buddhist goddess of mercy Kannon flanking one much larger one and 28 statues of the guardian dieties. These 1000 Kannon images were lined up in rows amid the long, dark temple. I wish I could have taken a picture (none were allowed but here's an okay link to get a sense of it), because this place was eerily cool. I would not wanted to have visited at night, that's for sure.
Kiyomizu-dera was next and we walked up the hillside to find the main hall with its huge verandah extending out into the hillside for a perfect viewing deck of the hills and city below. Before entering, we paid the extra ¥100 to go into the Taina-meguri, the basement of the temple that is the symbolic womb of a female bodhisattva. This side trip found us walking in complete darkness, following the line of wooden prayer beads, until we found an illuminated rock shining in the darkness and were to make a wish. Chris said this was extremely cool, but my cries of "oh my gosh, this is so dark, I am so scared" and my fingers digging into his back the whole way ruined the spiritual vibe.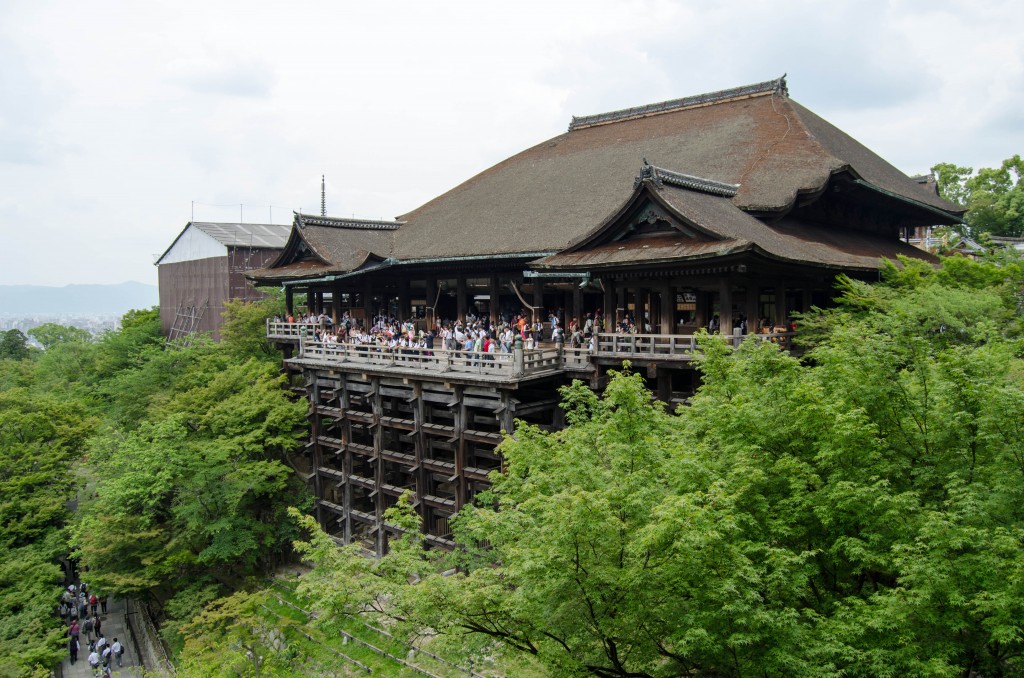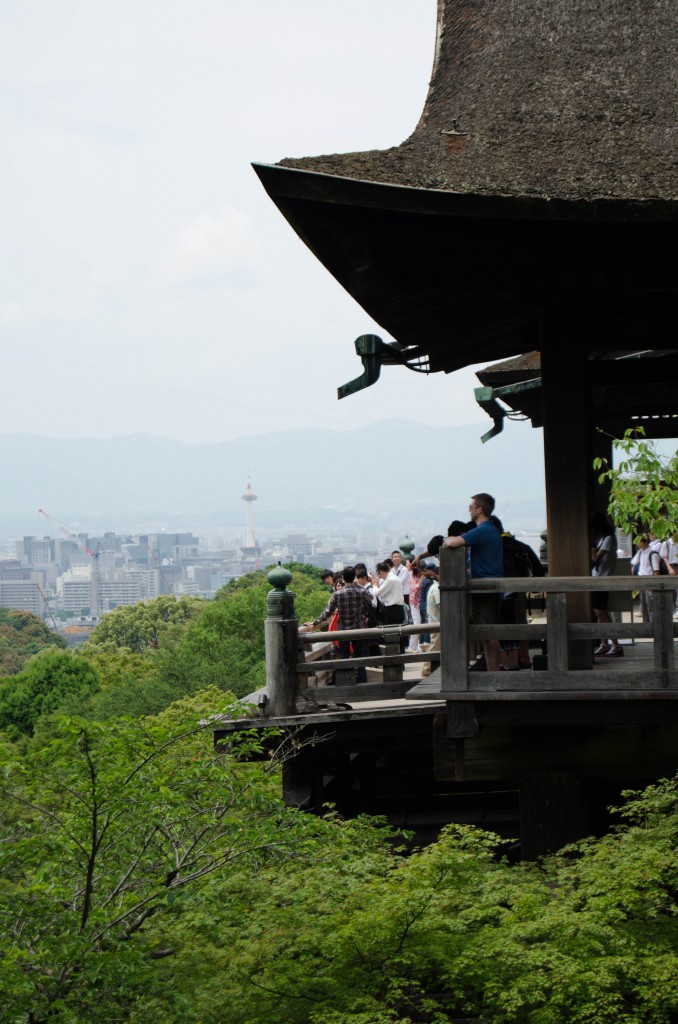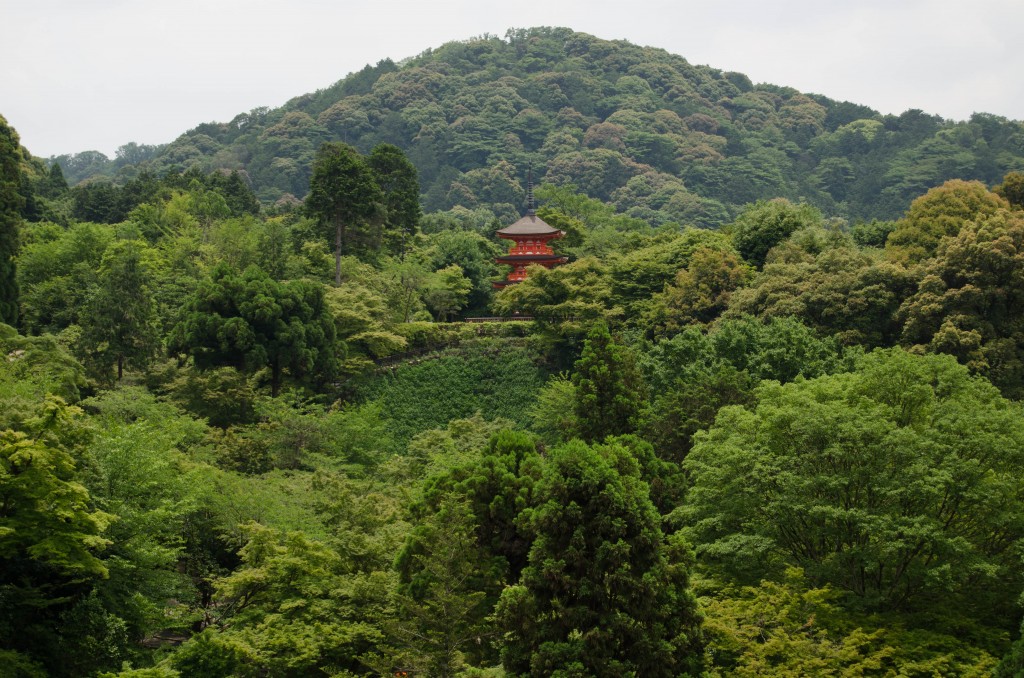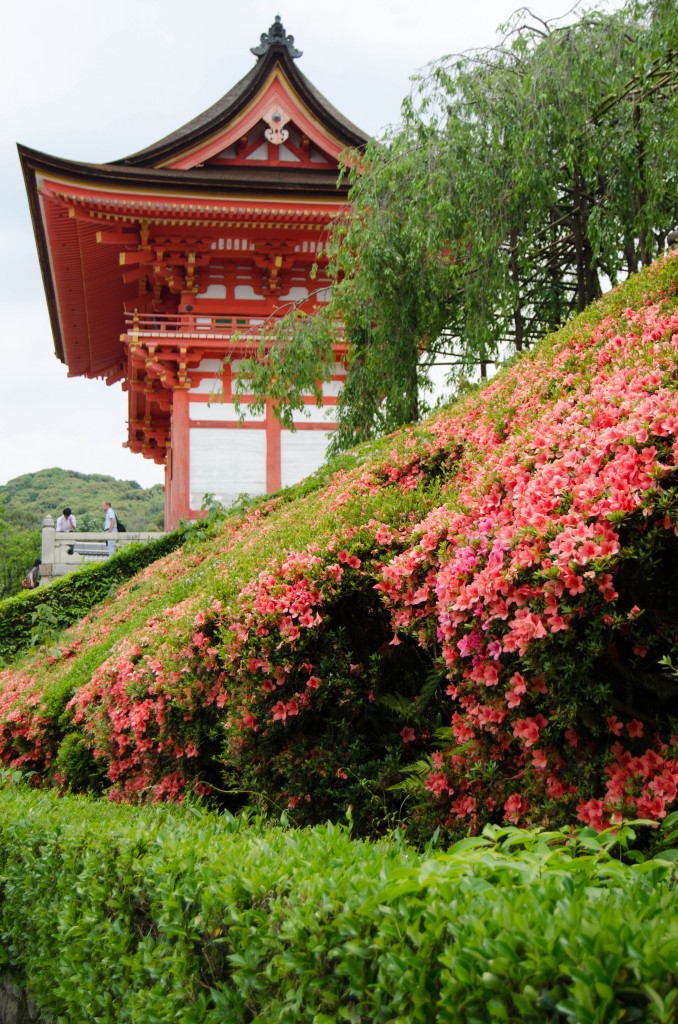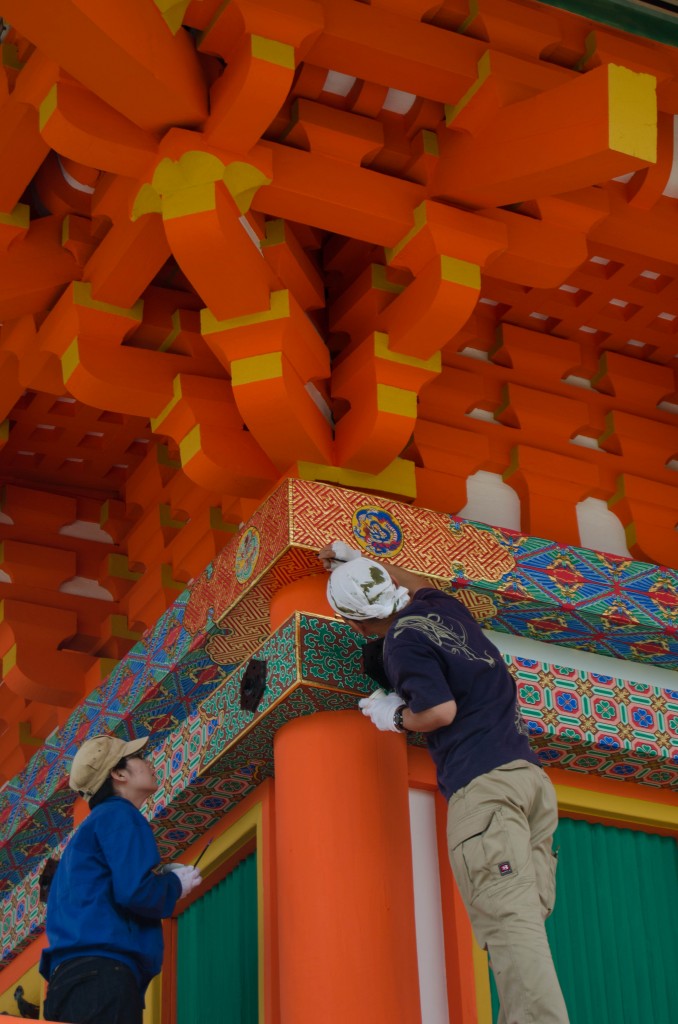 Even though we were visiting during Japan's rainy season, our second full day in Kyoto was the only day it rained during our trip. We took the opportunity to head to farer-flung areas that we thought would look particularly pretty amid the drizzle. The Arashiyama (west) area of Kyoto is also up in the hills and full of temples surrounded by nature. We visited Tenryu-ji and it's beautiful Zen garden. Fun fact: Tenryu-ji was constructed in the 14th century when a priest dreamt about a dragon rising from a nearby river. It means heavenly dragon.
We next headed over to Arashiyama's famed bamboo grove, whose picture is often found in posts with titles like "100 Places to See Before You Die." I won't deny that the grove is a beautiful and otherworldly place, however, it was much smaller than we were expecting and taxis are allowed to come through, which is a bit of a magical forest buzz kill. If you are going, it is worth seeing, but let me help you calibrate your expectations accordingly.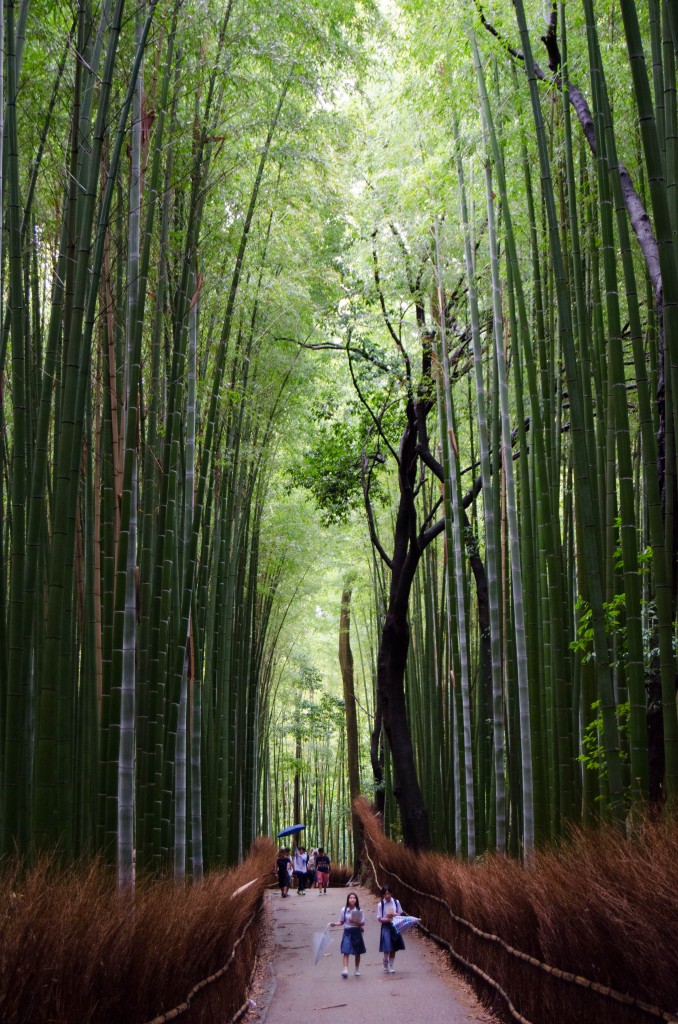 Perhaps one of our most favorite moments in Kyoto was the result of another New York Times recommendation. Otagi Nenbutsu-ji is a quirky temple off the beaten path of the typical tourist trail. We had to take a couple busses that come very infrequently to get to it, but when we got there, we couldn't have been happier to find that we were the only visitors to this moss-covered temple. The temple was reconstructed after a string of bad luck in the 1980s, and hundreds of people (many of them amateurs) donated statues of the disciples of Buddha, called "rakan," in support. We wandered among the 1000 rakan statues and picked out our favorites.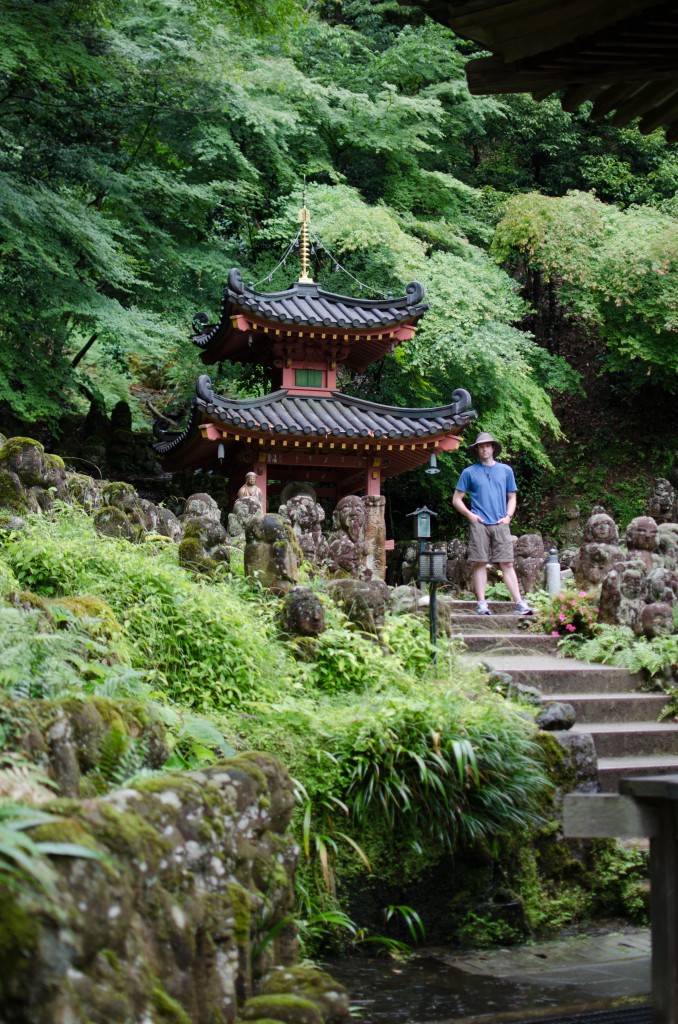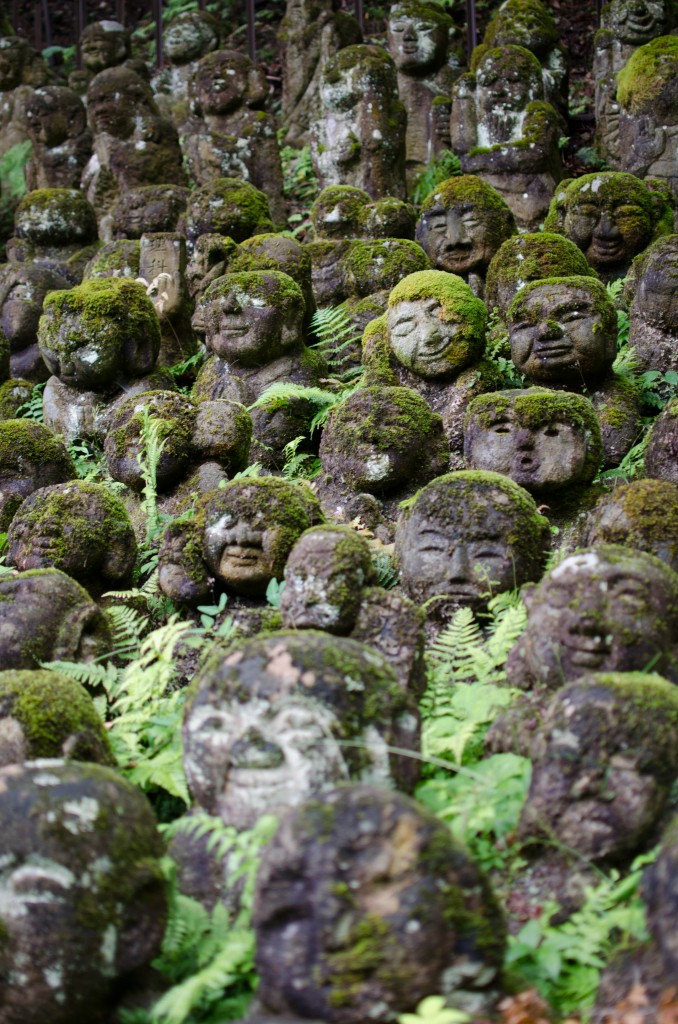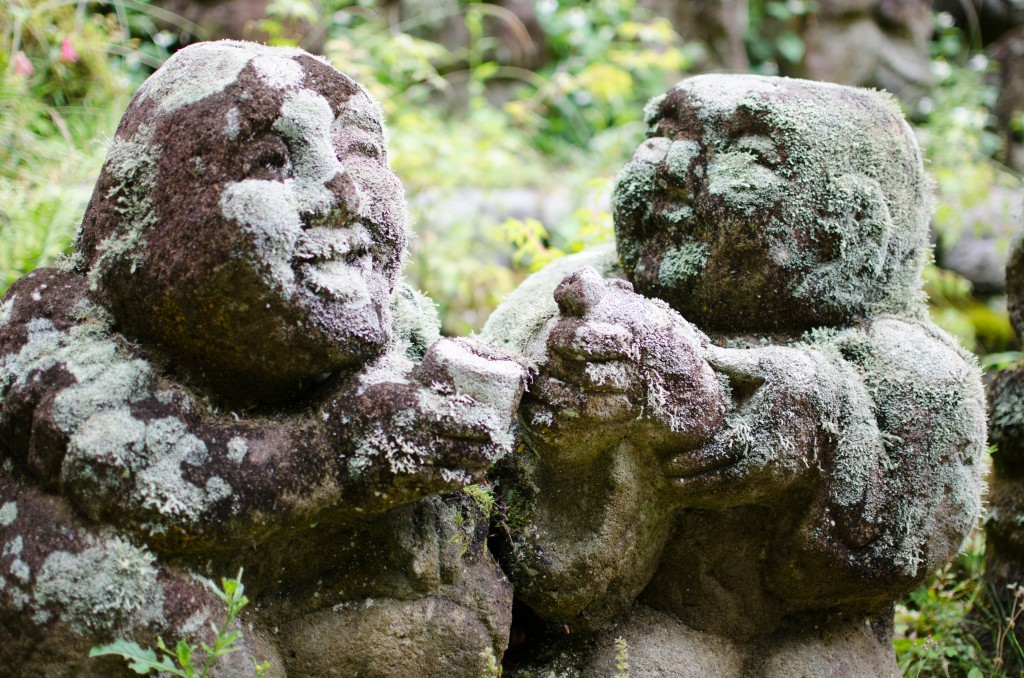 We closed out our rainy day at Daitoku-ji, which is a collection of Zen temples and boasts a beautiful Zen garden (which we weren't allowed to take pictures of). I think my biggest regret of our Kyoto visit was not being able to make one of the free meditation sessions and mindfulness lessons it regularly hosts. Definitely next time!
We saved Kinkaku-ji, the "Golden Temple" that is Kyoto's most popular site, for our last morning to arrive right when it opens and hopefully beat the crowds (no luck on that last bit). The temple was initially constructed as retirement villa for a 14th century shogun. In 1950, a young monk was so consumed by his obsession with the temple that he burnt it down. It was rebuilt—with more gold-foil covering—five years later.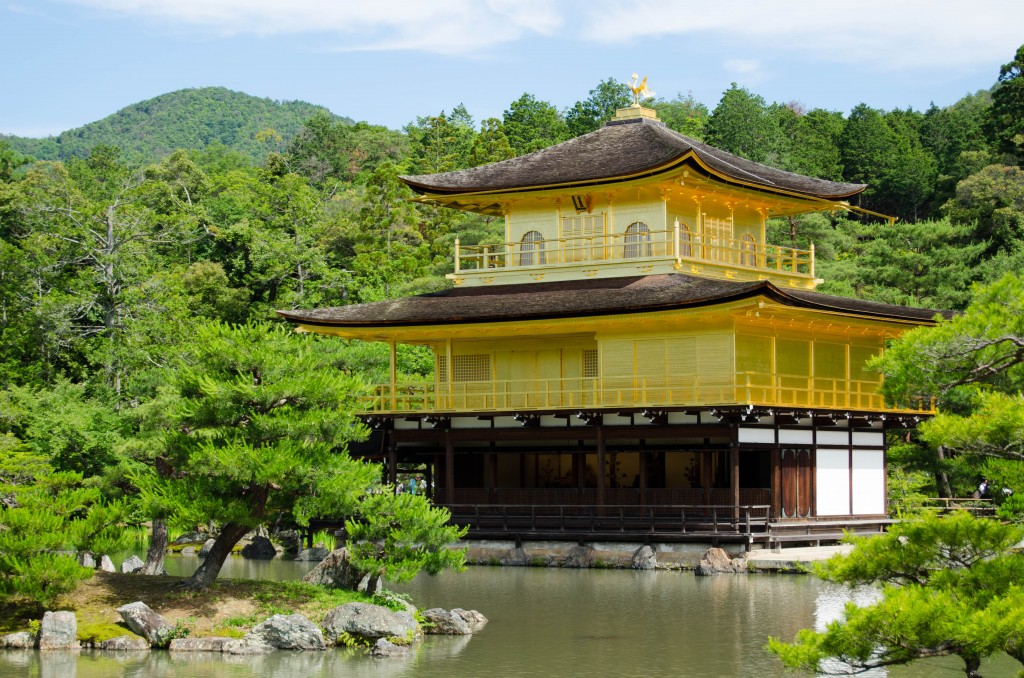 Believe it or not, we only scratched the surface of seeing all the temples that we could possibly see in the city. But we only had three nights in Kyoto, and there were other non-temple items on our to-do list. Like eating. First, we tried one of Japan's ubiquitous conveyor belt sushi restaurants. Here, you grab plates as they come around and pay by tallying up how many plates you accumulate.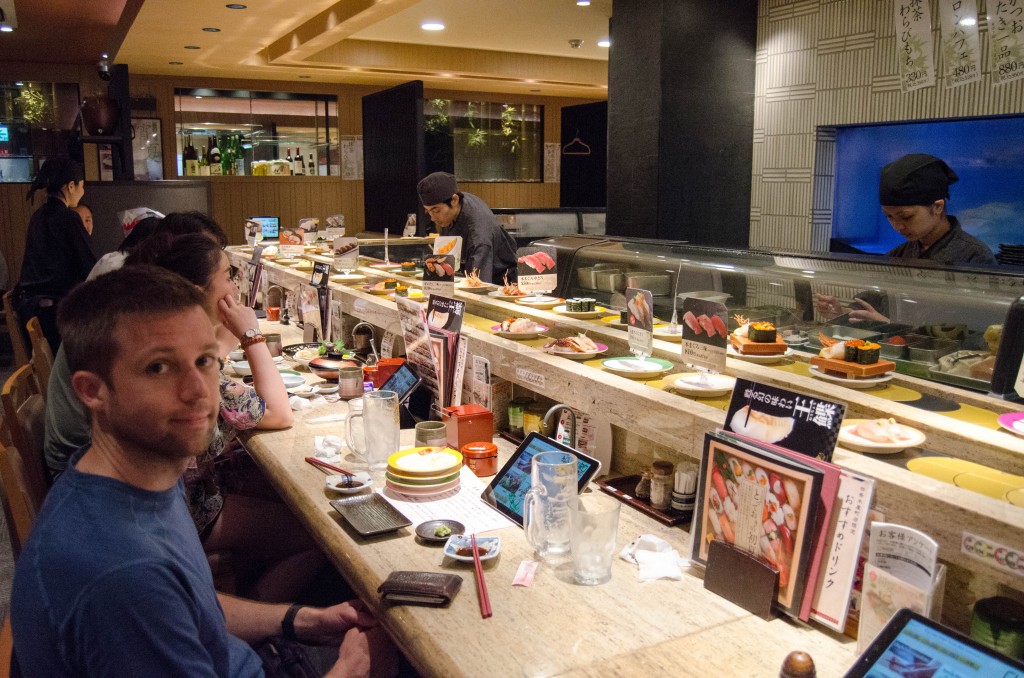 We also strolled through the long expanse of the Nishiki Market and checked out the all the scrumptious and strange goods for sale.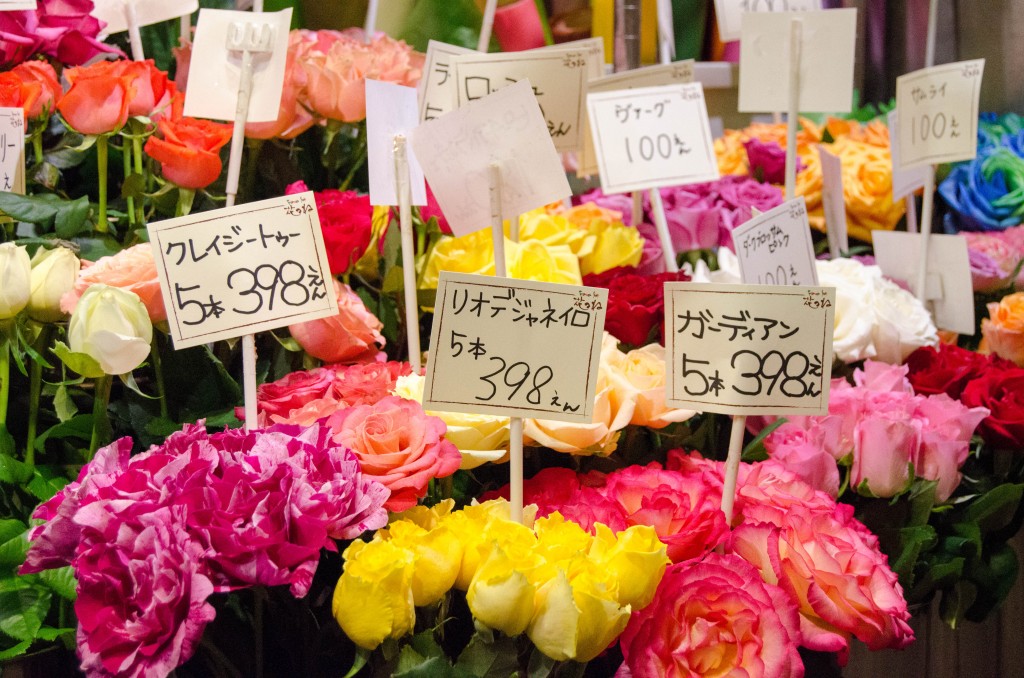 Kyoto's Gion district is famous for geisha sighting as the women come and go to their evening entertainment events. Tourists throng the crowded streets hoping for a glimpse. We didn't feel up to joining in the paparazzi craze, so we just enjoyed walking through the cute alleys that contained lovely restaurants and bars. Our restraint was rewarded when we saw a geisha being transported elsewhere in the city in a rickshaw.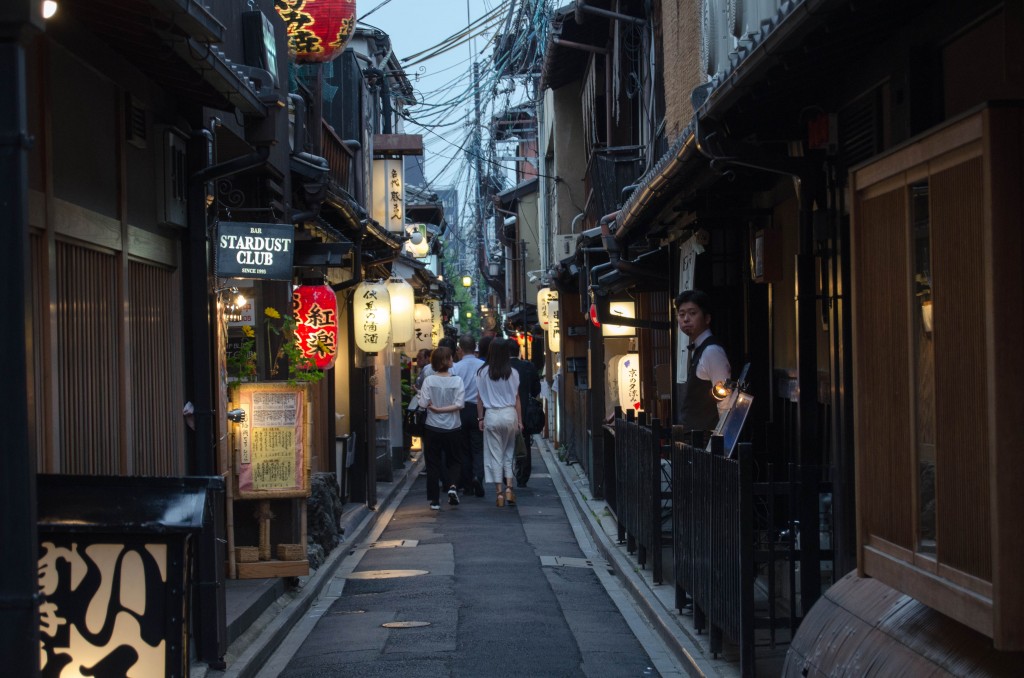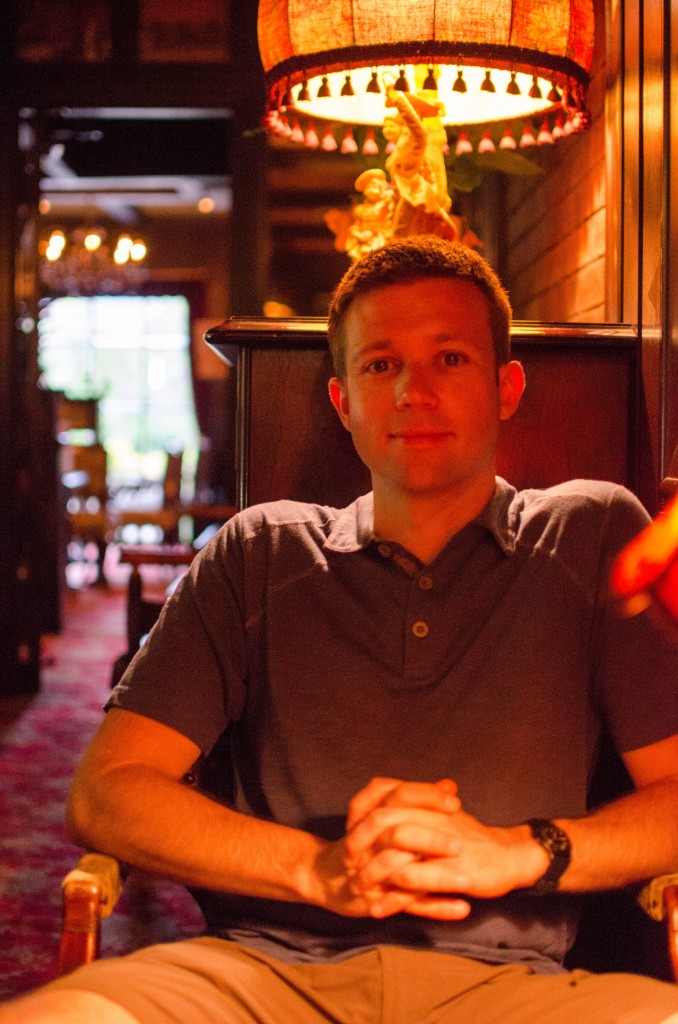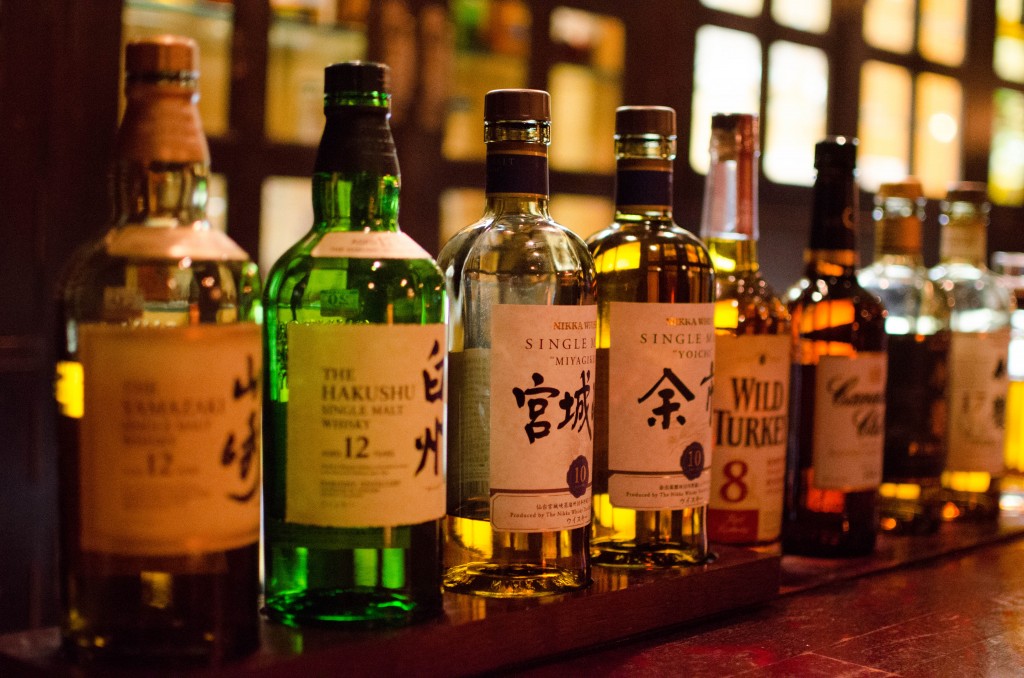 In Gion, we also tucked into the Tsujiri Teahouse to try some local fare. Kyoto is famous for matcha (powdered green tea), and this place was famous for its matcha parfaits. Chris abstained (I guess he was saving his dessert for the green tea-flavored Kit Kats he is now obsessed with). I enjoyed thoroughly. This one below had matcha and vanilla ice cream, matcha and red bean jelly, and candied chestnuts.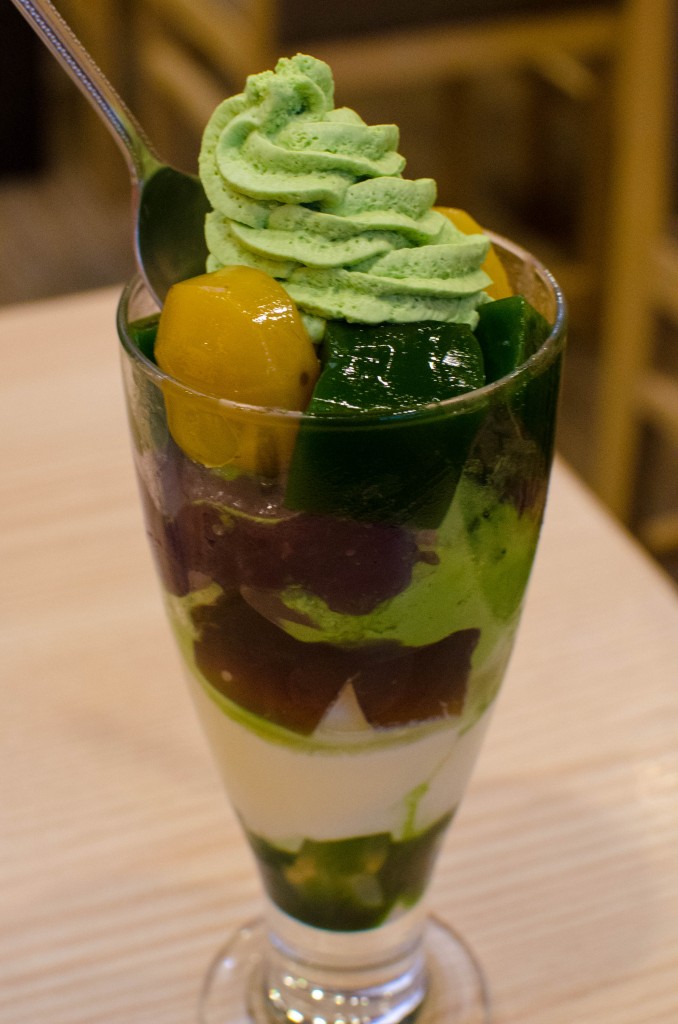 Our big splurge in Japan was a lunch at Shoraian. With its abundance of Buddhist temples, Kyoto specializes in the preparation of tofu. Believe it or not, I am a tofu lover, and I chose this renowned restaurant as my official birthday "splurge" meal. It was also our chance to experience the artfulness of a fancy Japanese meal. The ambiance of the tucked away restaurant overlooking the river and the beautiful presentation of the meal? Amazing. The tofu itself? I'm not going to lie, even as a tofu lover, I thought it was weird. Luckily, Chris proclaimed the entire meal totally worth it when we were presented with three perfect strips of waygu beef.
Also during our time in Kyoto, we visited a local onsen. Japan is famous for its bounty of hot springs, and onsens that allow visitors to bathe in their waters are a longstanding tradition of the people. Although time didn't allow us to trek further into the countryside and sit in a naturally-occurring one, we did visit one that pipes in the spring water and still offers an opportunity to soak while admiring the picturesque mountains around you (along with a handful of naked Japanese women).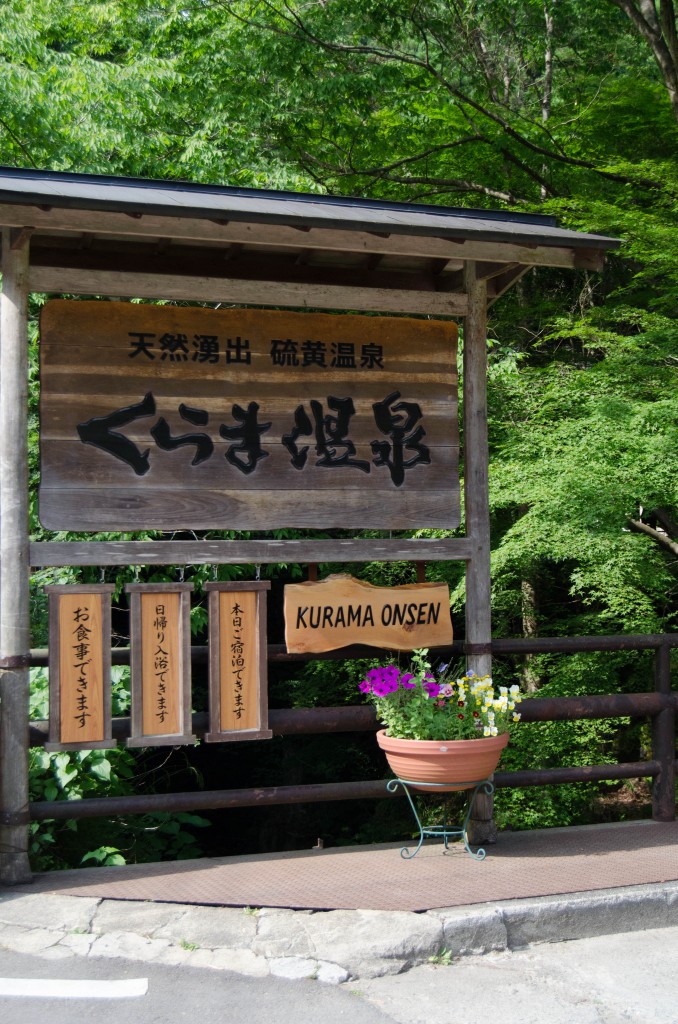 Well, that's all for Kyoto, folks. On to Beijing, China next where we'll say goodbye to orderly transit and hello to the Great Wall!