Most folks who have visited Indonesia 1.) are Australian and 2.) have only been to Bali. And so it is said that to truly see Indonesia—the world's fourth largest country—you must leave Bali and venture out among its 17,500 other islands. We plan to visit possibly as many as 50 countries during our trip, and Indonesia was definitely among the top five we are most excited about.
Indonesia is one long archipelago with Java, Sumatra, Borneo (shared with Brunei and Malaysia), New Guinea (shared with Papa New Guinea), and Sulawesi being the largest islands. According to Wikipedia, Indonesia is located at the edge of the Pacific, Eurasian, and Australian tectonic plates, which help explain its numerous volcanoes and earthquake incidents (more on that later).
Outside of Bali, where Hindu is the majority religion, Islam is the dominant religion in Indonesia and is observed by nearly 90% of its population. When planning our trip, we realized that we would be in Indonesia, and its also-Muslim neighbor Malaysia, for the entire month of Ramadan. Ramadan is a month of fasting to commemorate the first revelation of the Koran to Mohammed, according to Islamic belief. In addition to not eating or drinking (even water) from dawn to dusk, Muslims are also supposed to refrain from smoking, sex, and bad behaviors like false speech and fighting during this time. Instead, it is intended to be a time of prayer, religious study, and alms giving.
Most tourists avoid traveling during Ramadan since many shops are closed and it is a time of more strict religious observance so that not-outlawed, but heavily-taxed beer is even harder to come by. However, it was the dry season and we thought visiting during Ramadan would give us a firsthand look at this important pillar of one of the world's major religions—a religion we admittedly know little about.
A Quick Jaunt in Jakarta
So, enough learning already? Let's get down to our trip! In the effort to see some of the "real Indonesia," we planned to stay about a week and a half in Java. We landed in Jakarta very early in the morning, which left us with two full days and two nights to spend in the nation's capital. Unfortunately, Chris had a bit of a stomach thing, so the highlights of our visit to Jakarta were watching two Game of Thrones episodes and seeing Jurassic World at an Indonesian movie theater (in hindsight, not the smartest idea as we prepare for the jungle portion of our trip….).
We did have some time to walk around the city and pop into a few of Jakarta's famous shopping malls. In a country with a rapidly growing population and GDP, Jakarta has some of the world's nicest mega shopping malls that, in my mind, rivaled Las Vegas. Outside of malls, tourist-wise, there isn't much to see in Jakarta so it was the perfect spot to lay low for a few days.
Temples, Art, and Culture in Yogyakarta
Thankfully, Chris's stomach recovered in time for our one-hour flight to Yogyakarta, a city full of students, art, and culture that is often referred to as "the soul of Indonesia." Nicknamed Jogja (JOGH-jah), Yogyakarta is actually still ruled by a sultan thanks to some interesting twists and turns in history tied to Indonesia's former Dutch colonization. We spent five nights in a fantastic Air BnB tucked away in a pottery village among rice fields and then cashed in some points for two sun-filled days by the pool and luxurious nights in the Hyatt Regency.
Despite its rich cultural heritage, Yogyakarta's most famous attractions are in on its outskirts in the form of old, mysterious temples. Our Air BnB hosts put us in touch with a highly-recommended driver, and we were picked up at 3:30am for a day of temple touring.
Our day started out on a vista overlooking the city and its volcano Merapi during sunrise. Sadly, the fog prevented us from seeing the day's main attraction, Borobudur, as the sun came up. (Oh well; can't win them all).
Then on to Borobudur, the world's largest Buddhist temple that was built during the 9th century and then mysteriously abandoned for centuries before being rediscovered in the 1800s. The temple is distinguished by is large size, thousands of reliefs depicting ancient life and Buddhist beliefs, and iconic stupas (mound-like structures containing religious relics).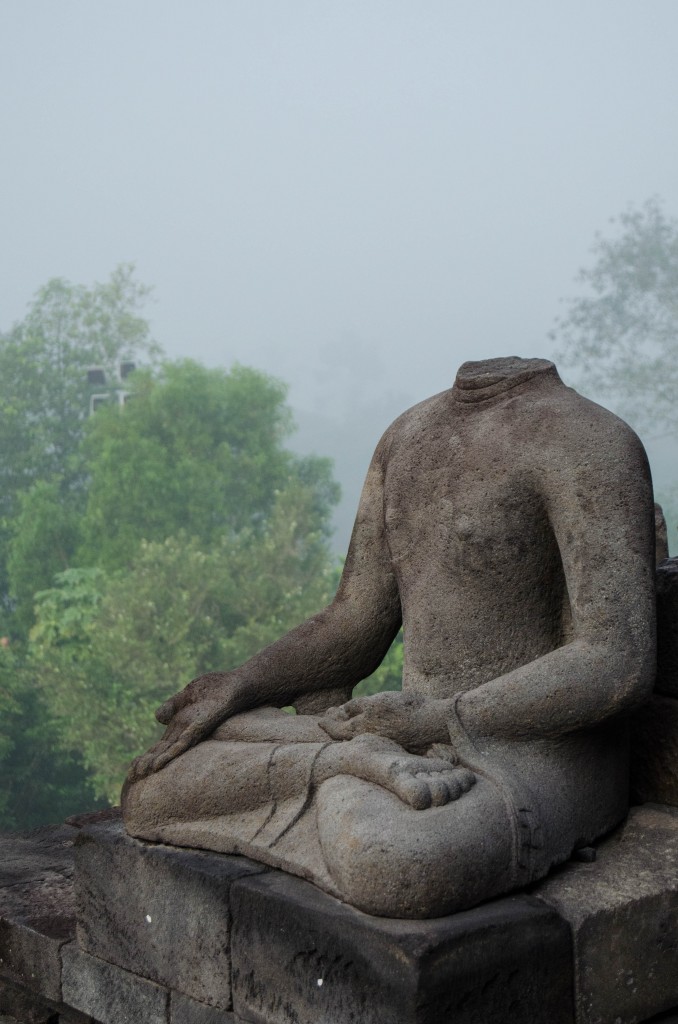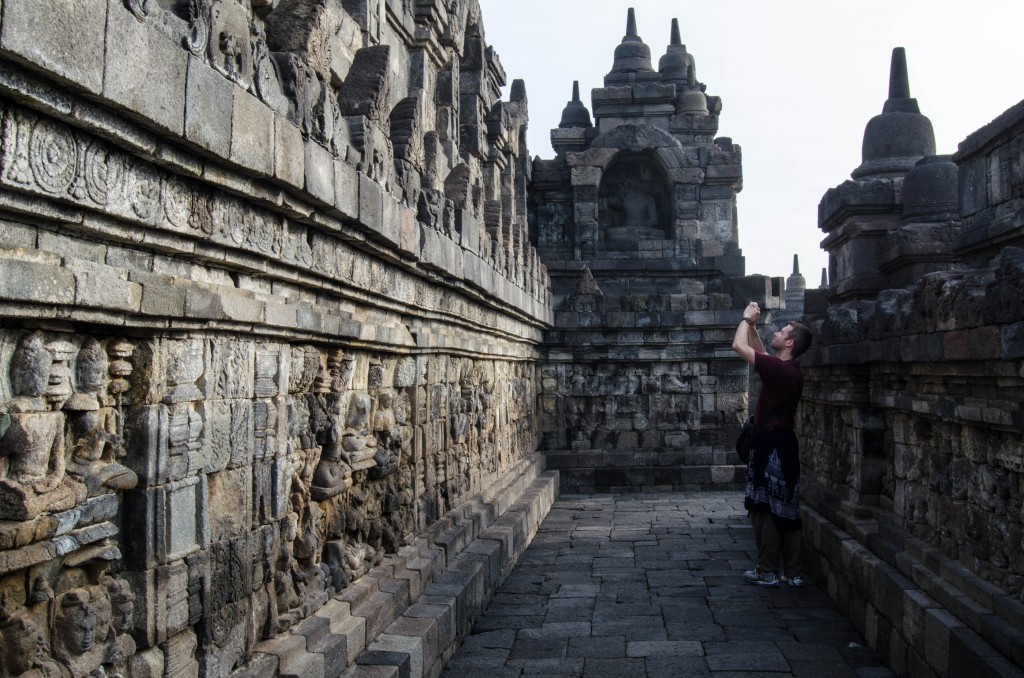 Next, we drove up into the hills nearer towards the city's infamous Merapi, an active volcano that erupted most recently in 2010. Despite government warnings to evacuate, many people that lived in the surrounding villages still remained when the volcano erupted in late October of that year, ultimately killing around 350 people.
Due to the frequent fog of the dry season, our views of the peak itself on this day weren't great, but smoke can usually be seen emerging from the mountaintop at least 300 days a year. The people of Yogyakarta still regard their volcano in the north, along with their turbulent Parangtritis beach in the south (supposed home to the legendary "Queen of the South"), with a great deal of awe and superstition.
Folklore says visitors to the beach, which is better for admiring than swimming due to strong rip tides, should not wear green for fear of the Queen of the South luring the wearer into the water to drown. The home of the sultan, the Kraton, is located directly in the middle of Merapi and Parangtritis, as the sultan has superstitiously helped to keep the powers of fire and water at bay throughout Yogyakarta's history.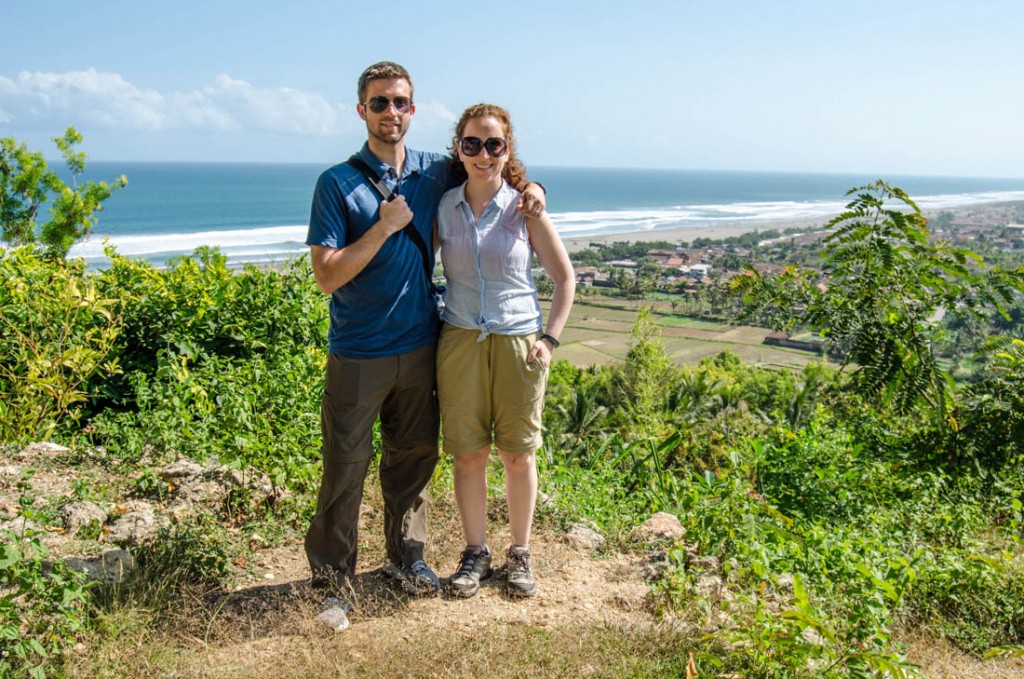 Our day concluded with a visit to Prambanan, another 9th century temple (Hindu this time) that was also abandoned for a long stretch in its history. The temple is dedicated to God the Creator (Brahma), the Preserver (Vishnu), and the Destroyer (Shiva), according to Hindu beliefs. We enjoyed Prambanan thoroughly thanks to a clearer view than our misty morning at Borobudur and fewer crowds.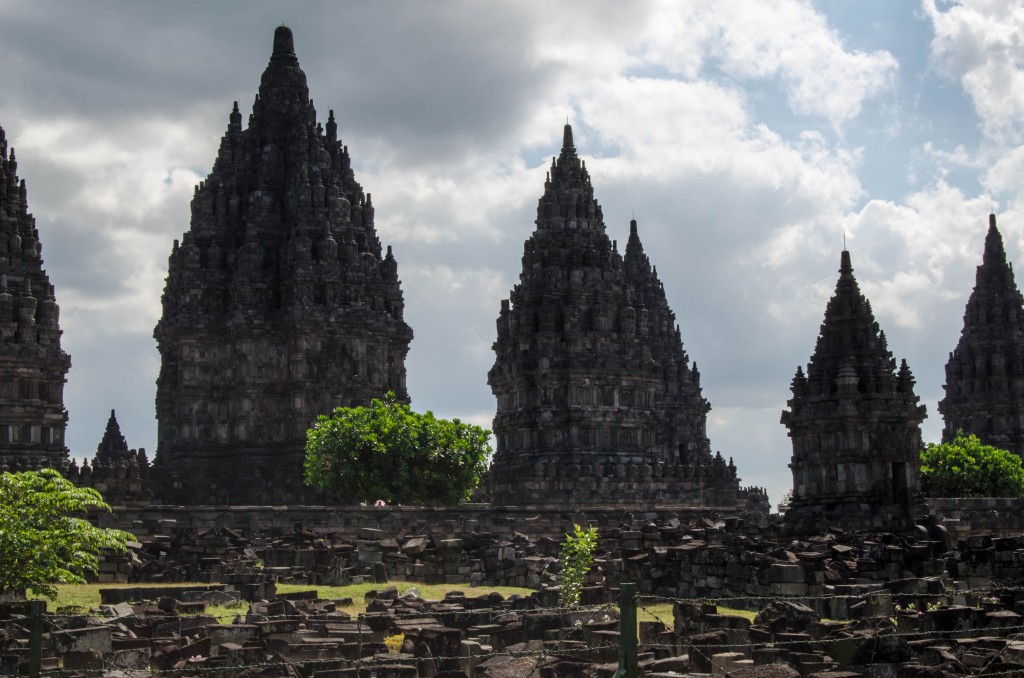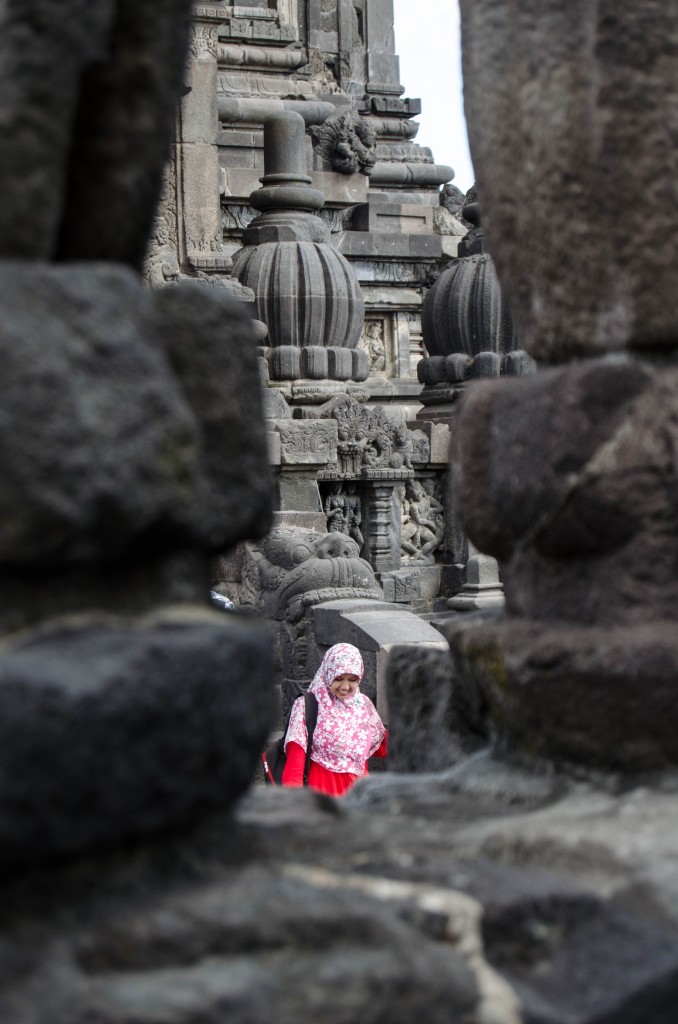 The Ramayana Ballet at Prambanan
We had the chance to see Prambanan lit up at night during a visit to the famous Ramayana ballet. I've already written a lot of words for one post, so therefore, I present to you the story of Rama and Shinta in pictures (and don't strain yourself with trying to make too much sense this story). The amazing costumes, dancing, temple backdrop, and pyrotechnics made for a fantastic evening.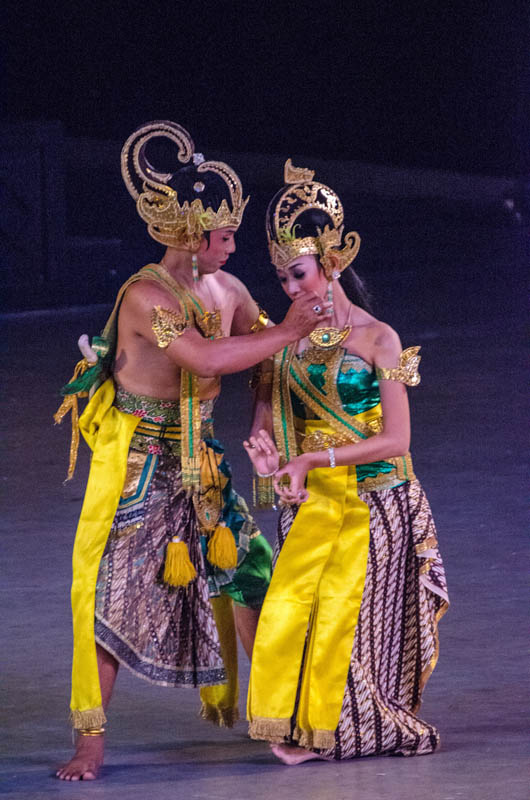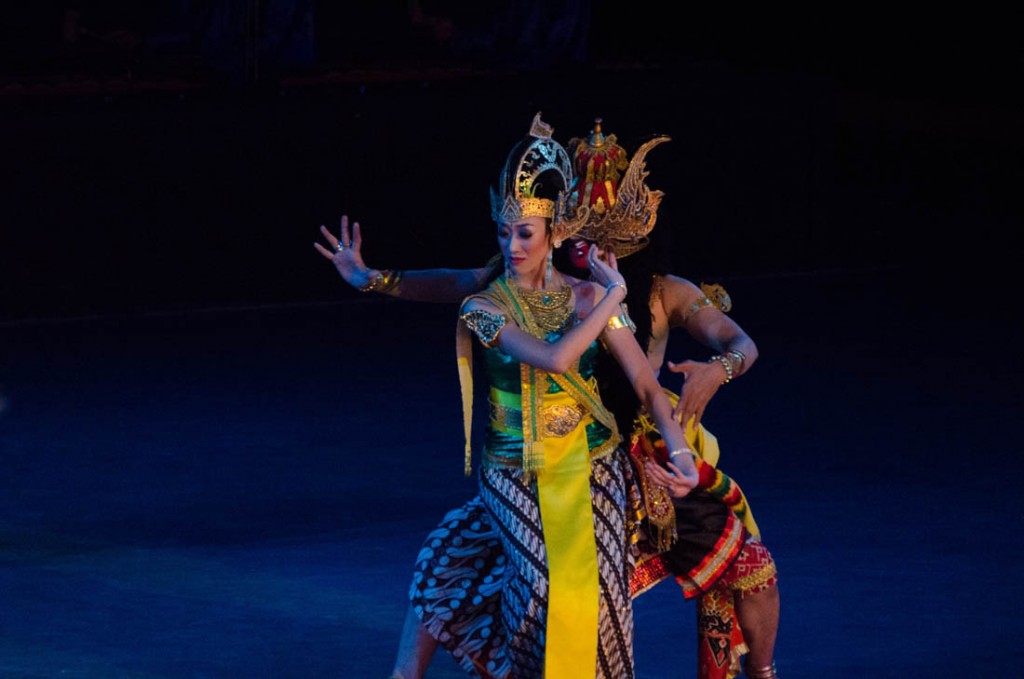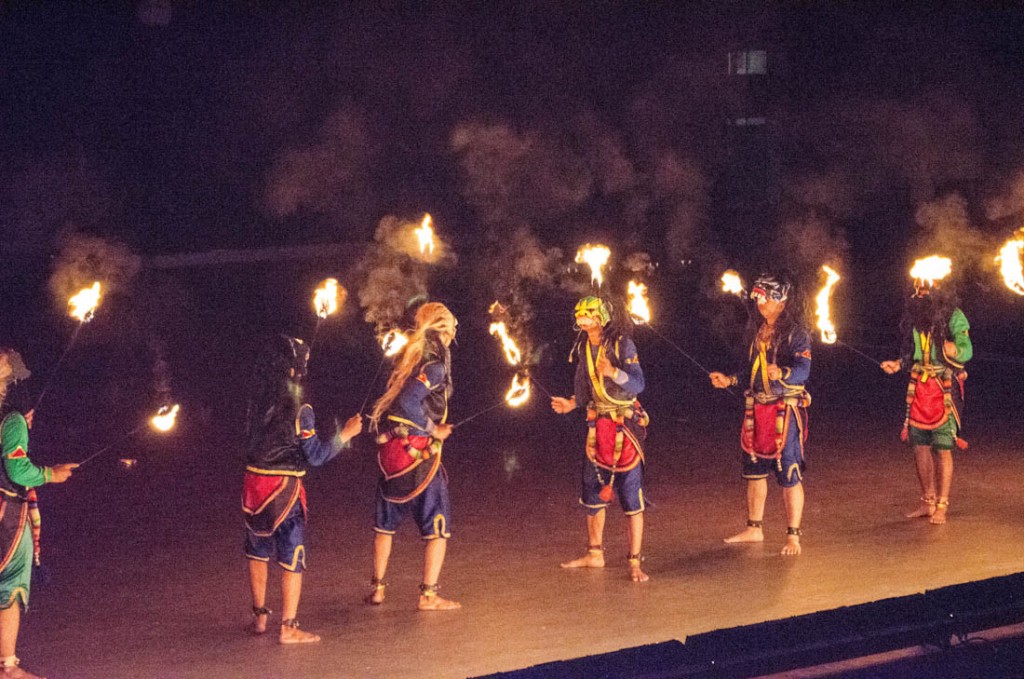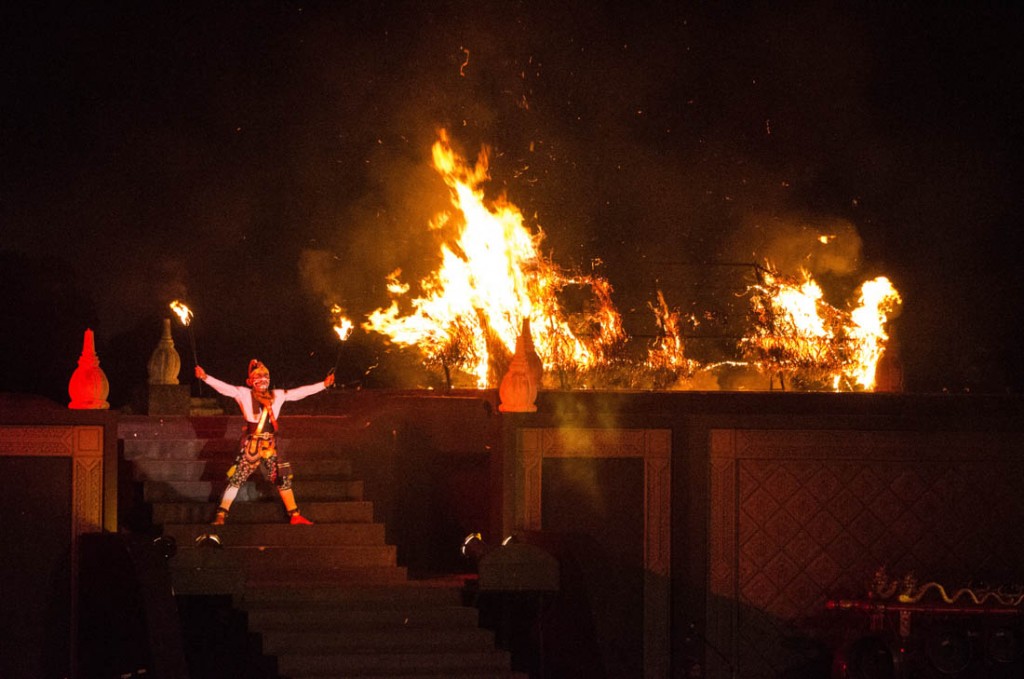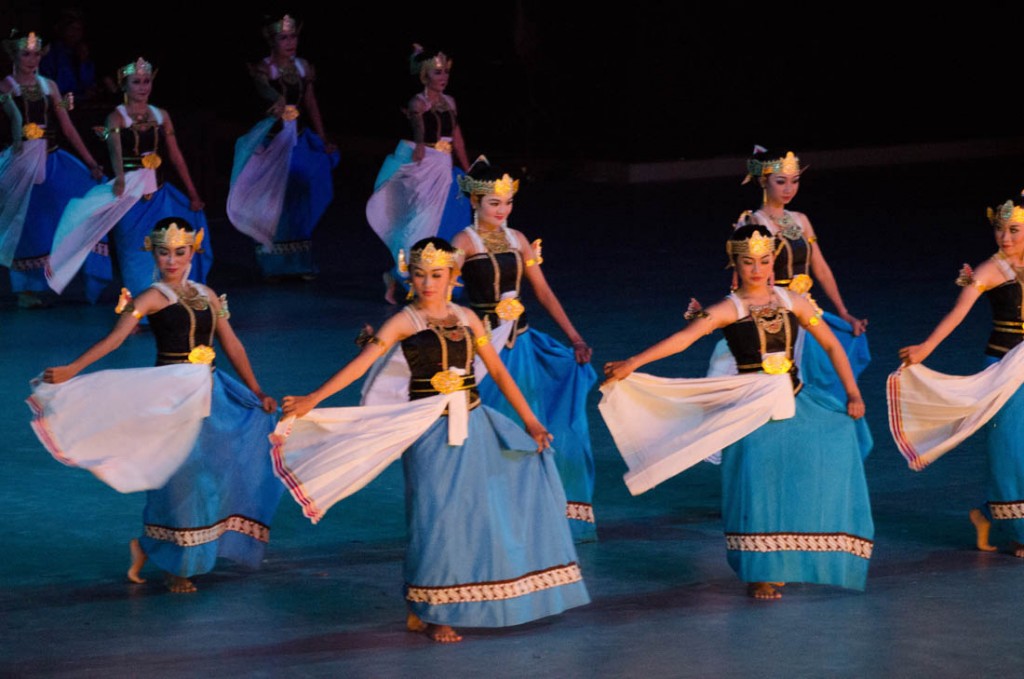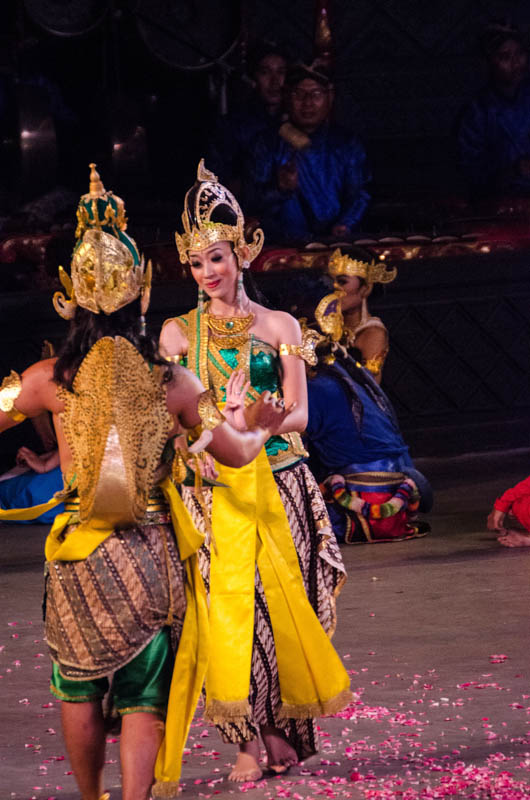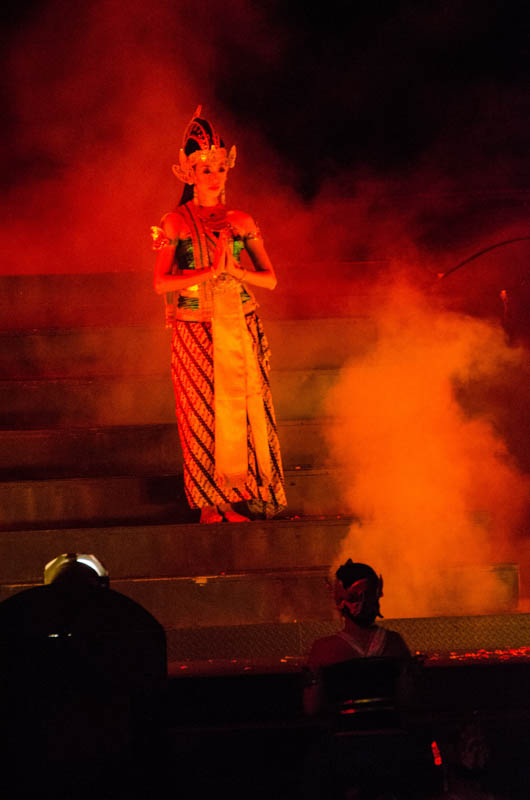 Handicrafts in the Villages and a Lighter Wallet
On another fantastic day—one of our favorite so far in the trip—we called on our all-star driver for a tour of the surrounding villages of Yogyakarta. In sharp contrast to the mega-marts we are used to in the States, commerce in the villages is highly specialized. You got to one specific place for pottery. A specific place for Yogyakarta's highly-regarded silver. One place for wooden handicrafts. One place for painting. One place for textiles. One place for the famous wayang leather puppets.
Most of what these artisans make ends up in tourist shops in the city center or further flung places in Bali or even Europe and the U.S. at substantial mark ups and mixed in with items of dubious quality. Our driver was a fantastic guide to find all the non-touristy places with the best prices where we could simply walk in the back of the shop and watch the process ourselves.
For the first time on our trip (and probably one of the last), we shopped. I bought a new silver ring to wear as my travel wedding ring for under $15. It is 925 silver (92.5% pure silver) and has a rose on top that was made out of fine silver wire so tightly coiled by hand that it looks like mesh. I bought a set of three wood-carved elephants. I bought a sarong and pair of pants made with batik textiles. Chris bought two leather puppets depicting our favorite characters from the Ramayana ballet, the bad guy (Rahwana) and the monkey (Hanuman). We both bought batik paintings. All of these purchases are made with extremely high-quality materials and took someone days or even weeks to make. And all items cost less than $30.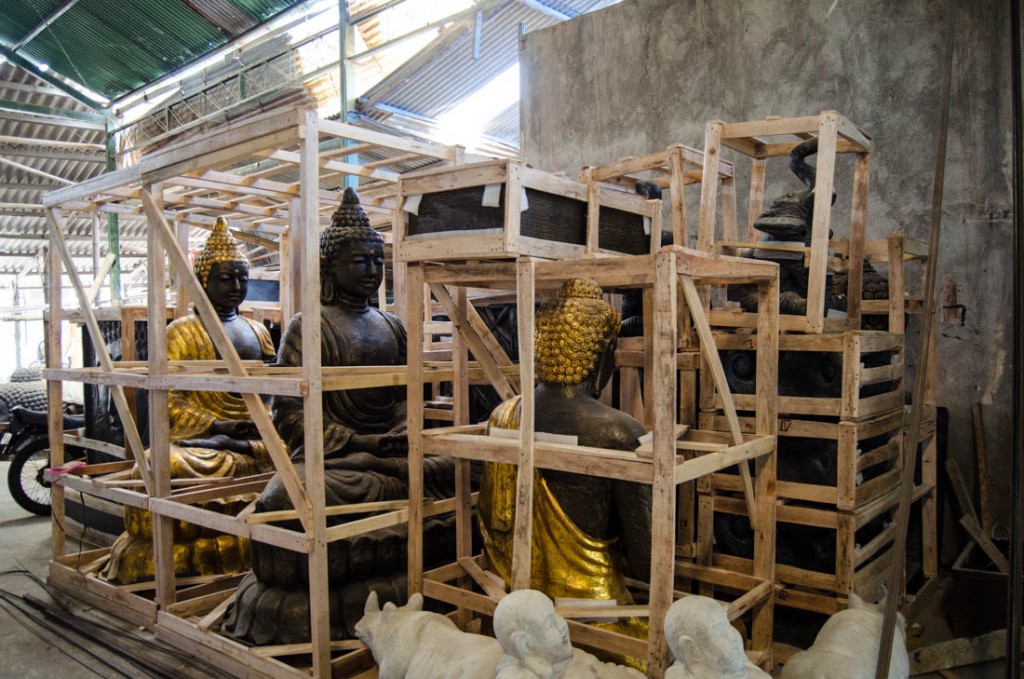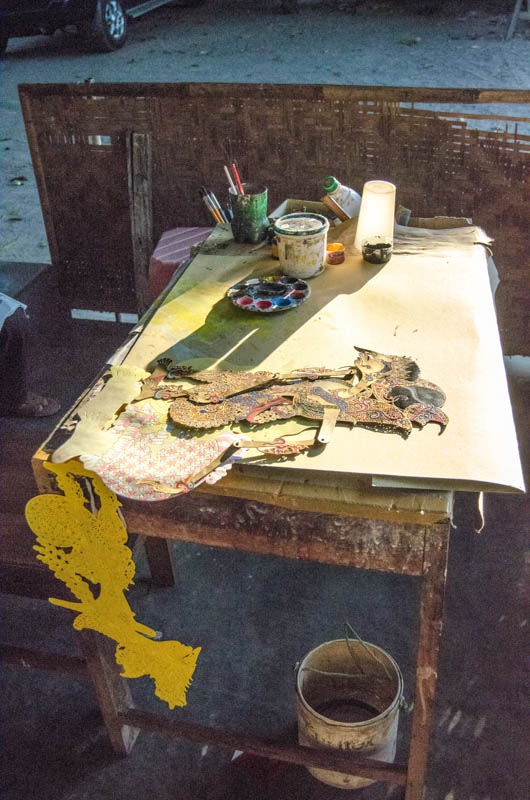 Speaking of artisans, we also had a chance to sample some of the most expensive coffee in the world, Kopi Luwak. Kopi Luwak starts with high-quality Arabica beans from Indonesia's coffee farms. This is where things get weird. These farms make red, ripe, sweet coffee cherries, and the absolute best of them are sniffed out by Asian palm civets (think cat meets mongoose), who have a nose for the absolute best beans. These civets eat the best coffee cherries, along with other fruit, and it all ferments together in their bellies, and then…. you guessed it, they poop out the beans.
Since civets only eat coffee plants and fruit, their excrement doesn't smell or even look gross (see the darker beans in the picture below). But still, these beans remain whole and are collected and washed (many times). After drying in the sun for about a week, they are then shelled by hand. The coffee is so rare and expensive, the makers of Kopi Luwak don't want to lose any of the beans to machine shelling, which can also contribute to a sour flavor. Finally, the beans are roasted and can be purchased whole or ground. They actually recommend ground since it has the purest taste (versus running your beans through a coffee machine) and can be treated like instant coffee by just adding water. You let the grounds settle at the bottom (which can be used for skin treatment and I'm told commands a high price in countries like Japan) and drink the top layer of coffee. The result is a coffee with low caffeine, bitterness, and acidity.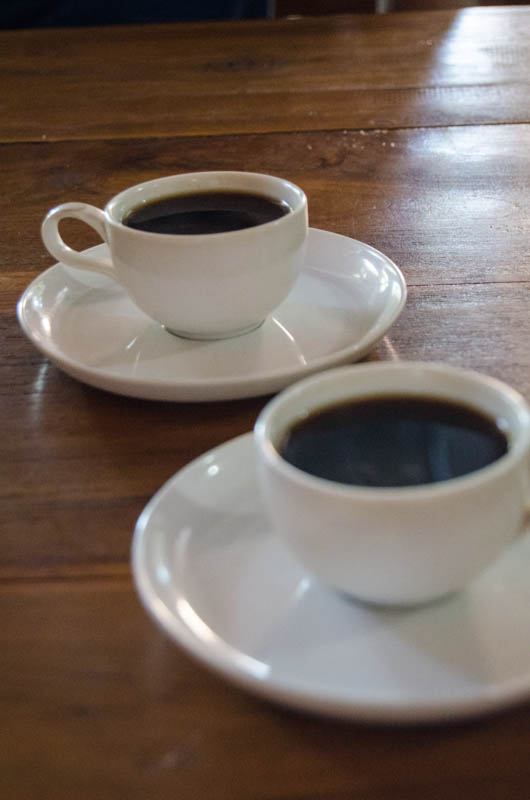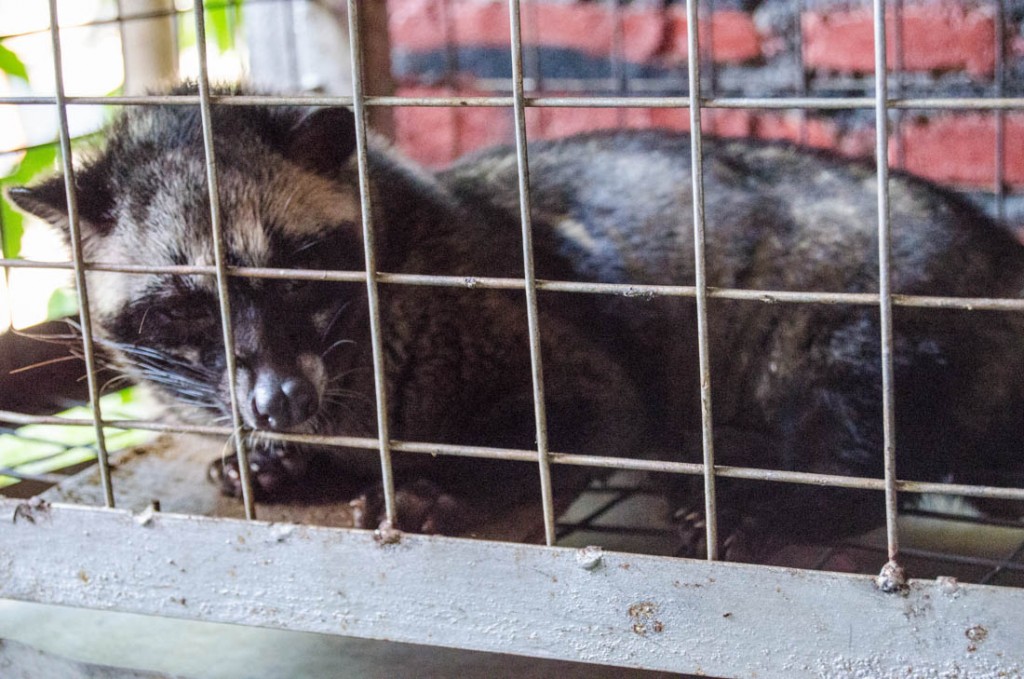 So there you have it: a coffee whose "process" gives it such a unique, rich flavor that it commands the highest prices in the world (it goes for $30 to $100 a cup in New York City and London). It even got a shout out on the movie The Bucket List. The lady at the store joked that in Italy they have cappuccino, but in Indonesia they have cat-poop-ccino. Don't worry friends and family back home, I'm bringing back a bag for you to try!
Giving our wallets a break, our fantastic Air BnB host Wim also joined us for a portion of the trip to give us a more personal view into life in the villages. He took us to two local villages where he and his former housekeeper used to live. Yogyakarta is no stranger to tragedy, and south of the city where they lived was ravaged in 2006 by an earthquake that killed more than 5,700 people and injured 37,000. Although our host's house was untouched, the vast majority were damaged or completely destroyed. Wim took us on a heartbreaking tour of his housekeeper's village and showed us the spot where she and her son were killed when their home collapsed.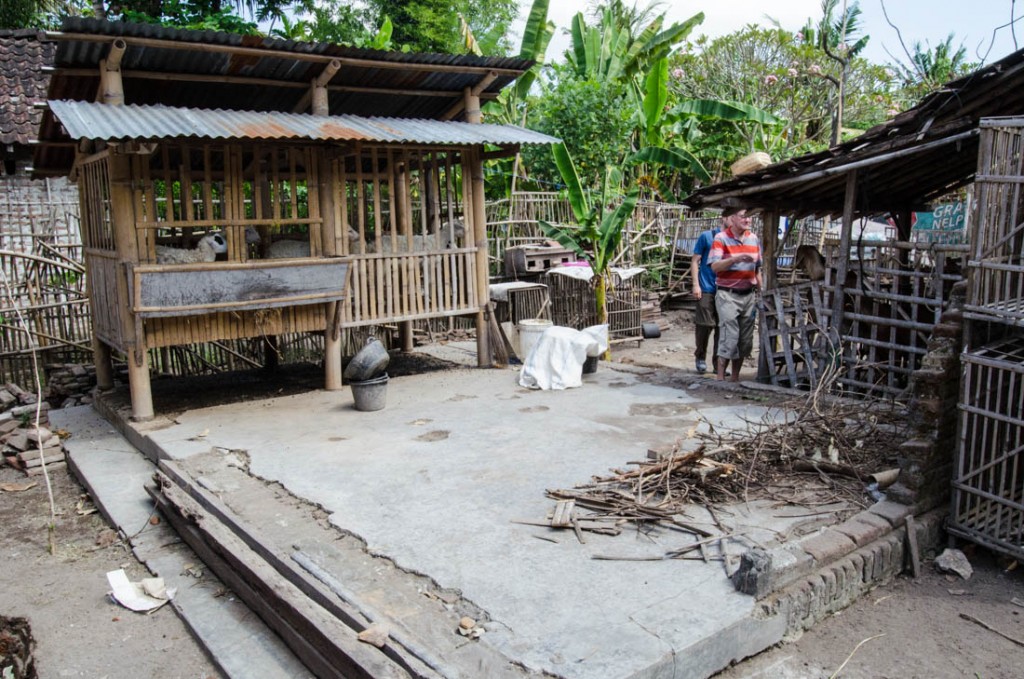 It would have been very easy to visit Yogyakarta for three nights, visiting the temples and frequenting the restaurants and bars that line the popular backpacker street. However, I'm glad we decided to spend a full week in this enchanting city. A week that gave us time to head off the beaten path and appreciate the immense skill of the artisans in the villages, appreciate how even the most beautiful places are not immune to tragedy, and soak up the bounty of art, music, and culture Yogyakarta has to offer. Jogja, farewell until we meet again.