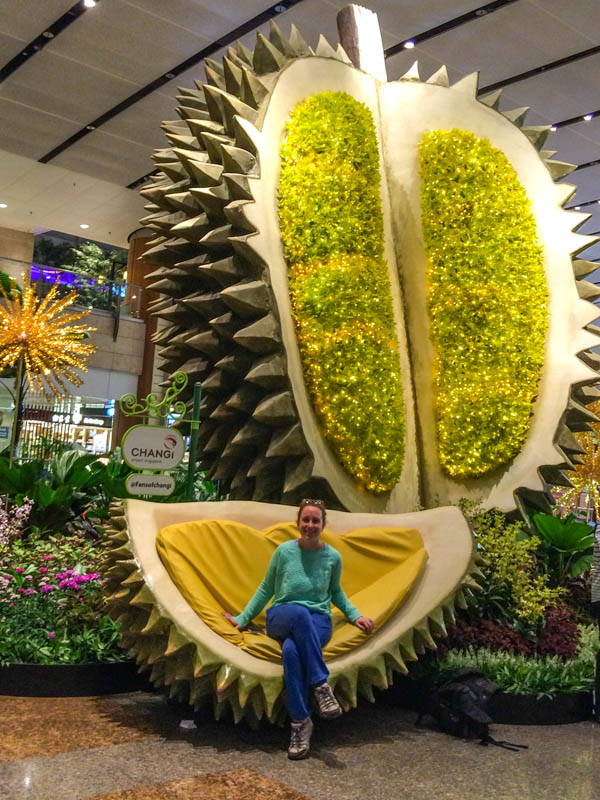 Our departure from Singapore marked the end of the first leg of our trip. We're two months into the twelve-month adventure, and we're saying goodbye to Asia for a while. I'll miss the ornate temples, cheap massages, state-of-the-art subways, and, of course, the coconuts, but happily we'll be back again in early 2016. Maybe by then we'll be in the mood for rice again.
Next up is Russia and Eastern Europe! I am thrilled to explore this edge of the world that I admittedly know little about. In contrast to the bounty of low category Hilton properties in Asia, we'll be staying in a lot of Club Carlsons and in some pretty fantastic Air BnBs during this next phase. I'm looking forward to wandering through cobblestone streets and going to the markets and cooking our own meals for a change. And I hope we get to see lots and lots of castles.
Here's how the rest of the RTW trip could pan out, although this is a rough schedule and very much subject to change (we recently gave Egypt the axe… sadly, we just don't feel good about going there right now).
Late Summer: Russia, Finland, Estonia, Latvia, Lithuania, Poland, Czech Republic, Albania (maybe), Montenegro, Serbia (maybe), Bosnia
Fall: Croatia, Austria, Germany (Oktoberfest with friends joining us from Chicago), United Kingdom and Amsterdam (maybe), Slovakia, Hungary, Romania, Turkey, Georgia, Azerbaijan (maybe), Morocco, Jordan, United Arab Emirates, Switzerland, Italy
December-January: Israel, Tanzania, Rwanda (maybe), Zimbabwe or Botswana (maybe), South Africa, Mauritius, Sri Lanka, India
February-March: Burma, Laos, Vietnam, Cambodia, Thailand, Philippines, Australia, New Zealand
April-May: Chile, Uruguay, Paraguay, Brazil, Peru, Colombia, Panama, Cuba
As a farewell to Asia, I'm posting a picture of me with a durian fruit in the Singapore Airport. Called the "King of Fruit" by Southeast Asians and elevated as the National Fruit of Singapore, durian is loved by many people in Asia. The two actually remind me a lot of each other. Like durian, Asia can be pungent and sharp if not approached thoughtfully, but it is also intoxicating (locals even warn against consuming durian and alcohol together) and unlike anything else in the world.
Stay tuned to see what analogies I can draw between Russia and vodka next.