As we headed east across the island of Java from Yogyakarta towards Bali, we decided to make two stops along the way to see Mother Nature at her finest. Both stops involved staying in not the nicest of accommodations, getting up in the wee hours of the morning, and some pretty serious exertion before the sun came up.
In contrast to our Great Wall of China experience, when we decided to forego the private driver and instead do it ourselves on the cheap, we opted for a private tour this time. That decision had to do with the three pre-dawn mornings, the high degree of negotiating with local touts before we've had coffee, and the 20+ hours required of train, car, and ferry travel.
Mount Bromo and the Sea of Sand
I'll spare you the monotonous transit portion of the story and fast forward to us arriving from Yogyakarta to the small mountain village of Cemoro Lawang in East Java. People only come to this tiny town to see the famous Mount Bromo, and our hotel, the Lava View Lodge, had some monopoly power to exercise. The room was musty and damp, but it had a glorious view. (Be warned: this post will contain an above-average number of arms-wide-open shots of me).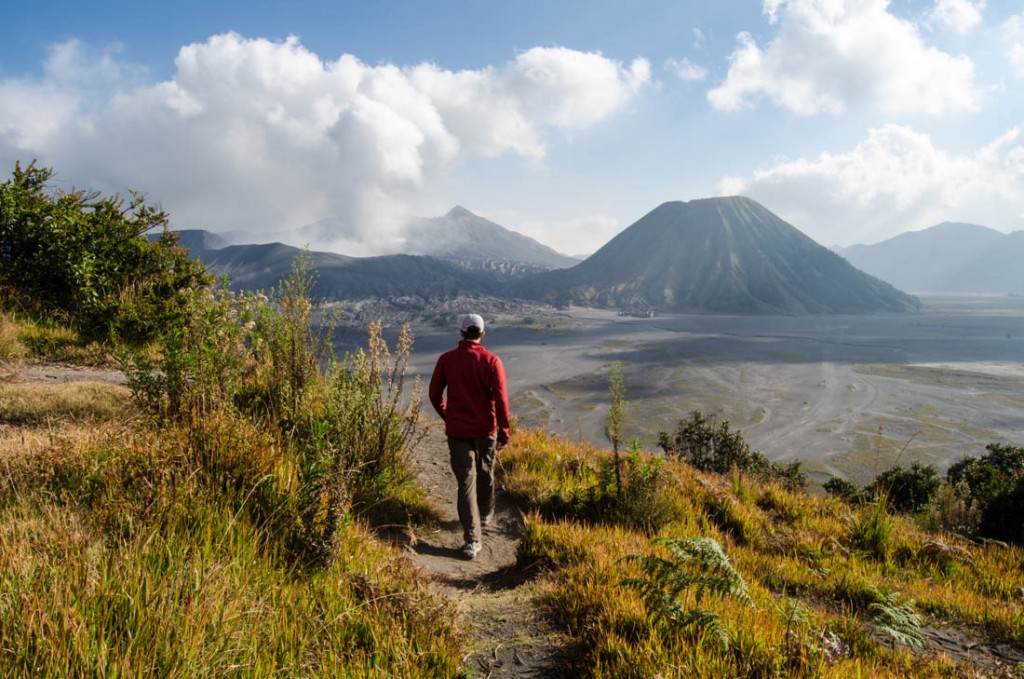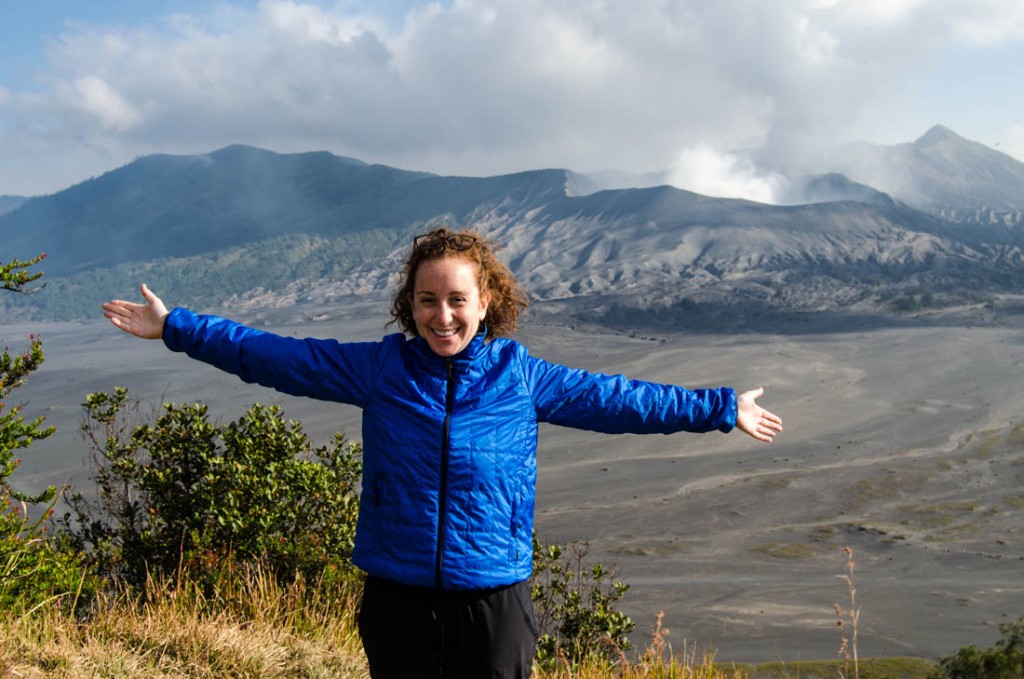 Bromo is an active volcano, and depending on its levels of activity, there are sometimes warnings against visiting it. Most recently, it erupted in 2004, 2010, and 2011, although thankfully all had few to no casualties.
Bromo is actually the smallest within the landscape. It's the one that looks like its top has been blown off, and its crater is almost always emitting clouds of white smoke. The otherworldliness of Bromo is further enhanced by a sea of volcanic sand that surrounds it. The more tranquil looking mound also in view is called Mount Batok.
A Jeep that would take us to our sunrise view and then across the Sea of Sand to the crater's edge picked us up at 3:00am. We had to fight the crowds to get a good view, but when the sun came up, the panoramic of Bromo and Batok was simply stunning. Another active volcano, Mount Semeru, can be seen in the distance and actually emits a little plume of smoke roughly ever 20 minutes.
We next off-roaded through the Sea of Sand up to Bromo. The people of the surrounding villages wait for Jeeps to pull up and then try to convince tourists to rent a horse to take them across the last 2km of the way to the crater's edge. We opted to walk, but then quickly realized that a horse was perhaps less useful for saving your legs than for preventing you from being trampled by everyone else on horses.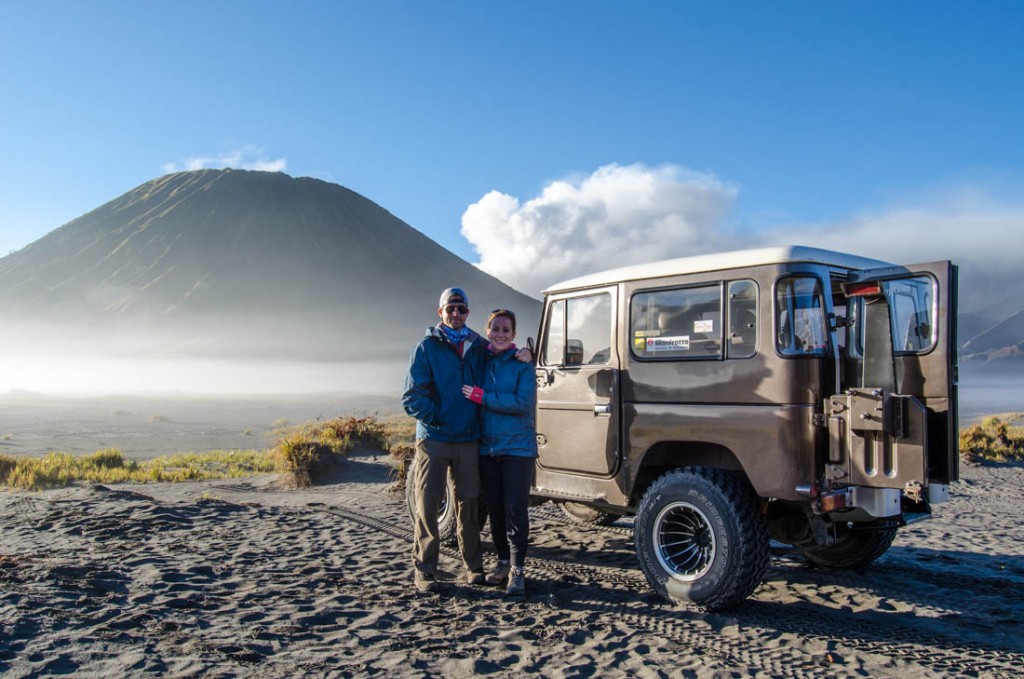 Eventually, we made it to the mount and climbed the stairs to the edge. We looked down to see a steady cloud of white sulfurous gas streaming out of the inside. It also provided us with fantastic views of the surrounding area.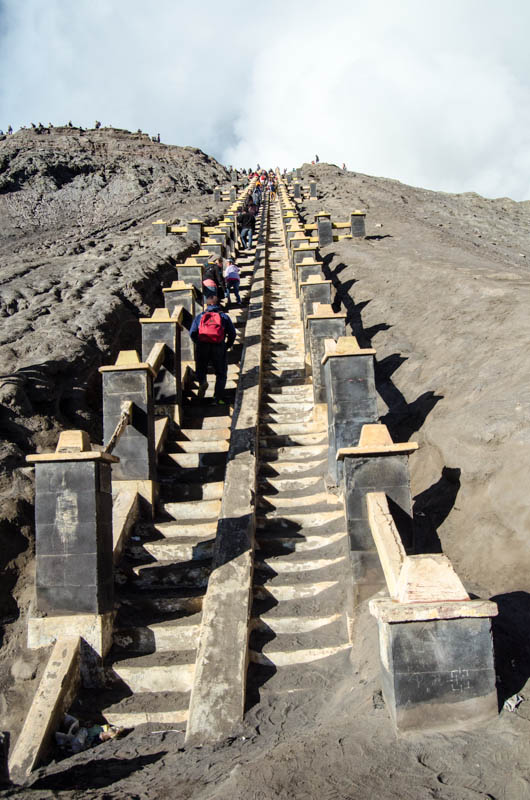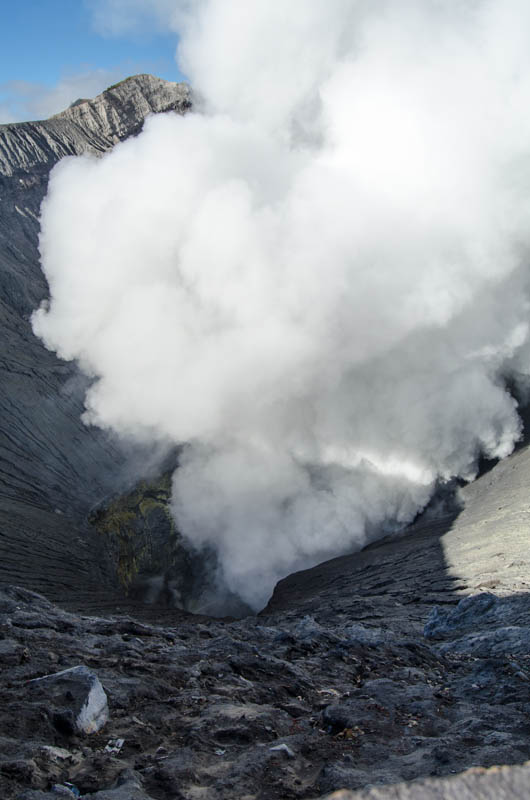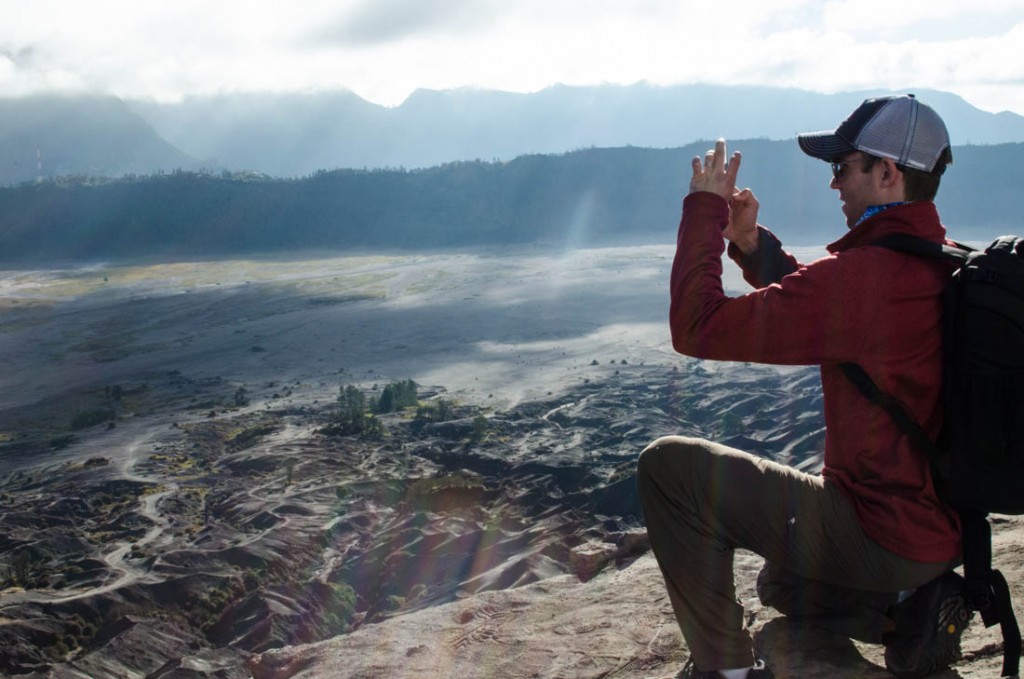 Once a year, there is a tradition of throwing sacrifices into the volcano—nowadays fruit, rice, vegetables, flowers, and even livestock but, according to legend, the original sacrifices were more of the human variety—to appease the ancient deities. Thankfully, none of our items like camera lens caps or hats were accidentally sacrificed to Bromo. We returned to our Jeep by 8:00am and were off to our next destination with the hour.
The Blue Flames and Sulfur Mines of Kawah Ijen
After another five hours of bumpy Indonesian roads and a passing system I can only describe as harrowing, we arrived at our next hotel where we made ourselves stay awake until 5:00pm. Unfortunately, there was a wedding being hosted by our hotel, so the music started bumpin' around 6:00pm, and I lay awake until our driver picked us up at midnight to make the two-hour drive to the entrance of Kawah Ijen.
We arrived around 2:00am and were paired with a local miner that would guide us for the next two hours as we hiked to the crater. Once we reached the rim, we had another 45 minute hike down to see Ijen's biggest attraction: the Blue Flames.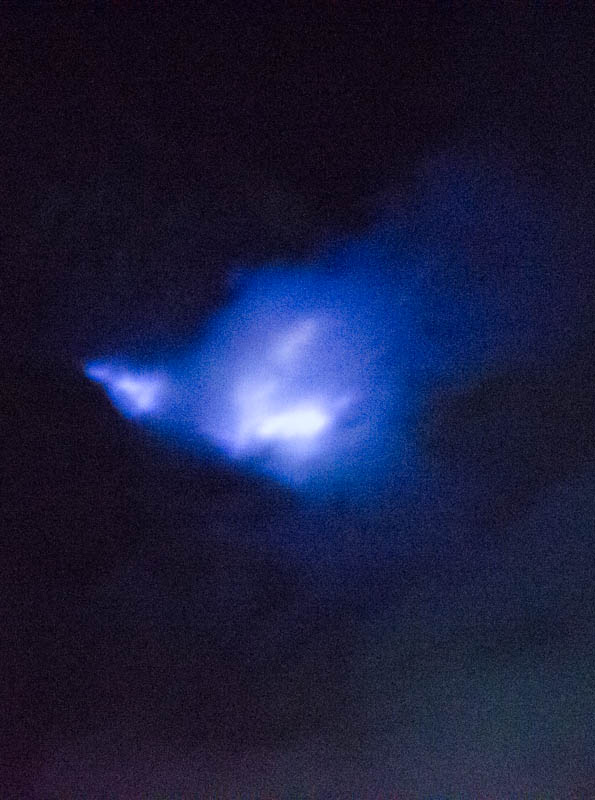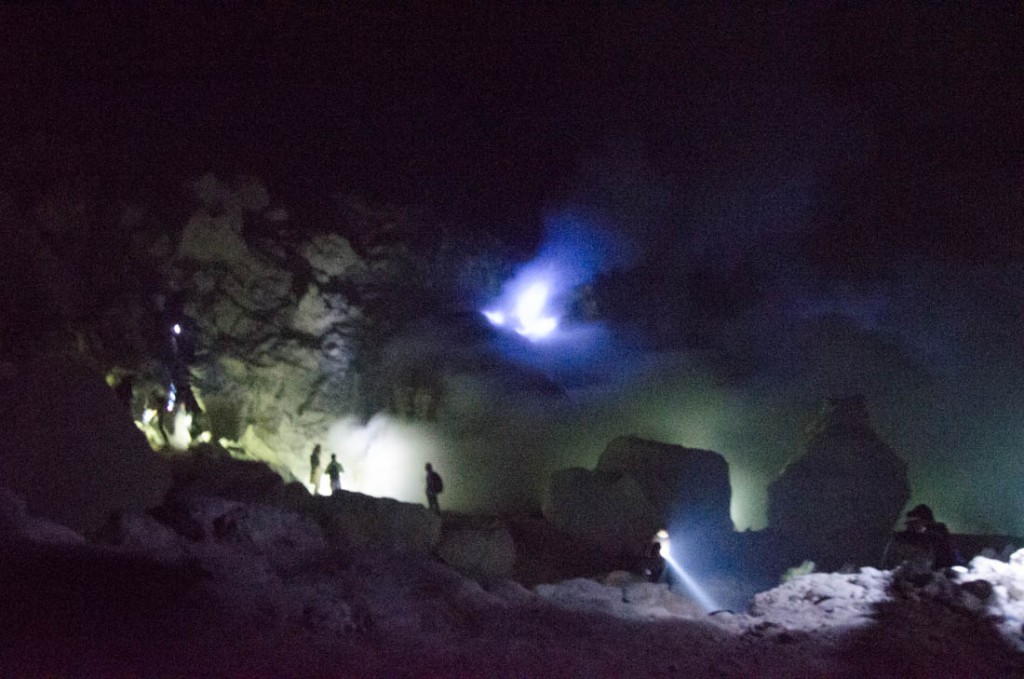 There are only two places in the world you can see blue flames—Indonesia and Alaska—and those in Indonesia's Ijen are the largest. Sulfuric gas emerges from cracks in the crater's surface at extremely high temperatures, igniting and producing a neon-blue glow. My ability to take pictures in this light is terrible, but National Geographic has featured it if you want to see some prettier shots.
In addition to a crater, a lake, and a volcano, Ijen is also home to a sulfur-mining operation that is the closest thing to true back-breaking labor I've ever seen with my own eyes. Miners breath the hazardous gases, pile heavy loads of sulfur into baskets on their shoulders, follow a treacherous path of boulders out of the crater, and then carry their loads three more kilometers to get paid only a few dollars a day for their efforts.
Ijen isn't as popular of a tourist spot as Bromo since you have to be quite physically fit to see it, but tourism has brought a new layer of opportunity and annoyance to the place. Instead of carrying sulfur, some miners now have a chance to be guides to visitors like us and spend their early morning hours walking foreigners through the dark mountains to find the best view points rather than carrying the heavy loads.
However, there are not enough guide positions for all miners, and we passed many who had to fight against the tourist traffic as they tried to summit the crater. Many tourists even end up obstructing their way in the effort to take the perfect picture. That said, the miners are still more than happy to bear their load a moment longer and pose for a picture in exchange for a contribution that supplements their wages.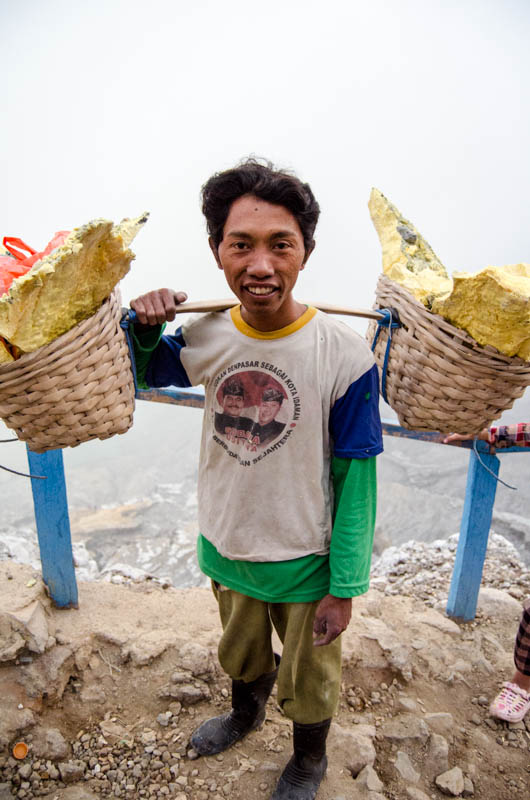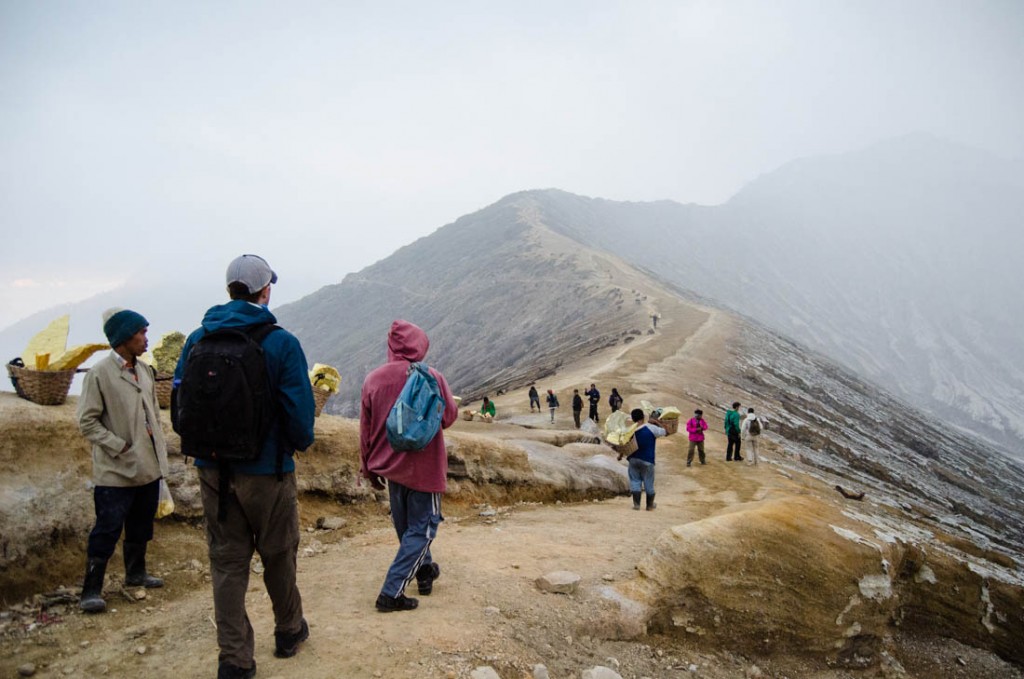 As the sun rose, the blue flames died away (they can only be viewed before dawn). If the morning had been clear, we would have seen a turquoise-colored acid crater lake. Although we were sad to miss the picturesque lake, we were rewarded by absolutely glorious views of the mountains in the dawn mist on our way down. Chris even brought out his iPhone to play The Misty Mountains Cold as a soundtrack.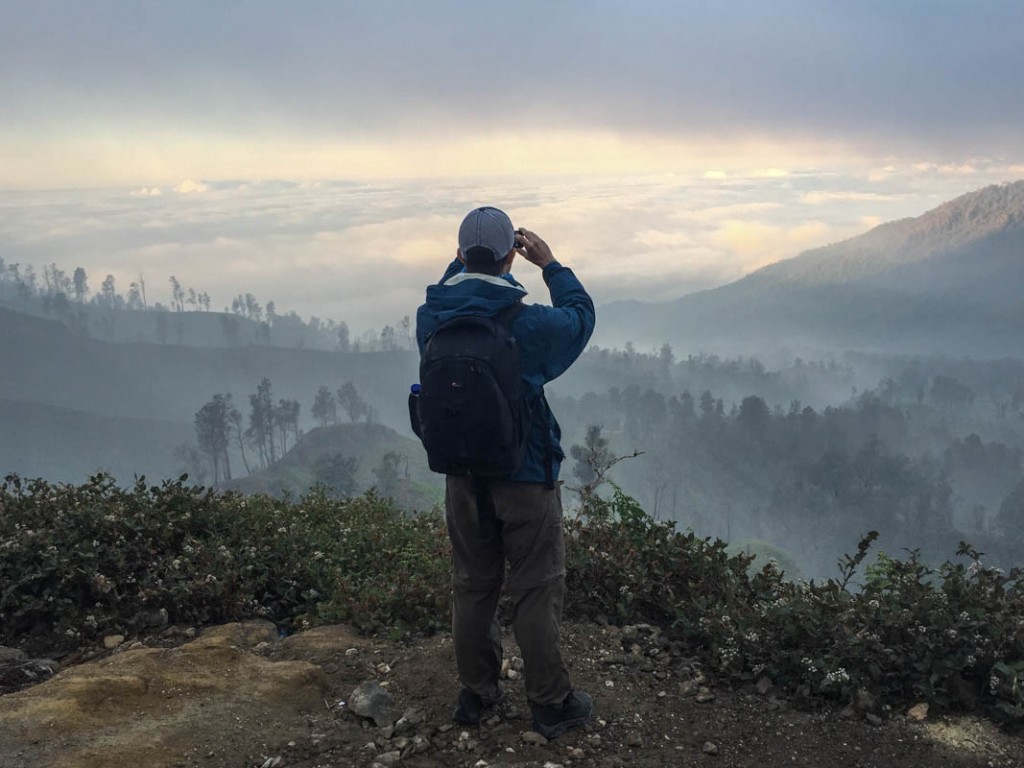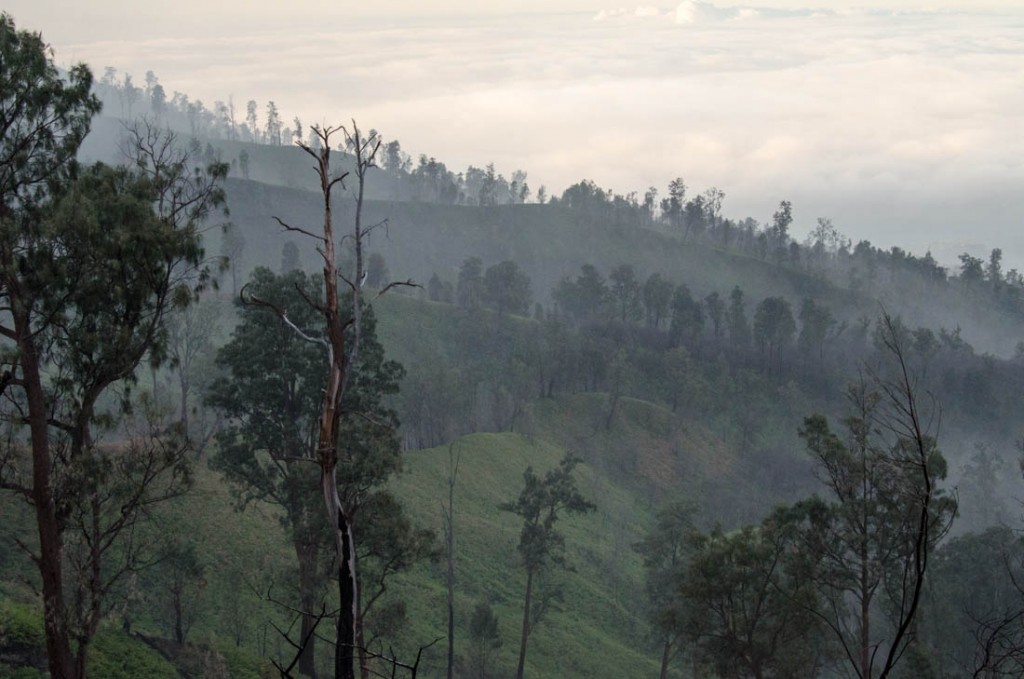 Our visit to Bromo and Ijen was expensive, exhausting, and—in the case of the sulfur miners—heartbreaking. However, I don't know when else in my life I'll again be able to see something like the moonscape of Mount Bromo and its Sea of Sand, or the Blue Flames of Ijen. These highlights of natural glory will be tough to top throughout the rest of our trip…. but that won't stop us from trying! As always, stay tuned.