Well, it's finally here-departure day! One-way tickets to Tokyo! And, friends, I'm not sure we could have picked a more spectacular way to kick off our one-year RTW trip than this. Enter: the JAL First Class Suite. Japan Airlines' website describes it with phrases like "the ultimate experience in the sky" and "unparalled in-flight comfort." And, no, we didn't win the lottery right after we quit our jobs either. Scroll to the end to see how this magical moment came to be, or just keeping reading and we'll get there eventually. I've been struggling with words to describe what was the greatest flight of my life…. So how about I take you through the experience so you can see for yourself?
At the Terminal
We arrived at the airport ridiculously early (the check in counter wasn't open for another hour) to try to maximize our experience at the terminal before we left. Once the check in counter opened, we breezed past the assembling long line of passengers via the first class queue (which actually has priority over business class and members of their status program). After a brief twinge of doubt whether this scrappy duo with bulging backpacks was truly in the right place, the Japan Airlines attendant checked us in, walked around the counter to present us with our boarding passes, tagged our carry ons with First Class labels, and sent us down to the First Class security line with bows and gracious words. We sped through security and made our way to the First Class Lounge. Nope, not your typical Admirals Club (which is in itself a delightful treat whenever you can muster an occasion to get it), the First Class Lounge, a flagship lounge that is one of only four in the country.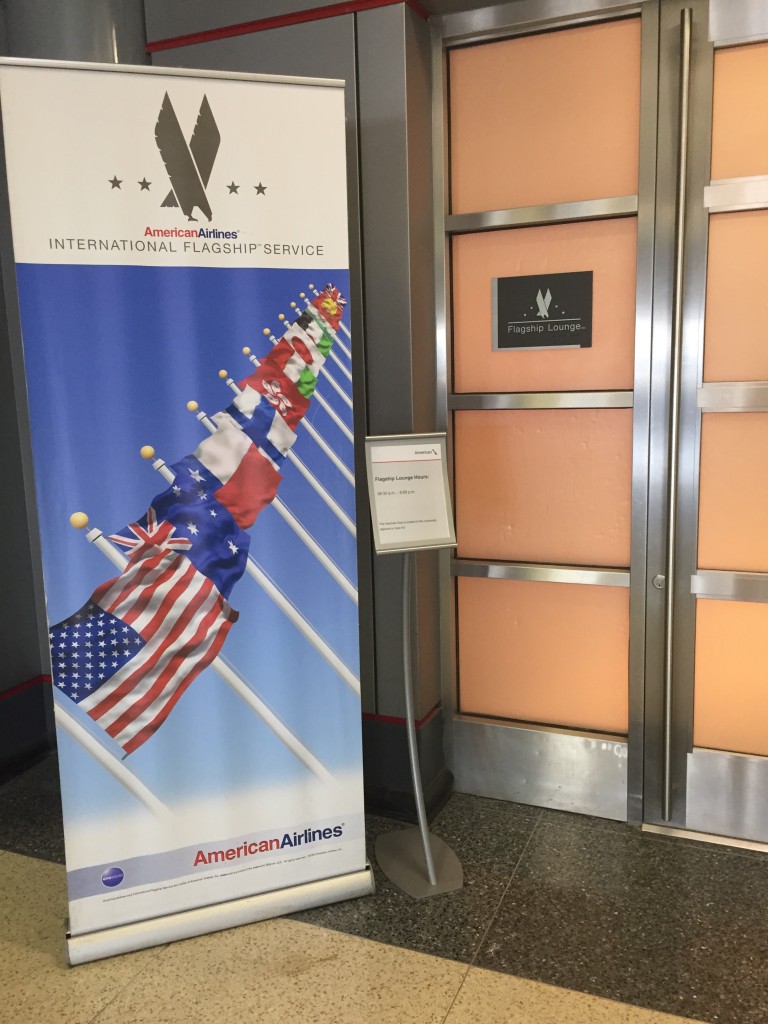 We find the discrete entrance, conveniently located right next to our departure gate, and forge ahead. We enter into a very cozy lounge, complete with leather chairs, plenty of tables, and all the outlets your heart could desire. There's a business center, a quiet room, and lots of newspapers to read. After quickly throwing our stuff down, we head over to the refreshment area, which was stocked at the time with breakfast items: egg and bacon hash, vegetable frittata, beautiful yogurt parfaits, fresh fruit, assorted breads and bagels, cereals, and even sushi. The beverage area had plentiful coffee and tea, juice, and a fully stocked beer fridge, wine area, and liquor bar with all the mixers and accompaniments. Cue Chris and Lauren loading up their plates and grabbing several different types of beverages each.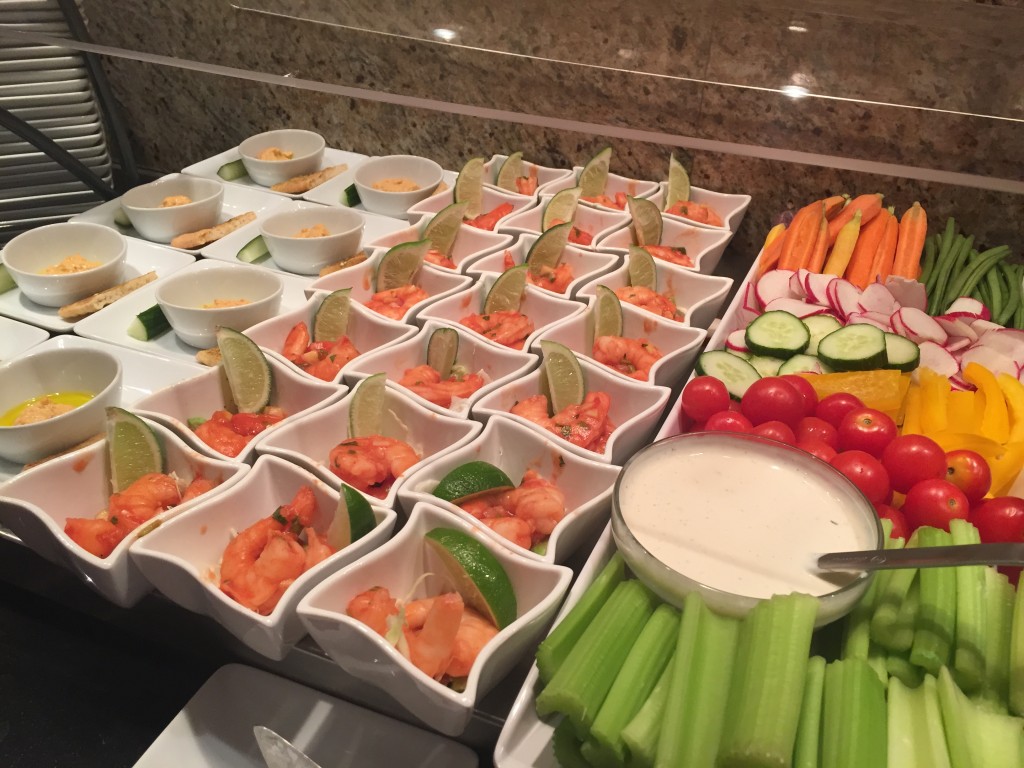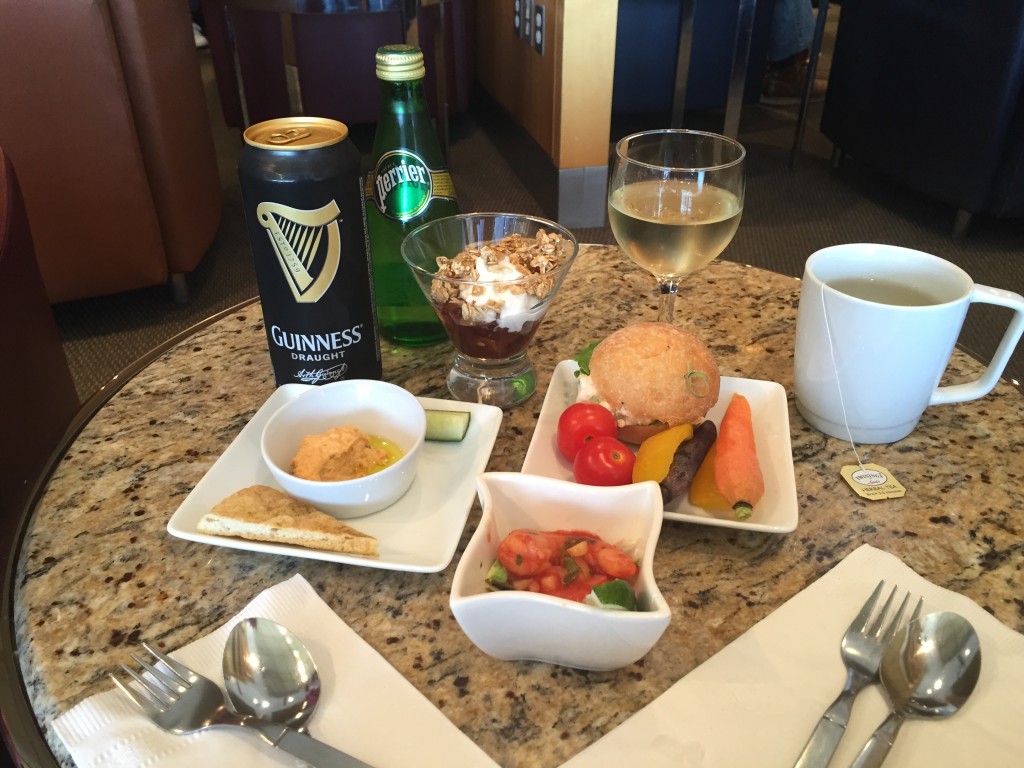 We enjoy our breakfast and relax into our chairs. The quiet environment proves friendly to guidebook reading and Internet browsing, and we soon find ourselves returning to the refreshment area only to find that the food selection has totally changed! Apparently, lunchtime was upon us and it offered a bounty of sandwiches, shrimp, hummus and crudités, and desserts. Also, time for round two at the drink bar. When it was time to board our flight, we found ourselves wishing we had more time in the lounge! Ah, but the best was still to come.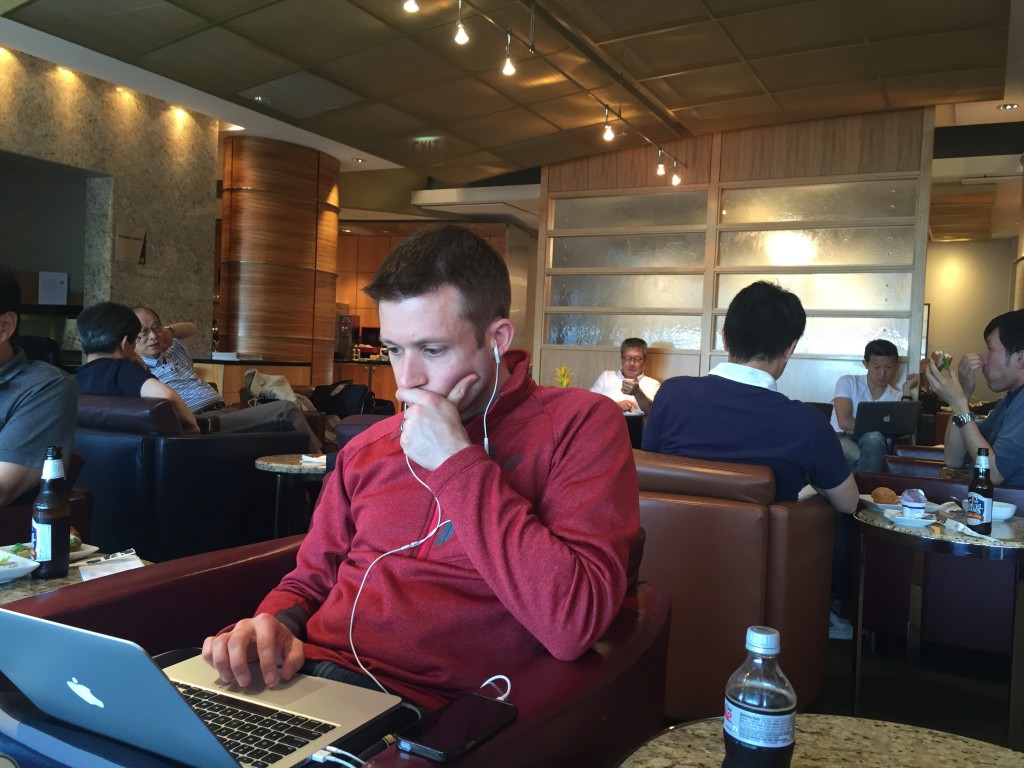 Finding Our Seats
We board first and enter an area only accessible by the eight passengers in First Class. There are at three flight attendants in our area… to wait on only eight people! We're escorted down the aisle and come face to face with our "seat" for the next 13 hours: the JAL First Class Suite. If you're interested, Japan Airlines provides an online tour of the suite here. But here's my first impression: Massive leather chair with automatic controls (upright, relaxed, and flat). Ottoman to put your feet up that doubles as guest seating should one of your other first class friends want to visit. Plentiful storage space that gets as specialized as "glasses storage tray." A 23 inch personal TV.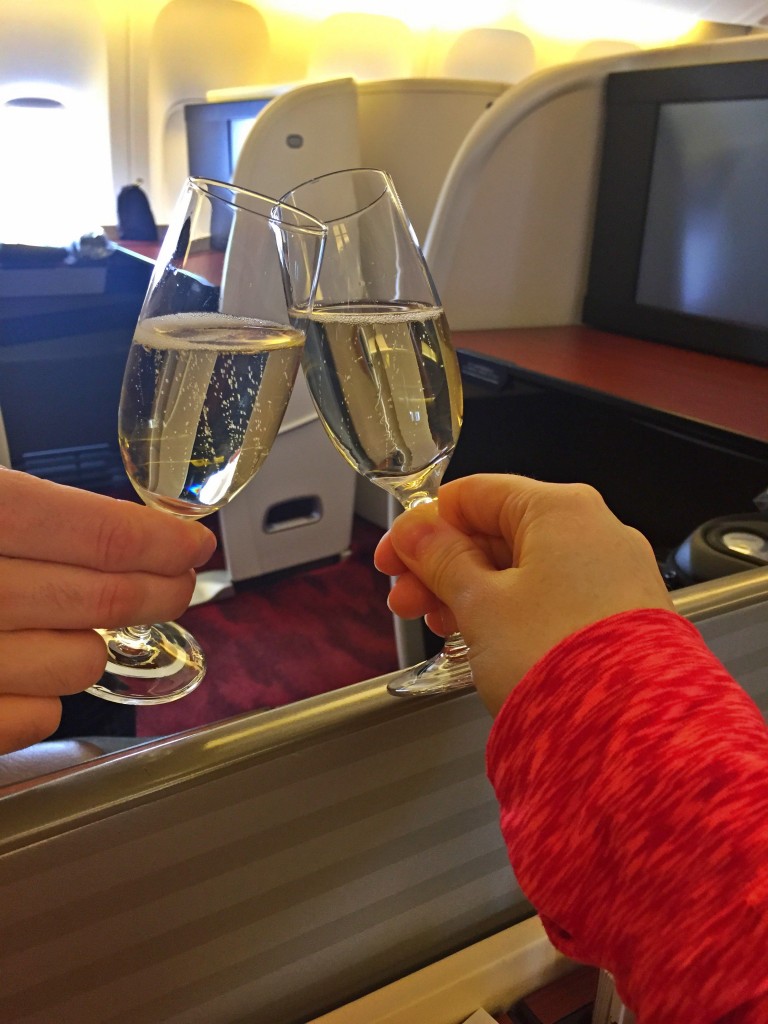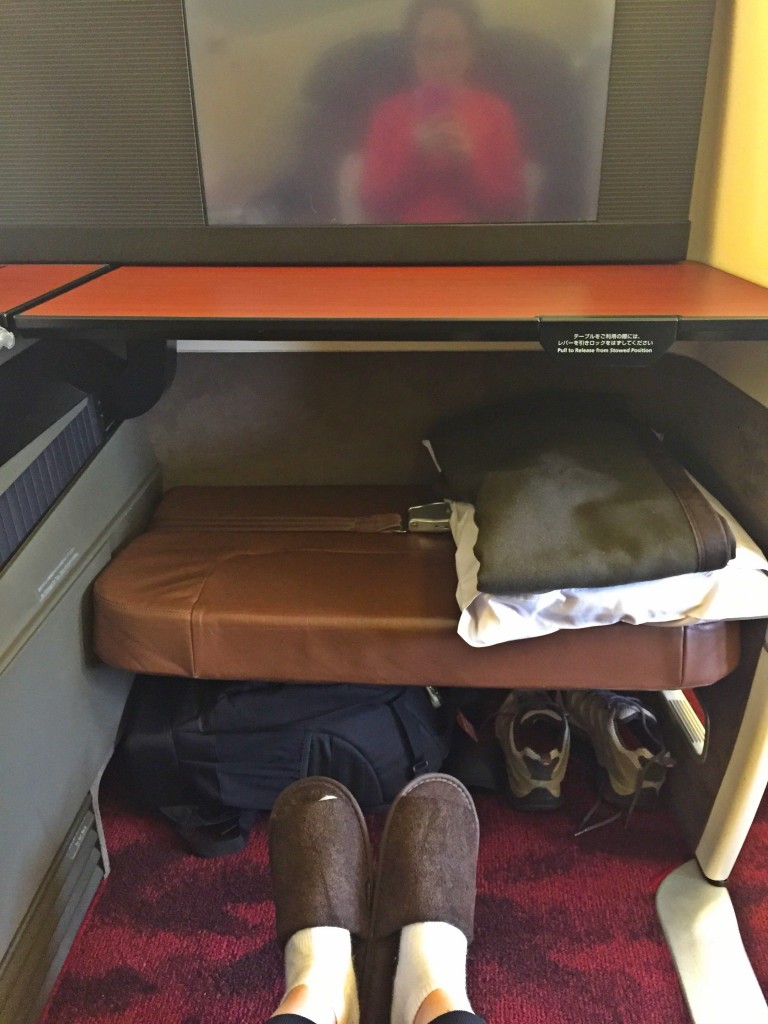 We store our shoes away for the flight and put on the proffered slippers. We're brought glasses of champagne. I can barely sit still for takeoff since I am bouncing for joy so much. I start exploring my toiletry kit for the flight: a custom made kit in partnership with luxury label Loewe. Also, we're later given free beauty samples of luxury products tailored to men or women to bring home.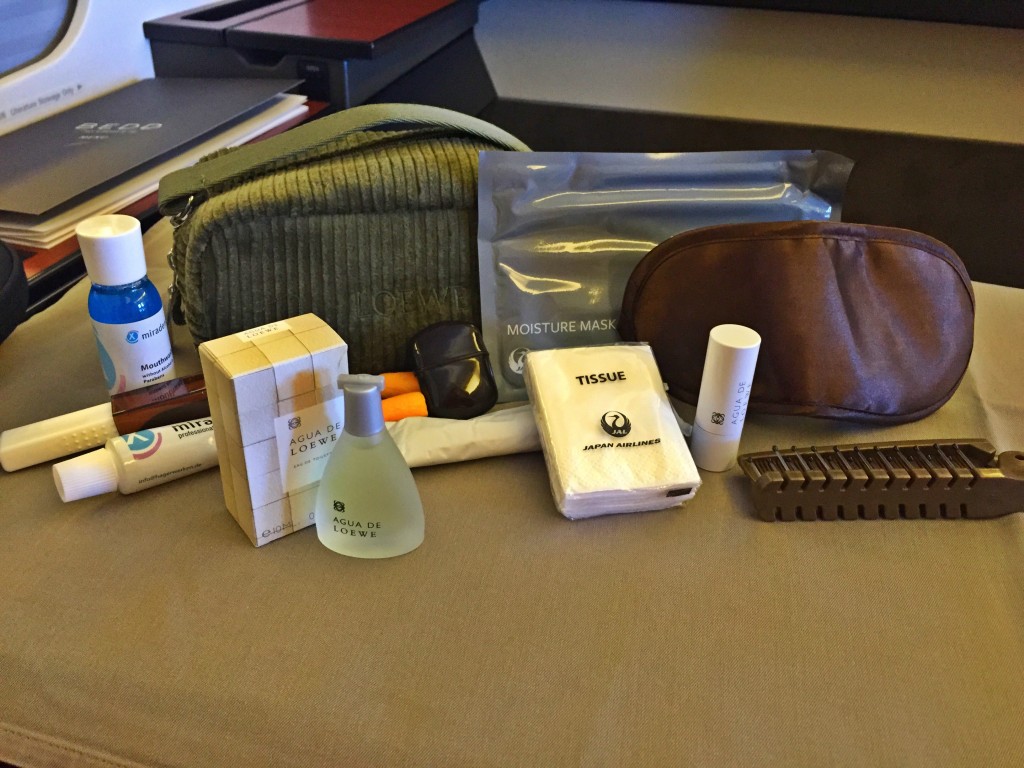 Fine Dining at 40,000 Feet
Once the seatbelt light is off, the flight attendants present us with an extensive drink menu, including cocktails, liquors, champagne, wine, sake, and beer. I chose an uber fancy non-alcoholic tea that is served in a wine glass to start (Royal Blue Tea) and then moved on to a lovely Japanese white wine option. Chris started with a 17 year old glass of Suntory Hibiki whiskey and then had a deeeelicious Napa red that is made by a Japanese winemaker. We were presented with an amuse-bouche and a menu for dinner.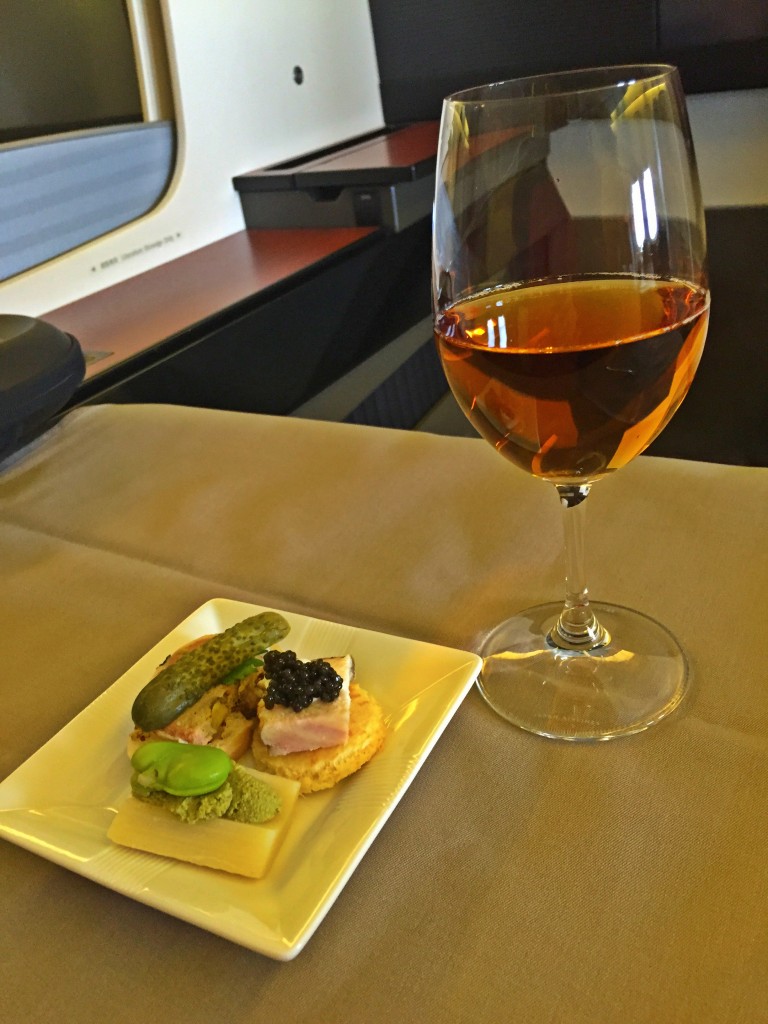 First, you were asked to choose between the Japanese or the Western options. If you chose Japanese (as I did), no further decisions were required. If you chose Western (as Chris did since, as excited as he was about Japanese food, he couldn't pass up a filet on a menu…especially when it comes with black truffle sauce), you got to choose from three options: veal, the filet, or Chilean sea bass. Chris was then asked how he'd like his filet prepared…. Yes, we are still on a plane here folks! Both meals were then presented in several courses. Highlights included a heaping helping of caviar for Chris and sablefish for me.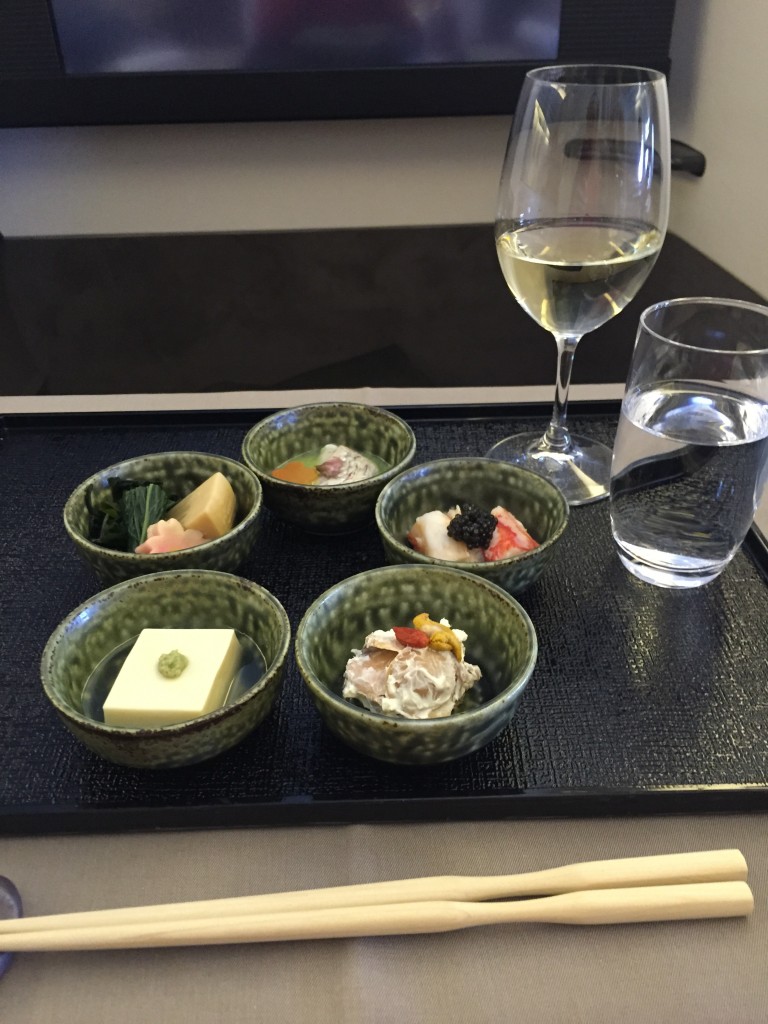 A Bed in the Sky
After clearing away our meals and offering us countless refills on our drink choices (which, thankfully for our heads the next day, we didn't go crazy accepting), the flight attendant requested that I notify her when I was ready for her to make up my bed. I didn't wait too long to see this in action, and soon she was bringing me a set of Japanese Airlines pajamas to change into and requesting my preference of a soft or hard mattress. When I returned from changing, my chair was laid completely flat, there was an additional mattress put on top of it, and a duvet blanket was waiting. Cabin lights were dimmed, eye masks were put on, and it was the most relaxing and refreshing flight experience of my life.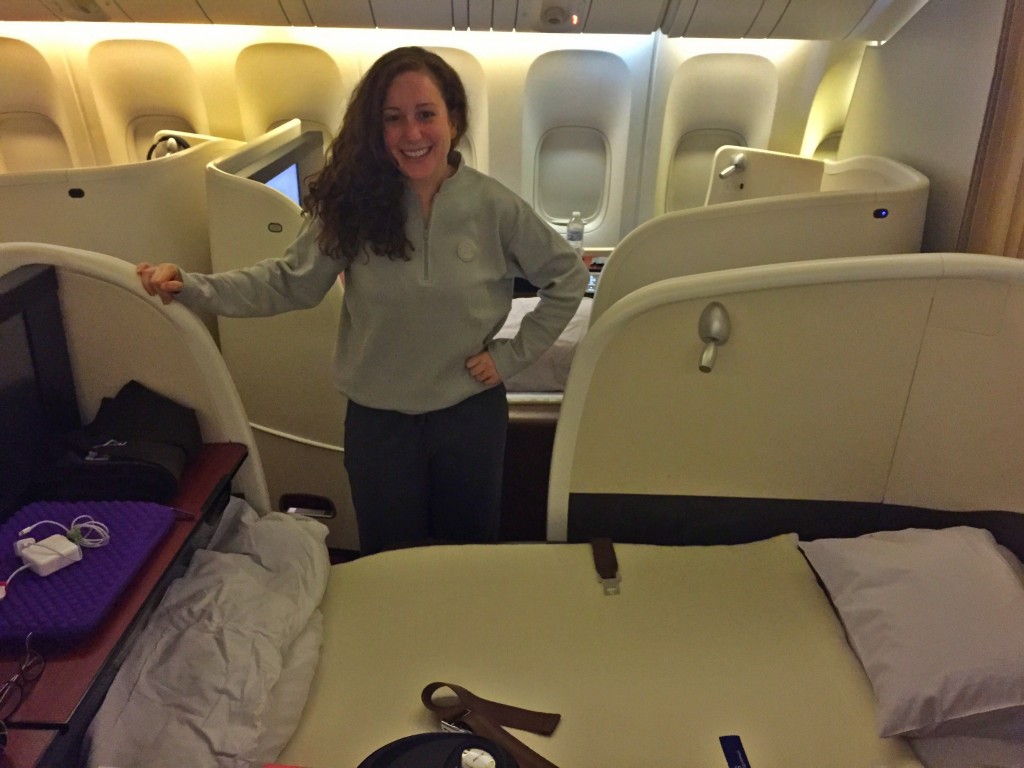 We had the option whether or not to be woken up for our second meal before landing, and we were given a long menu and told to order anything we'd like a la carte. I chose a bowl of Ramen and some fruit. Chris chose some miso soup, fruit, and a cheese plate. Hoping to sleep once I arrived, I declined the individual French press coffee, then immediately regretted it once I glanced my neighbors'.
Landing Back in Reality
13 hours after takeoff, we landed in Tokyo. As excited as I was to begin our RTW journey, part of me was reluctant to leave the lap of luxury, knowing that soon I'd be hurled into the most crowded metropolis in the world and on a strict budget to make sure our trip stays funded for the full year. However, even though Chris and I had landed back in reality, there is still one part that is like a dream…
We Didn't Pay for This
We got this whole shebang (almost) completely free. The entire cash cost to us as a family was $84 in taxes and fees ($70 of which was an agent fee for booking by phone instead of online). We used miles and got one of the best deals in the history of reward travel: 62,500 miles each for the one-way first class ticket. To put this in perspective, a coach ticket on this flight around the time we booked was about 40,000. We learned of this jewel of an opportunity from an American Airlines agent, which shows why it is always worth it to put in a call when you are trying to book a major rewards trip (usually the value they find more than offsets the agent fee). Why was this such an epic find? Well, let's look at the actual ticket price of our seats on the day we booked our flight. $29,336!!!! For a total cost of 125,000 miles (bringing our total miles and points balance now to 1,541,119) and $84.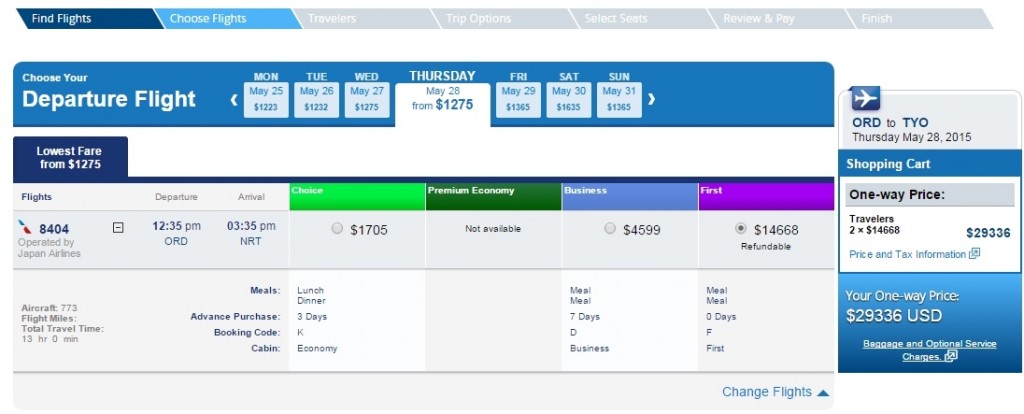 The Morale of this Story
Admittedly, very few people likely pay that out of pocket cost, but instead use miles or upgrades as we did. The great miles and point lesson of this, however, is to understand how much value rewards can bring you. Remember Miles and Points 102? Well, roughly $40,000 in spending (or just the sign-up bonus from the Chase Sapphire card!) could have gotten us $880 cash back or at least 40,000 (but likely more due to bonus spending) miles. We also could have turned those 40,000+ miles into a coach ticket to Tokyo (saving us from paying $1,705), or we could have dipped into our miles balance a little further to receive approximately 17 times that value with the first class opportunity we found. That, roamers, brings me to the morale of this story. I hope this tale helps you see the light at the end of the tunnel when you think the complicated earning and redemption rules of credit cards just aren't worth the time and effort they take to understand.
I am certainly not a regular first class flyer (this was actually only my second time flying non-coach), but remembering the best flight of my life motivates me further to keep thinking smartly about our family's miles and points strategy to maximize the reward of the money we're already spending. Who knows where it may take me next. How about you?
P.S. BackpackInvesting.com couldn't help but make a special video for Redhead Roamer's account of this world-class flight experience. Enjoy!