We have finally emerged from behind the Great Firewall of China! Not only were Google and Facebook blocked, but our blog sites were as well during our 10-day stay. So here comes a quick succession of posts from the last two weeks!
I'm going to write some summary thoughts about each country we visit in the hopes of giving future visitors a sense of what they are in for and some helpful tips. Also, I'll share some of our favorite experiences from each place we went.
What We Spent in Japan
The number one question we get from folks back home is "how on earth are you affording this trip?" In short, we're spending wisely and using miles and points. But to help answer that question in more detail, and shed some light on how travel can be cheap if you go off the typical tourist track, I'm going to publish our expenses in each destination here. Japan is one of the most expensive destinations we plan to visit this year, so our total spending is on the higher side compared to other countries we'll go to. That said, all in we were able to spend 7 nights in Japan at a total cost of only $1,500 for two people. Not too shabby.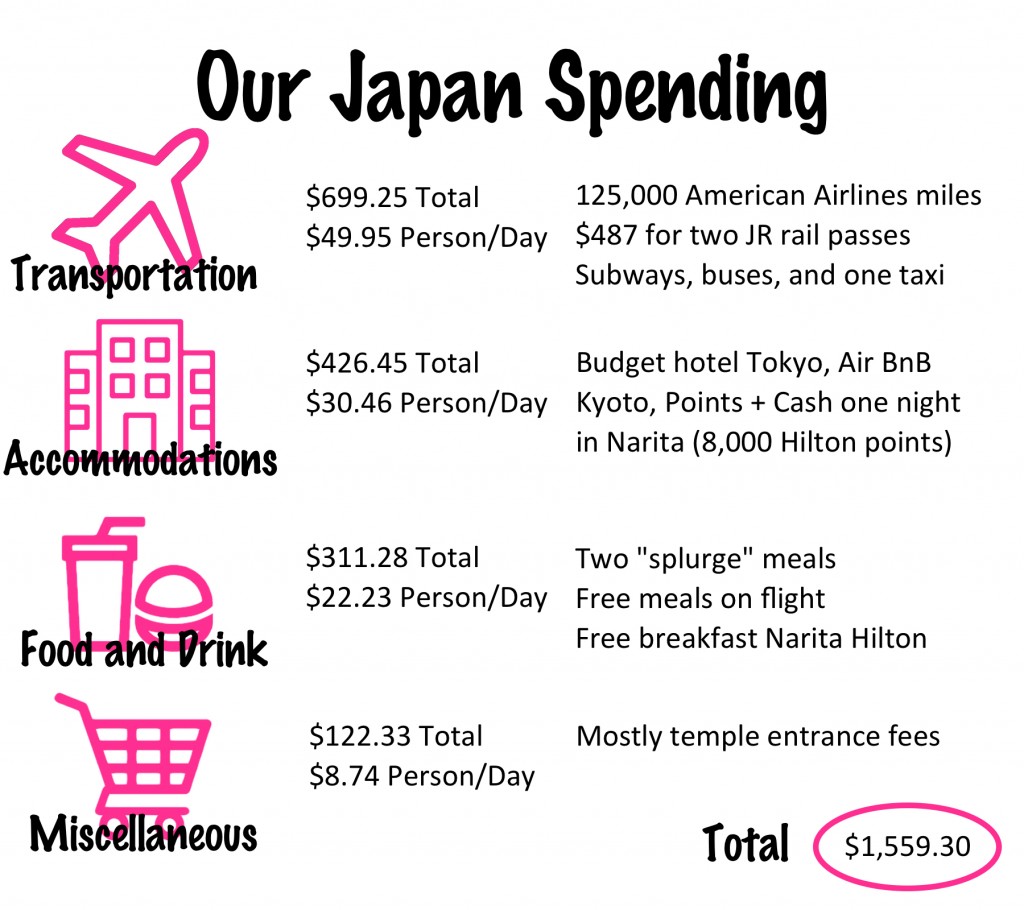 Transportation
I'm going to count the flights into a given country toward that country's transportation costs. Our First Class flight to Tokyo cost us 125,000 American Airlines miles and about $80 in taxes. Obviously using miles to fly Chicago to Tokyo saved us a ton of cash, so most people's transportation spending could be much higher (unless you've been reading along with the Miles and Points section and are working on accumulating your own miles supply!). The biggest cost here was the JR rail passes, totaling $487. Even though this was quite pricey (and comprised about one third of all our spending for Japan), it was definitely worth it when you think about adding up all the individual tickets you'd have to buy without it. In Tokyo, we mostly used the JR railways and the subway. Our only taxi was the 3am ride to the Tsukiji Market. In Kyoto, buses link most of the sites, so we stuck to those primarily.
Accommodations
In Tokyo, we spent three nights in a highly-reviewed budget hotel called Kimi Ryokan. Knowing we wouldn't be in it much with all the sightseeing we had planned, our room was tiny and there was a shared bathroom in the hall, but it only cost us $55 a night, a bargain compared to the hotel costs elsewhere in the city. In Kyoto, we stayed for three nights in a studio Air BnB, which cost us about $70 a night and was absolutely perfect. We had a little apartment to ourselves, could use the in-unit washer and dryer, and stashed snacks and drinks in the fridge. Our final night in Japan we stayed at the Hilton near the Narita Airport, which we paid for with a combination of points and cash (a nice option for cashing in your Hilton rewards that often gives you the best value). Because we have Gold Status with Hilton (not that hard to get, we got it automatically for taking out a credit card), we got free wi-fi and breakfast.
Food and Drink
Tokyo has more Michelin-rated restaurants than anywhere else in the world, and you can easily spend what we spent in one week at a single meal if your budget allows. Ours, however, did not, though we did have two moderate splurge meals, each totaling around $85, to celebrate my birthday. We also had a handful of free meals between the Japan Airlines lounge, our flight, and the free breakfast at the Narita Hilton. For the rest of our meals, we really just snacked during the day, often buying bananas and coffee from a nearby supermarket, and filled up with cheap noodles or sushi at night.
Miscellaneous
This was almost exclusively temple admittance fees in Kyoto. Usually they were a couple bucks a pop.
Tips for Visiting Japan
Language
More people that we initially thought (especially now that we're in China) speak English. That said, making an effort always is appreciated, so here are a few key Japanese words (with my attempt at laying out the pronunciation):
hello= konnichiwa (kho-knee-chee-wah)
goodbye=sayonara (sigh-yah-nar-rah)
thank you= arigatou gozaimasu (ah-ree-gah-toh goh-zah-ee-mas)
Note that the "domo arigato" popularized by the one and only Mr. Roboto is actually an informal way to say thank you… we stuck exclusively to the more polite "arigatou gozaimasu."
Money
It's a predominately cash-based society, and ATMs that accept foreign cards are actually hard to find (7-Elevens and post offices are actually your best bet). Most folks carry a lot of cash around with them, and that's ok because it is very, very safe in Japan.
Culture
Japan is a very orderly, formal culture. Always take off your shoes before entering someone's house (and even some hotels and restaurant rooms). Everyone lines up in a perfect row on the escalators (left side for standing) and waits in perfect lines to get on the trains (waiting completely for passengers to get off before proceeding on the train in the order they lined up). No one talks on cell phones while on the train, very few speak at all to those they are traveling with, no one really stares at anyone else, and a lot of people fall asleep on public transport. People mostly keep to themselves (we were never harassed to buy anything), but are incredibly kind when you do have a chance to speak to them. Countless people stopped to answer our questions or even proactively asked us if we were lost (when we were turning the map around and around trying to figure out which way to go).
Survival Tips
The toilets in Japan are the most high-tech things I've ever seen. There is always several bidet options, and many toilets we saw were self-cleaning, had heated seats, and played a variety of music. Unfortunately, almost none of these functions have instructions in English (including flush). Word to the wise: if you're going to start pushing buttons, make sure you remain seated or you're liable to cause a minor flood.
Highlights and Lowlights of Japan
Favorite Dining Experience
Hers: Matcha Parfaits at Tsujiri Tea House
His: Sushi at Sushi Daiwa in the Tsukiji Market
Favorite Sightseeing Experience
Hers and His: Otagi Nenbutsu-ji in Kyoto
Most Frustrating Travel Experience
Hers: Navigating the subway during Tokyo rush hour with luggage
His: The inexplicable lack of trash cans in Japan