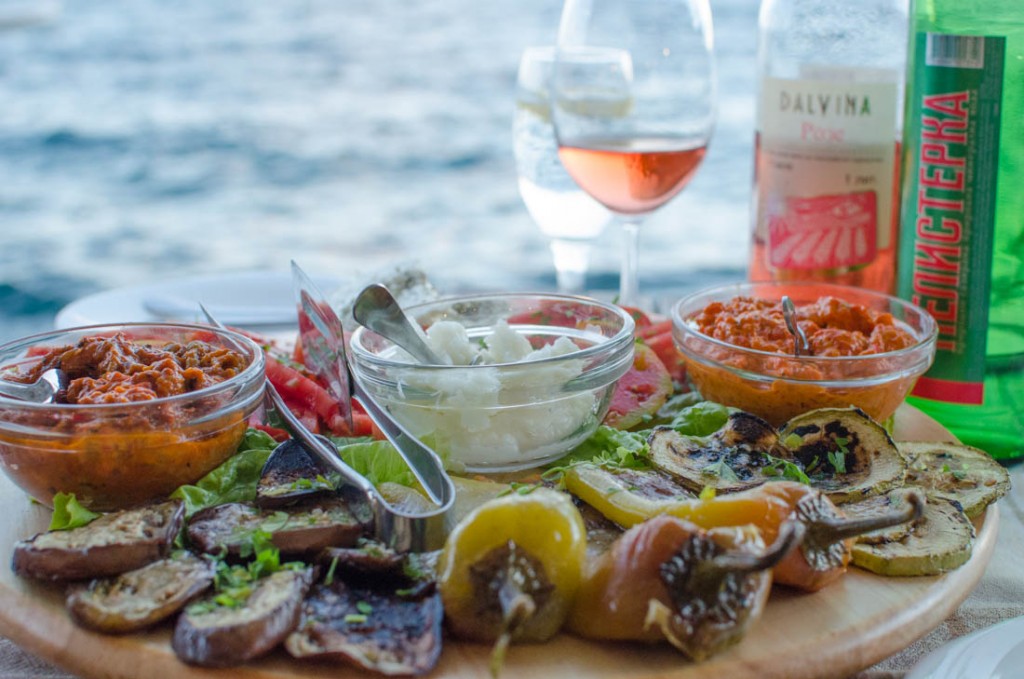 A huge reason why we loved Macedonia so much was the country's out-of-this-world cuisine. It is a delightful blend of Mediterranean and Middle Eastern influence, all rolled up in an excellent growing climate for fruit, vegetables, and wine and local expertise with dairy products. The result? Absolutely delicious and mostly healthy meals served up at a fraction of the cost you would pay elsewhere (again, Macedonia is Cheap with a capital C). In fact, we had two of our most favorite meals of the trip here. In Skopje, we visited Stara Kuka ("Old House"), which is an adorable restaurant set in the oldest traditional home in Macedonia. It serves up some of the best local dishes and is regularly frequented by the country's president and other Macedonian VIPs. In Ohrid, we sat right next to the water with the perfect view of St. John at Kaneo. At both places—arguably among the nicest in the entire country—we had several courses, including premium meat and fish, and a liter of wine… and never paid more than $20 a person.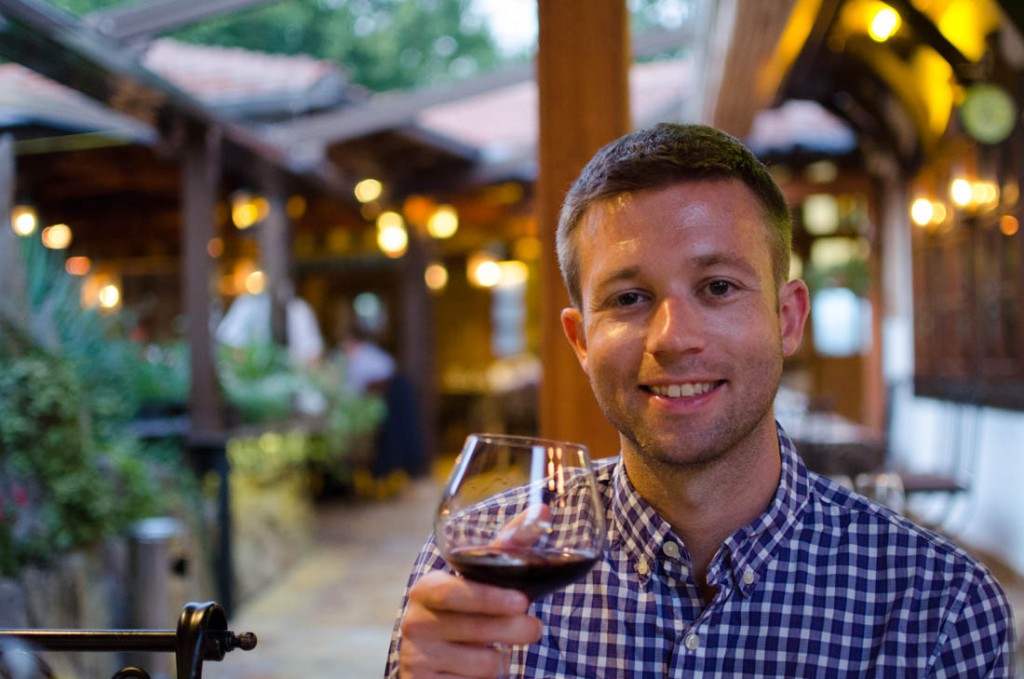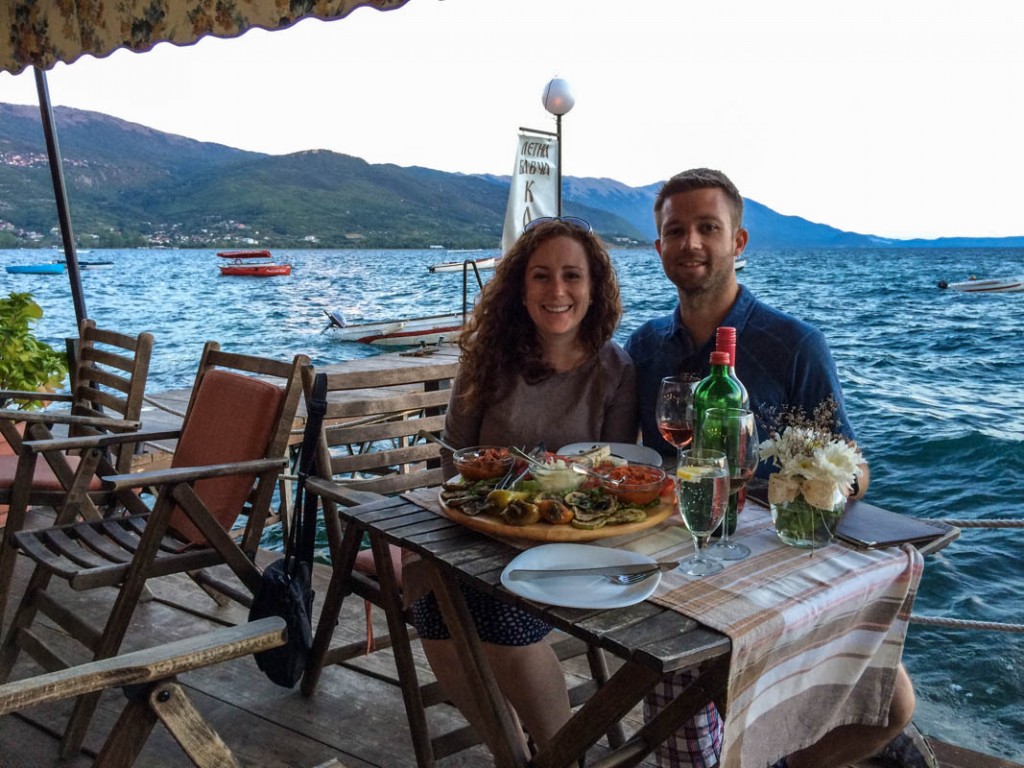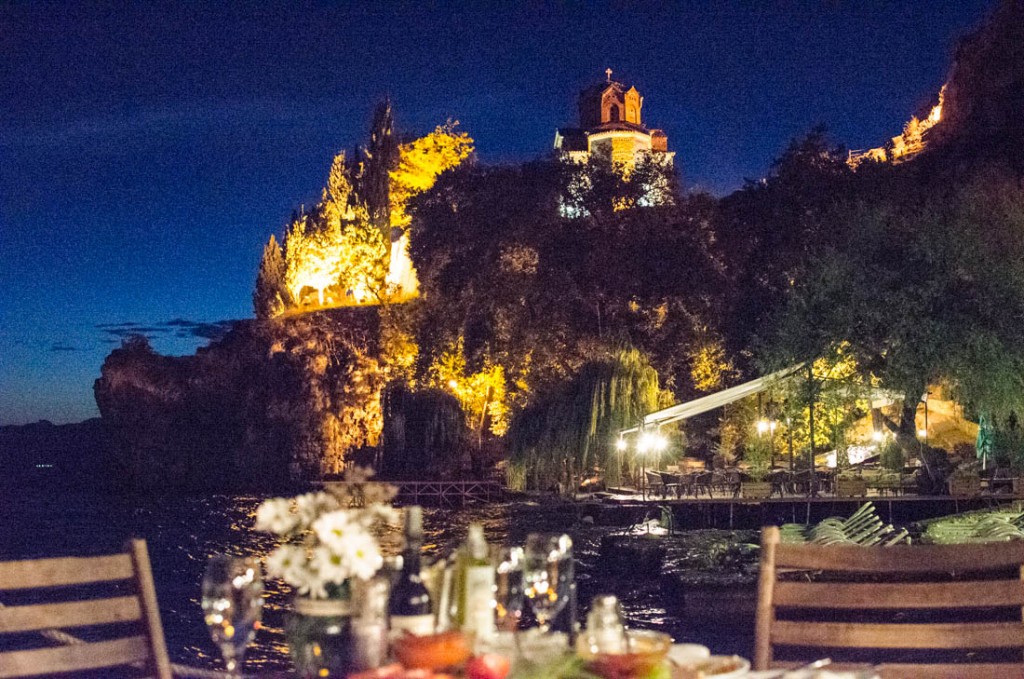 These two great dining evenings bookended our trip, but in between we had plenty of opportunities to try out the range of Macedonian cuisine. Let me introduce you to a few of our favorites…
Burek and Savory Pie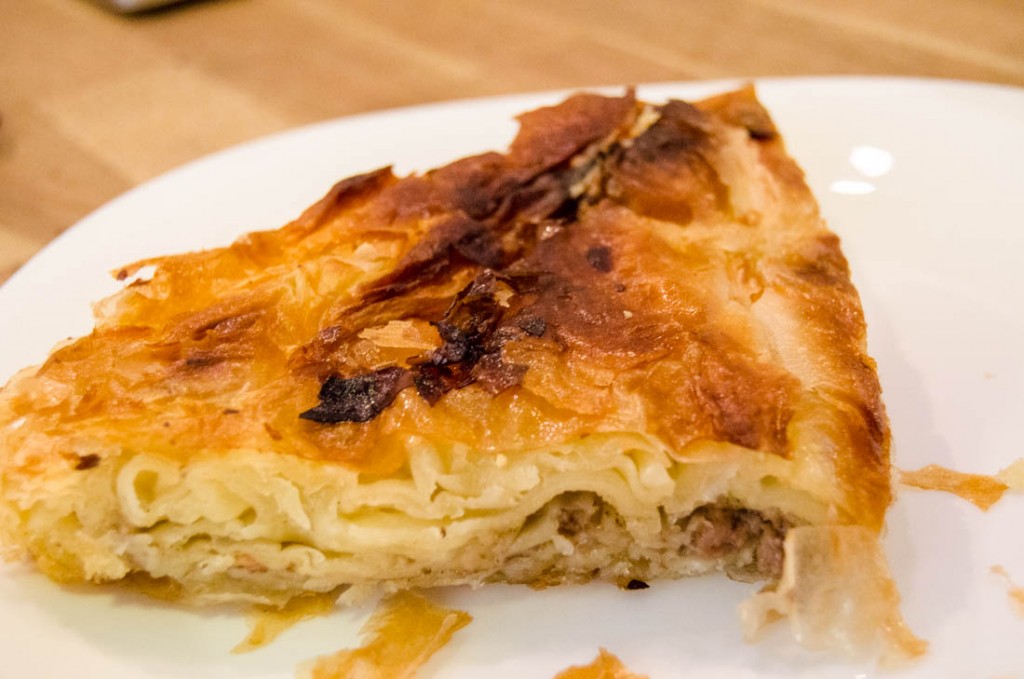 Burek is made from layers of thin, flaky dough (like phyllo) that can be filled with meat, cheese, or vegetables. It's traditionally eaten for breakfast or a snack and is sinfully good. There was a bakery right around the corner from our Air BnB in Skopje where we had to join quite the line to get piping hot burek to go. Full disclosure: probably the least healthy thing we had in Macedonia.
Similarly to burek, we also tried traditional Macedonian pie at one of our wine tastings, which was filled with a delicious combination of leek and cheese.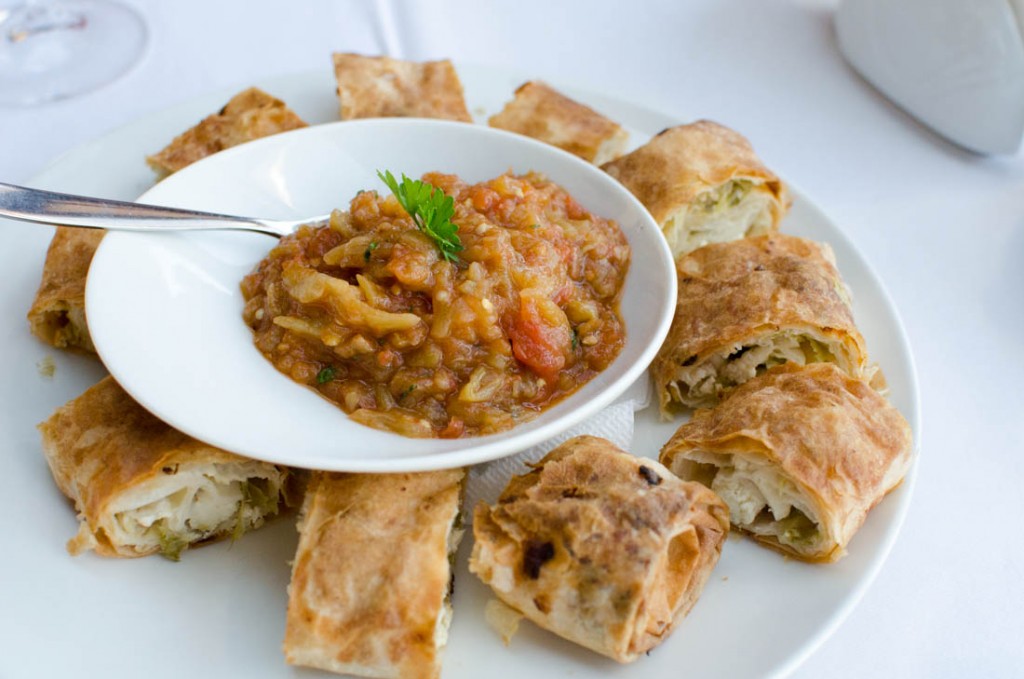 Meat and cheese
We did three tastings during our time in wine country and all of them came with heaping platters of charcuterie and cheese. Macedonians certainly know their dairy products, and nearly all the restaurants we visited had a list of cheeses you could order. From a sheep, goat, or cow, and of the white, yellow, or blue varieties, the options were endless.
A Macedonian version of feta called sirene cheese was also ubiquitous. This white brine cheese was crumbly and tasted awesome with salad and fresh tomatoes.
Salads Galore
Macedonians love their peppers and everywhere we looked we saw a long, skinny, yellow variety (that was especially delicious grilled or stuffed). One of our favorite waitresses explained how most Macedonian families have small gardens and grow peppers, tomatoes, and eggplant (which seem to be the trifecta of the cuisine here).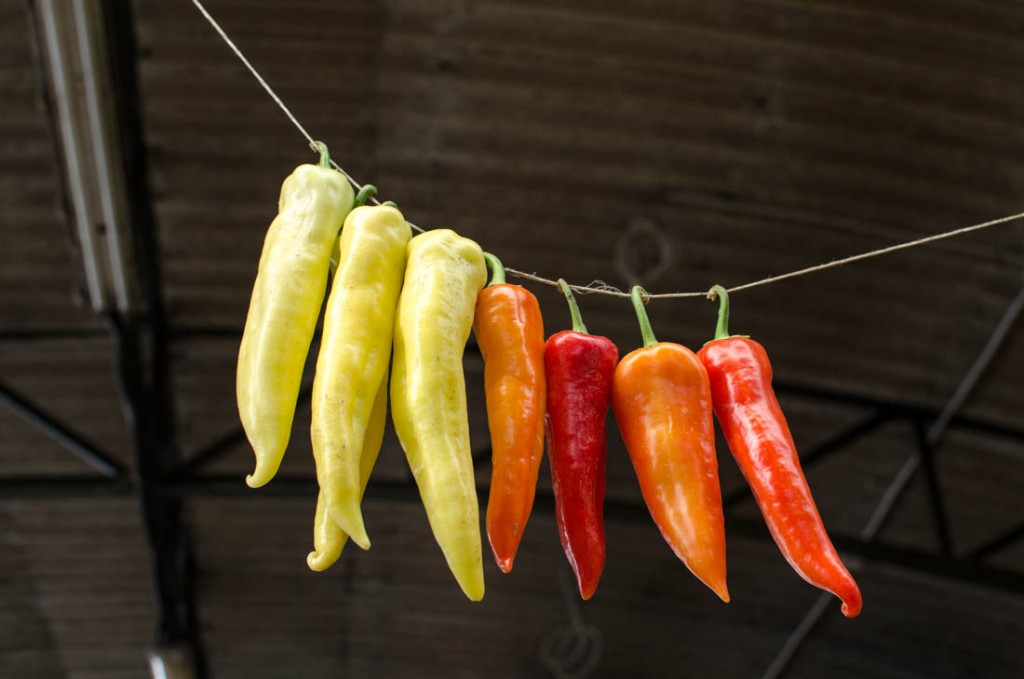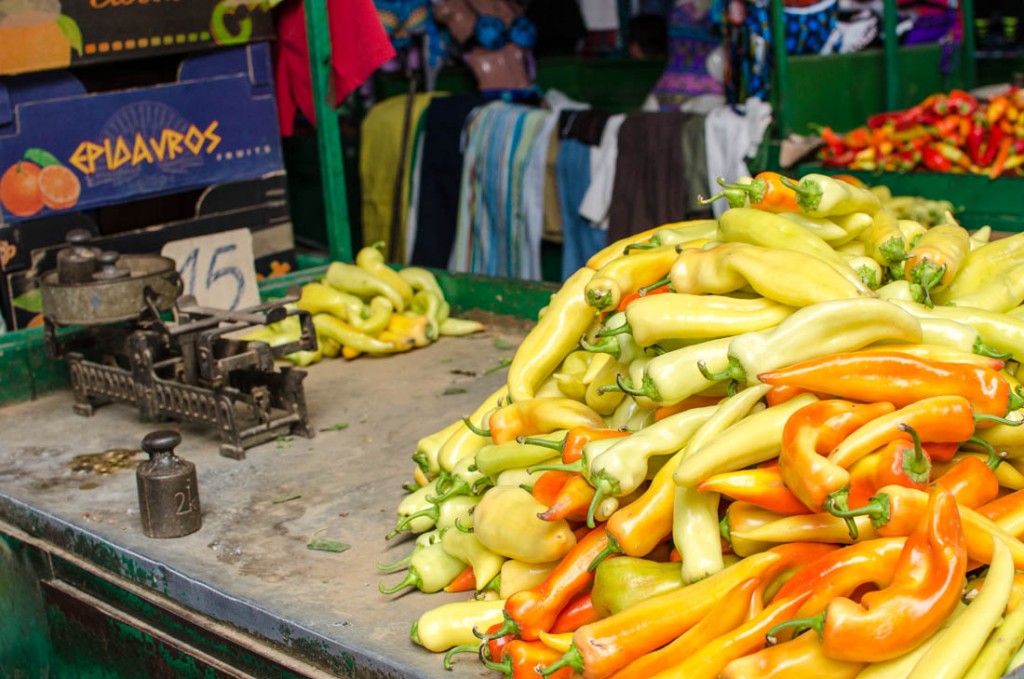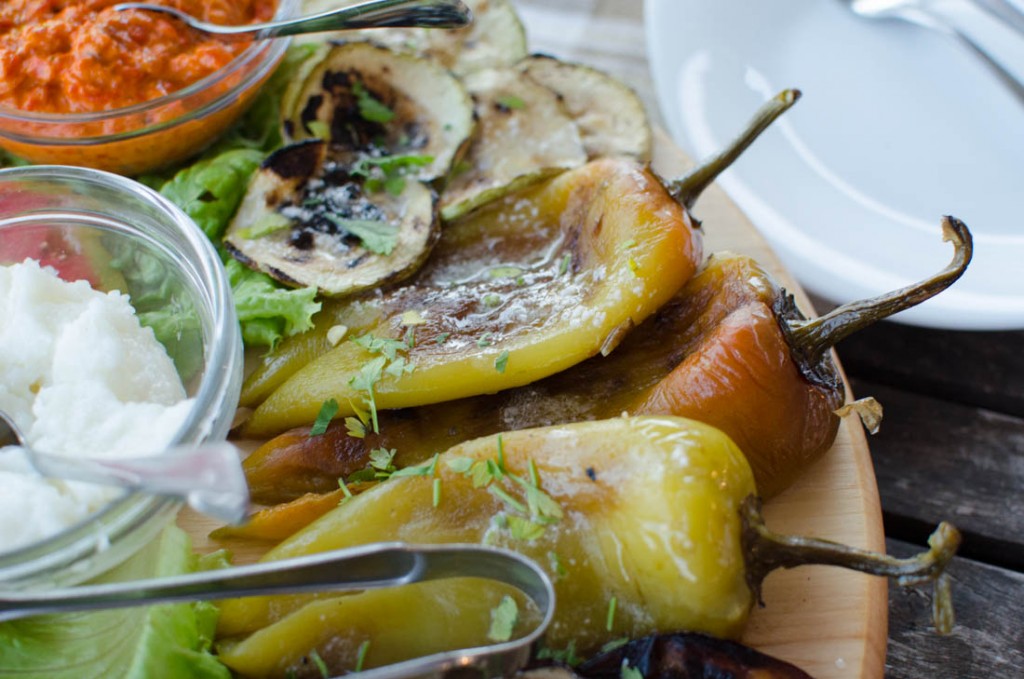 Perhaps my favorite thing about Macedonian cuisine was shopska salad. I think I had at least one a day during the seven days we were there. What makes shopska salad amazing is not only the incredibly fresh cucumbers, tomatoes, and onions it consists of, but also the fact that it is completely blanketed in cheese. Best salad ever?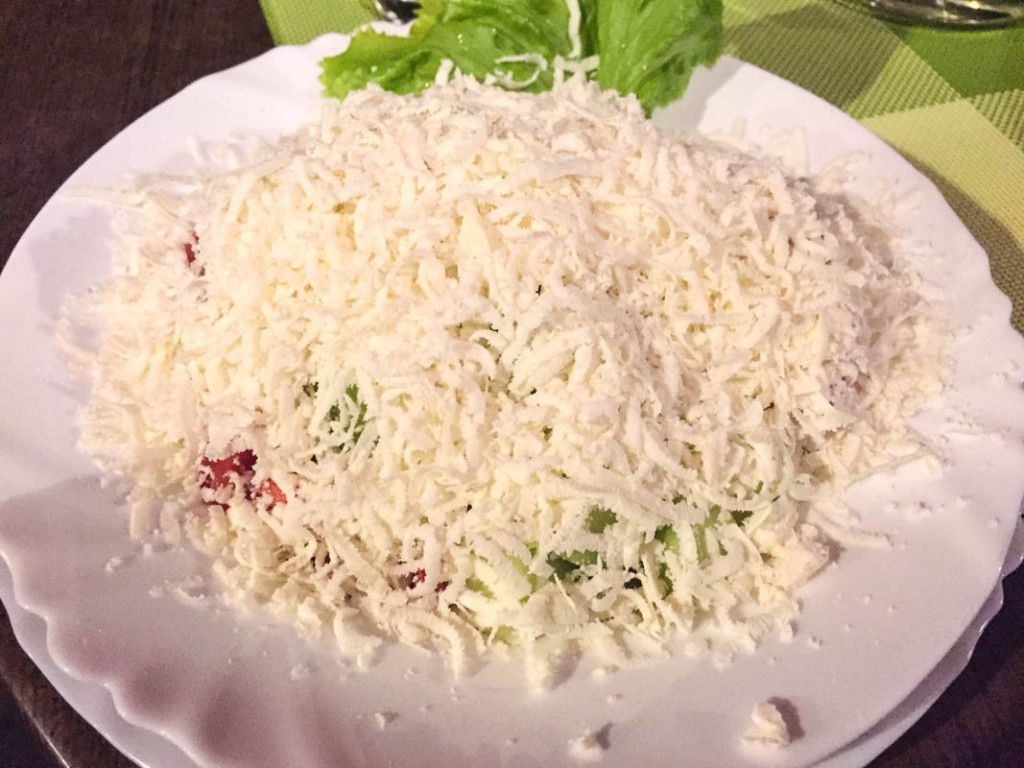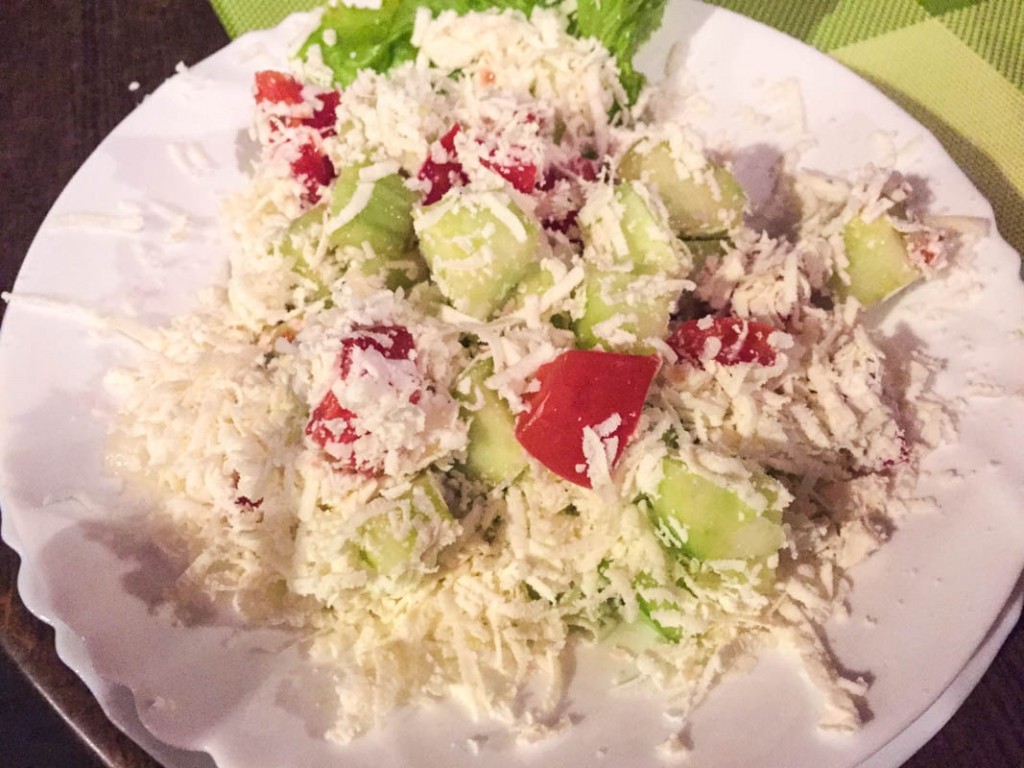 Ajvar
Ajvar is a spread found throughout the Balkans that is made of peppers and garlic and sometimes eggplant and chilis. You can find it bottled in the store, but we were lucky enough to try several homemade varieties during our time in Macedonia. Pindzur is a variation of ajvar that is more eggplant heavy.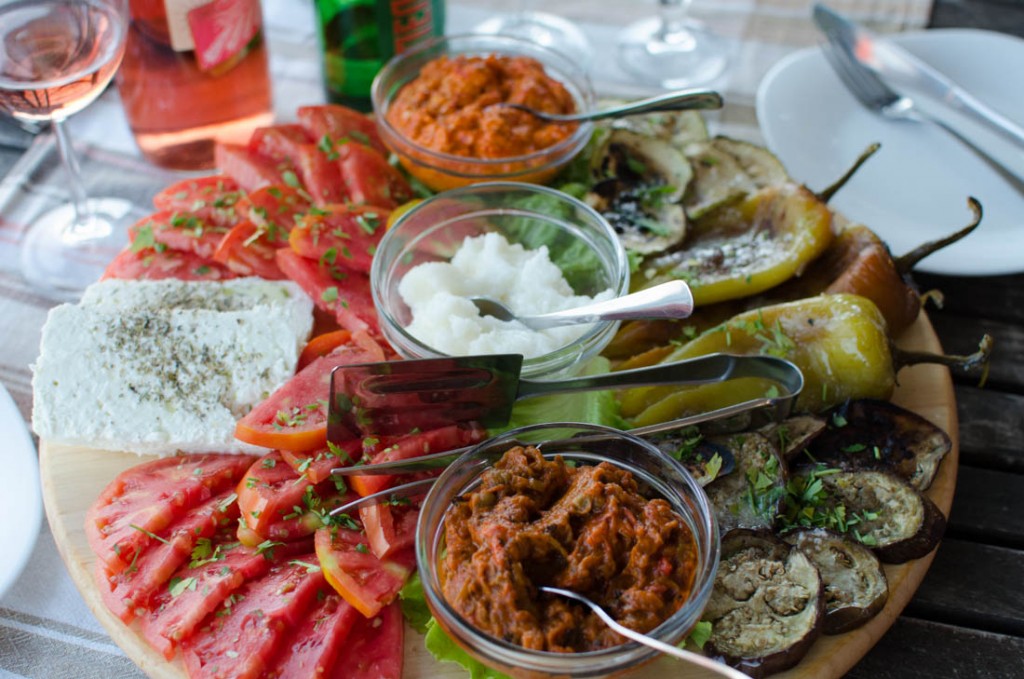 Tavče-Gravče
Tavče gravče (sounds like "tav-chay grav-chay") is the national dish of Macedonia. Butter beans, onions, oil, and spices are cooked up and served in traditional earthenware. Sounds basic, but trust me, beans never tasted so good.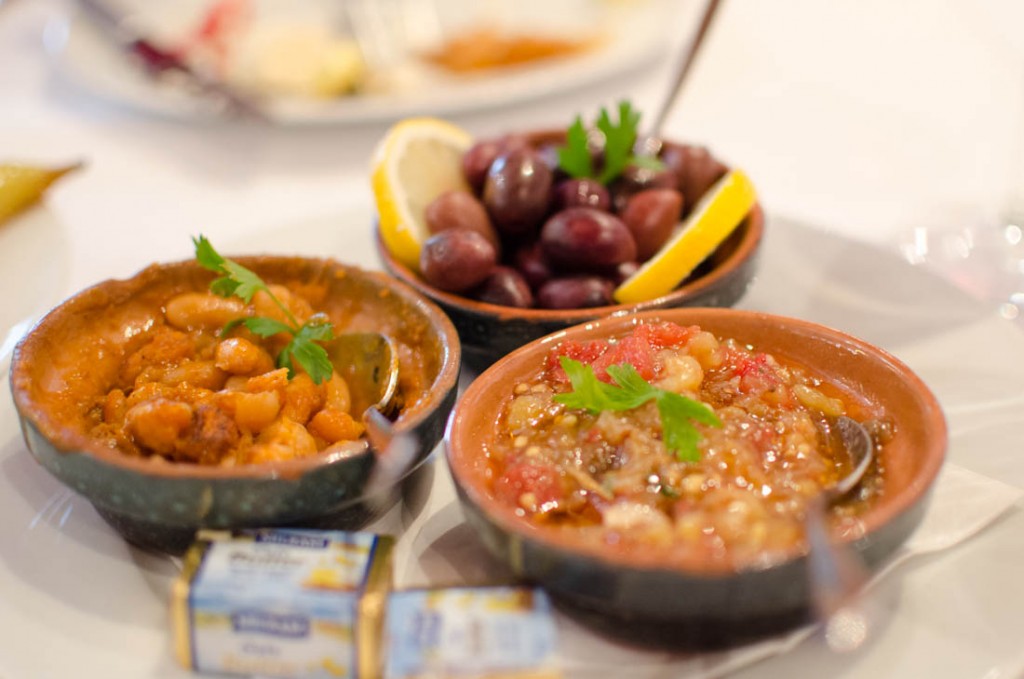 Grilled Meat
Lots of "skara" restaurants in Macedonia serve up grilled chicken, lamb, and beef to pair with your veggies and cheese. But kebapi, grilled minced meat that look like sausages, are perhaps the most famous. These little guys are served with chopped onion and pita bread and usually ordered in multiples of five.  This is also a signature Bosnian dish, so we look forward to becoming kebapi connoisseurs at our next destination too.
General Mediterranean Goodness
I loved the general Mediterranean awesomeness of Macedonia's cuisine. In addition to the signature dishes highlighted above, we had dolma (stuffed grape leaves), fried cheese, stuffed peppers… the list goes on. And (partially because of my insistence on having shopska salad at every meal) we only tried a fraction of what this country has to offer.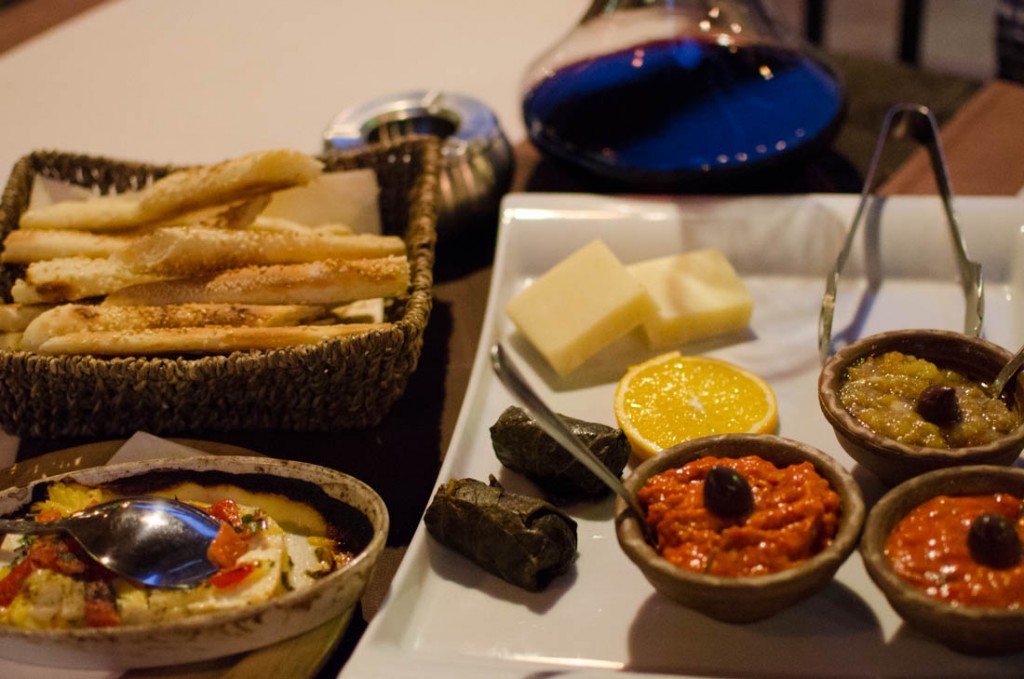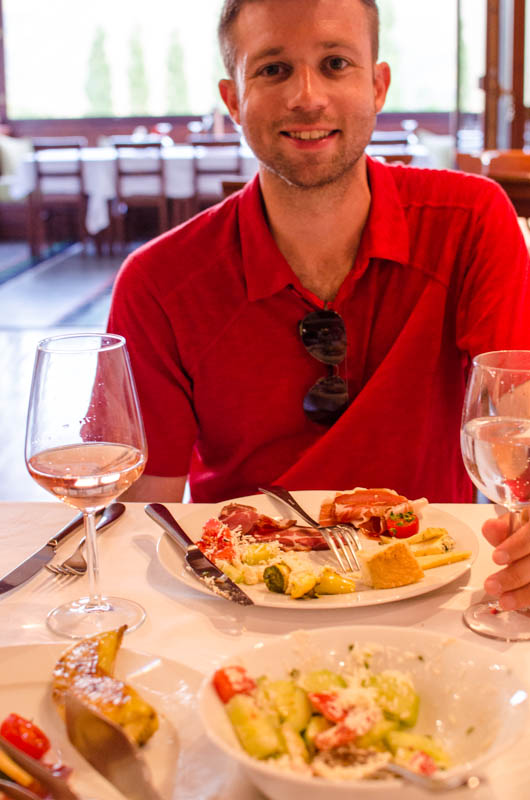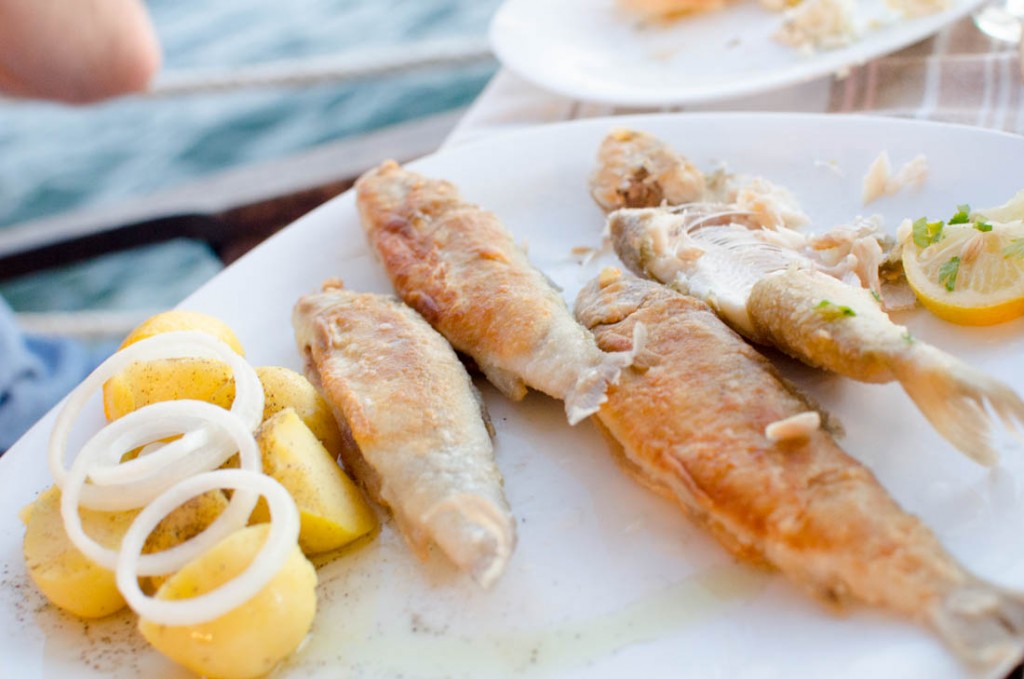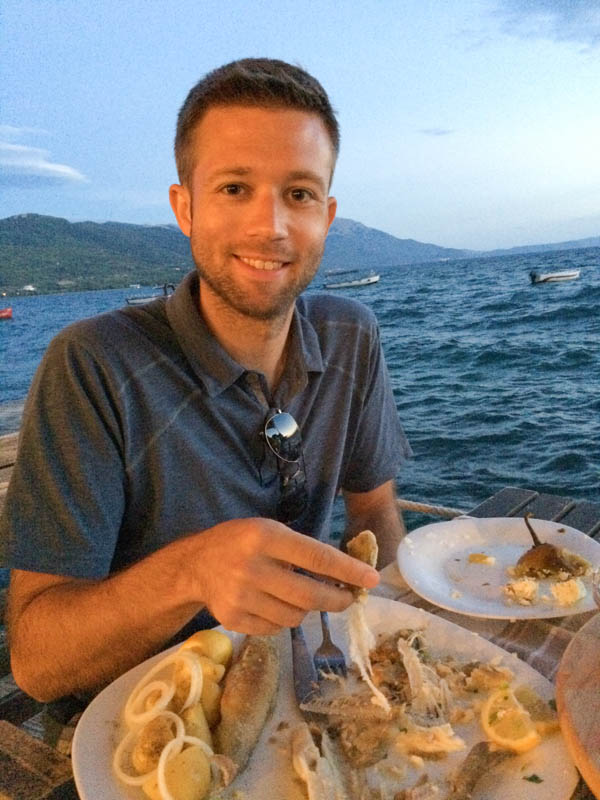 Wine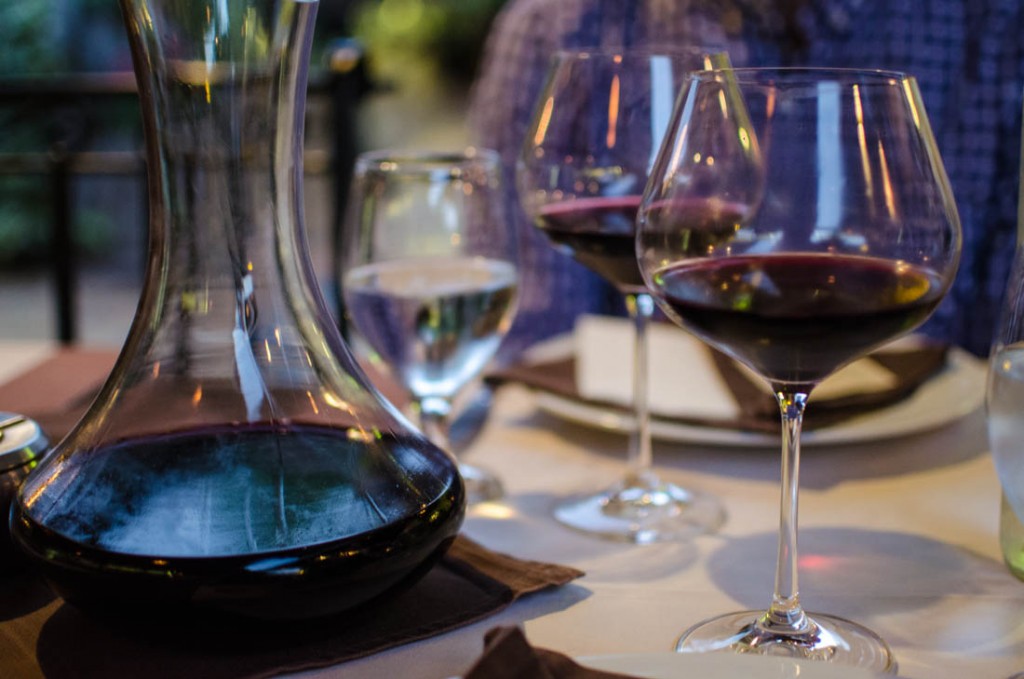 We first read about Macedonia's little-known wine industry from our favorite travel agent (the New York Times). Although Macedonia has been making wine for thousands of years and has an excellent climate for grape growing, you probably haven't heard of it before. During most of the last century, most of Macedonia's wineries were nationalized under the socialist regime and its wine sold in bulk to other European countries to package as they saw fit. Only recently has Macedonia begun to put itself out there as a global player in the wine industry. For Chris and I, this meant amazing, incredibly cheap wine and often private tours of some of the country's leading wineries; a complete contrast to other wine-tasting experiences we've collectively had in Napa, Argentina, and New Zealand.
Our first winery stop at Stobi Winery ended up being our favorite of the three. We arrived around lunchtime and one of the waiters at its lovely restaurant offered to give us a tour of the working winery. Inside we saw its beautiful barrel-filled aging room and lines of stainless steel tanks. I also got the chance for the first time to watch a barrel being filled. Afterwards, we followed our guide back to the restaurant, where he resumed his waiter role again, and decided to split a tasting package. Four different wines, meat and cheese, and traditional Macedonian savory pie ended up setting us back $9. Unbelievable. And these tastings were nearly full glasses each… not the pre-measured two sips you're used to getting at other wineries. Even though we usually only ordered one tasting for two people, the waiters at most of the wineries we visited would often splash some wine in a second glass for free (since they wanted us both to have the experience of trying all the wines). At Stobi, we tried two local varieties I've never had before (white wine Rkaciteli and red wine Vranec), a delicious red wine blend they call Aminta, and, my absolute favorite, Chardonnay Barrique (a Chardonnay aged in a specific type of oak barrel).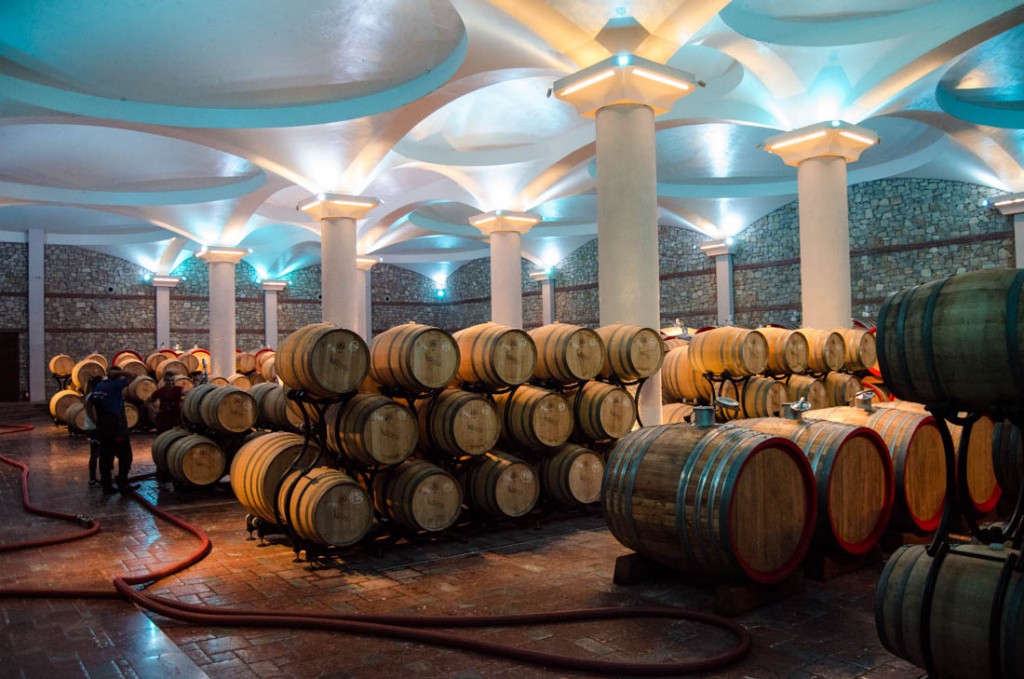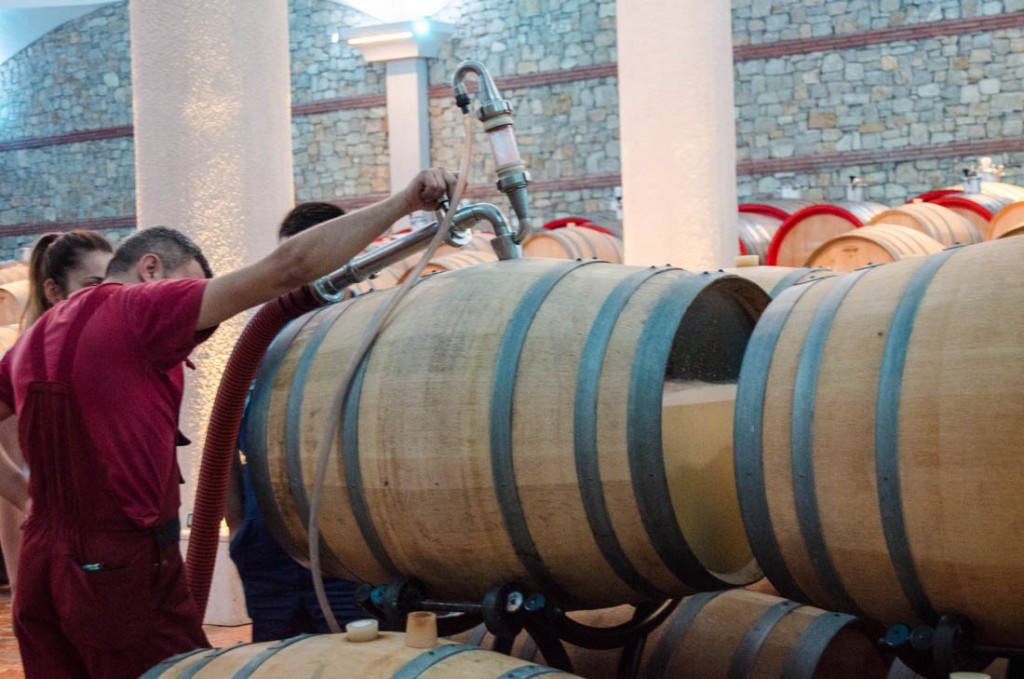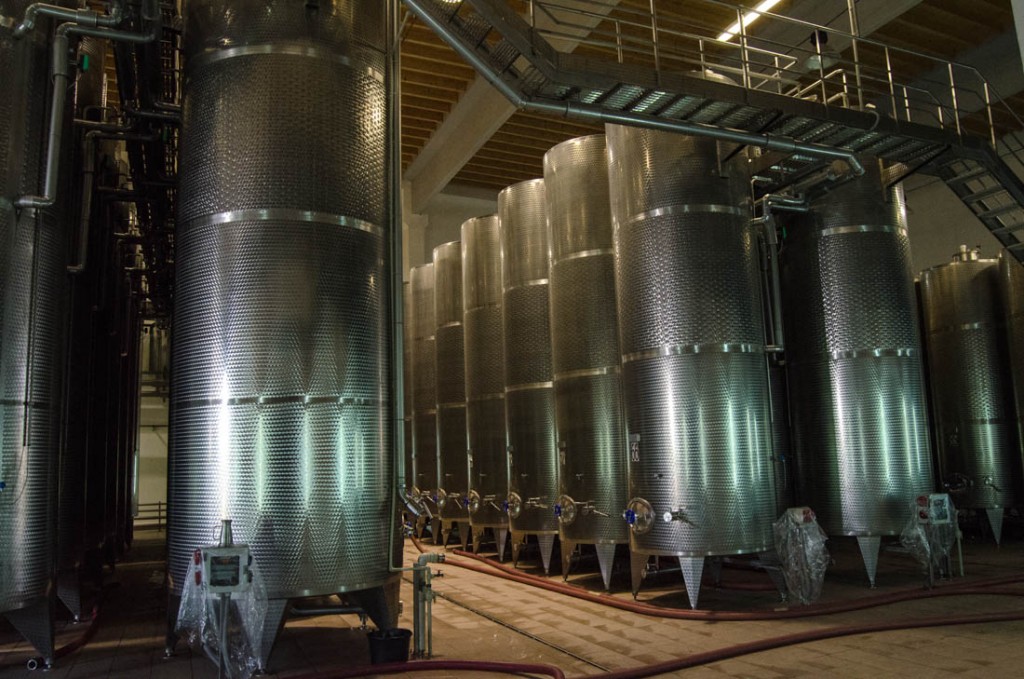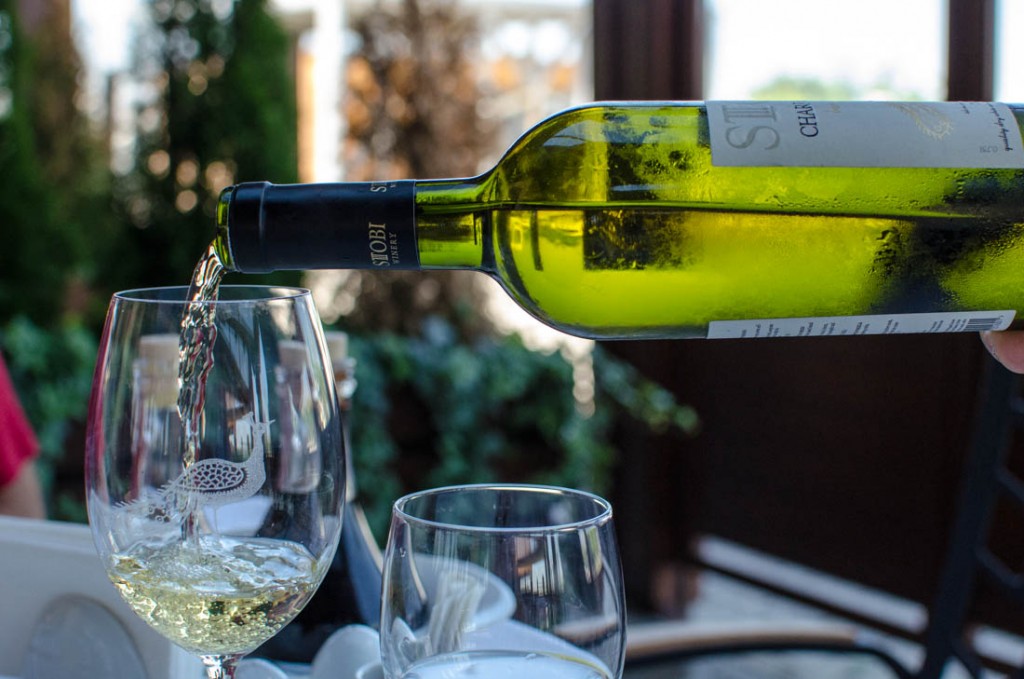 After Stobi, we made our way to the winery where we would be spending two nights, Popova Kula Winery. I already talked about what a lovely place to stay this was, and we were also interested to learn that the winery was the first company to go public on the Macedonian Stock Exchange. After checking in, we went on a tour and then had dinner that night in their beautiful restaurant. We split another wine tasting package; this time five full glasses of wine, a huge meat and cheese plate, and a dessert… for $11. This tasting gave us the opportunity to try a few more local wines, like white wine Zilavka and a rosé made from Stanushina, a neglected Macedonian grape that Popova Kula is trying to save from obscurity.
Our last winery visit was to Macedonia's largest producer, Tikveš. Tikveš is a big industrial operation, and Chris and I weren't sure at first whether it was ok to drop by and try out some of its wines. A security guard ended up pointing us in the direction of a main building, and we hesitantly followed signs for "Restoran" down into an underground labyrinth, passing lines of huge barrels on the way. After almost giving up hope, we emerged into a tiny but absolutely beautiful dining room filled with a handful local business people having multi-course lunches. Once again, we opted for the tasting package and got to add several new varieties to our repertoire. The food, wine, and ambiance were comparable to some of the nicest restaurants in the States, but, again, at a fraction of the cost. We decided to take a bottle of the Grenache Blanc home with us… for the bargain price of 4 euros.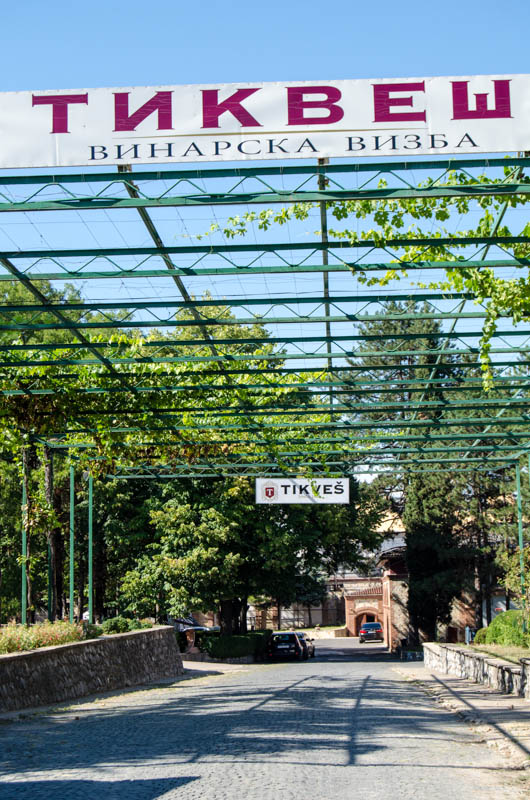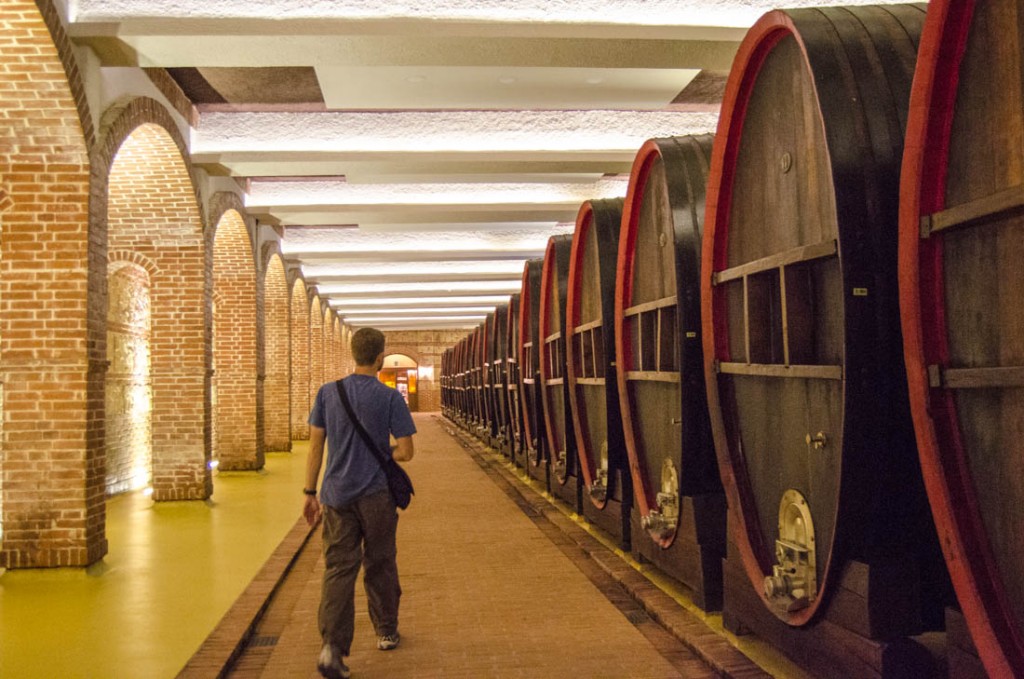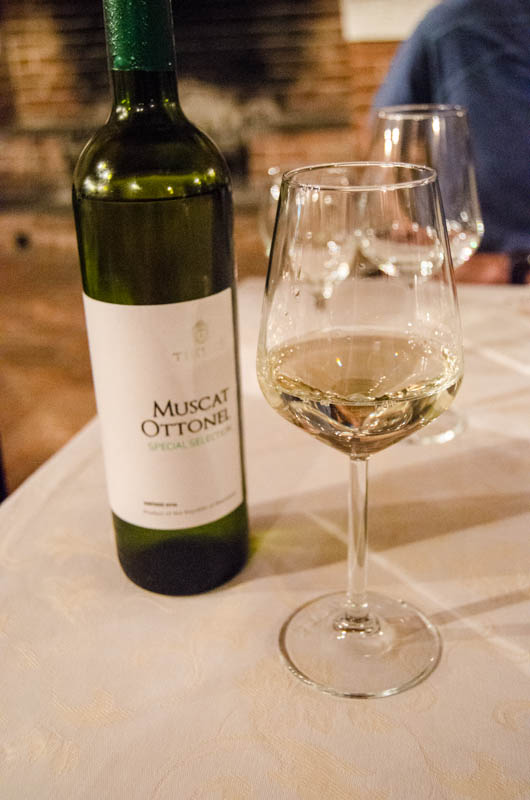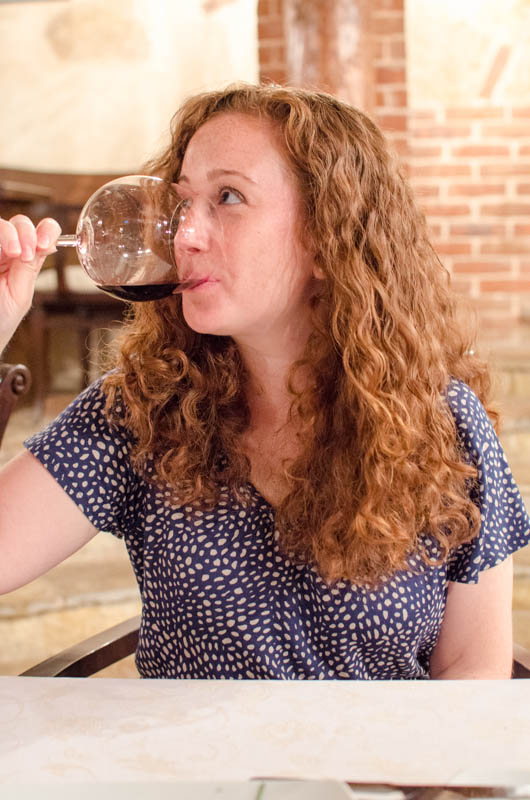 Rakija
A feistier cousin of Macedonian wine is rakija, a fruit brandy very popular in the Balkans. At 40% ABV, it was too intense for my taste, although many Macedonians drink the homemade version that has an alcohol content twice that!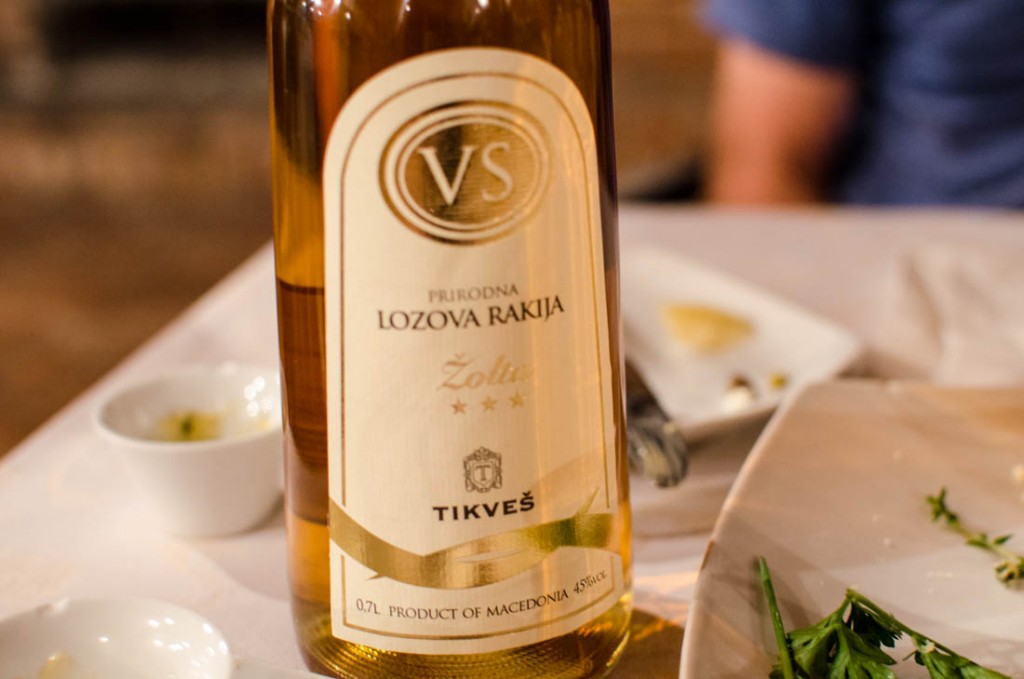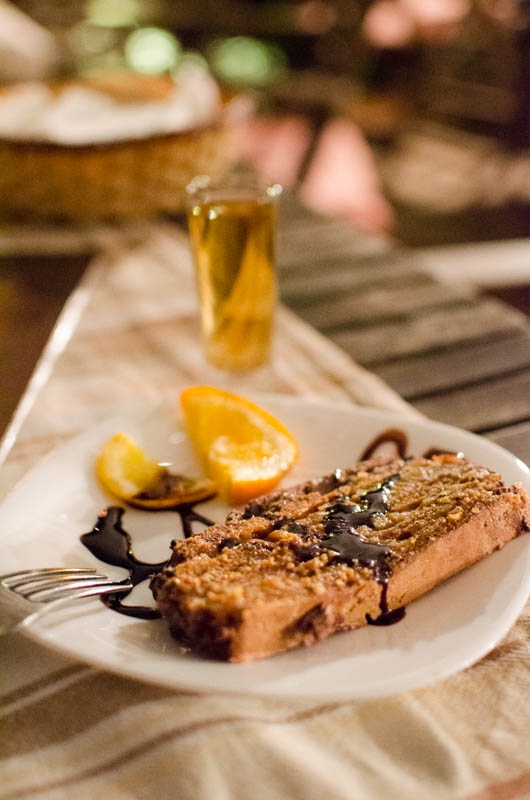 Beer
Last, and actually probably least, is beer in Macedonia. The only Macedonian beer with a sizable presence is Skopsko and its pretty basic. Chris also tried Zlaten Dab while we were in Macedonia, which I thought tasted exactly like Heineken.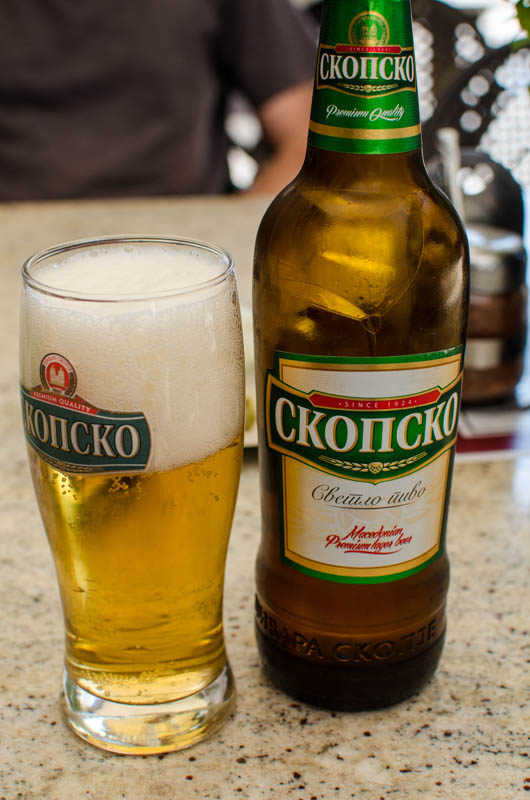 From the stunning scenery we encountered on our circuit of the country to the unbelievably fresh and delicious food and wine, Macedonia was an absolute treat for our senses. We couldn't get over the incredible value we found everywhere. Plus the concept of "organic" just doesn't exist here because all-natural, wholesome agriculture is just the standard way of doing things. If I could live on the vegetables, cheese, and wine of Macedonia forever, I would in an instant.