I'm wracking my brain to try to figure out a more literary way of describing Singapore other than "ridiculously awesome." The safest city in the world. A cleaner and friendlier NYC. As filled with luxury malls as Las Vegas and shopping streets that are like Chicago's Magnificent Mile on steroids. Sparkling, affluent, businesslike, but still culturally diverse with its Chinese, Indian, and Arabic enclaves. It had been described to us as a utopia before we visited, and honestly we found ourselves agreeing after going there. If it weren't for the high prices and scorching heat, we would have loved to stay much, much longer.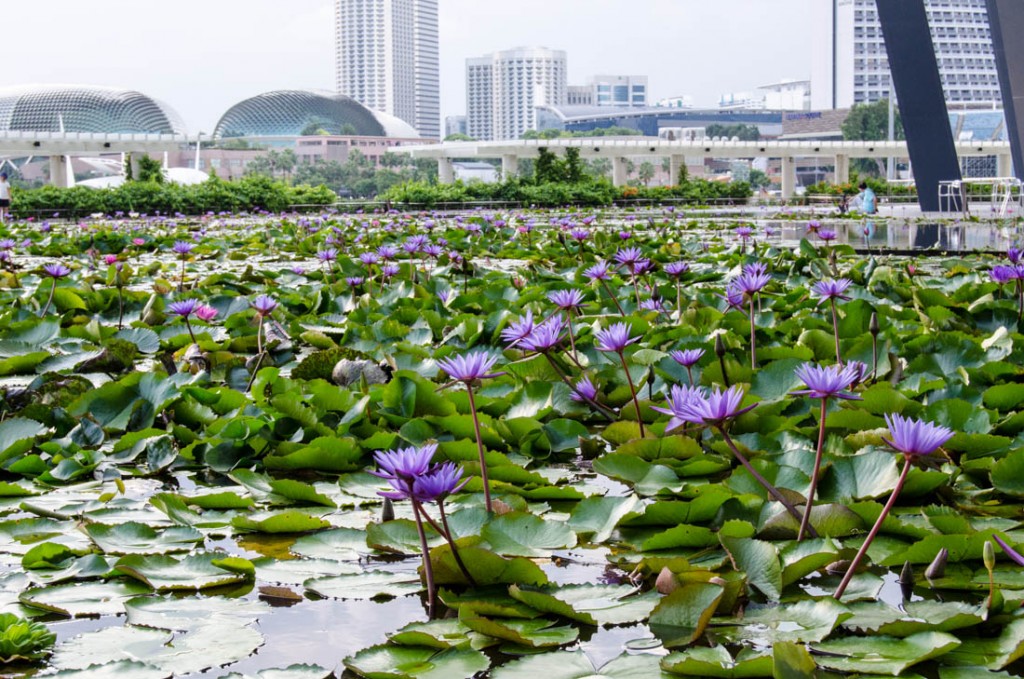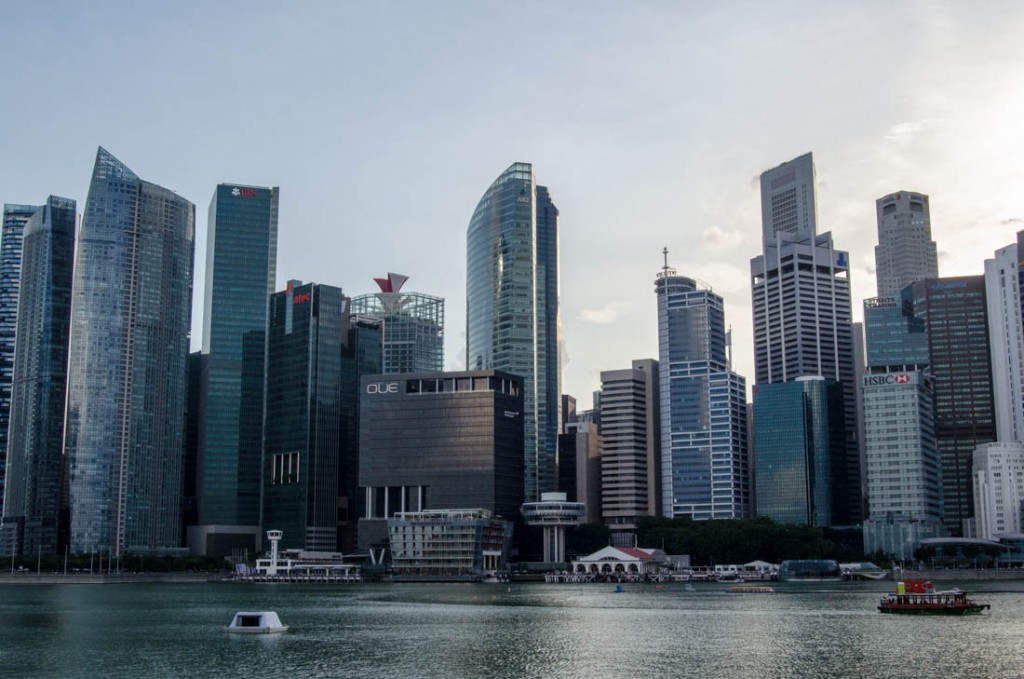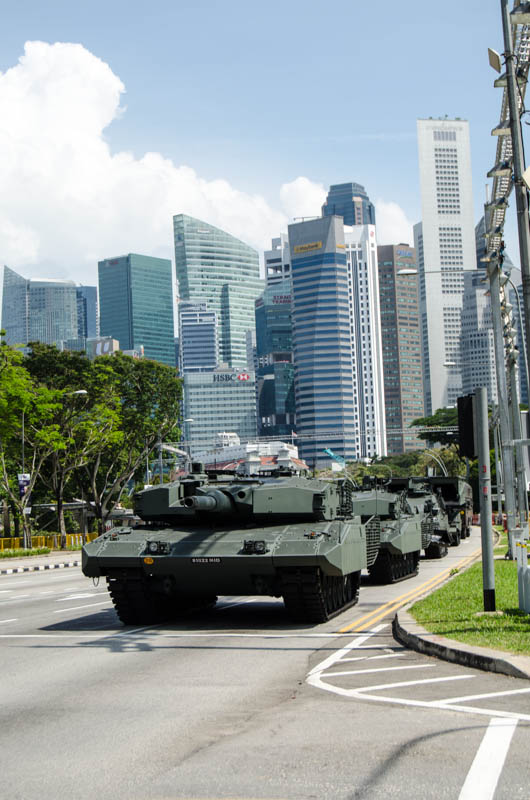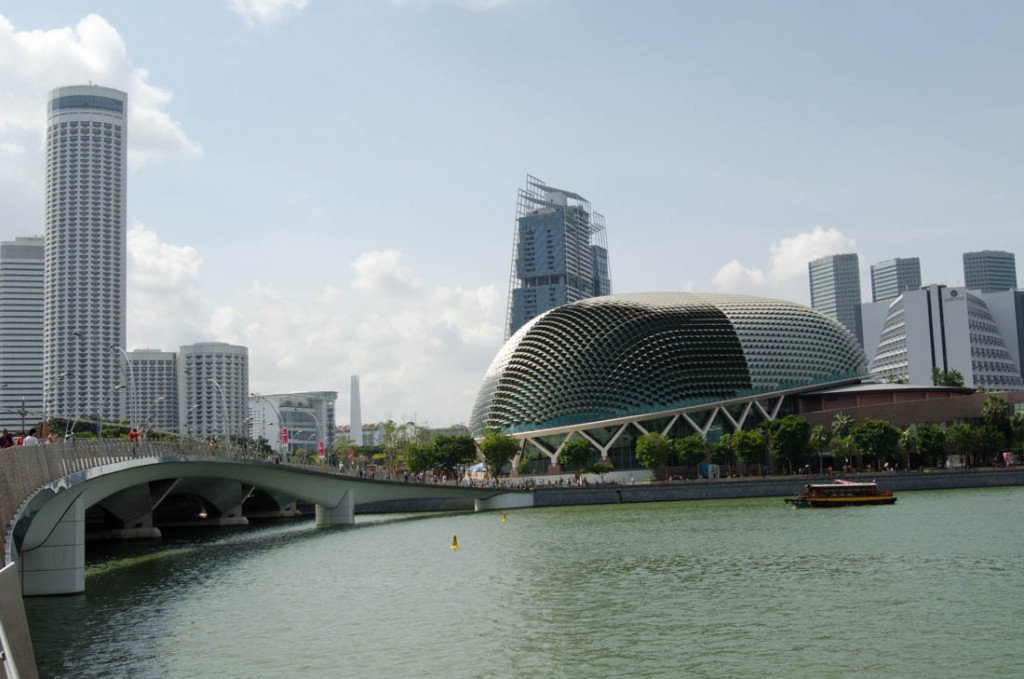 In the 1990s, writer William Gibson wrote a biting critique of the nation, calling it "Disneyland with the death penalty" and harshly condemning the austere, authoritative, and overall "bland" city-state. Admittedly, we did not see any traces of counterculture, bohemianism, or just plain edginess that you'd find in New York City or London. However, we also didn't see any traces of all the incredible amounts of litter that we saw in Indonesia, or people hawking loogies and not flushing toilets in China. Or homeless people freezing through Chicago winters. Or the gun violence and income disparity of the United States.
One of the reasons Singapore is so safe and its economy so successful is due to its strict laws and central planning. BackpackInvesting.com will later dive further into the economic and political history of the city-state, but I'll add a few cultural observations here as well.
Singapore's penal code was the first thing to greet us when we first arrived and they stamped our passport and provided us with our immigration card that warned about the nation's death penalty for drug traffickers (Australian Van Tuong Nguyen was executed in 2005 after being found coming into the country with almost 400 grams of heroine). You can also be randomly drug tested while in Singapore, and if you test positive, can be imprisoned even if you took the drugs prior to entering Singapore in a place where it was legal. The death penalty is also automatic for murderers, too. Singapore also has mandatory caning sentences for vandalism offenses. American Michael Fay was sentenced to caning for theft and vandalism in 1994, although calls for clemency from Bill Clinton and two dozen Senators helped get his sentencing commuted from six lashes down to four (gee, thanks). Other strict laws? No importing or selling chewing gum, no spitting, no eating or drinking on the public transit system… the list goes on. Ok, yes, these laws are pretty scary…. but I think that is Sinagpore's whole point. Murder? Rape? Violence? Drug use? Drunk driving? Practically nonexistent here.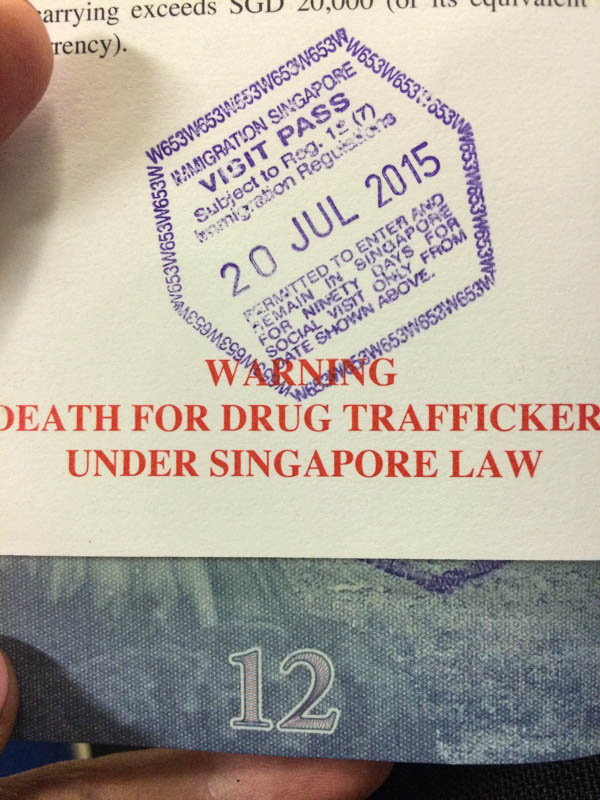 Window Shopping Our Way Through Singapore
We spent afternoons perusing Singapore's state of the art shopping malls, although, alas, all of our shopping was of the window-variety. In truth, it's the only sensible way to pass the time during the muggy afternoons when you can't venture outside the air conditioning for more than a stretch. Thankfully, most of the main area is strung together by air conditioned walkways and immaculate underground passages. You can find all matter of cafes, restaurants, pubs, fro-yo shops along Orchard Road, not to mention every luxury brand you can dream up. I think I counted five Louis Vuittons alone.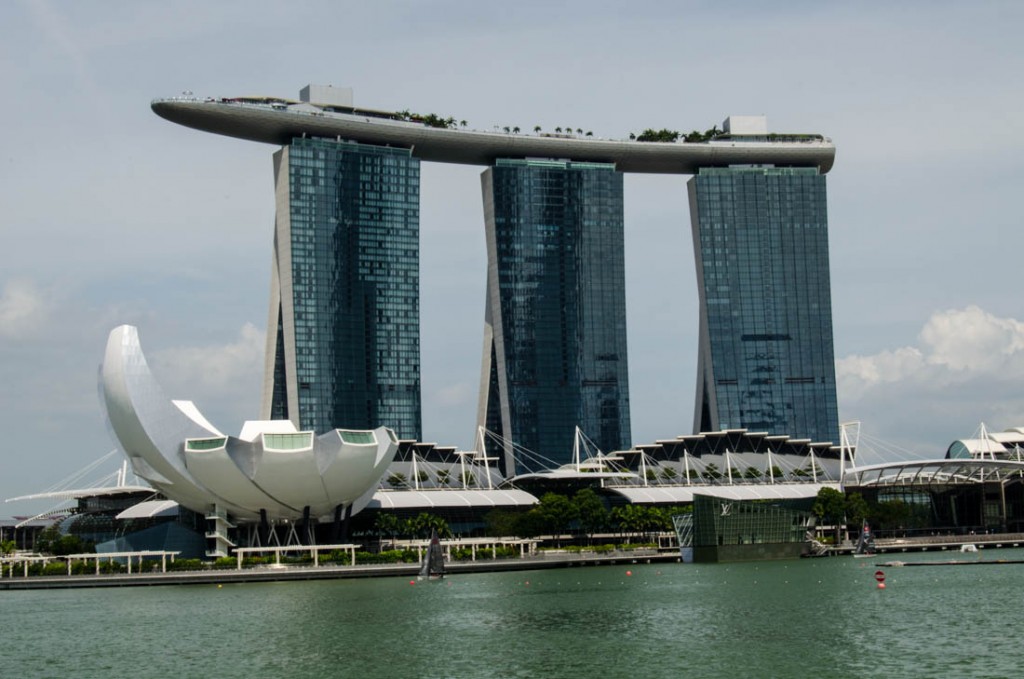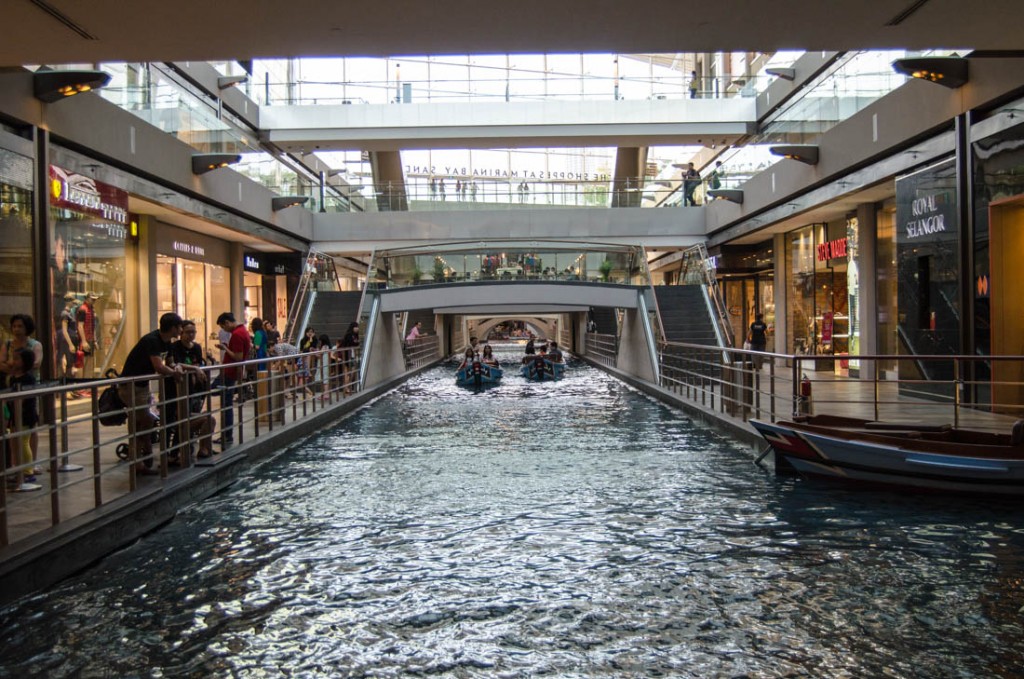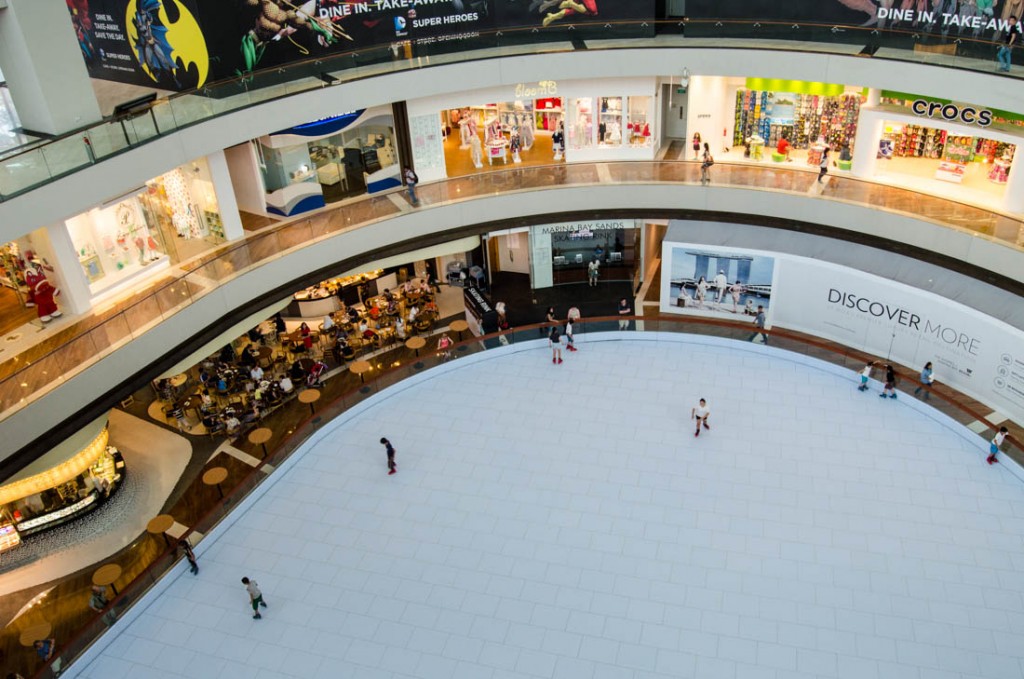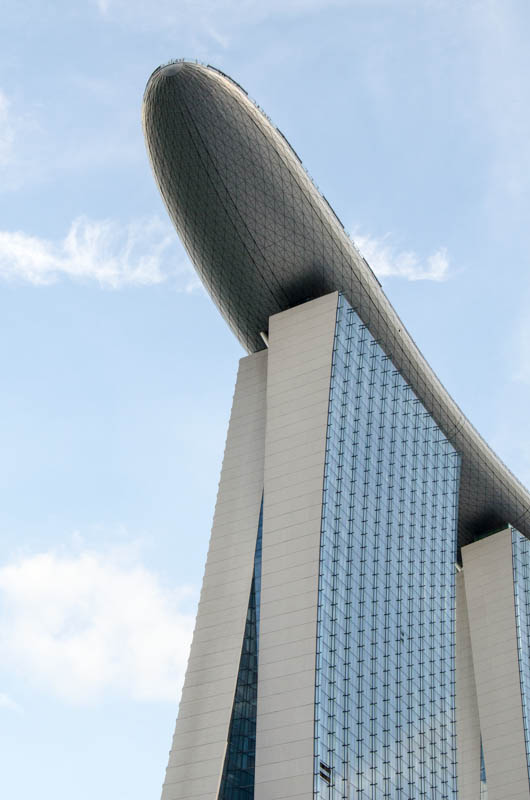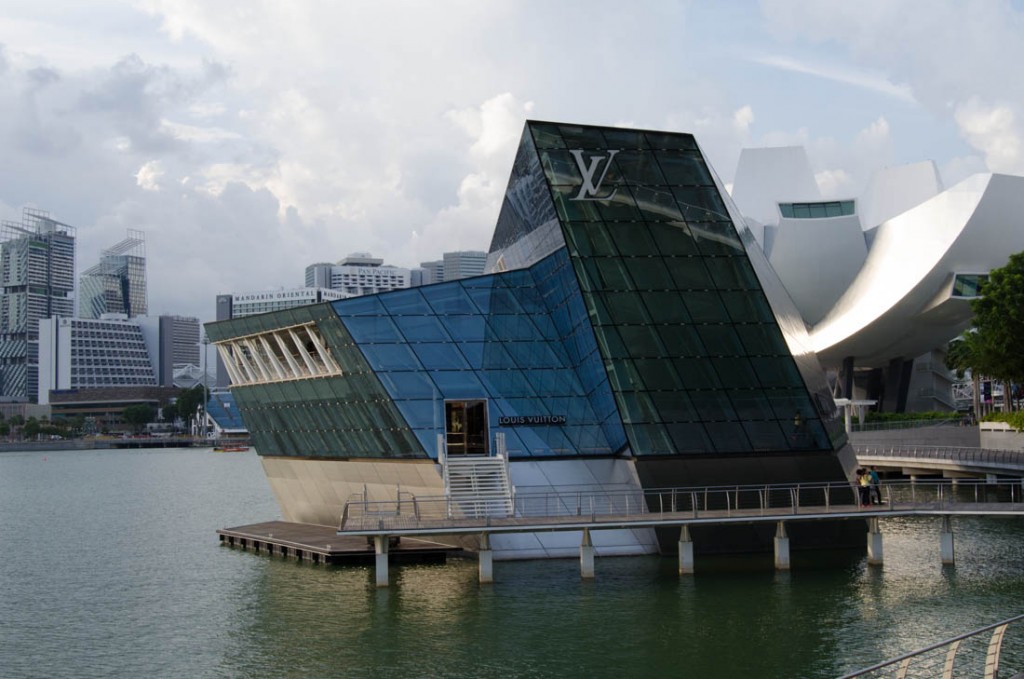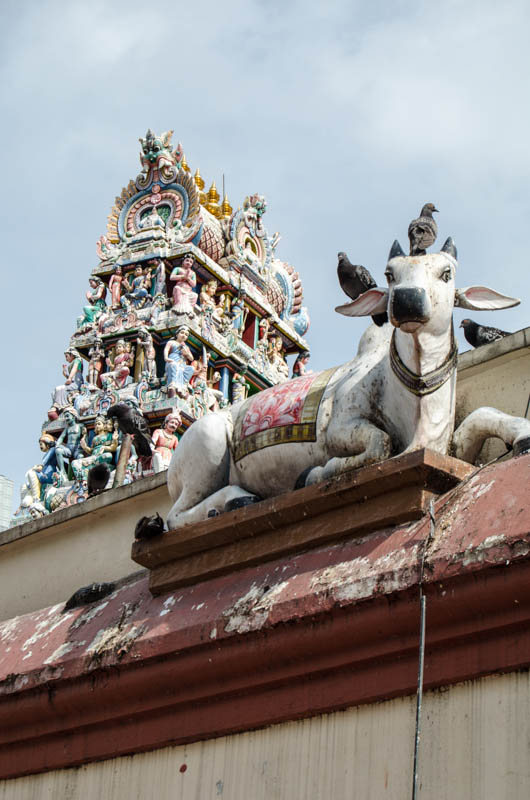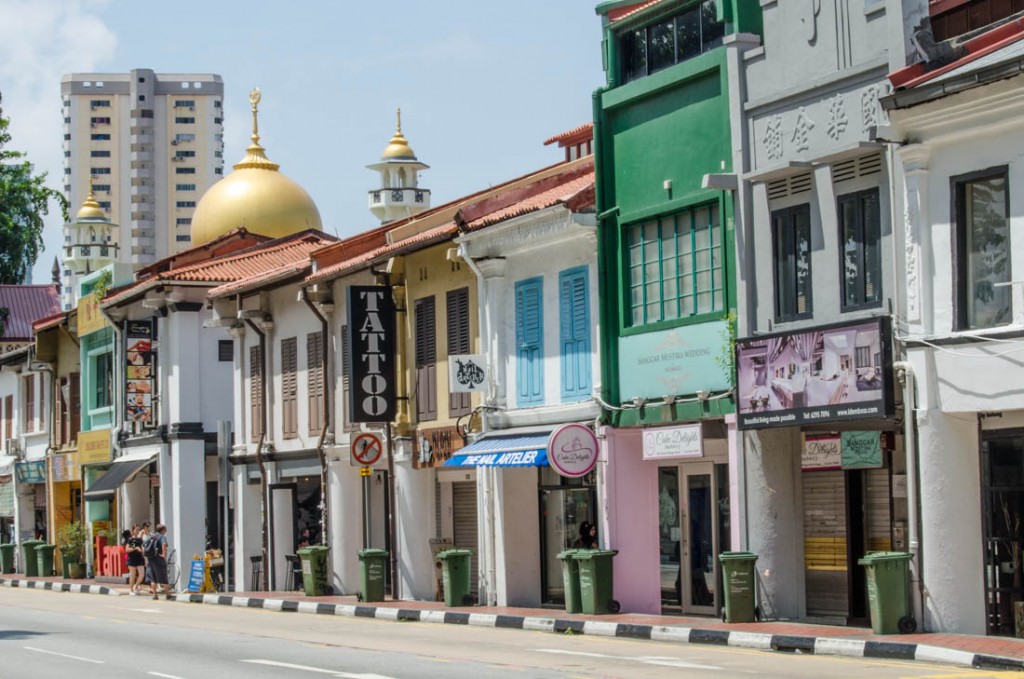 Enjoying Singapore's Culinary Spectrum
From celebrity chef restaurants to cheap-eat hawker centers, Singapore's food scene has it all. On the high end, we felt much like we did while in Tokyo… that we need to come back again in the future with a proper food budget. But thankfully, street food was plentiful and delicious, and we ate well and cheaply while in Singapore. We didn't scrimp for two things, however: tasting a Singapore Sling in its namesake city and trying the area's famous chilli crab.
There aren't too many famous drinks in the world that you can trace the exact origination point to (trust me, I looked into it before we started the trip). One notable exception is the Singapore Sling, which traces its roots back to 1915 and a bartender named Ngiam Tong Boon at the Long Bar in the Raffles Hotel. Although you'll find almost only tourists sipping Singapore Slings at the Long Bar, we still had fun trying the sweet gin drink at the place where it was invented and throwing peanut shells on the ground (a rare luxury amid Singapore's strict anti-litter laws). Getting the chance the stroll through the Raffles Hotel—where you can stay for $600 a night—also helped justify the cost of 36.50 Singapore dollars per drink (roughly $27 USD… yeah, you read that right, $27).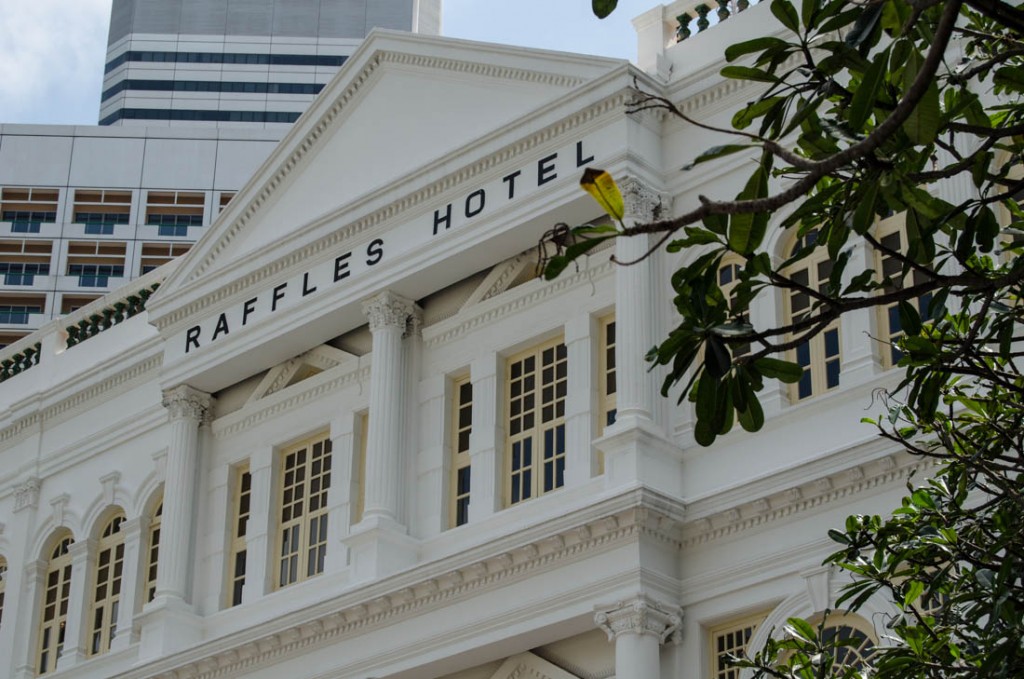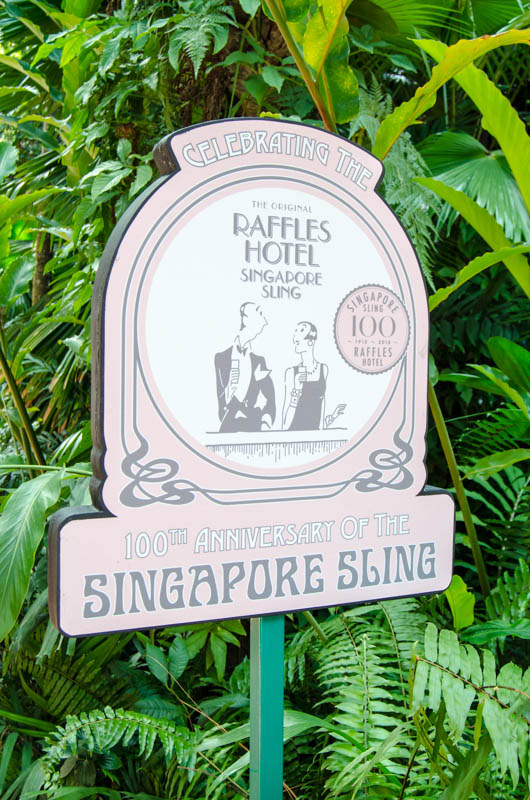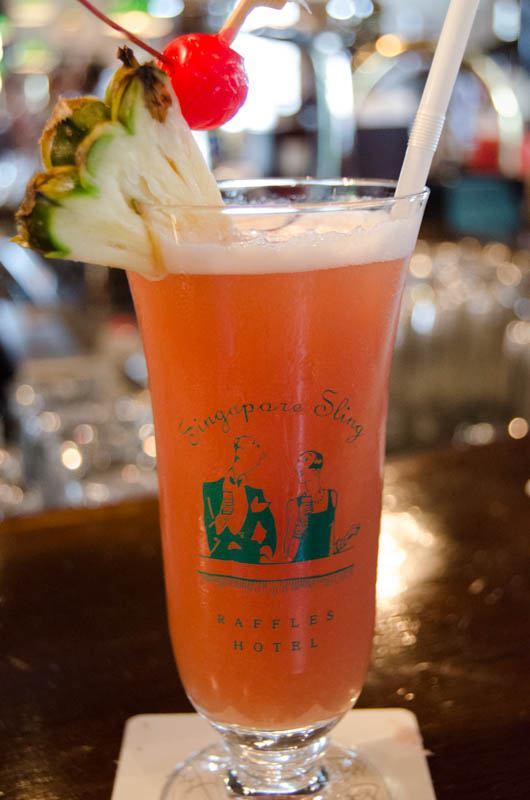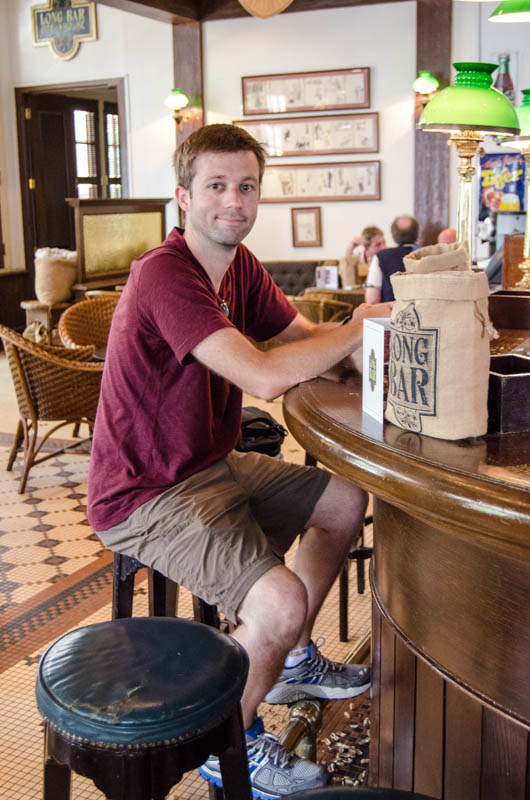 Don't worry, we only ordered one. Luckily, we (and you, dear readers) can now make them at home anytime we want after procuring the official recipe:
Raffles Hotel Singapore Sling
30ml Gin
15ml Cherry Heering Liqueur
120ml Pineapple Juice
15ml Lime Juice
7.5ml Cointreau
7.5ml Dom Benedictine
10ml Grenadine
Dash of Angostura Bitters
Pineapple Slice & Cherry Garnishes
Another delicacy of the island is chilli crab, a whole crab cooked in chilli sauce that is as delicious as it is messy to eat. Pro tip: add a side order of mantou (small sweet buns) to mop up the sauce. You order by weight, and this little one cost us $30 but was worth every gram we paid for it.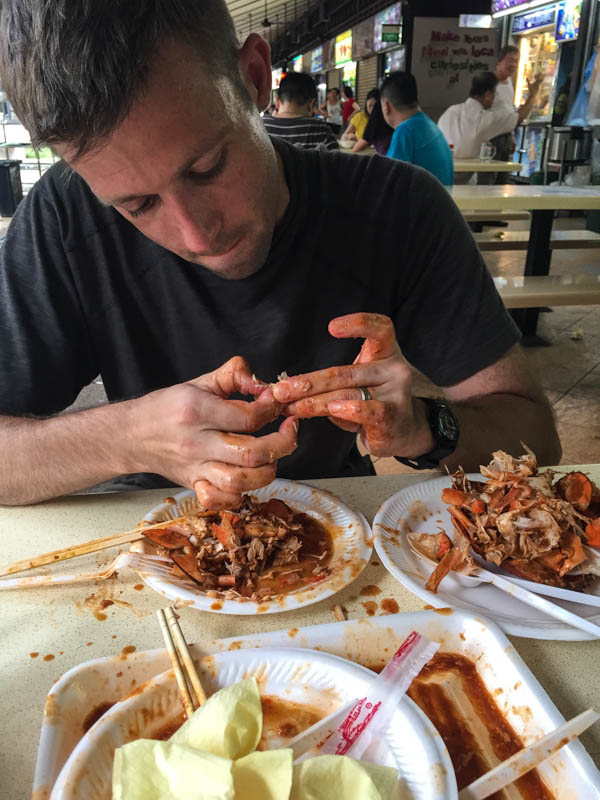 Carrot cake is another Singaporean specialty, except their version has nothing to do with the cream cheese-frosted dessert we know in the States. Carrot cake in Singapore actually has no carrot at all, but is instead made up of white radishes and rice flour fried up with eggs, garlic, and spices and comes in the traditional white or soy sauce-darkened black varieties.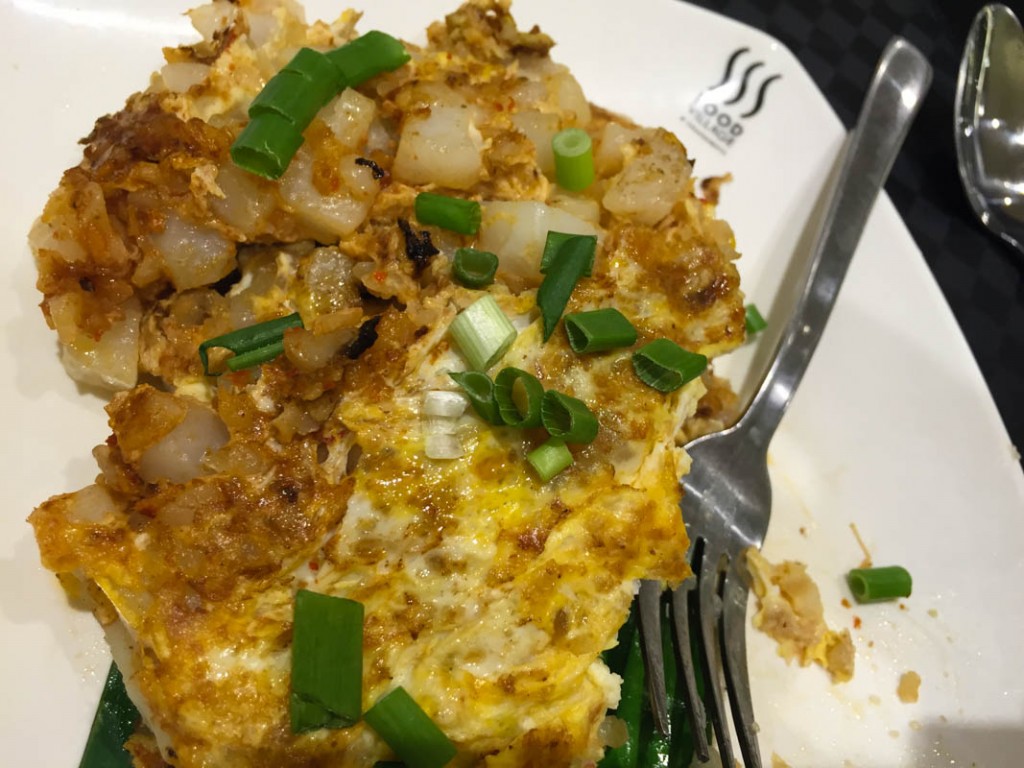 As an avid coconut lover, I also insisted on trying a very traditional breakfast of kaya toast with runny eggs and coffee. Kaya is a delicious jam made from coconut and eggs.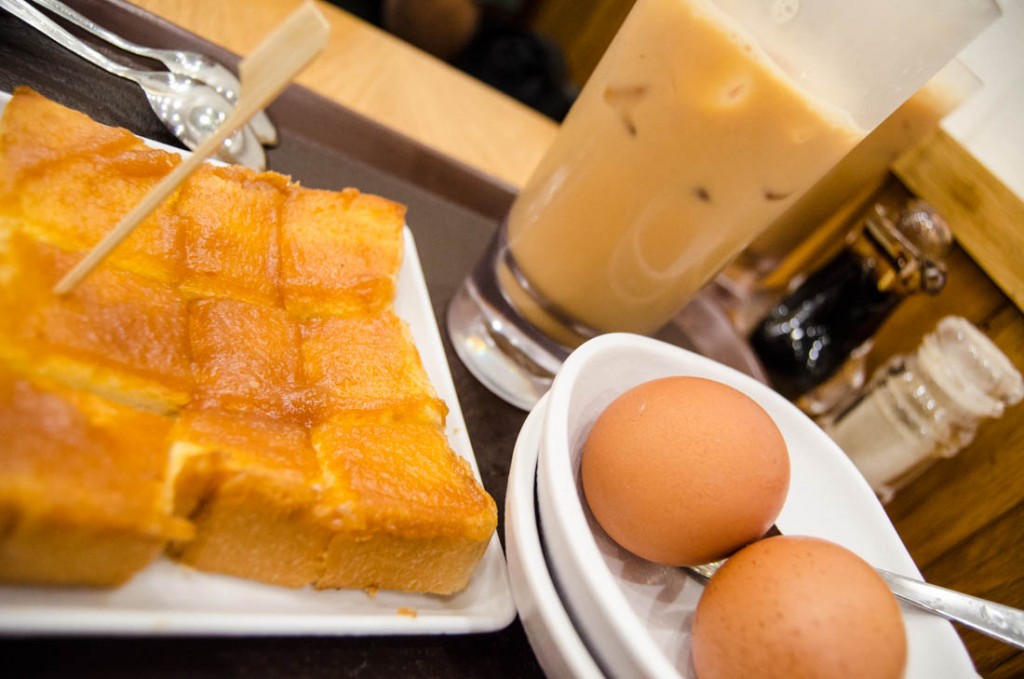 Singaporeans have also devised a huge array of frozen concoctions to try to beat the scorching heat. This mango-flavored ice mountain saved us from heat exhaustion one afternoon while we were exploring Chinatown.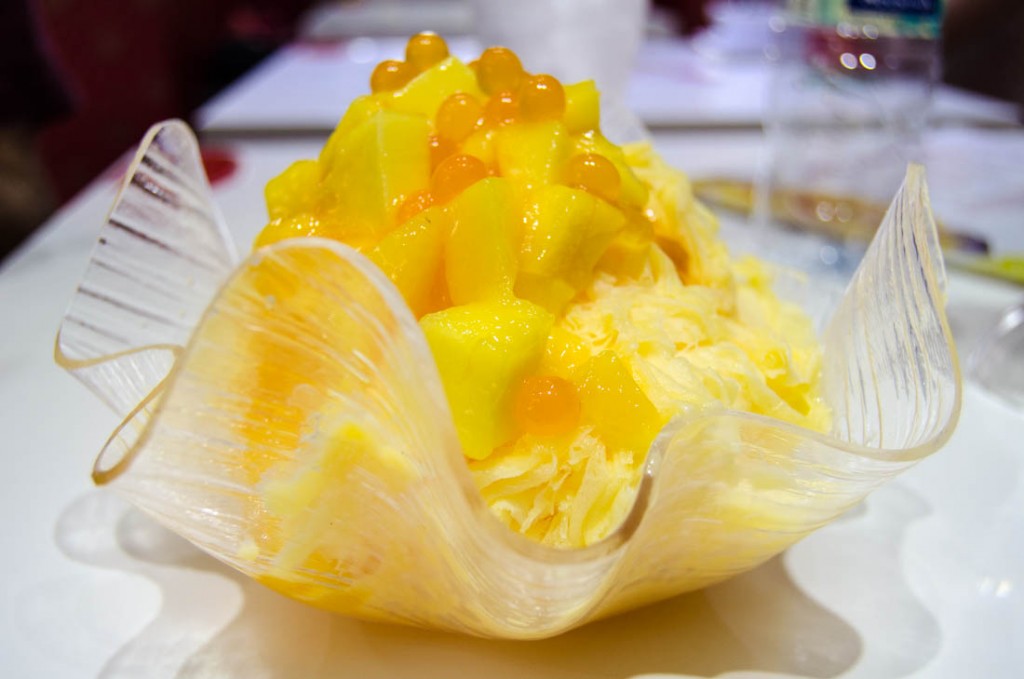 Visiting Some of Singapore's World-class Attractions
The Singapore Zoo is world-renowned and contains a hugely popular daytime zoo, a bird park, and a famed Night Safari. In the end, we chose to only do one this time around due to our tight schedule and budget, but we're happy to have saved something for when we come back in the future. Sadly, friends, the pictures are kind of crap from the Night Safari due to the darkness, but you will have to settle with these and my word to you that it was truly fantastic. The Night Safari boasts over 2,500 nocturnal creatures and can be explored via walking trails or by tram. We hit the walking trails first and quickly learned that the zoo has an open concept philosophy that often throws you right in there with the animals.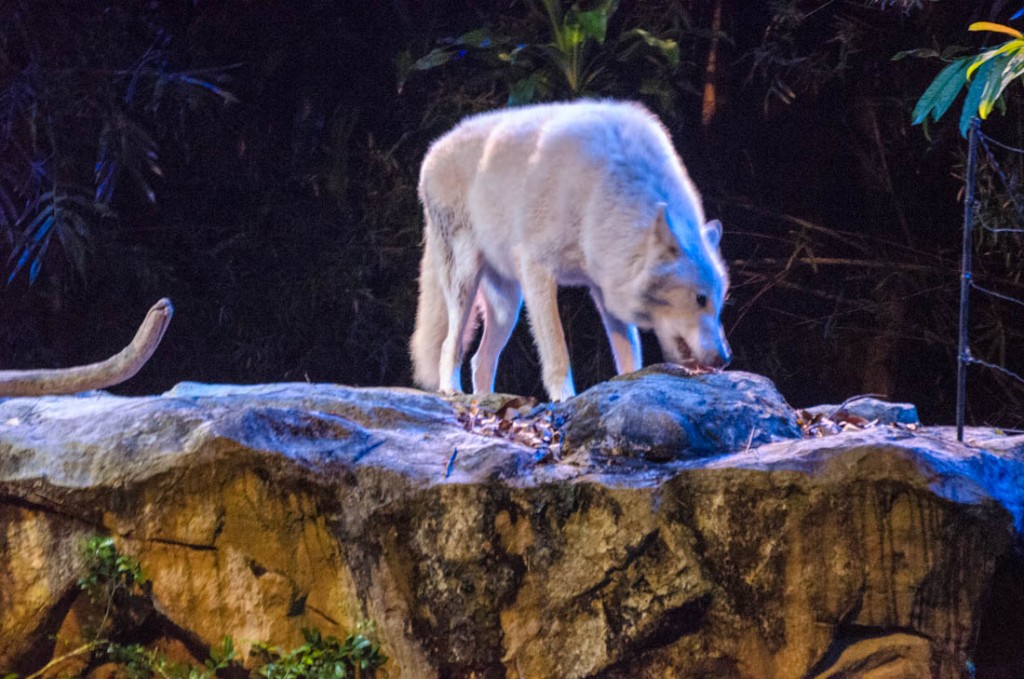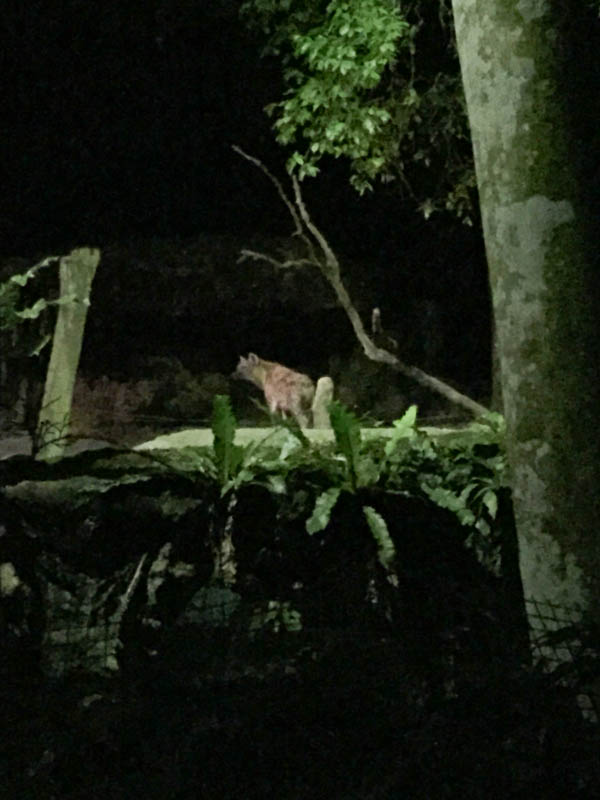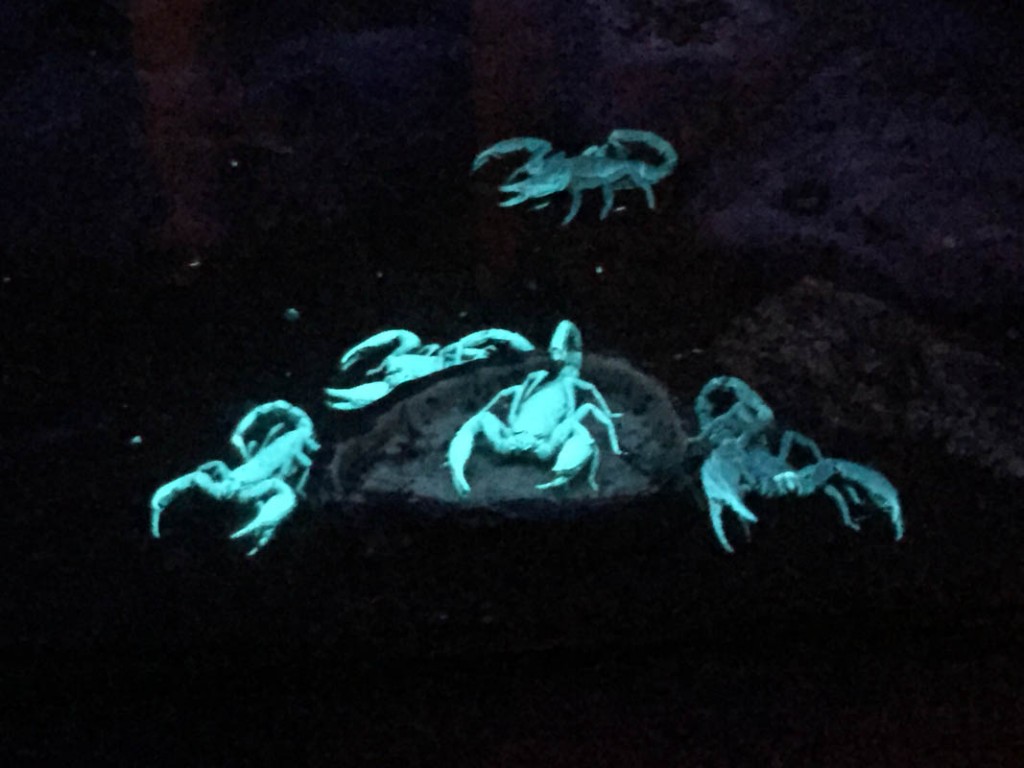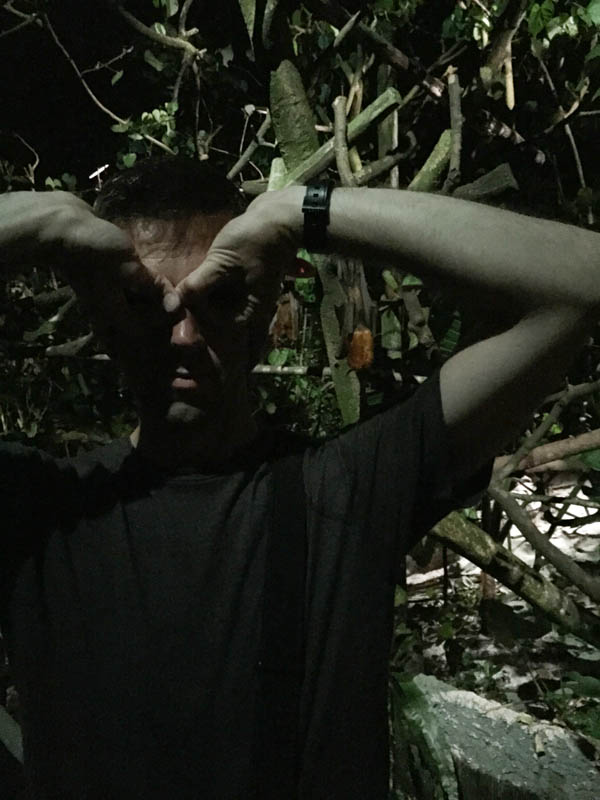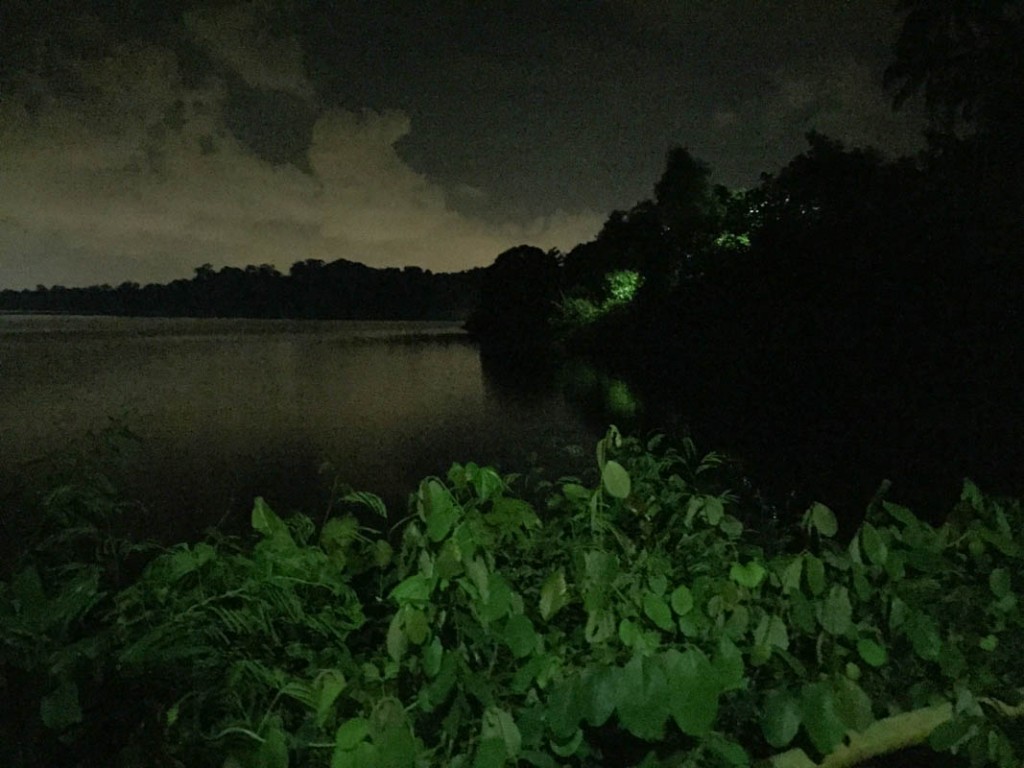 As cool as walking among the animals was, we definitely saved the best for last with the tram ride. Not only did the tram let us ride right among the animals at times, it also brought us in close contact with the zoo's top attractions: the elephants.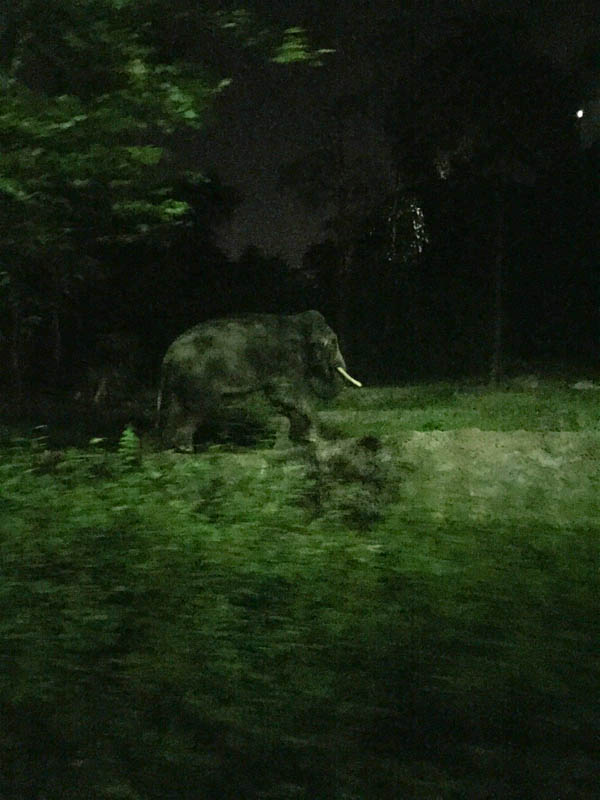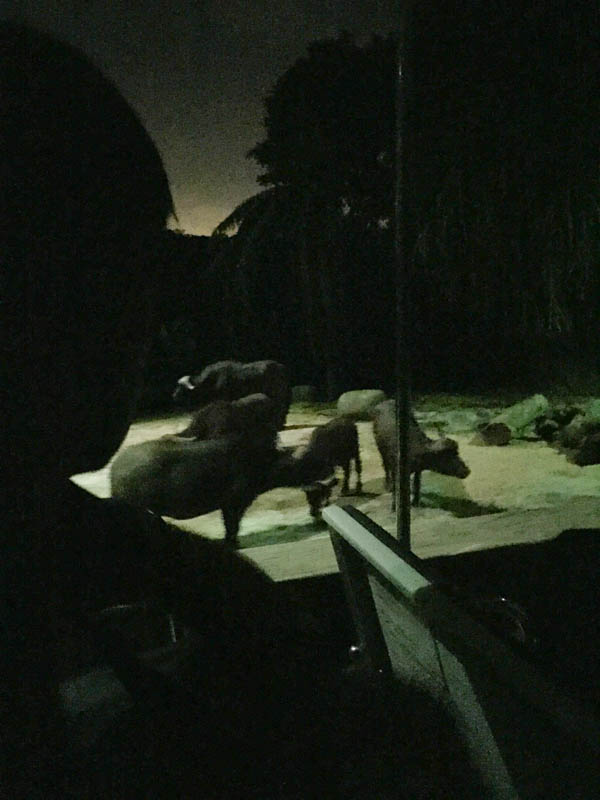 Another one of Singapore's star attractions is its Botanical Gardens, and, most specifically, its National Orchid Garden, where we saw more types of orchids than I never knew existed (the park has 1,000 species and 2,000 hybrids).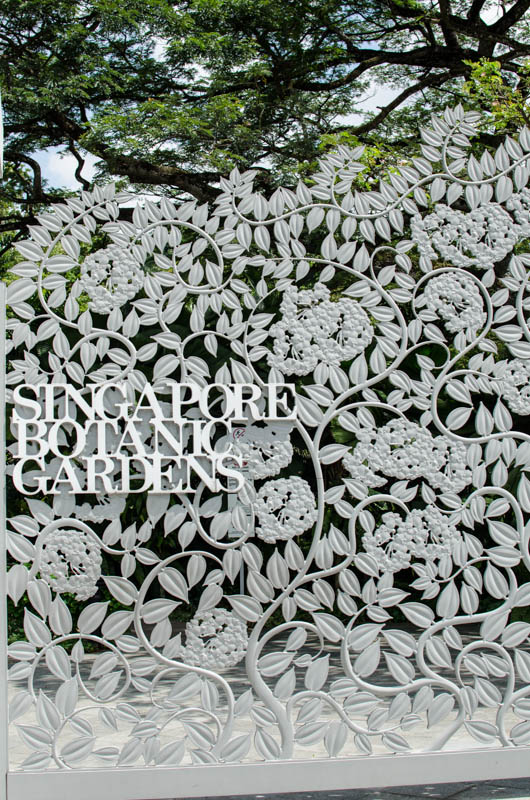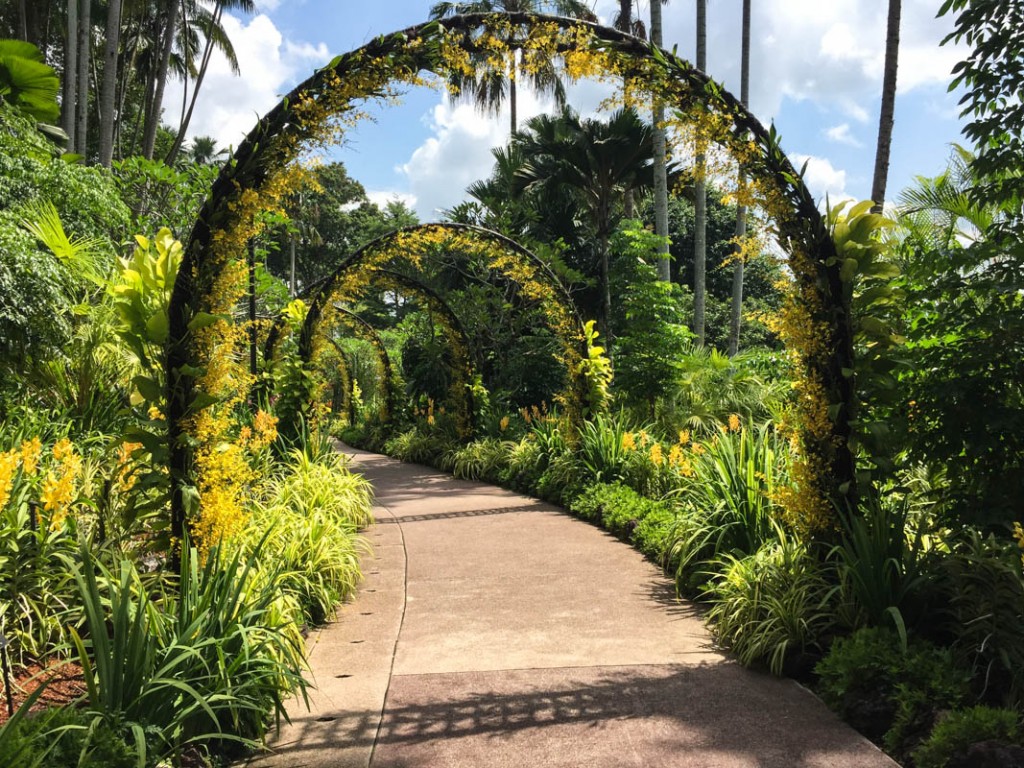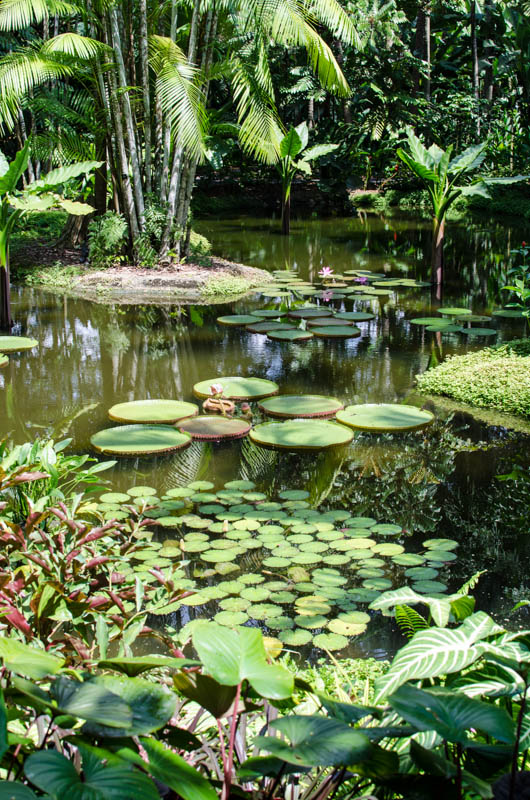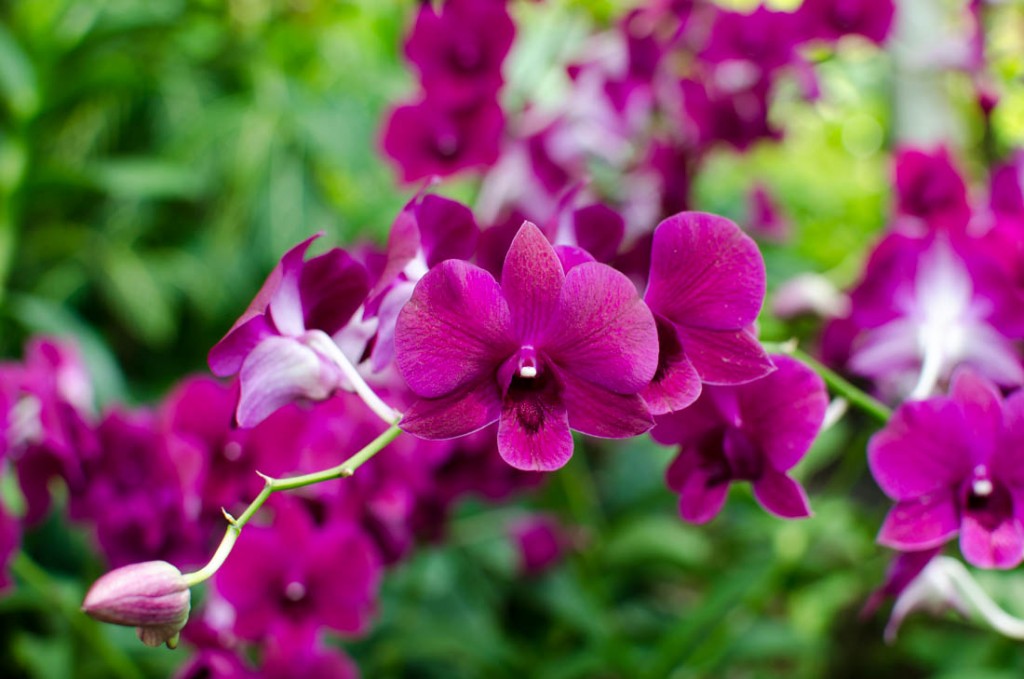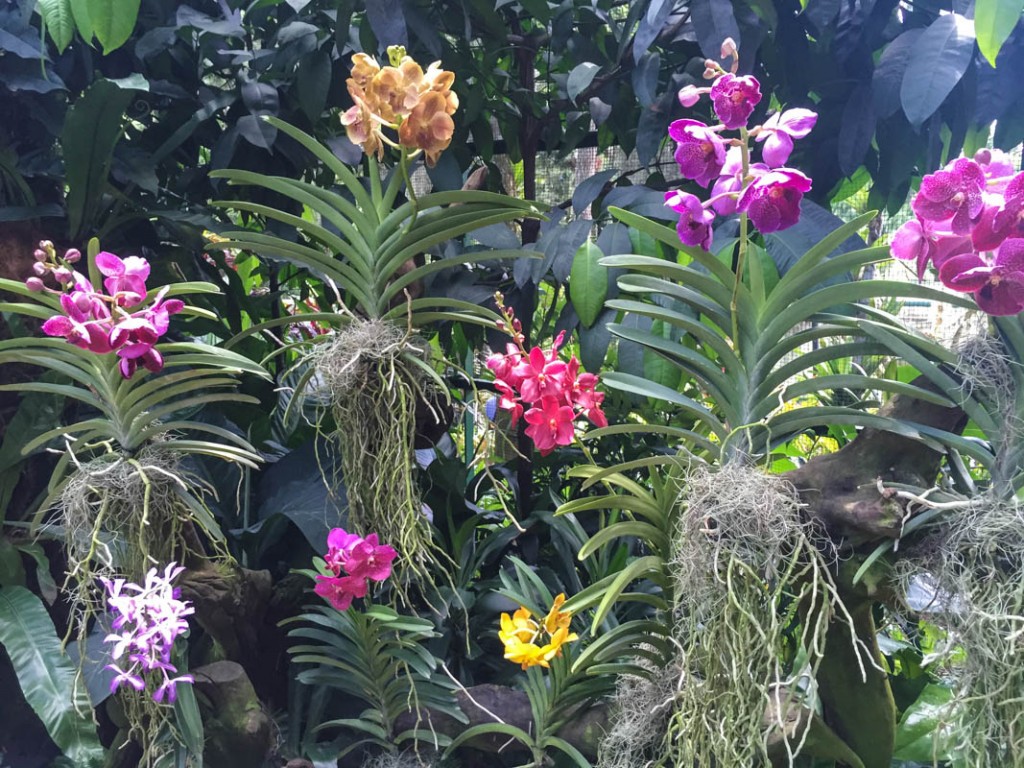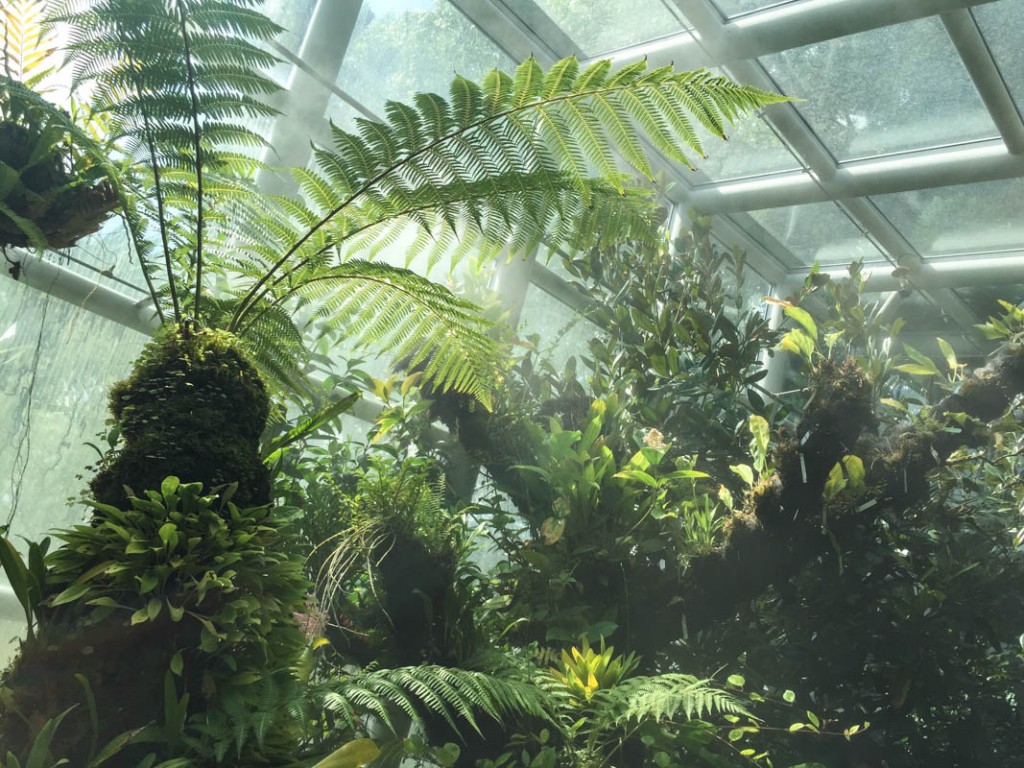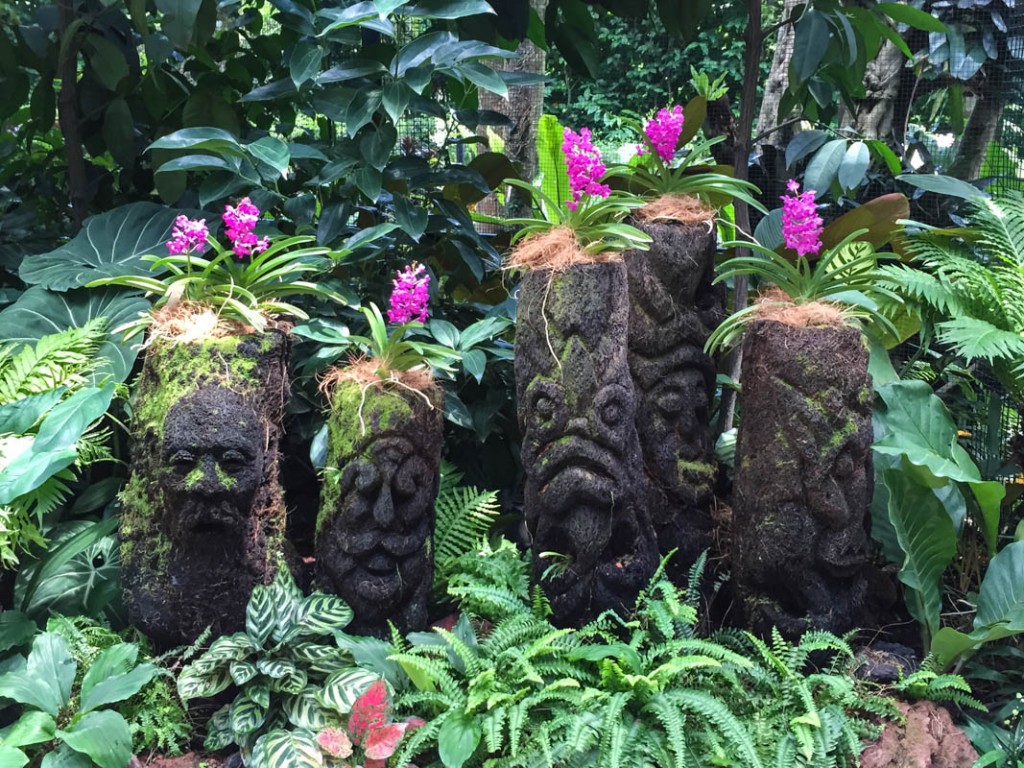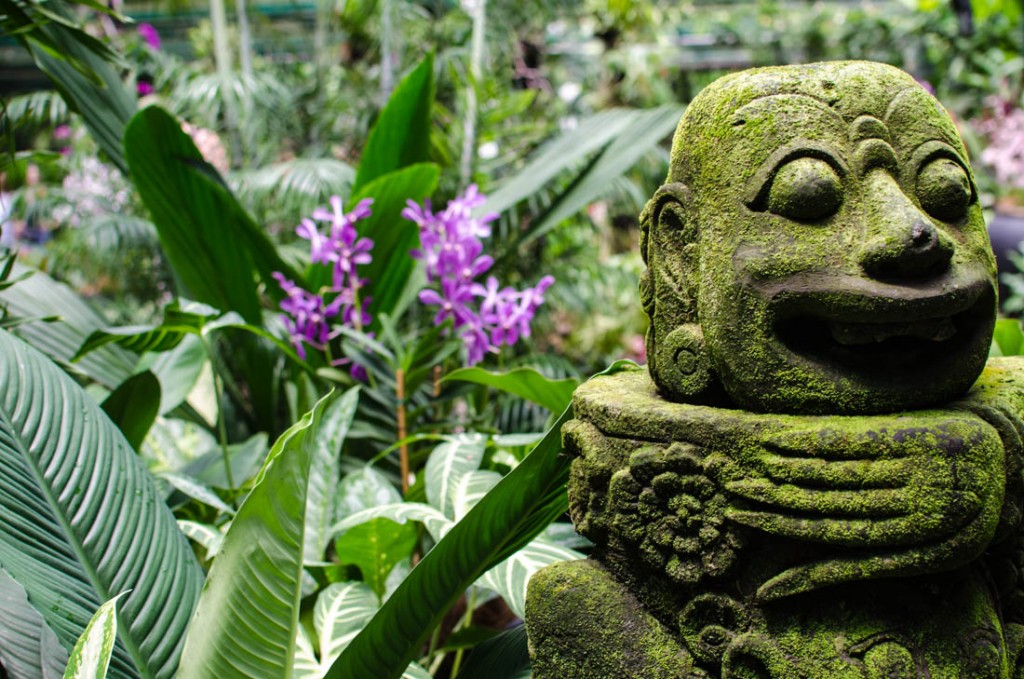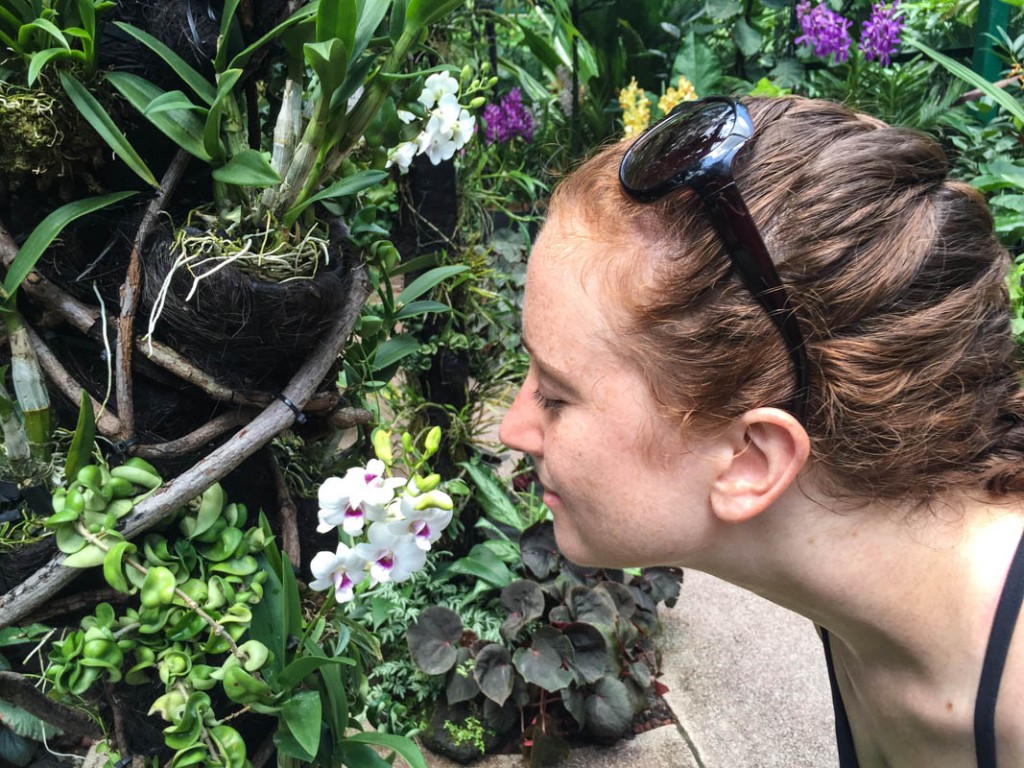 On our last night in Singapore, we ventured over to the Gardens by the Bay next to Marina Bay Sands to see the Supertree Grove and its nightly light and music show. These massive illuminated trees, whose trunks are covered by real greenery, will make you feel like you've stumbled into the movie Avatar.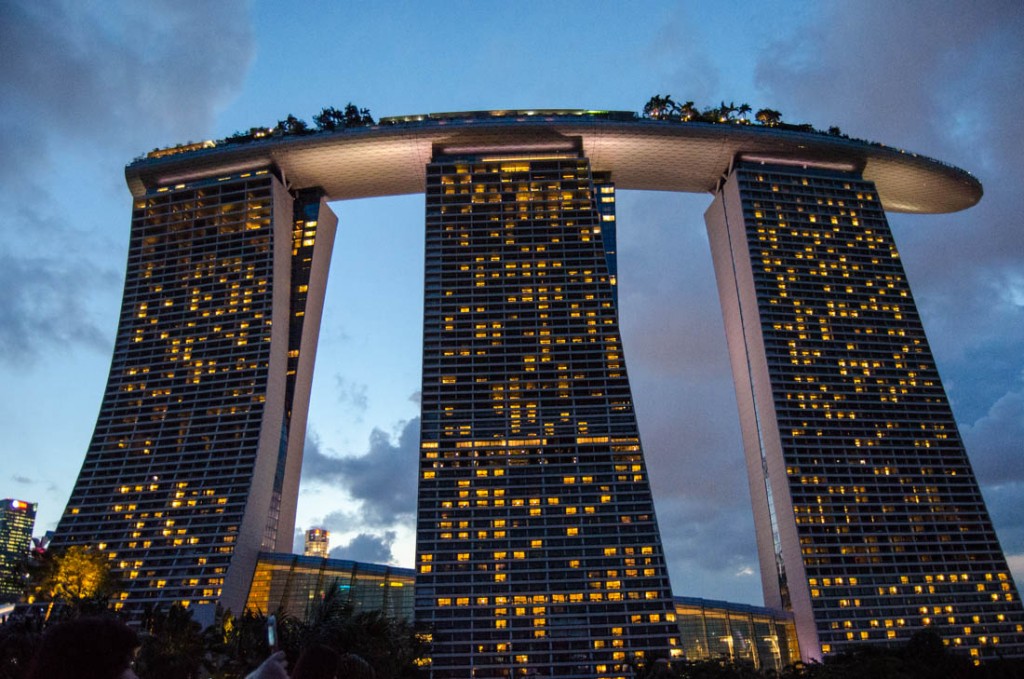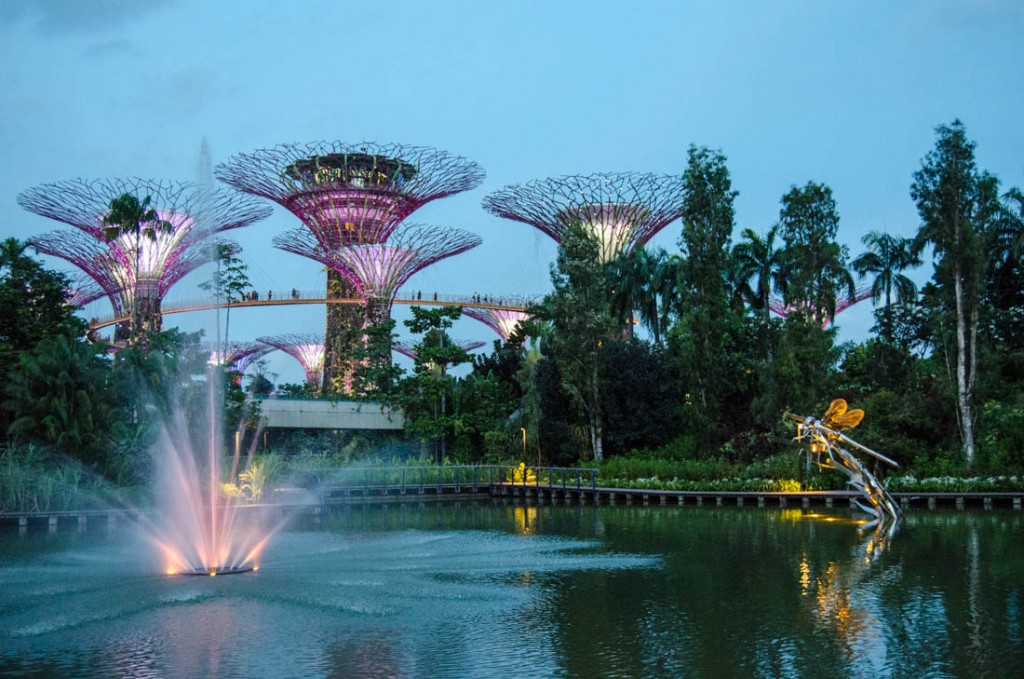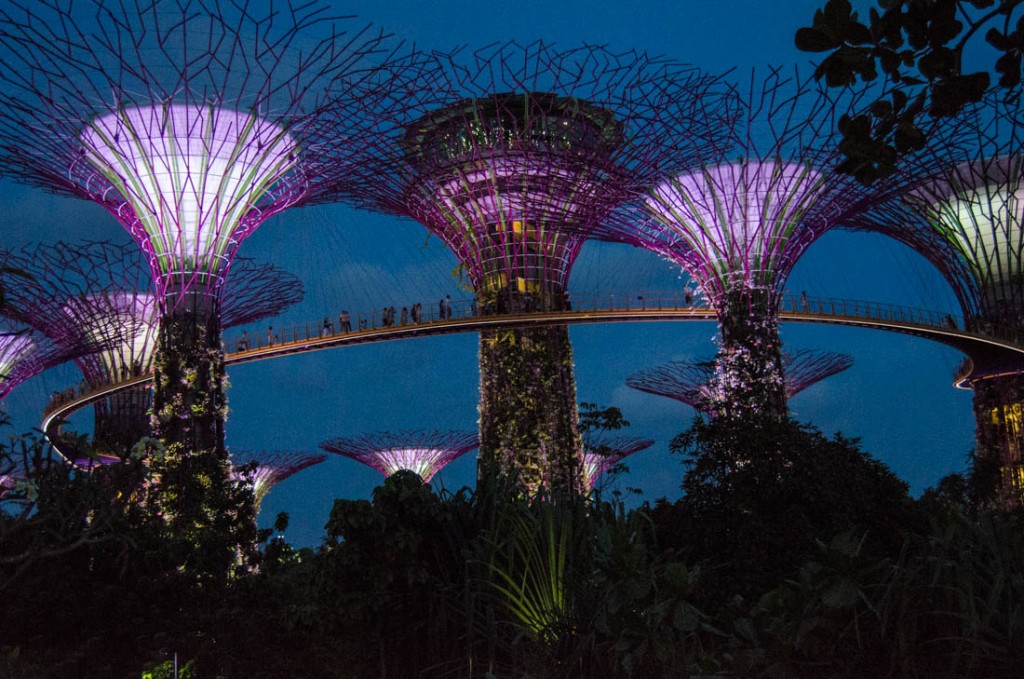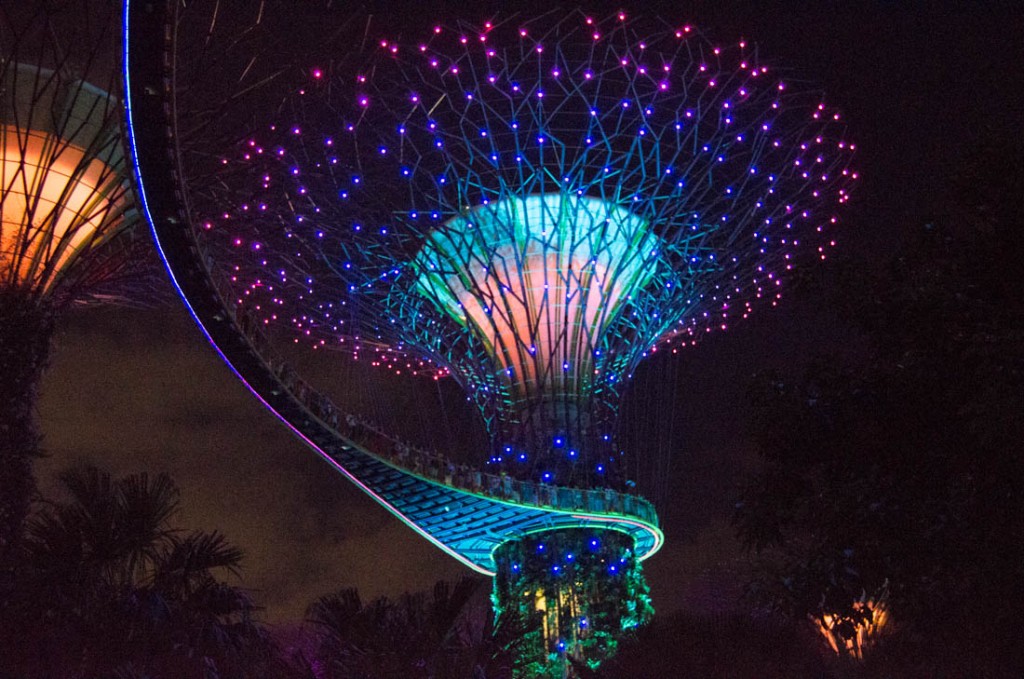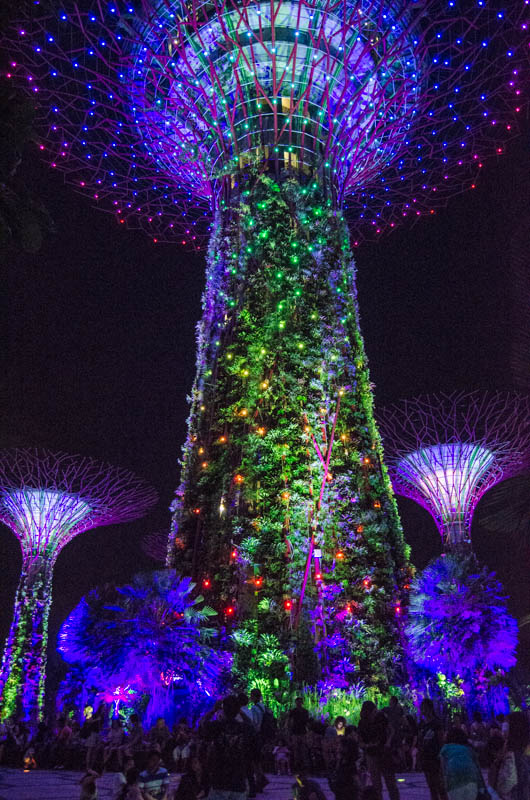 The next day, Chris left to catch his early morning flight on to his next destination, and I had an entire day to kill before my late flight back to the States departed. Chris and I have spent nearly every minute of the last seven weeks together, and saying goodbye to him—even if it only for a week and a half—was really hard. The only upside was that, without Chris to roll his eyes at me, I was finally able to check something off my Asia Bucket List. And that is how I found myself in the company of 13 adorable rescue cats at a cat café.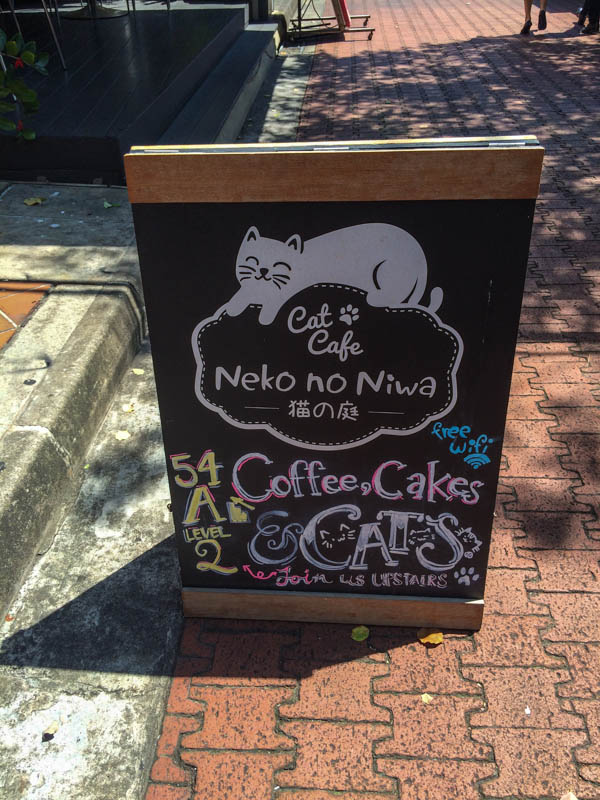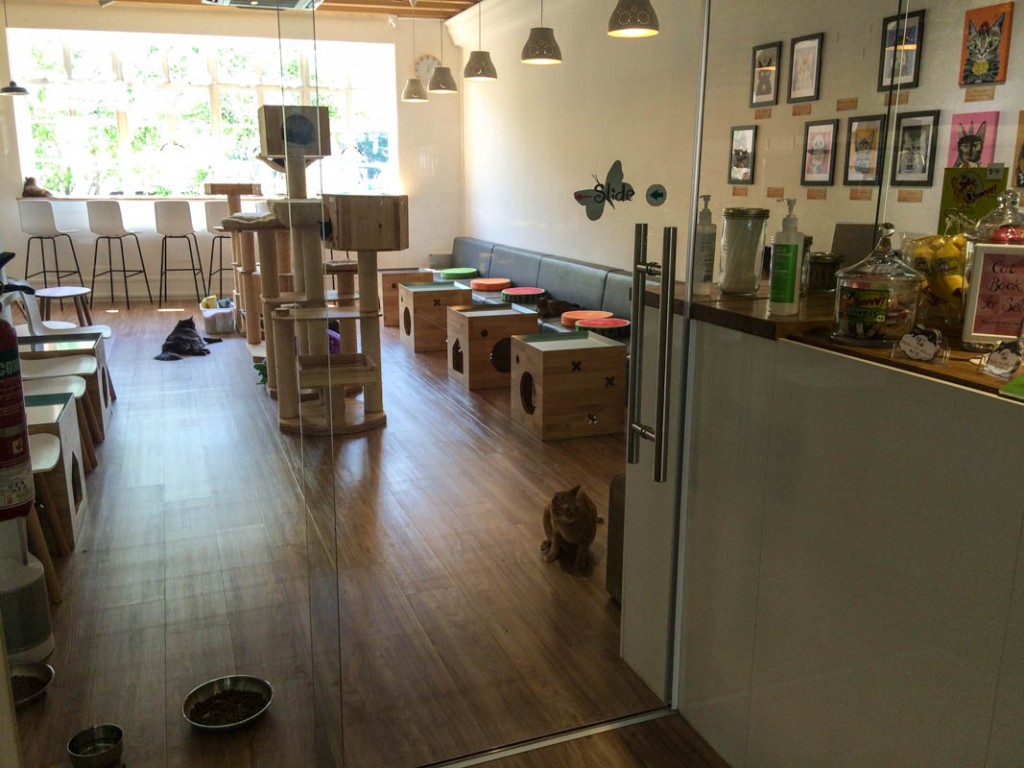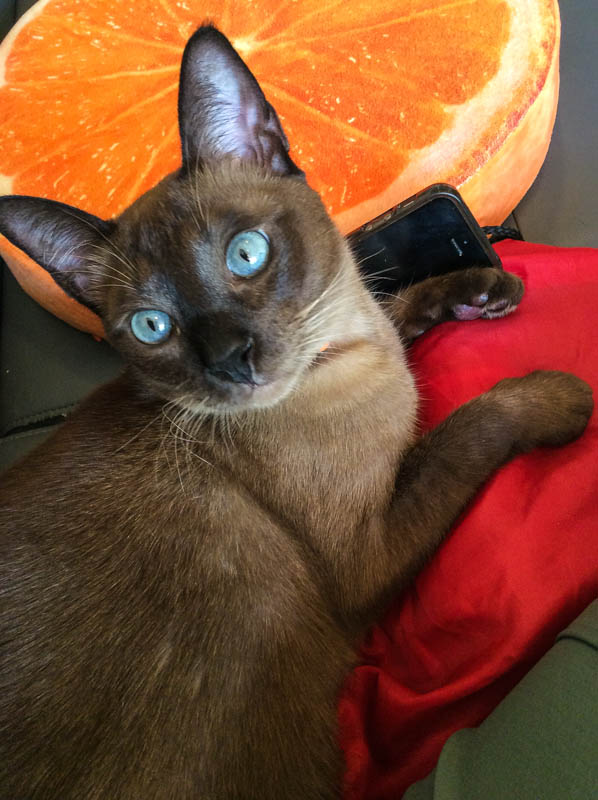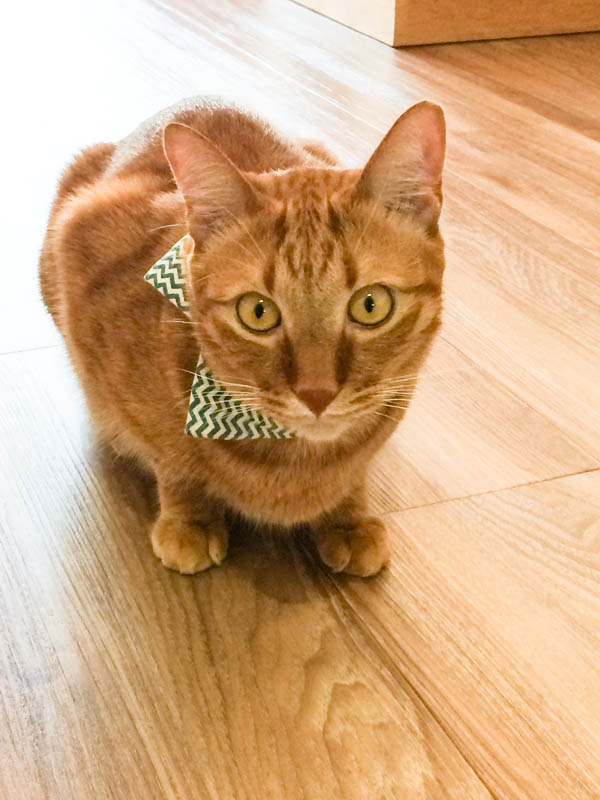 Farewell, Singapore! We'll definitely be back to do proper justice to your restaurants and shopping malls sometime in the future. Don't worry, we'll make sure to leave our chewing gum at home though.