The previous post was intended to give you a (hopefully funny) glimpse into what it was like saving money and miles in the Adams household in the months and years leading up to our around the world trip. But, on a more serious note, here's exactly how we did it.
We Saved: We did our best to live cheaply and save when we could without sacrificing great memories and experiences in Chicago (since we knew we wanted to make the most our limited time left there). We weighed any vacation opportunities against what that money could have bought us abroad. We commonly asked ourselves questions like, "Is going out to a $200 dinner really worth it when it could buy us a week of housing in Indonesia?" We set a budget for ourselves, checked in regularly, and end up exceeding our goals. It's amazing what you can accomplish when you and your partner are on the same page. That, and also your critique of your partner's recent hockey equipment purchase is on the back of you mind as you contemplate that new pair of shoes.
We're Visiting Places that are Really Cheap: Due to a complicated web of economic reasons (many of which I'm sure you'll learn about on BackpackInvesting.com), some places are simply more inexpensive than others. Therefore, even though we are quitting our jobs and living off savings for a year, our money will go much further in some corners of the world than in Chicago. While we do have a few pricey stops planned along the way, like Japan and London, we're keeping those stays very brief and spending the vast majority of our time in the developing world where we can stay for under $30 a night and eat for $10 a day. For instance, we're kicking off our trip in Japan, but will be hightailing it shortly thereafter to places with less than half its cost of living.
We Stockpiled Credit Card Miles and Points: Luckily for me, Chris's newfound hobby over the last several years has been researching various credit card options, understanding the relative worth of each type of reward, and then exploring how to maximize the value from those rewards. We waited for great new offers to come out and strategically opened new cards, we made sure to always use the right card for the right situation, and we were on the lookout for special bonuses we could earn by going through a portal (more on this in a subsequent post) or spending a few minutes of our time answering a few questions. I have been his credit card mile and point apprentice and will be sharing with you on this blog what we've learned. And the fruits of our labors? Here's our balance pre-departure: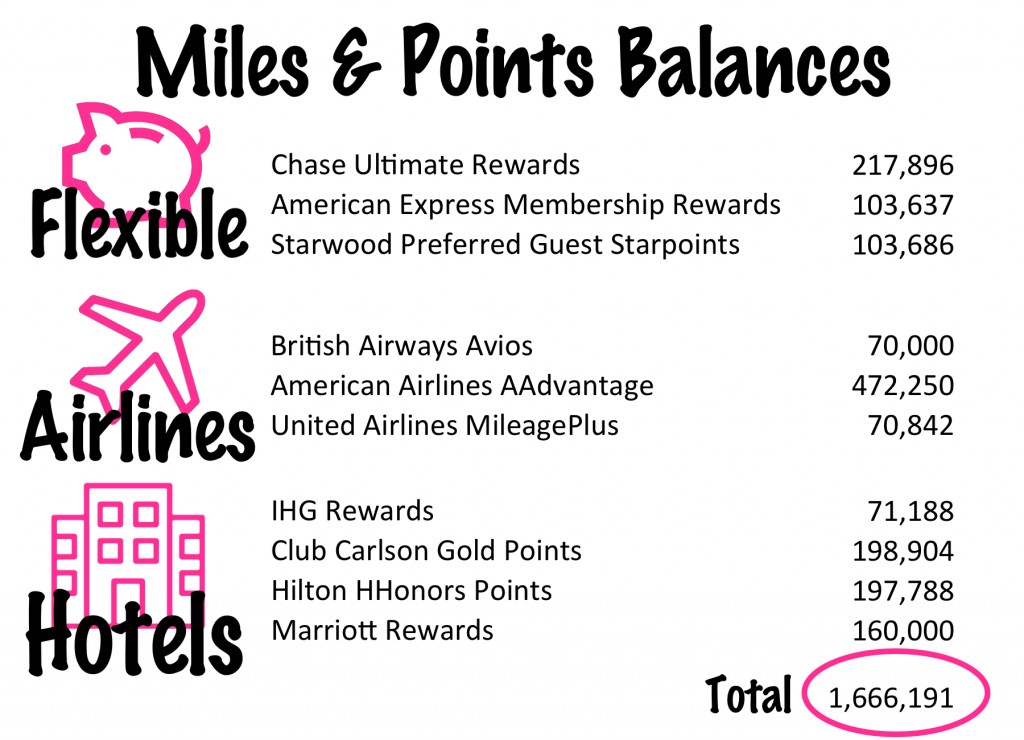 Not too shabby, huh? And, as you'll learn in later posts, having a diverse mile and points portfolio is usually very important, and not all miles and points are created equal. Some miles are simply more valuable period (cough, Chase Ultimate Rewards, cough), while some miles are more valuable depending on your individual situation. I've listed the miles that are most valuable for us in descending order above. I'm going to spend a lot of time explaining all that next, so stay tuned.