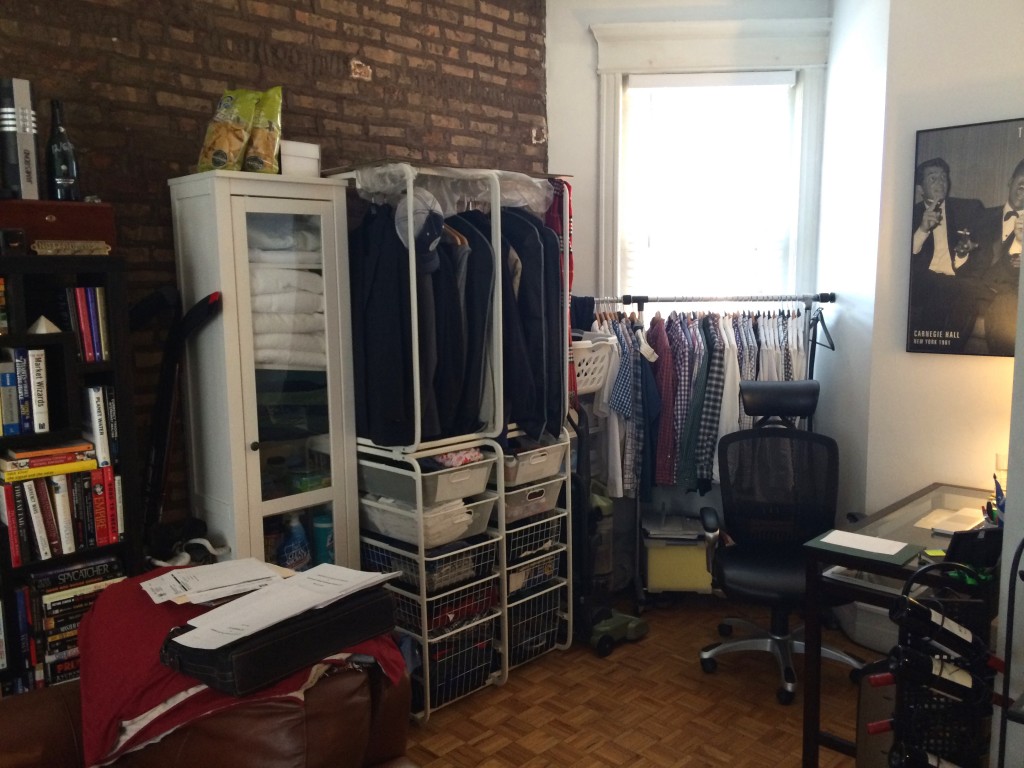 Step One: Save money by living cheaply. Stay in the small one bedroom apartment your husband lived in when you met him. Dismantle dining room table and put up hanging clothes racks where it used to be. Move husband's clothes to said area. Claim bedroom closet for your own in the name of woman. Realize you can no longer have anyone but the closest of friends over, since your family's clothing, hockey equipment, and cat box are now directly next to the only available seating area. Leave all wedding gifts in their packages; you won't have anyone over to show them off to and there is no room to put them out anyways (except the new Kegerator your sister bought you. You can always find room for a Kegerator). Learn a very carefully orchestrated dance when preparing dinner, since only one of you can be in the kitchen at the same time. Make sure the car you drive is at least 10 years old, but it's alright if you splurge for the remote starter because you live in Chicago after all and you'll never be able to travel if you've turned into a popsicle on one of the many subzero winter days. Roll eyes at husband when he insists on tricking out 10 year old car with Bluetooth, Sirius XM, and Weathertech mats
Step Two: Develop a miles and points strategy. Start seeing the world in terms of how many points you can get by interacting with it. Accept cheat sheet from husband that advises you which credit card to use in which scenario. Feel very pleased with yourself when remembering to use the gold Amex card at the grocery store or the Chase Sapphire card for the taxi. Complicate matters further by activating 5% bonus on Chase Freedom card each quarter for different items. Go through a points portal to buy anything online. While at dinner with friends, convince them to let you put the bill on your credit card and accept the cash. Eventually, be more pleased with the 30x points offer your husband found than the actual flowers he got you on Valentine's Day.
Step Three: Redeem wisely. Book far in advance and always call the agent to see if your over-the-phone charm (or repeated attempts with different agents) allows you to procure a hidden upgrade. Become unemployed and find yourself with a newly flexible schedule. Prepare for many connections and long layovers. Realize how quickly those gas surcharges add up and never use your British Airways miles for long haul flights. Make sure you get adequate bang for your mileage buck and pay for those short haul regional flights outright. Establish a mental map of Category 1 hotels globally and subtly direct your travel in those directions. Thank heavens that your points-savvy husband insisted on a diversified miles and points portfolio when Club Carlson devalues its points program on a random Friday. Mentally shake your fist at Club Carlson. Avoid expensive destinations or realize you can't miss the sushi in Japan but only stay there a short time. Make it up by eating exclusively street food in Indonesia. End up having the best meal of your life for under $5.
(The serious version of this "how to" post will be coming soon. This guide intended to give you a glimpse into the specific strategies and experiences of the Adams household leading up to our RTW trip.)