Russia is one of the most expensive places that we're visiting during our trip; a decade of rising commodity prices has benefited the large exporter. Although a pullback in the ruble's valuation versus the US dollar has helped things for American visitors, we still had to be careful of our spending here. Excluding our visa costs, we relied heavily on miles and points for our transportation and accommodations and did phenomenally well with total spending of only $826 for seven nights. However, adding back in the visa costs, we spent a total of $1,502 to see Russia.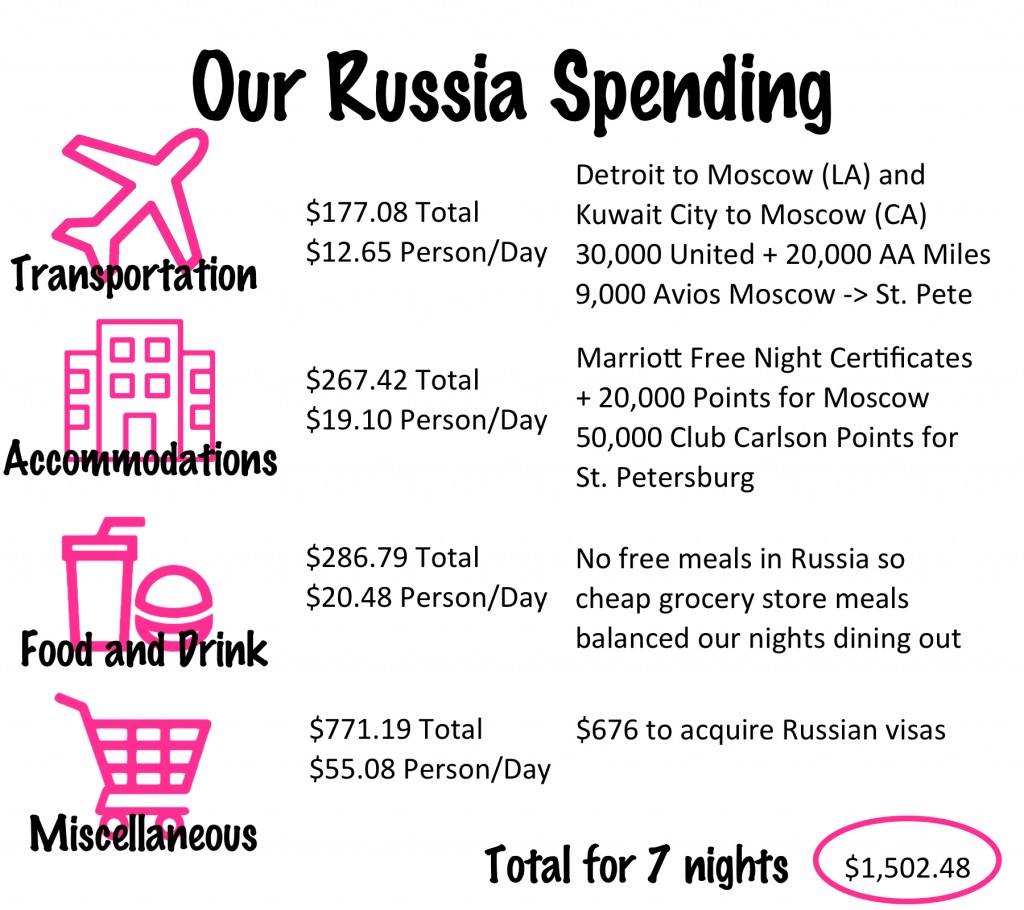 Transportation
We used miles to get from our respective destinations into Moscow. For me, I flew Singapore to Detroit for 40,000 United miles (which I won't count against our budget for Russia) and 30,000 United miles to get back from Detroit to Moscow (which I will). Both of these tickets would have cost in the thousands of dollars if we had to pay out of pocket. For Chris, he used 62,000 American miles for his flights while I was stateside, including a business class flight on Qatar Airlines, from Singapore to Doha, Doha to Tehran, and Tehran to Kuwait City. He also used an additional 20,000 American miles to get from Kuwait City to Moscow (included in our Russia totals). But I've deducted all these flights, plus our hotels for Russia, from the running Miles & Points Bank on the homepage sidebar.
We originally intended to book a train from Moscow to St. Petersburg, but after finding tickets were more expensive than we originally thought—and also encountering some technical difficulties with using our foreign credit card on the train website (argh)—we ended up using only 4,500 British Airways Avios each for a flight through Oneworld Russian airline partner S7 Airlines. We had toyed around with the idea of spending 9,000 each to upgrade to business class, but decided in the end that the short flight wasn't worth it. However, we were thrilled when we were about to board the plane and the check in attendant manually crossed out our seat numbers on our boarding passes and replaced them with business class seats. Score! This was the first time I had ever been spontaneously upgraded, and we weren't sure exactly why it happened (Chris's theory is that S7 filled empty seats with members of the alliance based on miles flown).
Accommodations
In Moscow, we used our two free night certificates from Marriott and stayed a third night for 20,000 points. If you have the Marriott credit card, you get two free night certificates each year to use at any category 1-5 hotel. The fee is $95 per year, so as long as you get more than that of value from your free nights, you come out ahead. The Moscow Courtyard Marriott goes for at least $200 a night, so we got $400 in value (plus a big sign-up bonus and other perks like free wifi) from our $95 fee.
In St. Petersburg, we took advantage of Club Carlson's promotion where if you book a reward reservation, you get a second night free. Most people used this little perk to get a second night free after booking only one night, effectively receiving a BOGO deal. Sadly, Club Carlson did away with this benefit for all new reservations made starting in June, so we hurriedly booked a bunch of future stays at the end of May. We stayed at a super nice and historic hotel, the Radisson Royal Hotel, in St. Petersburg, which goes for 50,000 points a night. We had one night for 50,000 points, one night free. We then paid cash for the remaining two nights for a total of $268. Points, coupled with Club Carlson's promotion, helped us dramatically reduce our out-of-pocket costs for such an expensive location.
Food and Drink
Russia is generally expensive and we had to be careful with dining especially. We found a grocery store and stocked our hotel mini fridge with yogurts and fruit for breakfast. Meat and fruit-filled pastries were usually our go-to lunchtime snack. With breakfast and lunch taken care of cheaply, we were mostly free to order what we wanted at dinner, provided that we chose to frequent reasonable restaurants. Stolovaya № 57 was our cheap local eats place in Moscow, and once we discovered the amazingly fresh, cafeteria-style Marketplace restaurant in St. Petersburg, we went back two more times.
Miscellaneous
Getting our visa to Russia was expensive. Chris already went into the details of what it took here, so I'll save you the rehashing of that. Our visa is good for three years, so it makes me want to go back to Russia within the next couple years just to get our money's worth.
Tips for Visiting Russia
Language
I already talked about how difficult it was to decipher Russia's language and Cyrillic alphabet system, but here are a few helpful words to at least be polite before you resort to gestures (with the Latin-based characters, of course). Hello is the hard-to-pronounce zdravstvuyte (zdrahs-tvooy-tyeh), or the informal privyet (pree-vyeht). Thankfully, yes (da) and no (nyet), are much easier. And you've probably heard how to pronounce thank you- spasiba (spa-see-ba) and goodbye-do svidaniya (duh svee-dah-nee-ye) at some point too (perhaps a Sex and the City episode circa Carrie and the Russian?).
Money
The exchange rate was around 65 rubles to $1 while we were in Russia. We used a mixture of credit cards and cash and found ATMs generally easy to find.
Survival Tips
Most Russians do not smile at strangers, so don't take this personally when your easy smile isn't returned. If you do get a smile from a Russian, be happy because it is an authentic one. Also, think what we may of him everywhere else in the world, President Putin is very popular in Russia, so best keep your political thoughts to yourself while visiting.
Highlights and Lowlights of Russia
Favorite Dining Experience
Hers: Our visit to the Georgian restaurant in Moscow- yum!
His: Our cheap and awesome Marketplace restaurant in St. Petersburg, especially the salmon steaks
Favorite Sightseeing Experience
Hers: Just walking around the streets of Moscow and St. Petersburg at night, waiting for the lights to illuminate the gorgeous buildings
His: Our day touring the palace, fountains, and gardens of Peterhof outside St. Petersburg
Most Frustrating Travel Experience
Hers: Trying to figure out which exit to take from the Moscow metro. They weren't always clearly marked, and choosing the wrong one could end up putting you far away and across major roadways from your intended destination
His: I had a tight connection on my way into Moscow and my bag didn't make it. They promised to deliver it, but after two nights without my bag, I just went to the airport and got it myself