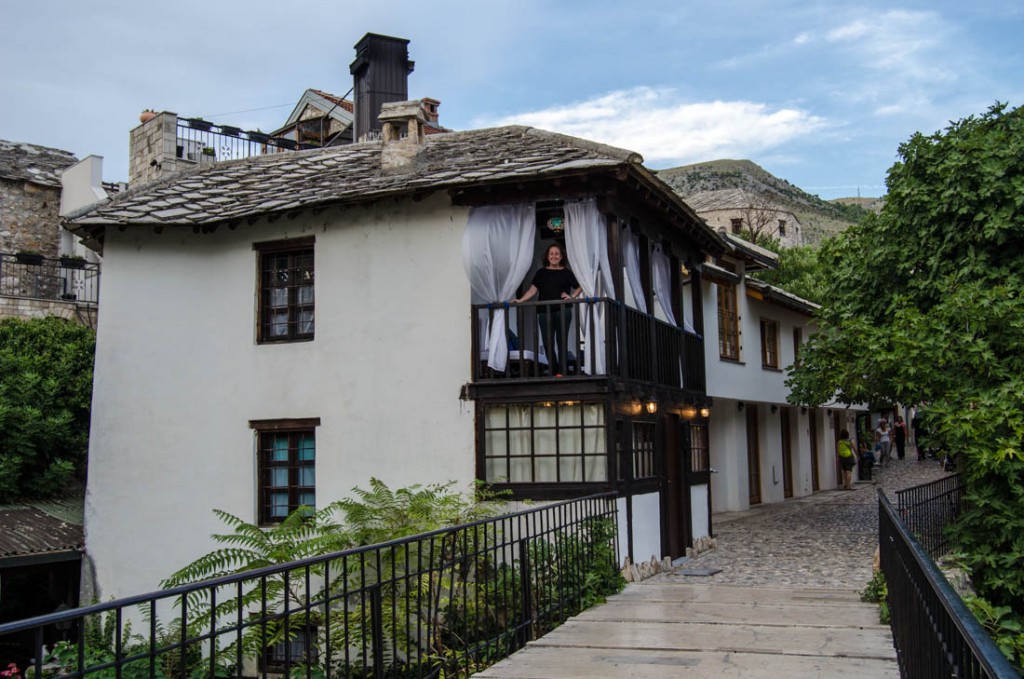 As I sit on my deck on the main tourist street leading up to the Old Bridge in Mostar, Bosnia and Herzegovina, I'm inspired to write a little love note to one of our favorite travel companies. I've talked a lot about miles and points on this blog, but I haven't yet written a post dedicated to the other half of our long-term travel strategy: Airbnb. We've now stayed in about fifteen Airbnbs throughout the first three months of our RTW trip, and we are on track to more than double that by the end of the 2015. So, what's the deal? Why do we think Airbnb is so great? Here are three reasons why we're obsessed with this company and five of our favorite Airbnbs that we've stayed at so far.
You Get Way More For Your Money
In situations where we aren't using hotel points and have to pay outright for accommodations, our first stop when planning our next travel destination is always to see what is available on Airbnb. Airbnb is a marketplace that connects travelers with hosts that have extra space, either in their own house or in a rental property they own. Because you're dealing with ordinary folks (and Airbnb only charges a small fee) and not hotels with lots of overhead, it's almost always significantly cheaper than traditional hotels, inns, or bed and breakfasts. [Side note: it's kind of like the accommodation version of another amazing service we love, UberX]. Based on our experience, we've found rooms for 25%-50% cheaper on Airbnb compared to searching for hotels. In super-expensive Japan, we were able to stay for only $71 per night (including taxes and fees) in an adorable studio apartment. For $37 per night, we stayed in a private room with our own bathroom in this cool tropical house with an awesome lagoon pool in Jakarta.
Or, if you're willing to spend a little more, you end up getting way more value for your money with Airbnb than a hotel. Rather than just a hotel room with a mini fridge, you can get at least one bedroom, a kitchen, a bathroom, and a living area. This incredibly unique place in Mostar was towards the top of what we like to spend at $90 a night, but evenings spent on the terrace drinking wine and overlooking the main street leading to the Old Bridge were absolutely priceless. More than one passerby called up to us asking how we found the place and how much we paid for it (and then subsequently shook his head after finding out it was less than he did for his own hotel!).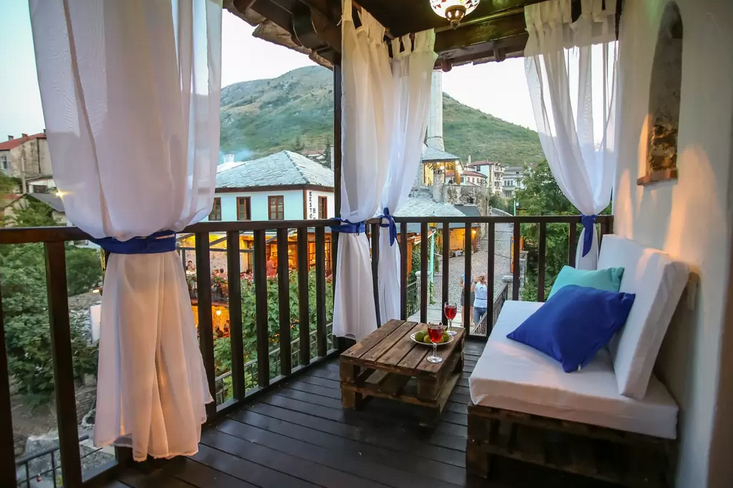 Many of the places we stayed had free extras as well like a washer and dryer (a huge benefit for us as long-term travelers). Despite the name, Airbnbs don't always include breakfast, but oftentimes they do, especially if it is standard in the region you're visiting (we usually got breakfast in Indonesia, for example). The best hosts will often leave the kitchen stocked with coffee and tea, and sometimes juice, fruit, or other snacks. A liter of homemade red wine welcomed us in Mostar, which was by far the best extra yet.
It's a Home Away from Home
On our one-year around-the-world trip, living in hotels 24/7 would get old really fast. We had a three-week stretch of hotel reward nights in Malaysia, Singapore, Russia, and Finland. By the end of it, I was chomping at the bit to have a kitchen and cook our own food. My early-riser husband couldn't wait to have more than one room so he could make coffee and get on the computer without risking the wrath of waking me up. I couldn't have been happier with the beautiful bedroom of our charming Airbnb in Vilnius (in the heart of old town and only $54 a night), and Chris loved the fact that he could set up shop at the table in its separate living room.
Having a kitchen allows for even greater savings potential compared to a hotel. We usually stock our fridges with milk, yogurt, cereal, and juice and have cheap and leisurely breakfasts. If we're sick of going to restaurants and want to stay in, we pick up pasta and a jar of sauce for a cheap dinner. Sometimes we visit local farmers markets and choose seasonal fruit or beautiful tomatoes, cucumbers, and cheese to whip up fresh salads. This benefit may not appeal to short-term travelers who are eager to dine in a lot of restaurants, but it's still a nice option to have if you want it. In addition to having a beautiful terrace with a daybed, our Airbnb in Seminyak, Indonesia (a super trendy and expensive city, where our $70 per night rate was a steal) had a delightful "shabby chic" kitchen that the hosts filled with papaya, watermelon, bread, and jam. We would stay there again over a beachside resort any day.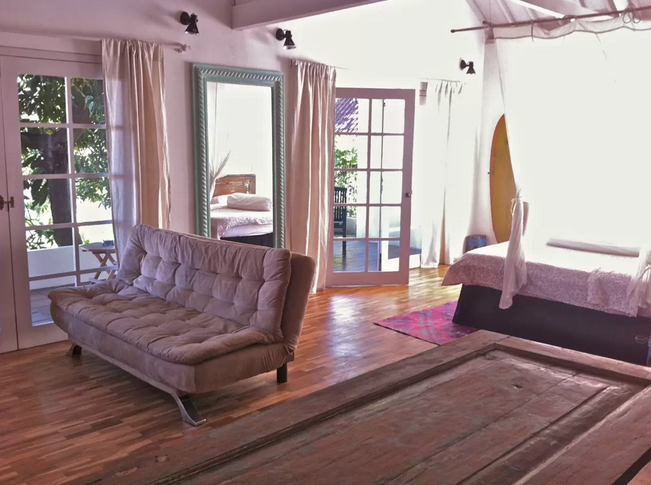 Airbnb is also great for groups. We have several friends and family visiting us while we travel, and we're looking forward to all staying in a big Airbnb together. In contrast to a hotel room, there will be living rooms and terraces to hang out in and play games, and kitchens to make meals together (or just open bottles of wine in).
Get to Know Locals
There is a huge range of options when choosing an Airbnb (you can even stay in house boats or tree houses). One of the first ways you narrow down your search is by checking either Entire Place, Private Room, or Shared Room. Usually, we prefer to have the entire place to ourselves (and we have never chosen a shared room… we're just too old for the dormitory situation), but every once in awhile a private room in a larger house has been a great pick for us. Sometimes, like in the tropical house already mentioned above or also in our incredibly modern and comfortable place in Ubud, a large property might have several private rooms that they rent out to different people. This is often a fun way to meet other travelers. Other times, you might be renting a room in someone's actual home. This is a great option for solo travelers looking for an even cheaper option and some social interaction (Chris did this in Qatar and Kuwait while I was stateside), but it can also be a great for all sorts of travelers too.
In fact, one of our most favorite Airbnb experiences yet was staying at a villa outside of Yogyakarta in the home a wonderful Dutch-Indonesian couple. The large villa was situated amid the rice fields and had a live-in staff that made us breakfast and looked after our needs. Our incredibly sociable host Wim was always available to provide expert advice (including setting us up with a trusted driver who took us on one of the coolest local tours we've been on yet) and even took us on a little trek through the surrounding villages. We enjoyed their company so much we all went out to dinner together in town for our last night at the villa.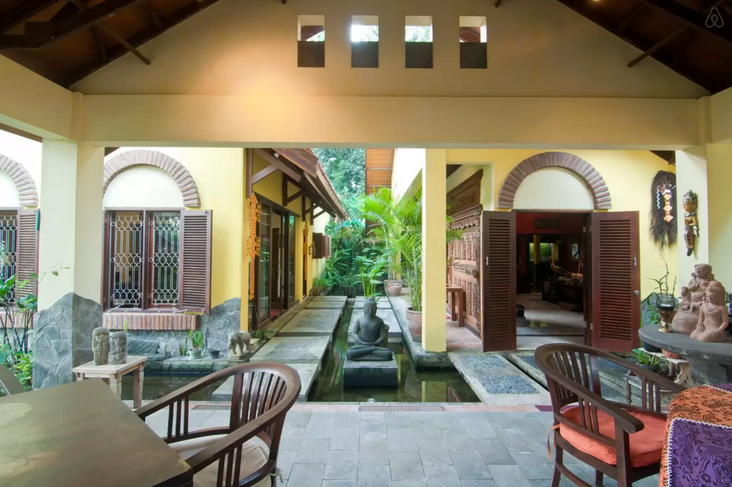 Even if you don't decide to stay in a shared room, you still have an amazing local resource in your Airbnb host. Both of the lovely women that owned the places we stayed in Sarajevo and Mostar volunteered to pick us up from the airport and bus station, respectively, free of charge (Bosnia definitely earns our vote for most gracious hosts)! Our hosts have always pointed us to the best restaurants, sightseeing destinations, or tour guides. When Chris got really sick, our host Ketut in Bali helped us find and get to a doctor and then arranged for us to stay a few extra days in the city while Chris recovered. The property manager for the tropical house in Jakarta bought and loaded a SIM card for me at cost, just to be helpful. Not only are the hosts incentivized to be great based on Airbnb's incredibly useful rating system, we've gotten the sense that most folks that get involved with Airbnb genuinely love to meet, and even befriend, people from all over the world. It's hard not to compare that to a hotel where at best you may have a conversation or two with the concierge.
Are you convinced yet? We obviously don't work for Airbnb and just like to write about companies on our travels that we think are truly great. But if you haven't tried out Airbnb yet and want to give it a go, we would be eternally grateful if you used our referral link here to help us continue on our RTW trip (and we each get $20 off a rental). I'll end by saying Airbnb may not be for everyone. We've learned a lot in our 15 and counting Airbnb experiences, including how to pick the best ones and avoid others that might not be so great. Stay tuned next for our tips and tricks for picking an awesome Airbnb!