This, my friends, is a tale of how 22,500 lowly miles each got us two business class flights and entrance into one of the most luxurious lounges in the world. It is a classic story within our Miles and Points saga on this blog, and we hope you will enjoy and be inspired to write your own narrative.
Chris and I needed to get ourselves from Xi'an, China to Jakarta, Indonesia. Chris started with his usual procedure: 1.) assess miles and points portfolio, 2.) do quick initial research into what is available online for airlines tied to our miles balances, and 3.) when in doubt, call the agent.
As it usually happens, the agent was able to work some magic and found us business class tickets on American Airlines' partner Cathay Pacific for 50,000 miles total. With our American Airlines Citi card, we were eligible for a 10% rebate (more on that here), bringing the total miles cost down to 45,000. [The taxes and fees were $41.40, but we had to pay an additional $40 per person, for a total of $121.40, for using the agent. But, trust me, it was totally worth it].
The itinerary was to fly on Cathay's budget airline Dragonair to Hong Kong and then switch to Cathay for the Hong Kong to Jakarta leg. Dragonair is nothing special, but Cathay, on the other hand, regularly jostles with Qatar and Singapore Airlines as one of the top three airlines in the world. We were stoked.
We kicked off our trip from Xi'an to Jakarta with low expectations. For a city with 9 million people and only two subway lines, we hardly expected there to be any type of business lounge in the airport. So we were pleasantly surprised to find a little business class oasis tucked away in a corner of the otherwise sparse airport. It was complete with complimentary beverages (soft drinks, fruit juice, a variety of teas and coffees, and local beer) and food (soup, fried rice and noodles, fruit, cookies). The green trees surrounding the comfortable seating areas made it also quite a literal oasis as well.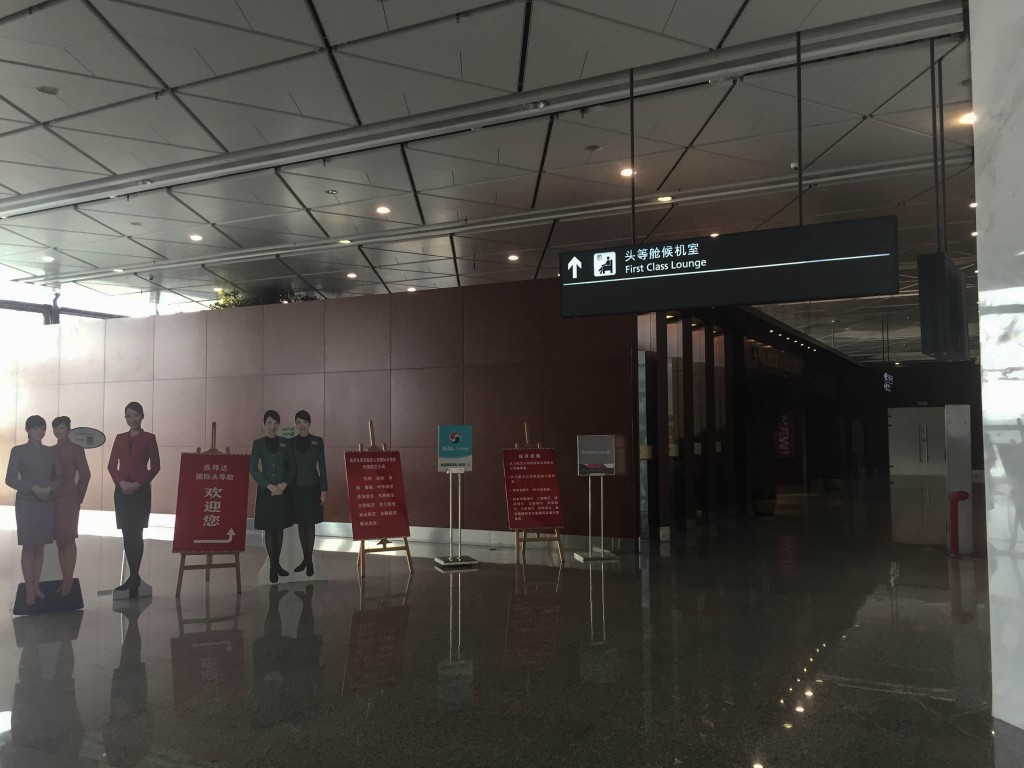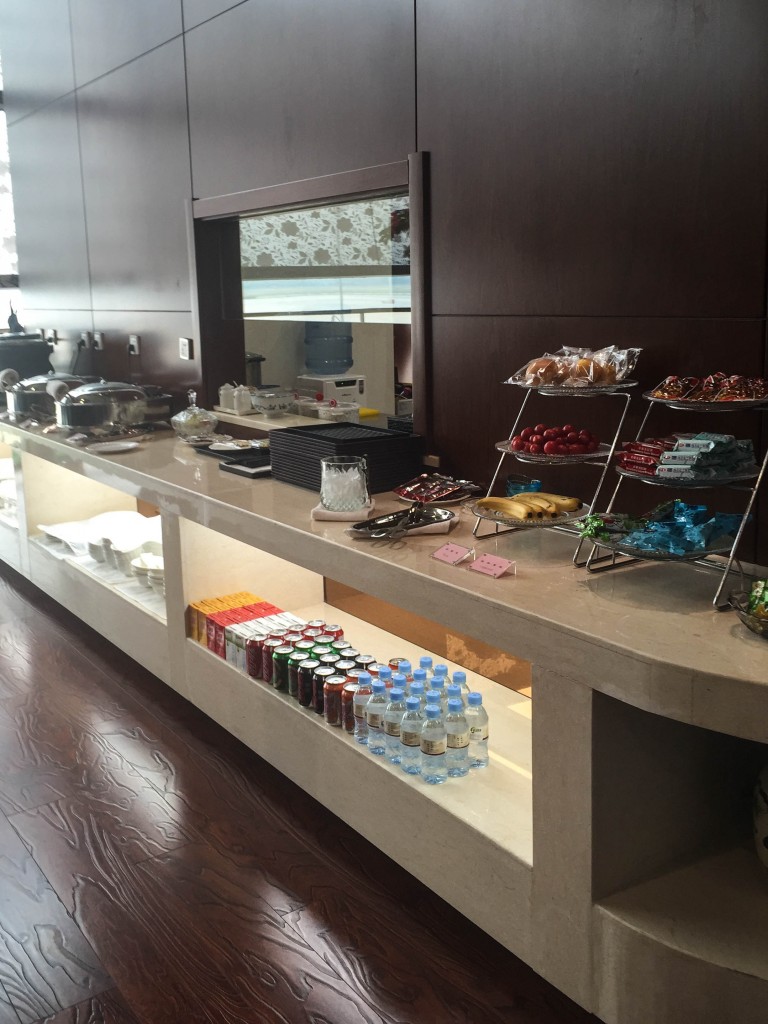 We boarded Dragonair flight and were greeted with large, comfy seats and signature welcome beverages of gin and papaya juice. Later, we got to choose between a meat or seafood dish—which were nothing to write home about—and individual ice creams. The view landing into Hong Kong airport was fantastic.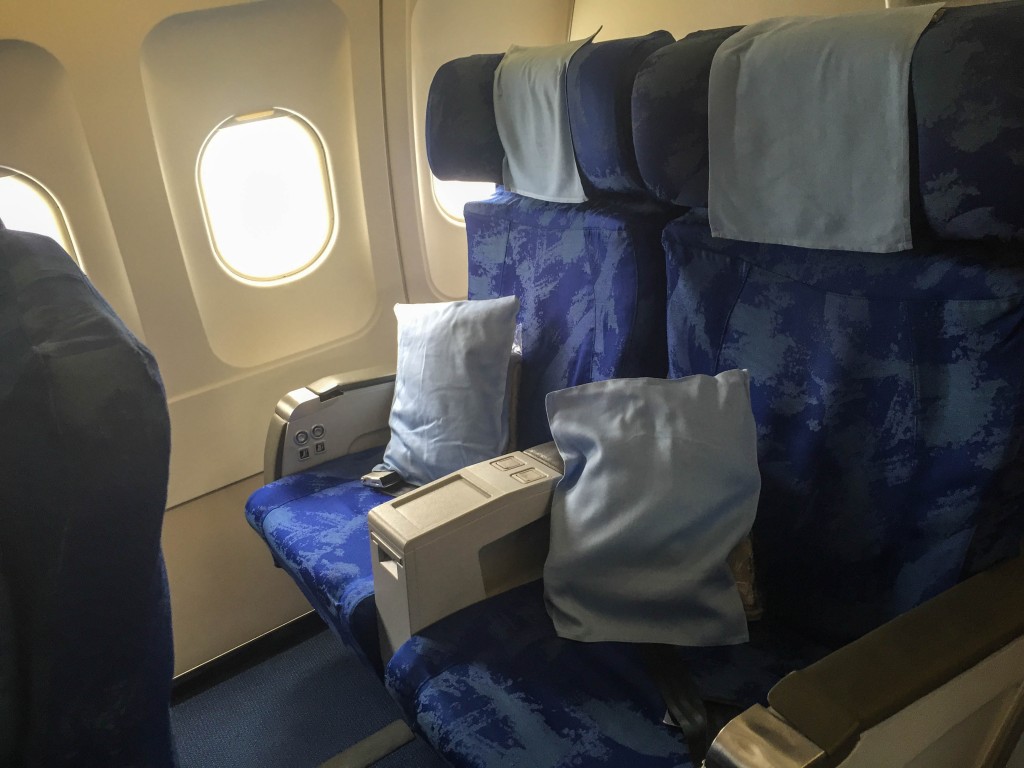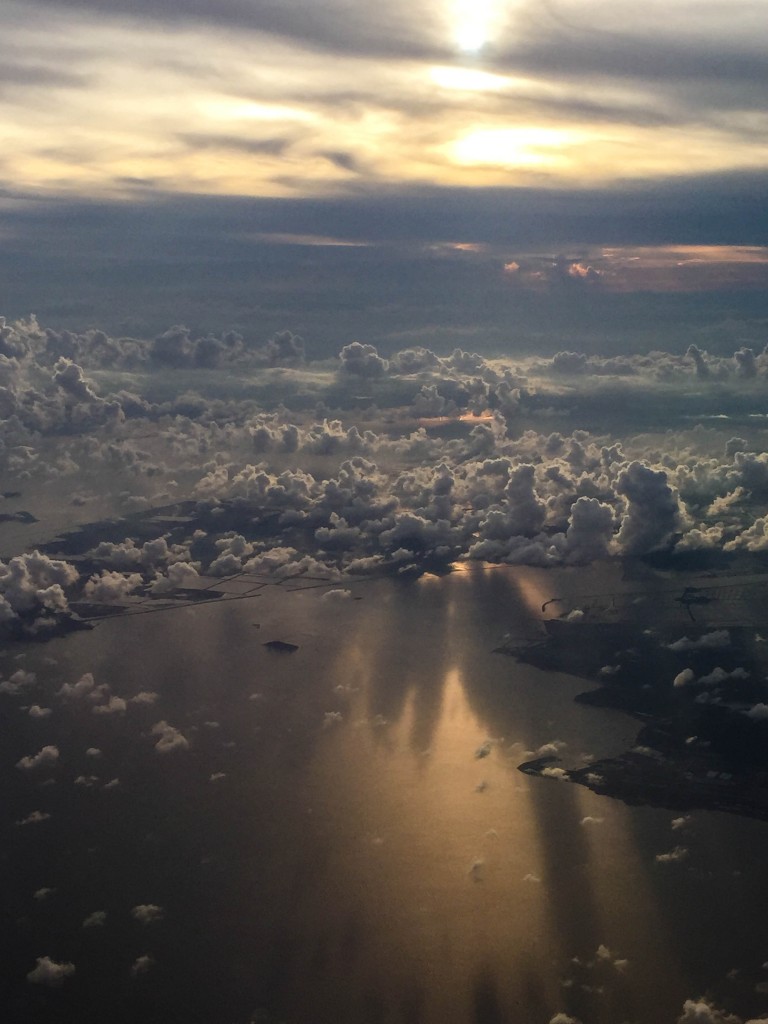 We had nearly six hours before our midnight flight from Hong Kong to Jakarta, and we were looking forward to spending some time in the lounge to grab some snacks, drinks, and check our Facebook, Gmail, and blogs for the first time in 10 days. With five different lounge options in the airport for us to choose from, we made a beeline to the largest, which is named The Bridge, and were immediately blown away by what we saw. Here's the firsthand experience:
You descend down escalators to the large check in area. You are greeted by a hostess who (after making sure you actually belong there) tells you that to your left are showers, the IT center, a smaller lounge with a bistro, and a fancy coffee bar. This is the south wing.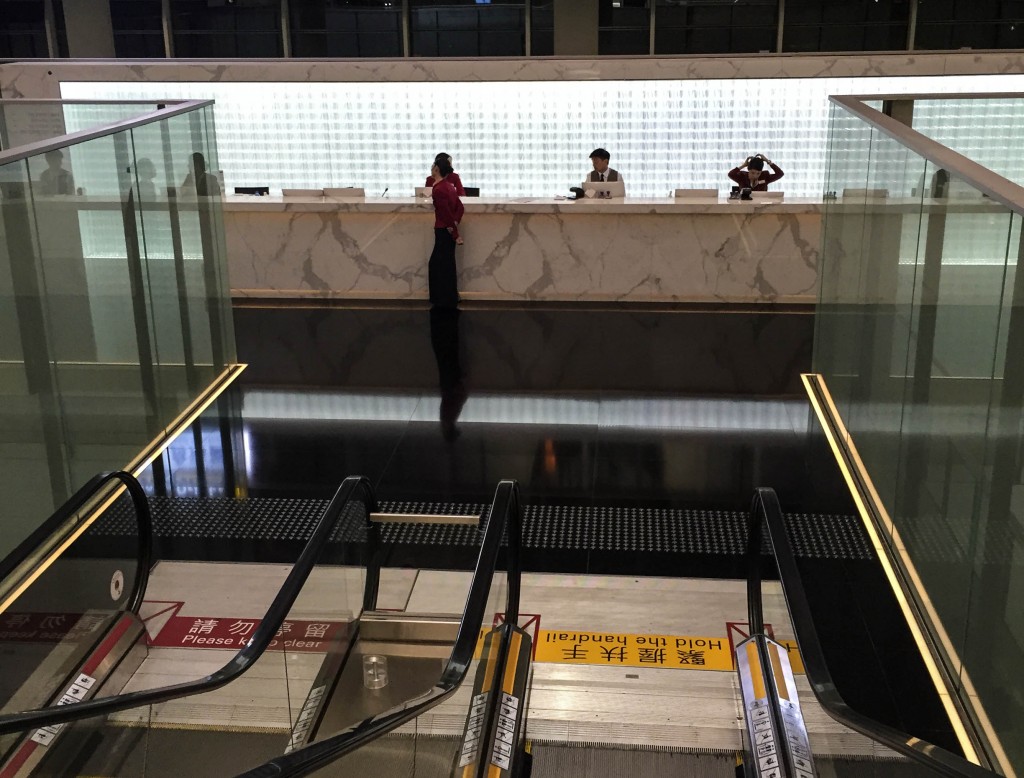 To your right is the larger lounge with the restaurant with a huge array of bread and pizza, pastries, soups, and salads from both Asian and Western cuisines alike. The hallmark of the north wing is the Long Bar, the airline's iconic bar whose length matches its extensive and exotic drink list. There is also ample seating area to work or lounge while watching one of its many televisions.
Reading up on the lounge, I learned it was designed by a London-based architecture firm. From its website:
Black granite and oak slat walls marry with black tiles and oak timber to create a warm and inviting environment. Burnished brass panels and aerofoil louvres, together with bronze walls accentuate the understated elegance in the dining and bar areas, while the use of Corian claddings adds a touch of modern simplicity to the lounge.
Yes, we are still talking about a place in an airport here, not a museum. I tried to covertly take as many pictures as I could of the place, but ended up unsatisfied with my photographic journalism of the experience since I was afraid of looking like too much of a tourist in this world-class facility.
So, needless to say, we had a fantastic time firing up our computers for the first time in days and making multiple rounds of the restaurant periodically to see what new treats had been put out since our last trip.
Sadly, all good things must come to an end, and we were called to board our flight to Jakarta shortly before midnight. We were surprised to find our seats were again of the lay-flat variety. Not to the mattress plus duvet plus pajamas caliber of our JAL First Class experience, of course, but lay flat nonetheless. Travel tip: Booking a business class flight on a two-class airplane (i.e. there is no first class) usually gives you a better experience than flights that also have first class (the business class seats on our JAL flight didn't lay flat since there was a first class compartment). This is something fun to check out ahead of time while you are contemplating which flight to use your miles on. Use this website to find out.
Welcome drinks were brought and drink and dinner menus were handed out. Even though it was late and we had thoroughly snacked at the lounge, Chris and I stayed up to order our meals so as to not miss out on the experience (and thus deprive you all on the retelling of it). I had the fish and he had the meat dish, and both came with bountiful sides of bread, fruit, dessert, and as much alcohol and you were up for at that hour of the evening (which was about 1.5 glasses each for us).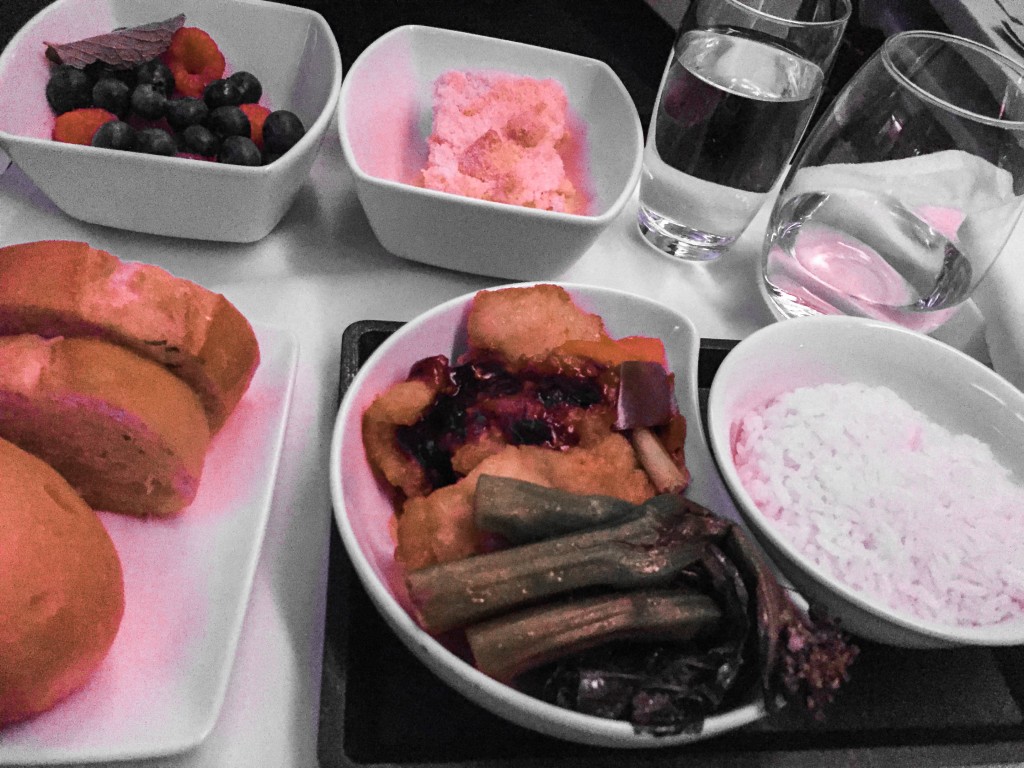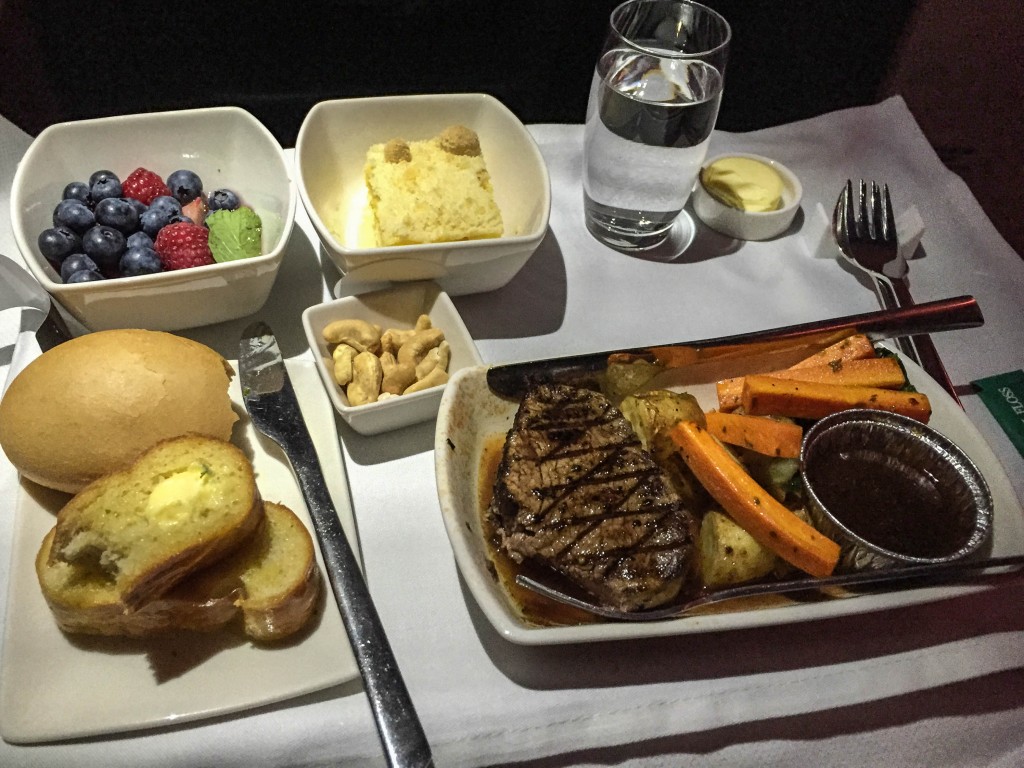 After a short five-hour flight, we were back to reality as the already-steamy-at-4am air hit us as we deplaned in Jakarta. But we were once again left with a potent lesson for the benefits of redeeming miles wisely. 22,500 miles could have gotten us $225 if we chose cash back rewards. Or, it could have gotten us where we needed to go with two fantastic class experiences and entrance into one of the nicest lounges in the world. It's hard to put a price tag on that. Oh wait, you can. Here is what those flights would have cost us if we booked outright:
$6,134.61. 'Nuff said.