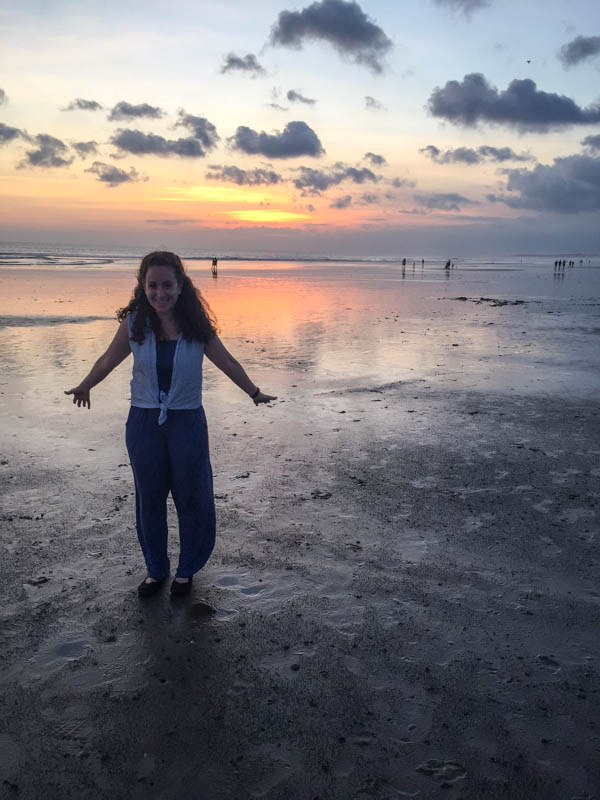 So I know I said before in my post on Yogyakarta that Bali isn't the real Indonesia, and that's true. The locals are Hindu, not Muslim. Unlike in Java, all the shops and eateries were open during the daytime even though it was Ramadan. In fact, we couldn't even tell it was the middle of the Muslim holy month while we were in Bali. The predominant industry is tourism, and the vast majority of people we encountered spoke great English. Instead of the call to prayer, incense fills the air, and small family temples line Bali's streets instead of the mosques of Java. With bright clothes, big smiles, and offerings of flowers always close at hand, the Balinese people are always celebrating. No, Bali isn't the real Indonesia. Bali is something entirely different, unique, magical, one of a kind.
I fell head over heels in love with the "Island of the Gods" during our 10 days here. I knew we would see dozens of amazing, beautiful places on our one-year RTW trip, but I never imagined I would find somewhere that I could see myself staying forever. I begged Chris, only partially jokingly, if we could just cancel the rest of the trip and stay in Bali. We've settled on making sure it will be a regular vacation destination for us in the future and possibly making another stopover in January or February on the way back through Southeast Asia.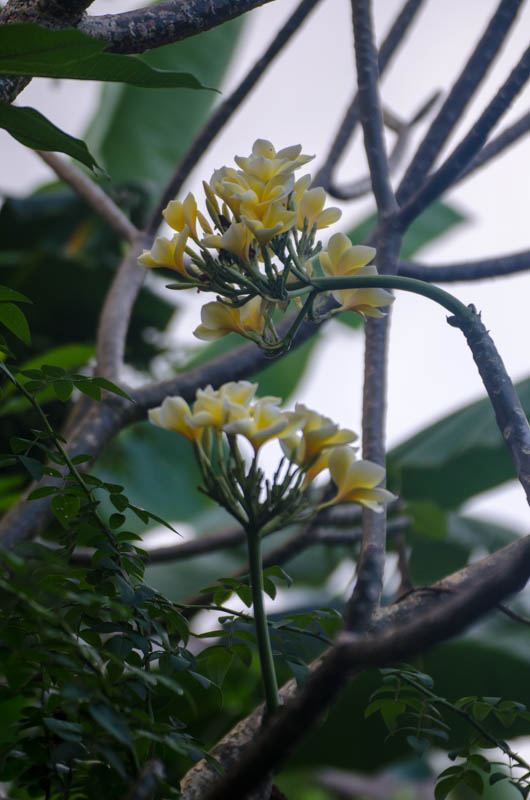 Namaste and Natural Food in Ubud
Leaving Bromo and Ijen, we took the ferry from Java over to Bali and drove to the center of the island to a town called Ubud. In the spirit of full disclosure, many visitors find Bali overdeveloped, trashy, and un-authentic. If we had arrived into the Denpasar airport and had headed straight to Kuta (which I like to think of as Cancun, Mexico for Australians), perhaps my impression of Bali may have been different. However, we arrived from the opposite end of the island and enjoyed a peaceful drive through the mountains overlooking beautiful lakes and green rice terraces. And our first destination was not the beach party city of Kuta, but instead the cultural center of Bali in a town called Ubud. Ubud also happens to be featured prominently in the Indonesia segment of the Elizabeth Gilbert book, Julie Roberts movie Eat, Pray, Love.
In addition to arts, dance, and lush rice paddies, a general aura of wellbeing permeates Ubud. It may have something to do with the abundance of organic eateries, raw food restaurants, and juice bars in the town. Or the profusion of yoga and meditation centers. Or your ability to get one-hour-long Balinese massages for under $5 at every corner spa. As an all-around fan of organic food, healthy juice, yoga, and massages, I was in heaven. Chris, on the other hand, was definitely not into these things, but he was laid up in bed for a week with a super disease and sent me off to explore all that the city had to offer. (This usually resulted in me checking in on him several times a day and bringing him different kinds of juices that he looked at suspiciously and asked, "Why is there green stuff in my orange juice?" and me replying, "That's spirulina, and it's actually carrot ginger mango juice.")
One of the first places I found was the Yoga Barn: an amazing yoga center offering everything from full on yoga retreats, to teacher training, to drop-in classes. I bought a three-class pack and had the chance to try different varieties of yoga compared to the usual, gym-variety I did back in Chicago. For instance, in yin yoga, I learned about how holding poses for long periods of time helps loosen up the connective tissue in your body that can stiffen up over time, especially if you sit a lot. Yin yoga aims to open up circulation and, as the teacher called it, your "chi" (or energy flow). It was a nice contrast to the more active, yang-style yoga most of us usually practice for exercise.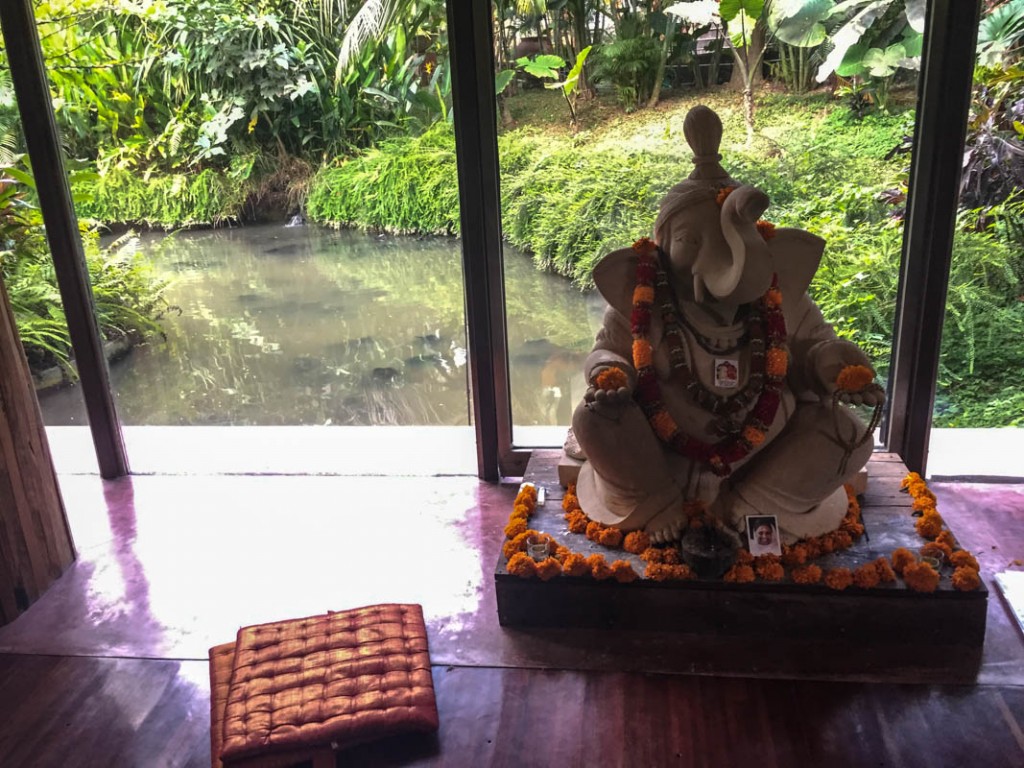 After too much nasi goreng (fried rice) in Java, I was actually craving salad as I next ventured out to sample the best of Ubud's natural eateries. And they did not disappoint. From totally raw restaurants where not a morsel touched a stove or an oven, to organic restaurants filled with dreadlocked and barefoot ex-pats, I put myself on a natural food pub-crawl during my one week in Ubud. My meals usually consisted of a big salad, a fun juice, and some raw chocolate. It was all so delicious, and I felt fantastic. Here, I present to you, the bounties of natural eating.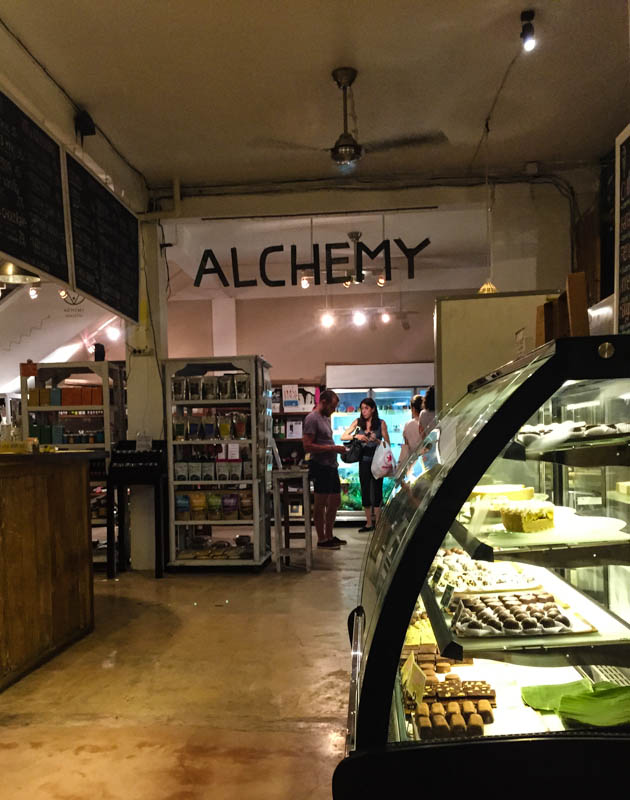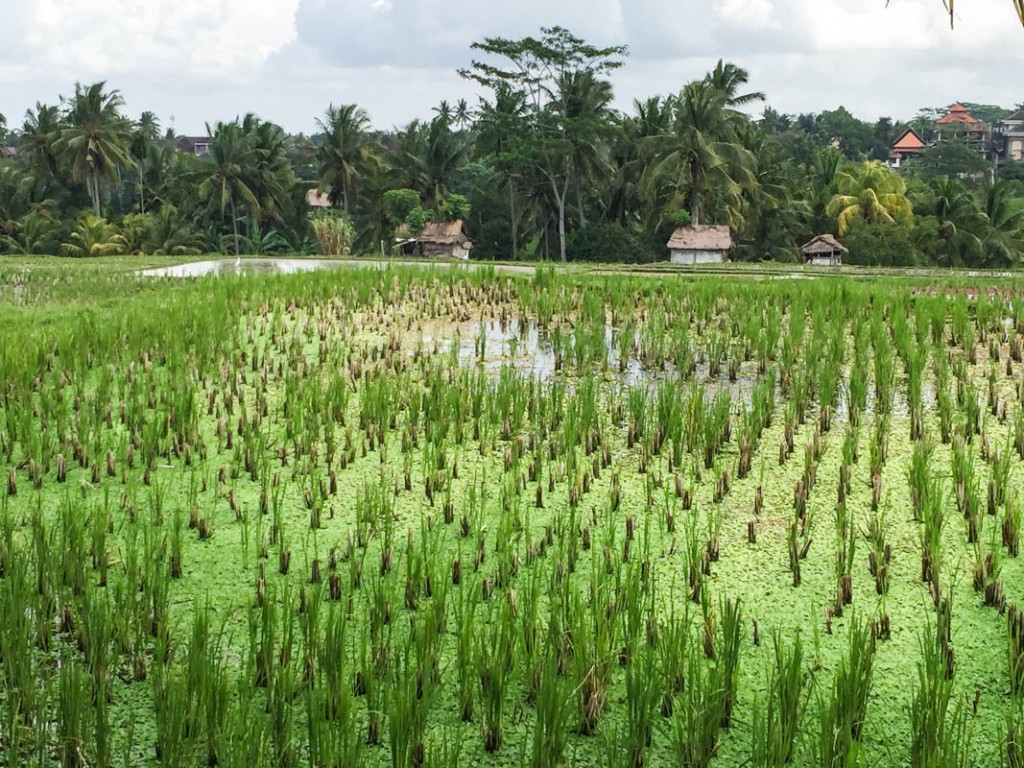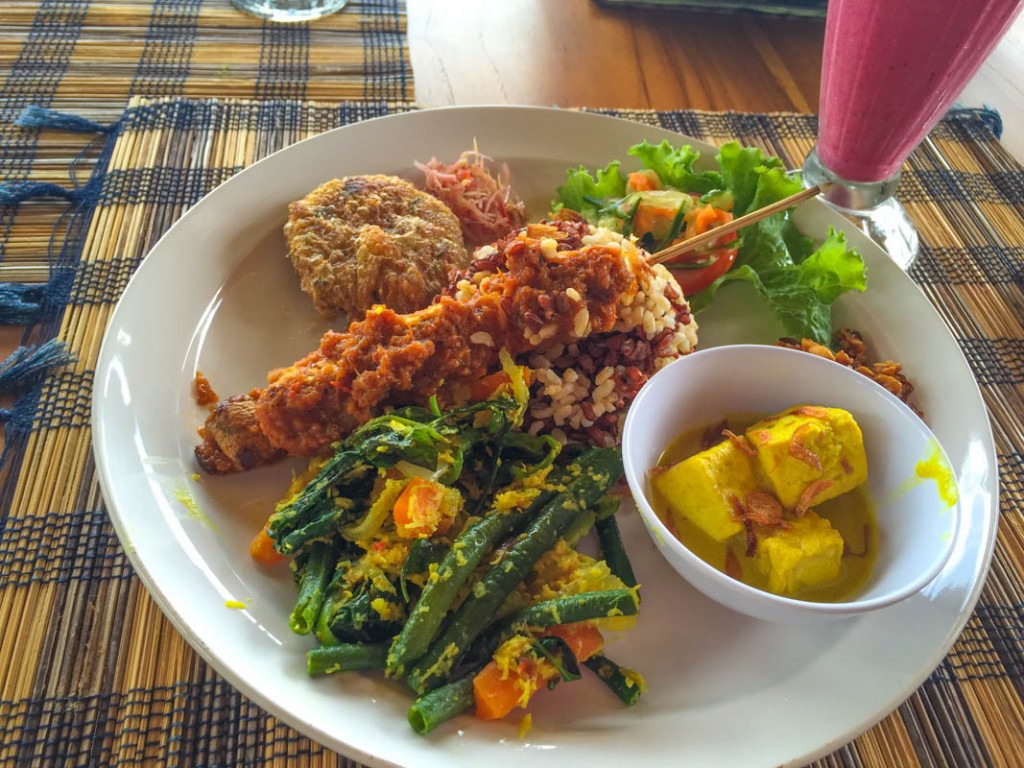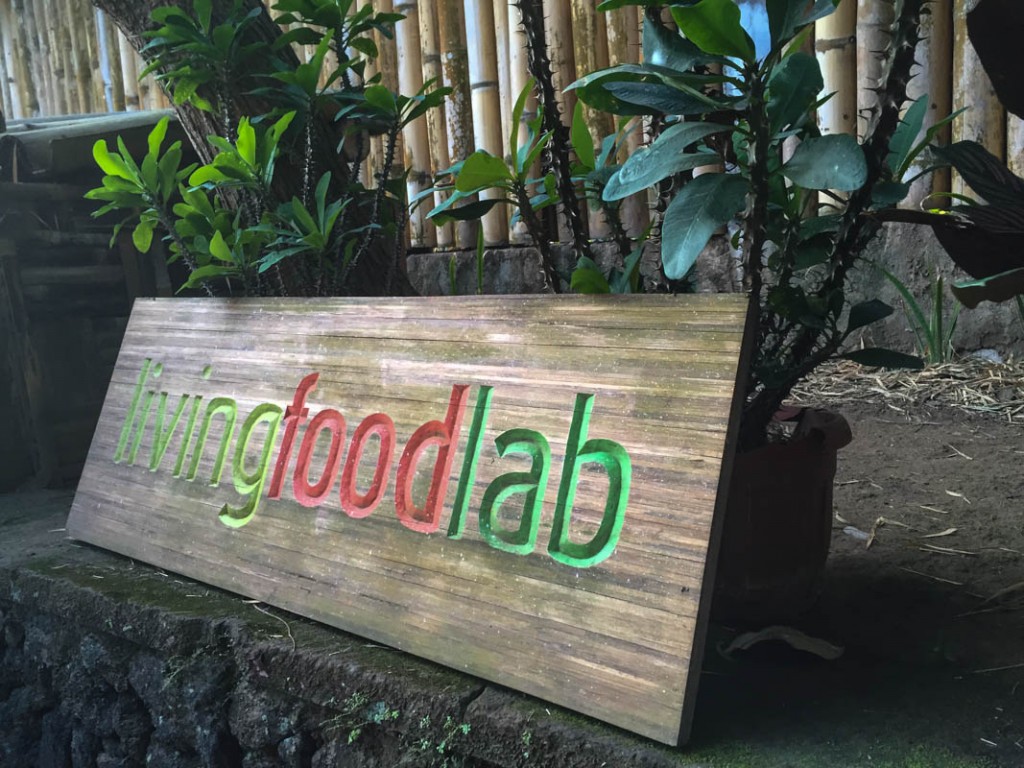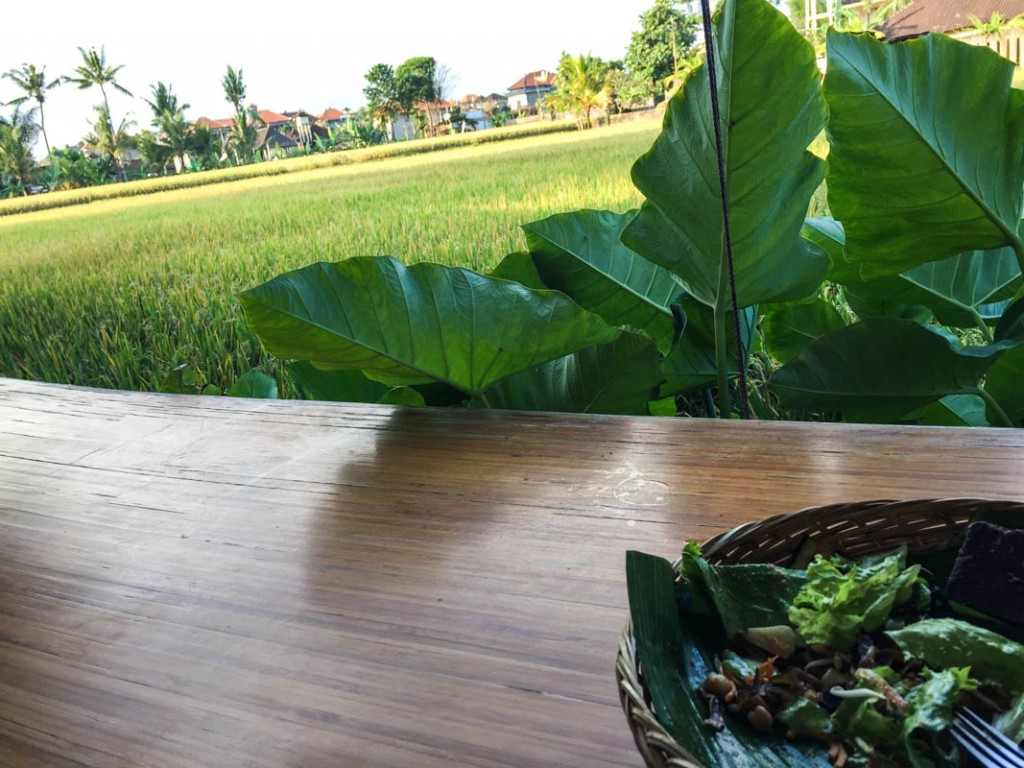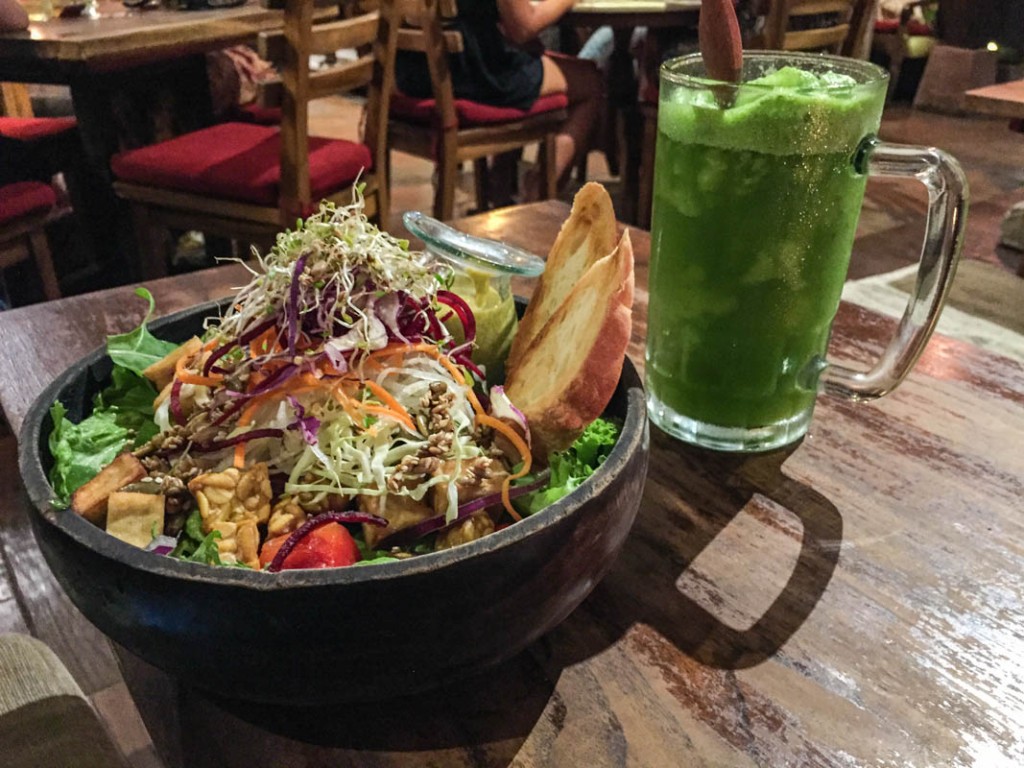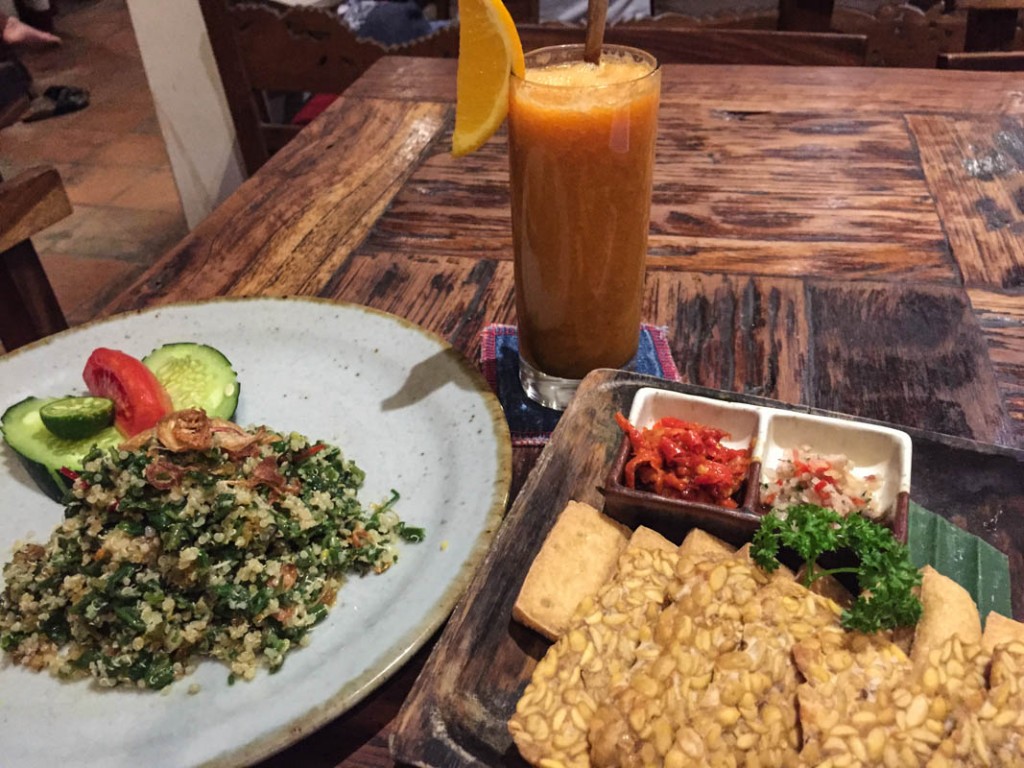 Massage parlors and spas were also rampant in Ubud. The spa located just a few feet from our place offered 60 minute traditional Balinese massages for 60,000 rupiah (less than $5). I partook in at least a half dozen of these during my stay in Bali. For those up for even more spiritual adventure, there were also shops touting crystal healing, sound therapy, and other schools of thought I haven't bought into (yet).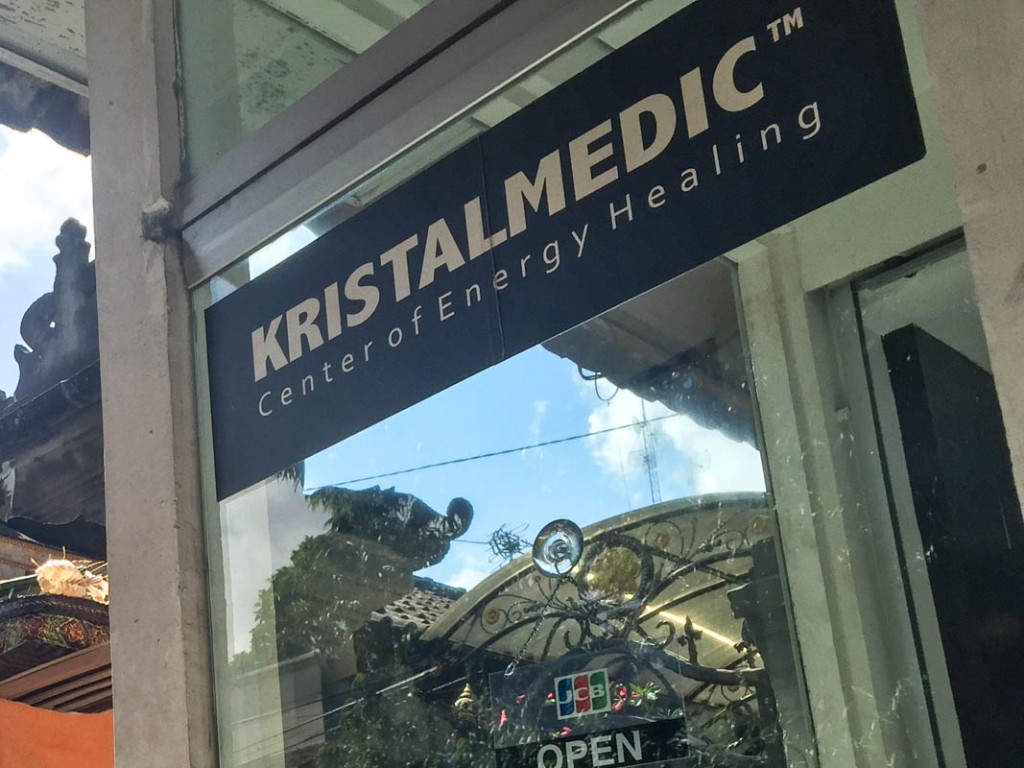 Other highlights of Ubud were the natural beauty workshop I took and a full-day tour we took of the surrounding villages. Authentik Bali is run by a French ex-pat who took five us on the tour off the main streets of Ubud and into the surrounding villages. We climbed steep riverbanks, waded in streams, wandered through back alleys, had coffee with local brick makers, and ended up at a spectacular waterfall where we dove in fully clothed after a long, sweaty day of hiking.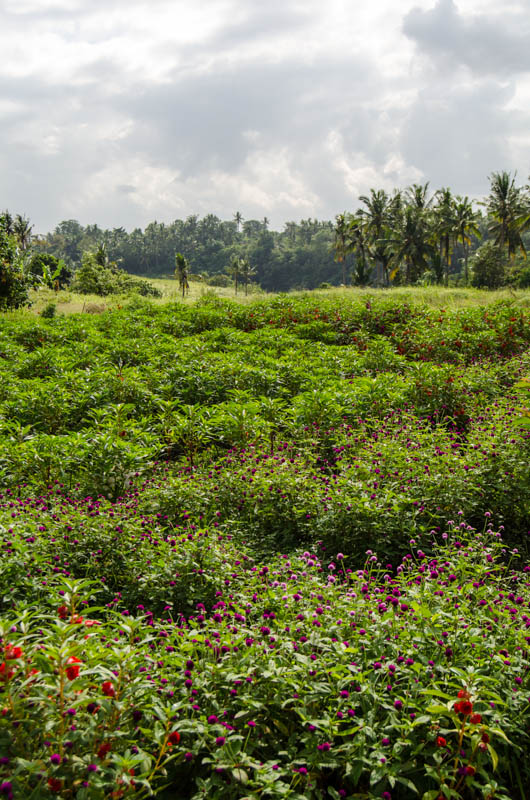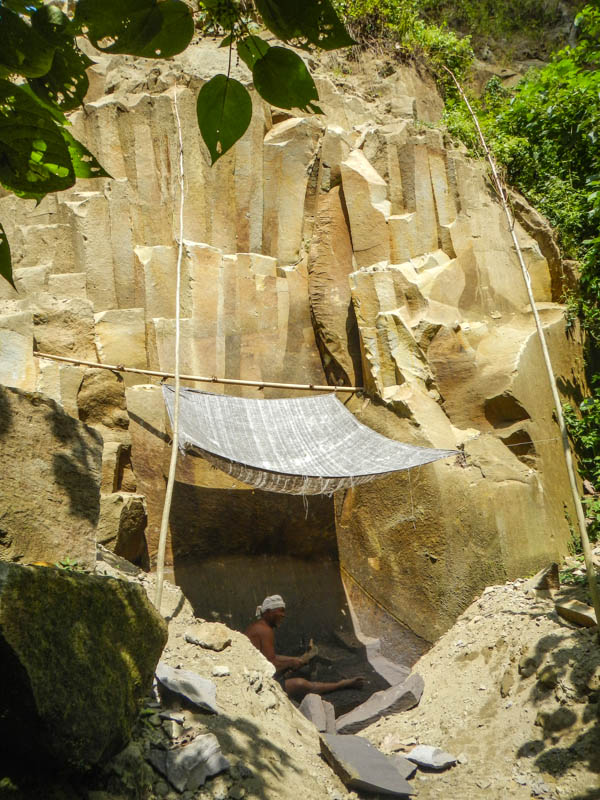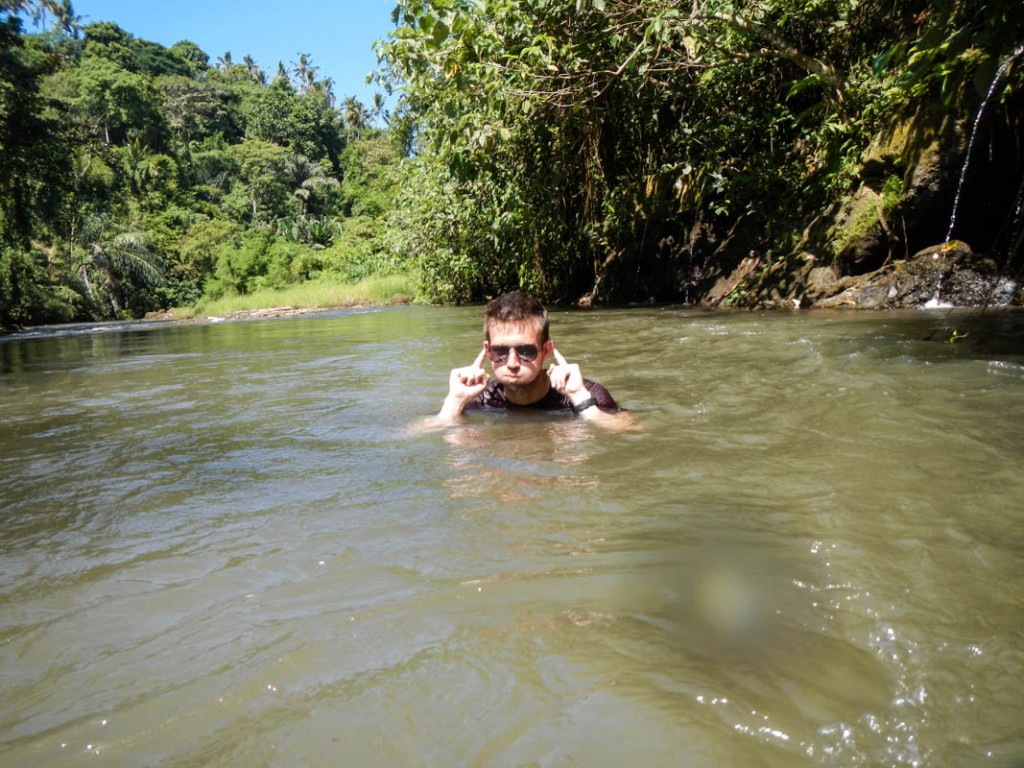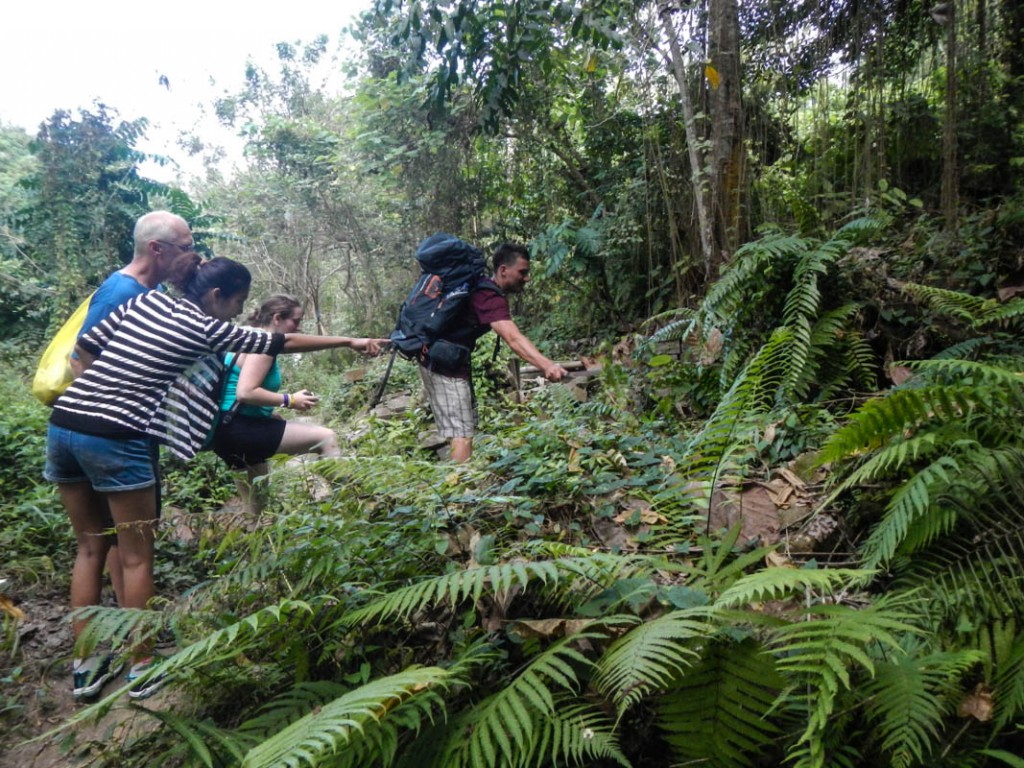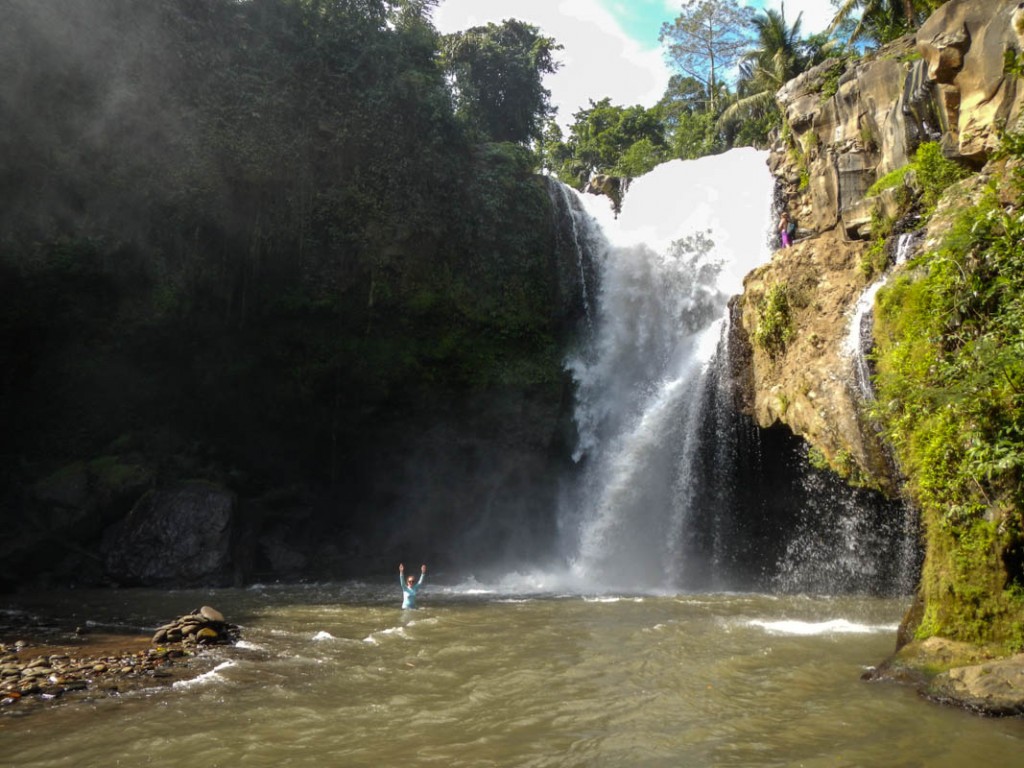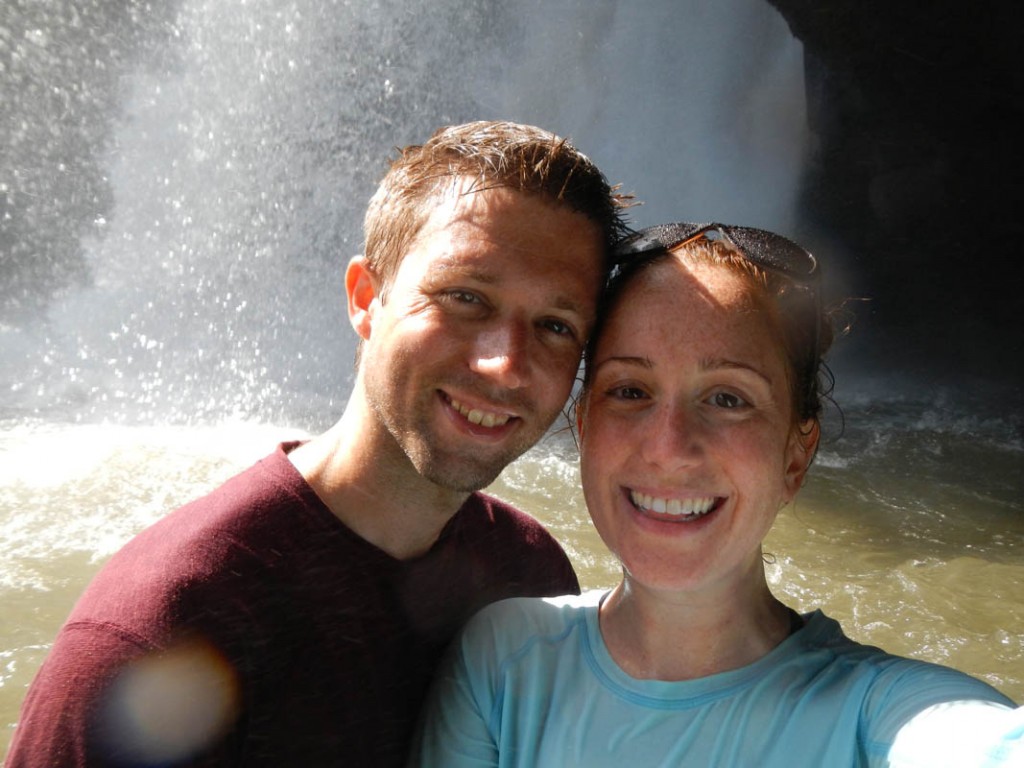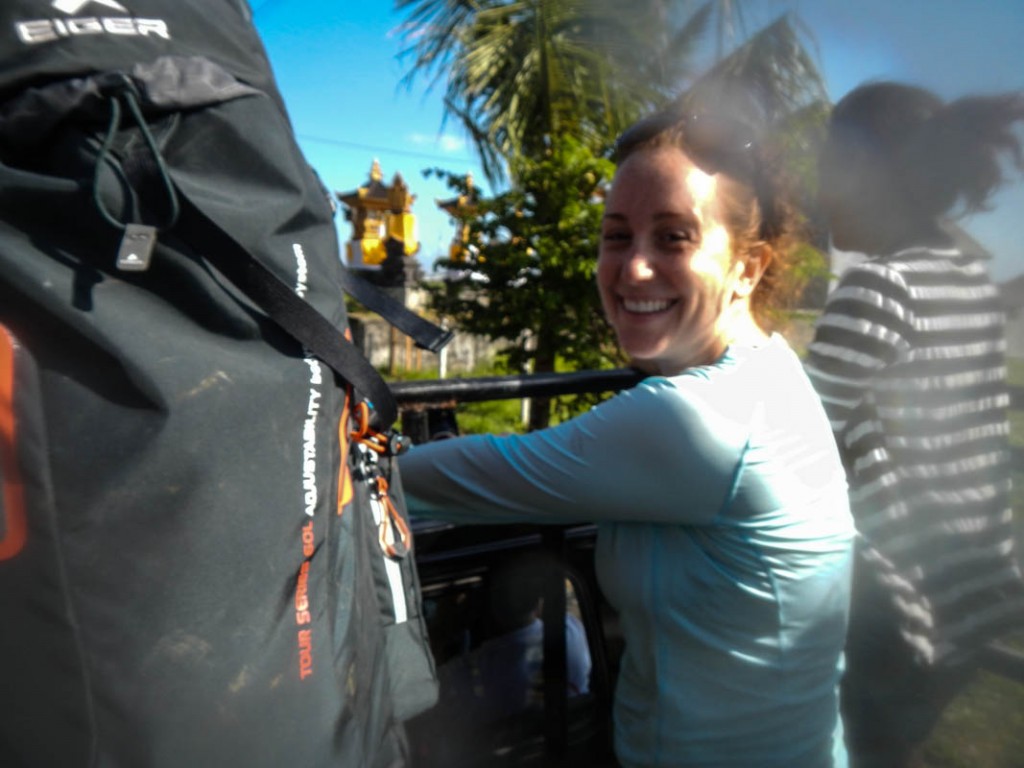 Uniquely Bali
Bali is truly one of a kind. It has its own sound—usually a mix of the chirps of geckos, the relentless calls of taxi drivers, and the sounds of gamelan music. It's own smell—incense and perfume from the yellow and pink Balinese flowering trees that grow everywhere. Bali has it's entirely own feel—smiling, relaxed, and distinctly un-stressed. I saw a sign in the window to one shop that said, "Relax! Don't panic and beat yourself up. There will be a second, third, fourth chance in the future. Relax!"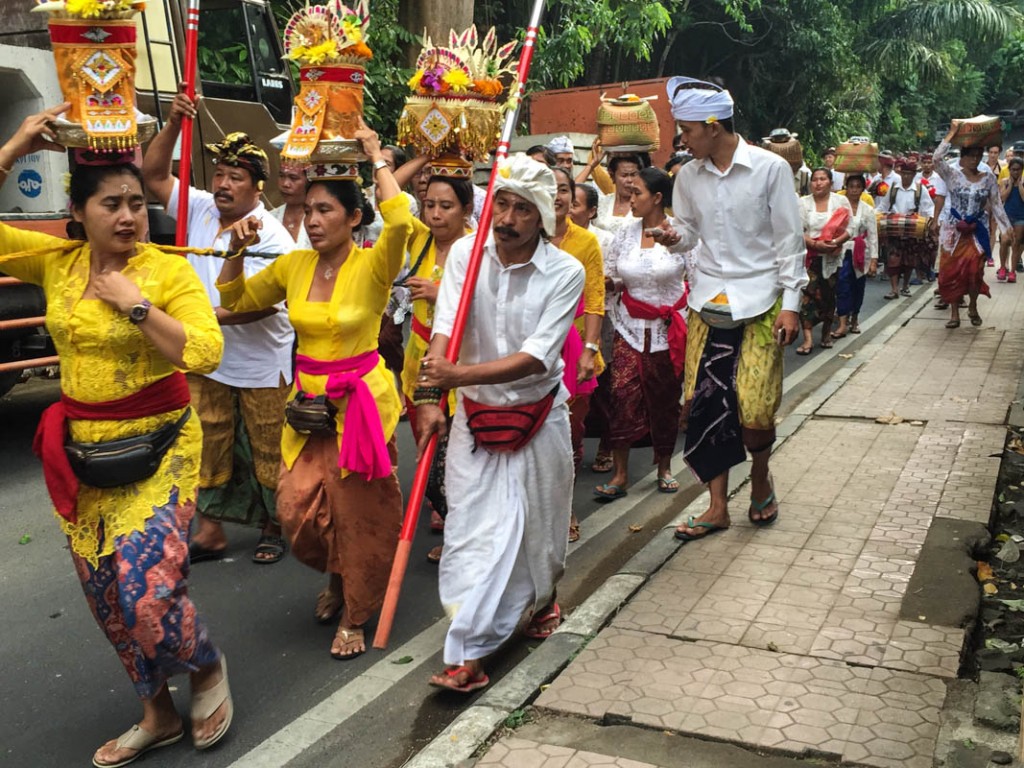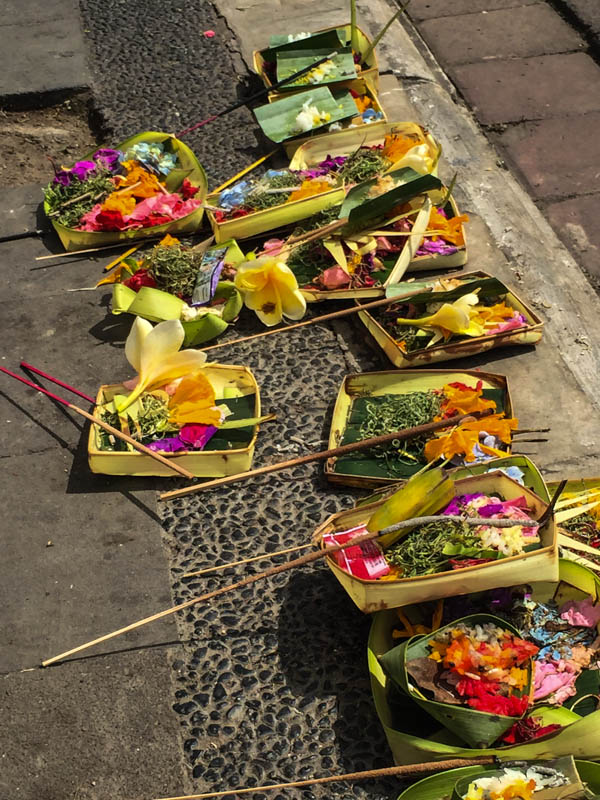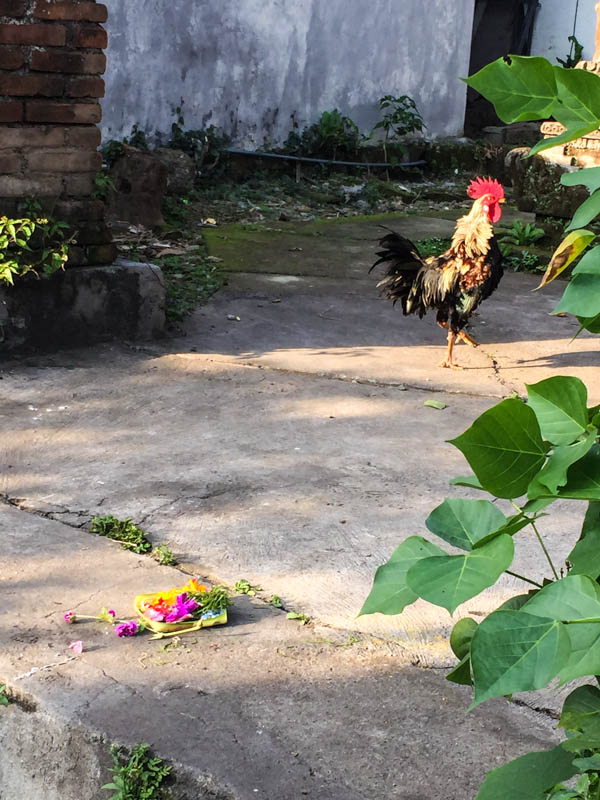 You will often find monkeys around Bali, and nowhere so prevalent as the Sacred Monkey Sanctuary in Ubud. Sounds nice, right? Let's go see some cute monkeys and maybe there will even be a baby! Wrong. I thought Lonely Plant summarized it nicely:
The sanctuary is inhabited by a band of grey-haired and greedy long-tailed Balinese macaques who are nothing like the innocent looking doe-eyed monkeys on the brochures.
Our Air BnB was right next to the Monkey Forest and I regularly sprinted past small bands of escapees as I was going to and from my Ubud activities. To make matters worse, Chris insisted we actually go into the Monkey Forest on our last day in Ubud as he was starting to feel better. I lasted about 10 minutes before I ran terrified, and we saw monkeys bite two people during that short span (albeit, they were feeding and holding the monkeys and generally kind of asking for it). Even I'll admit the monkeys can be kind of cute, but only from a distance. Here are a few highlight shots of the monkeys and their shenanigans.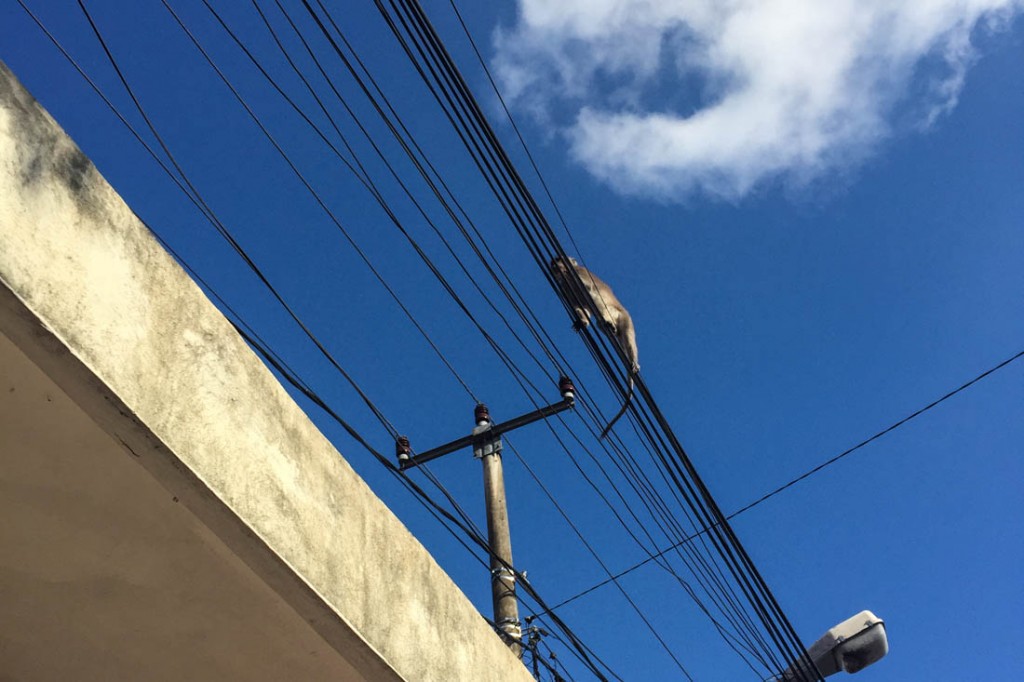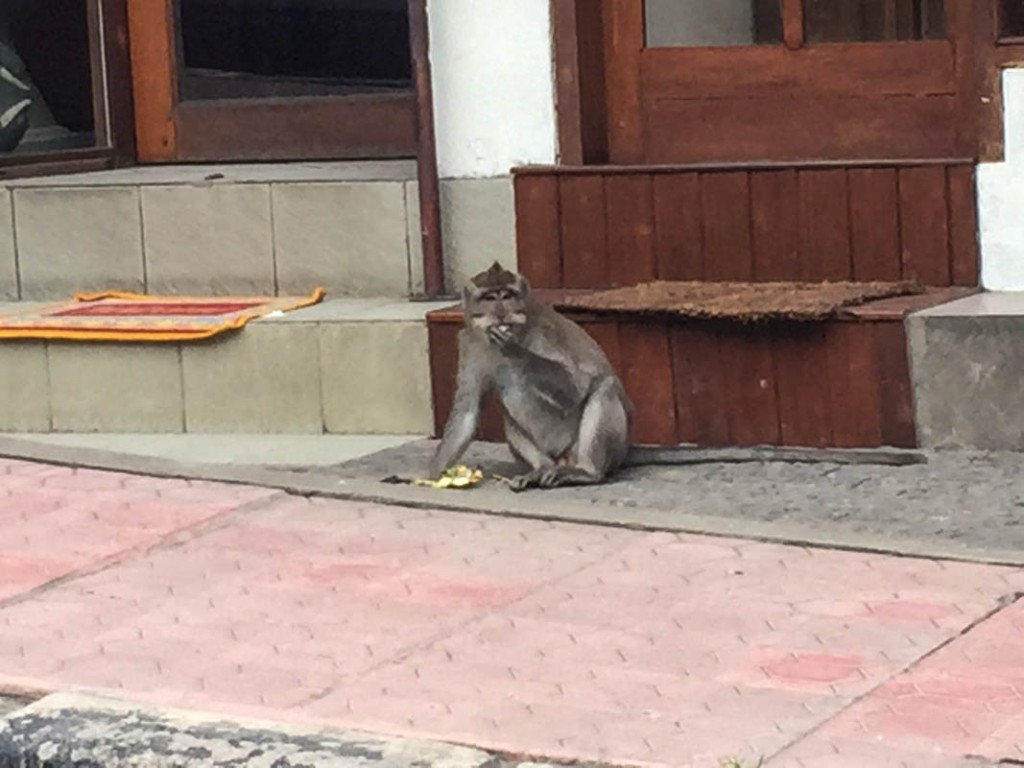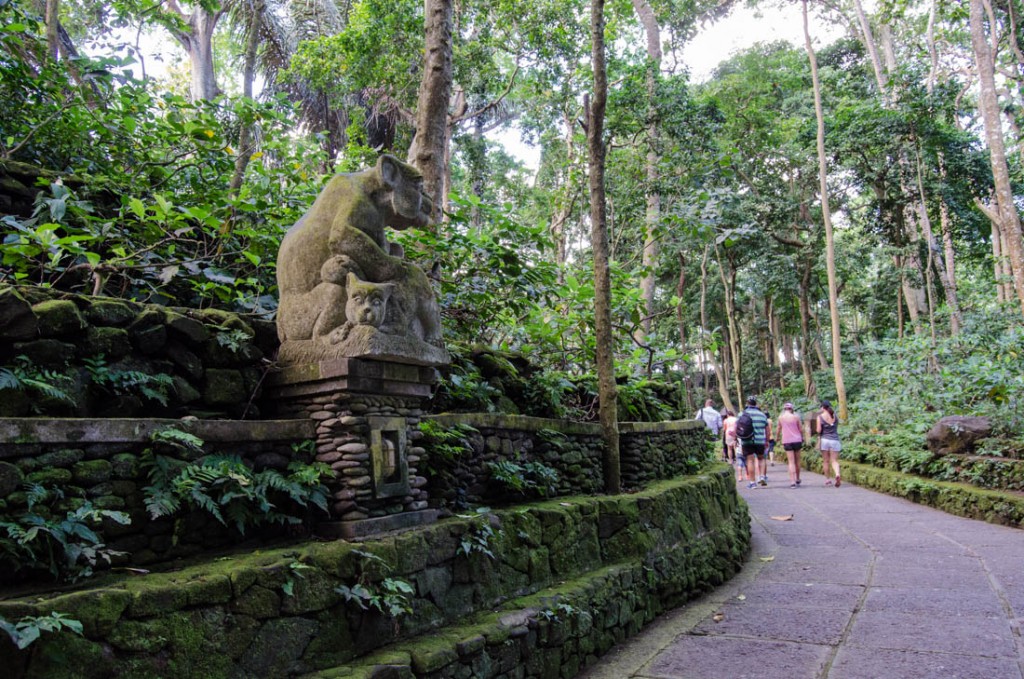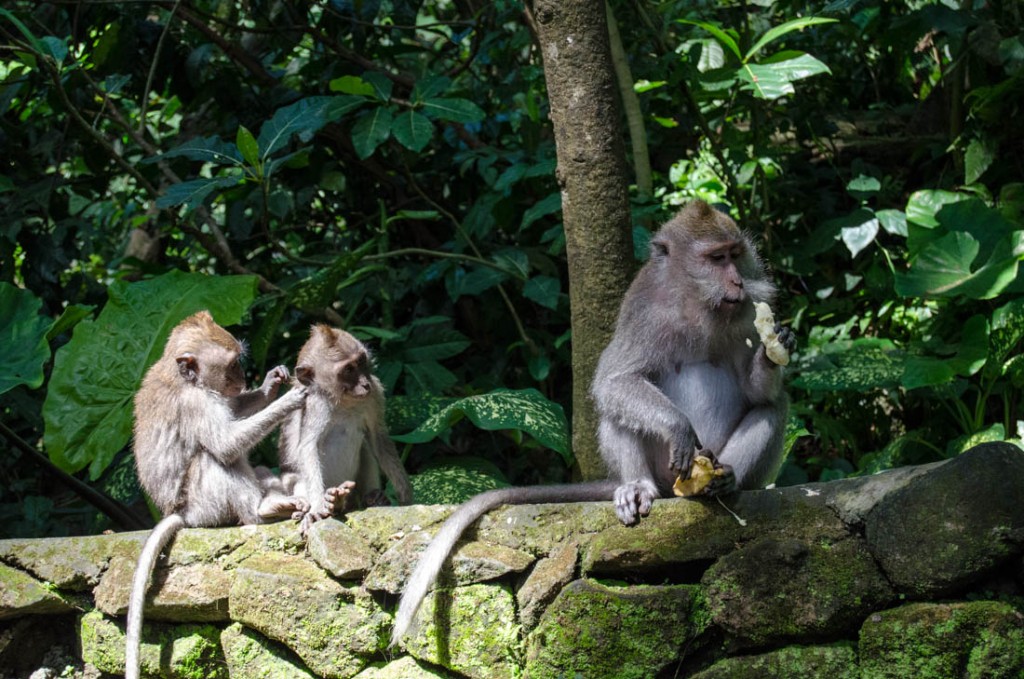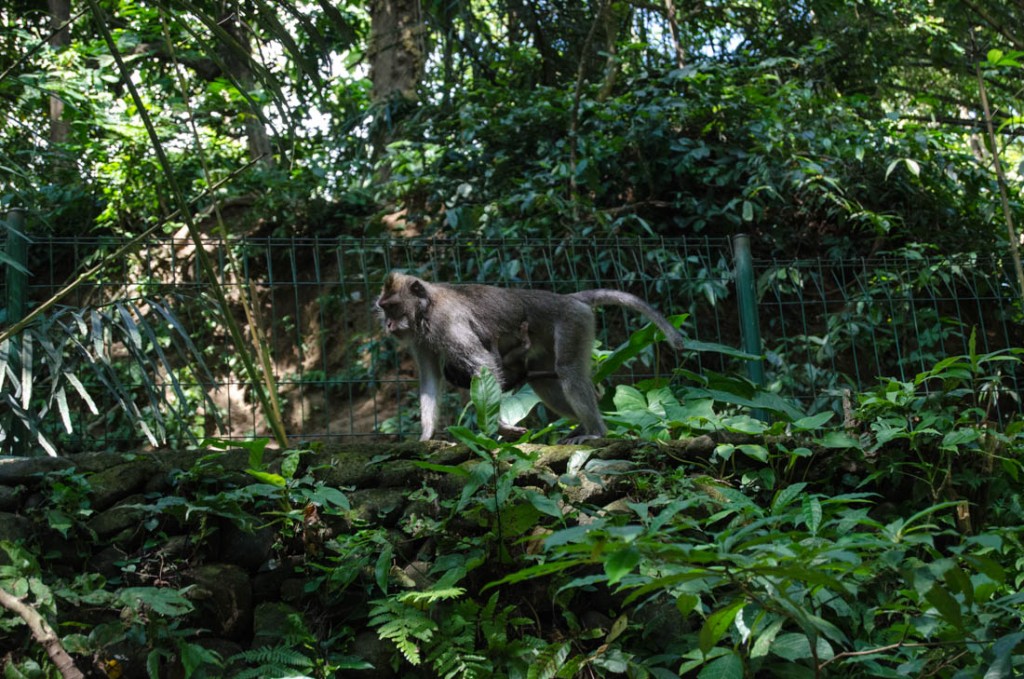 Surf, Sand, and Sunsets in Seminyak
After seven nights in Ubud, we moved southwest on the island to the trendy beach town of Seminyak. In contrast to earthy Ubud, here we found luxurious resorts, trend restaurants and cocktail lounges, expensive shops, and almost no hippies. It felt removed from our experience in Bali thus far, but it was still a wonderful place to visit and a nice change of pace for us.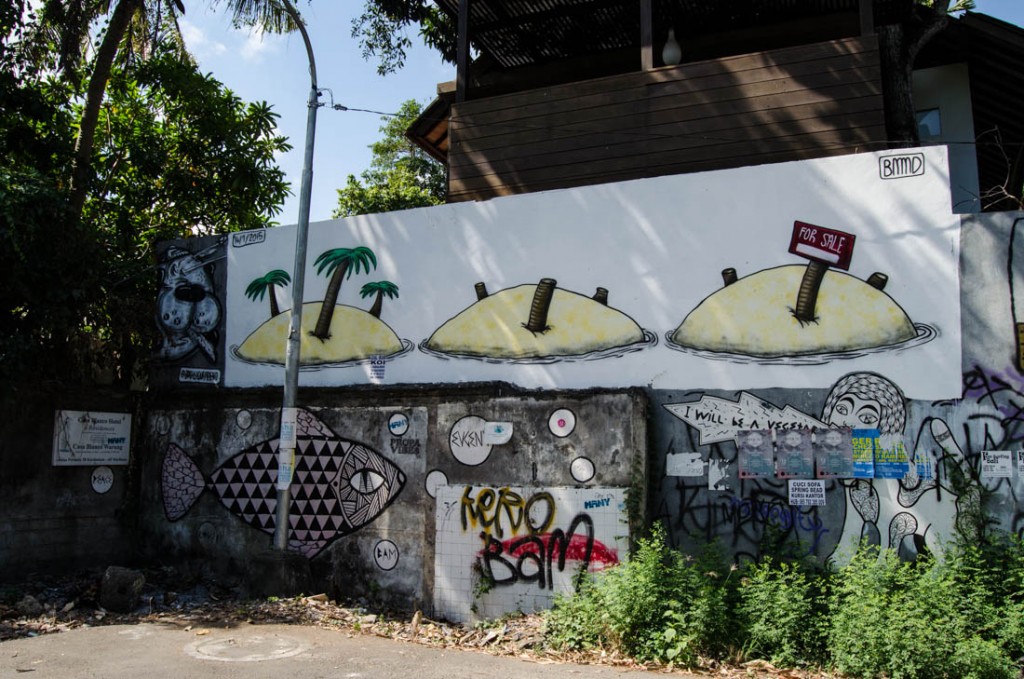 We had three nights in one of our best Air BnB stays yet. Best of all, the white sand beach of Seminyak was just a five-minute walk from our doorstep. We spent our 4th of July lazing in rented lounge chairs, jumping in the sizeable waves that lure scores of surfers, and walking up and down the shoreline.
Seminyak has an impressive array of upscale restaurants. Places like Ku De Ta made me curse our tight budget and prompted me to start making lists of all the things we'll do when we return. Although I doubt lounging around all day in the "see and be seen" Potato Head Beach Club will ever be on Chris's and my future agenda, it is definitely worth a visit to admire its "Coliseum" of mismatched antique window shutters.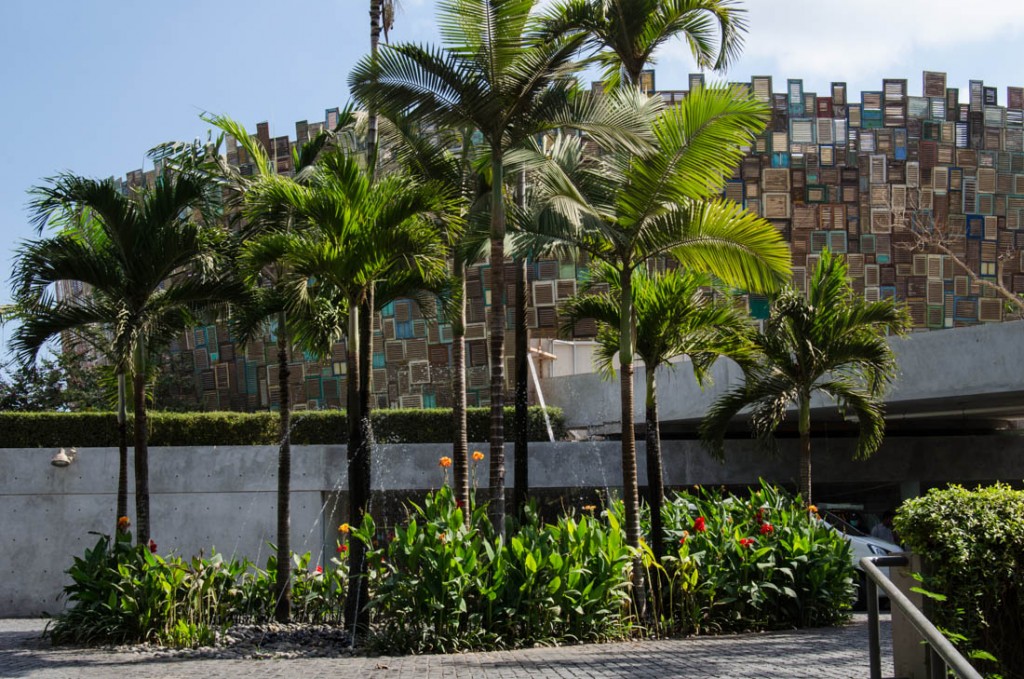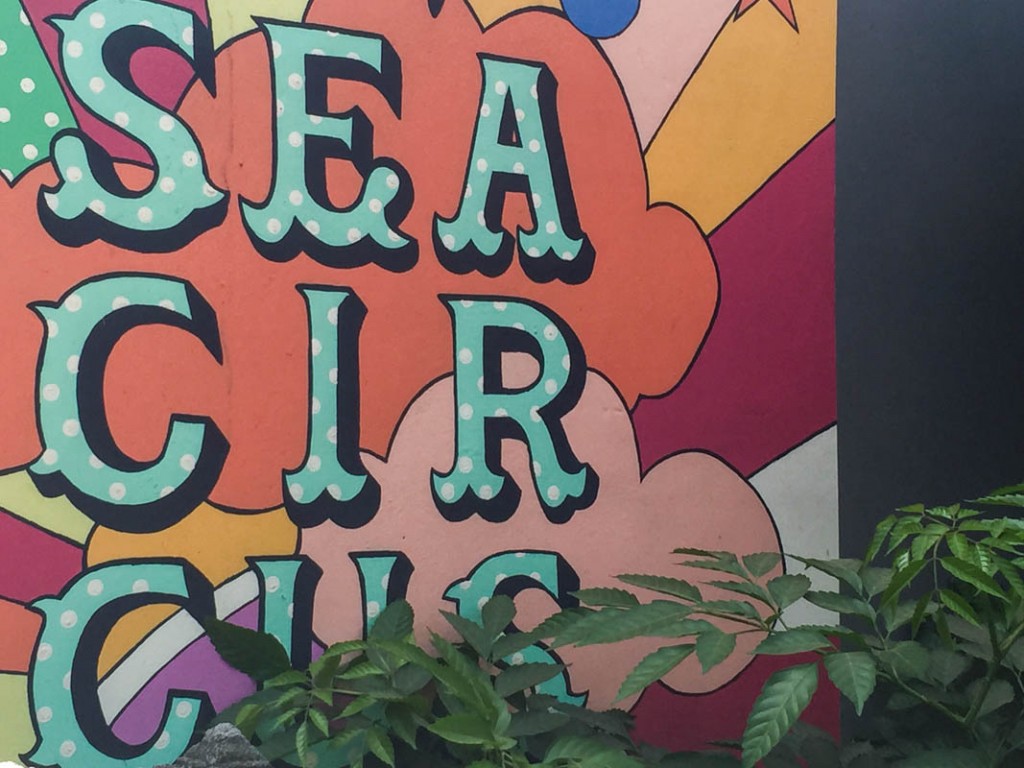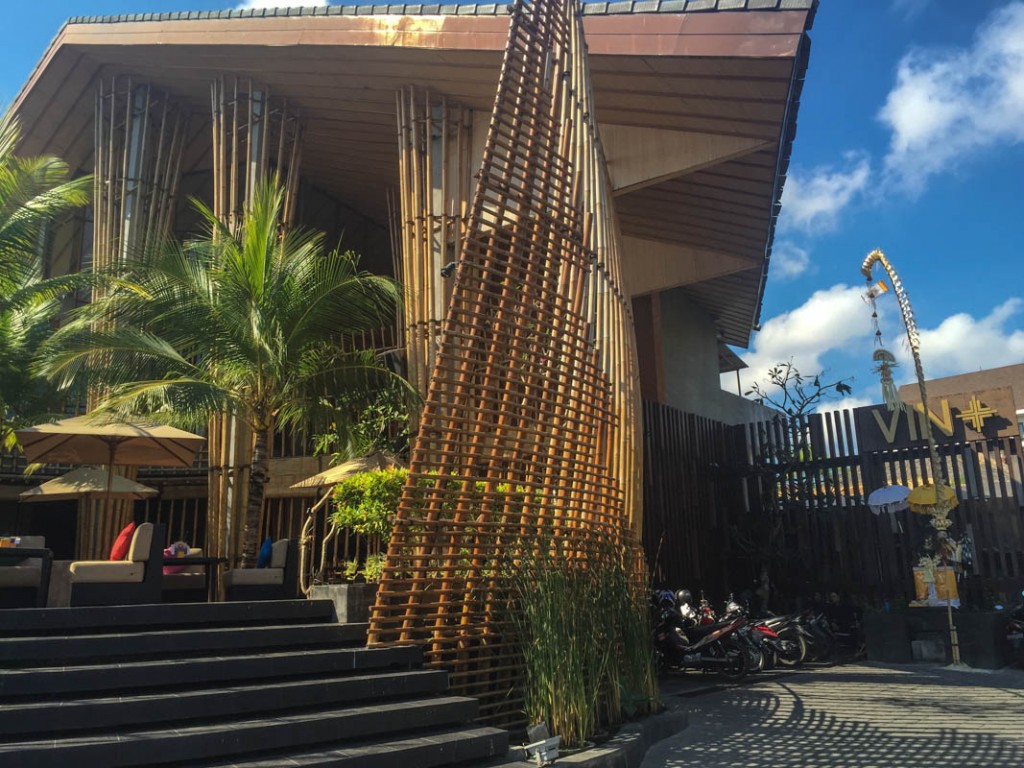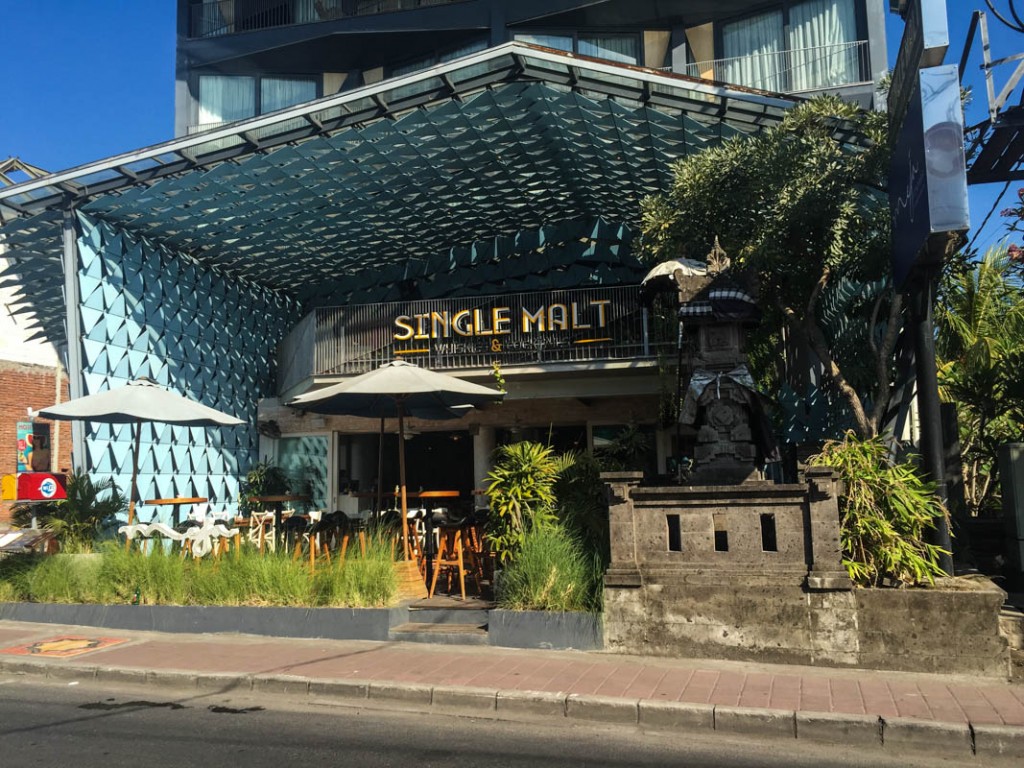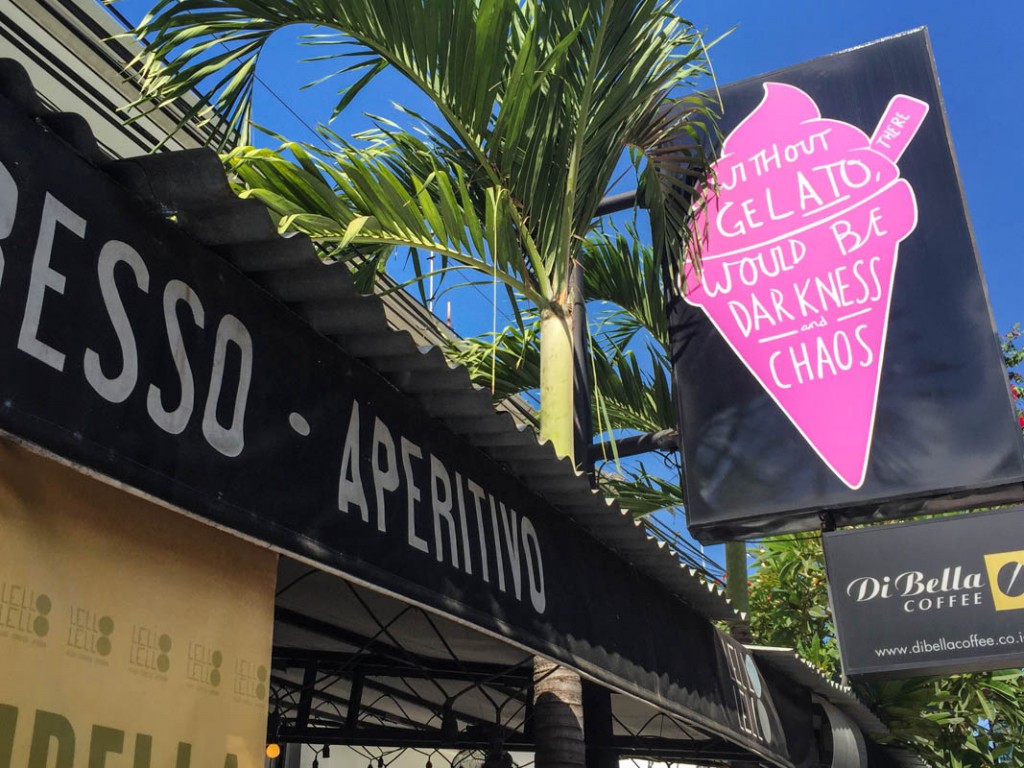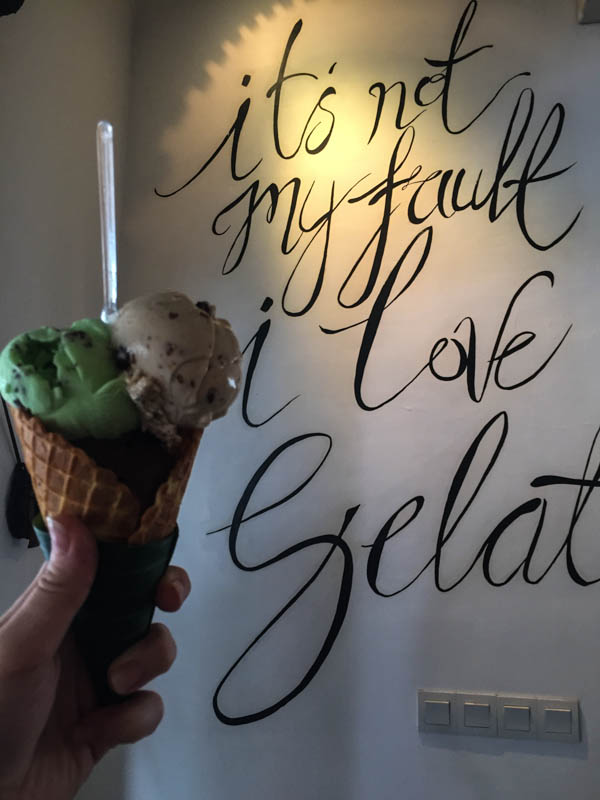 My favorite thing about Seminyak though was the sunsets. At night, we wandered back over to the beach, found a nice spot in the sand, and watched locals play games of soccer as the setting sun turned the sky all shades of red, pink, and purple. As we watched the sunset on our last night in Bali, I couldn't think of a better way to say farewell to the Island of the Gods.