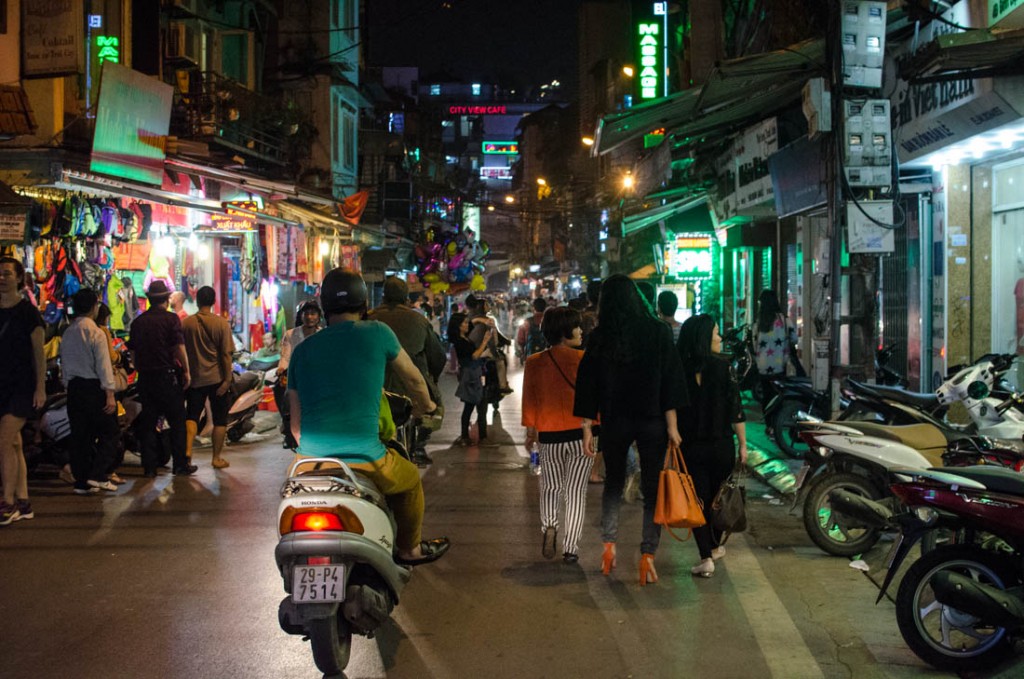 I had a much better impression of Hanoi the second time around with Chris compared to when I first visited the largest city in northern Vietnam in 2012. Chris and I discovered a new side to the city in its cafes and street food stands that I hadn't experienced when I last visited and primarily used the town as a gateway to Halong Bay and Sapa with my friend Jen. The fact that we were upgraded to a two-room, 1.5-bathroom suite at the Hilton probably helped. As we relaxed in our room and threw in loads of laundry in the free facilities on our floor, we often mistook our room for our old Chicago apartment. Even though we were half a world away, it felt like home for a few days.
Of course the twin nuisances of traffic and air pollution still bothered me the second time around. Cars are prohibitively expensive for most Vietnamese, so the vast majority of people use motorbikes for all their transportation needs. Watching four people cram onto one bike was a regular sight, and Chris and I quickly developed a contest to be the first to find one with five on it (but, alas, no luck). Motorbikes are also used for deliveries, and we watched in amazement as all matter of plants, animals, and goods were piled high on the back of a bike. Although watching them is a fun way to pass the time, motorbikes also conspire to make smog-filled air and a treacherous pedestrian experience. [We found a t-shirt with a picture of a Vietnamese traffic light that said, "Green: I go can, Yellow: I can go, Red: I can STILL go!"].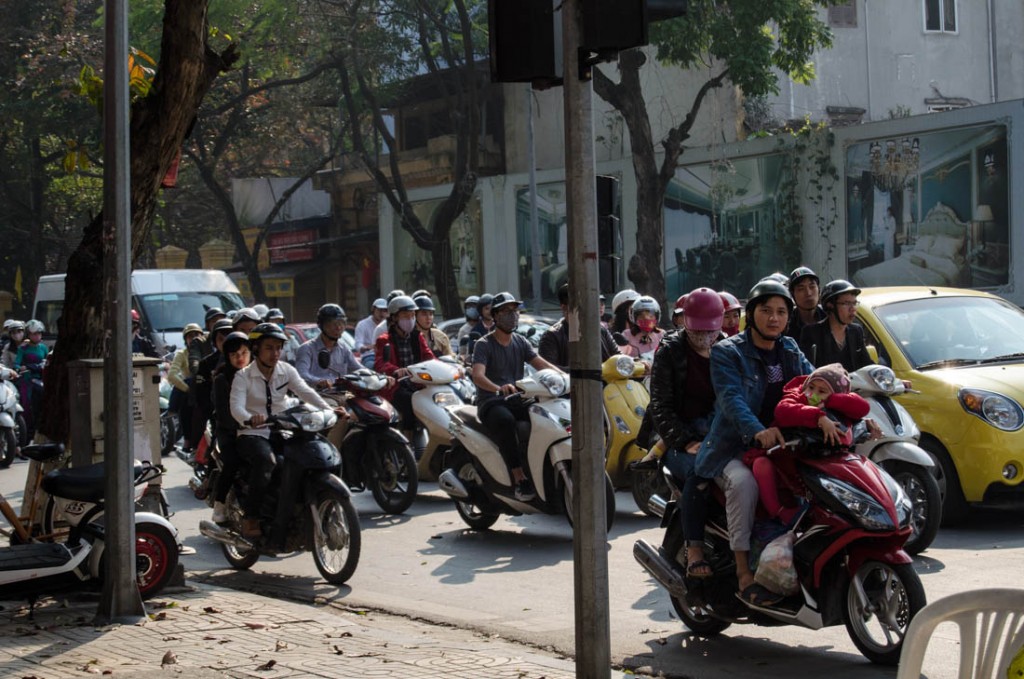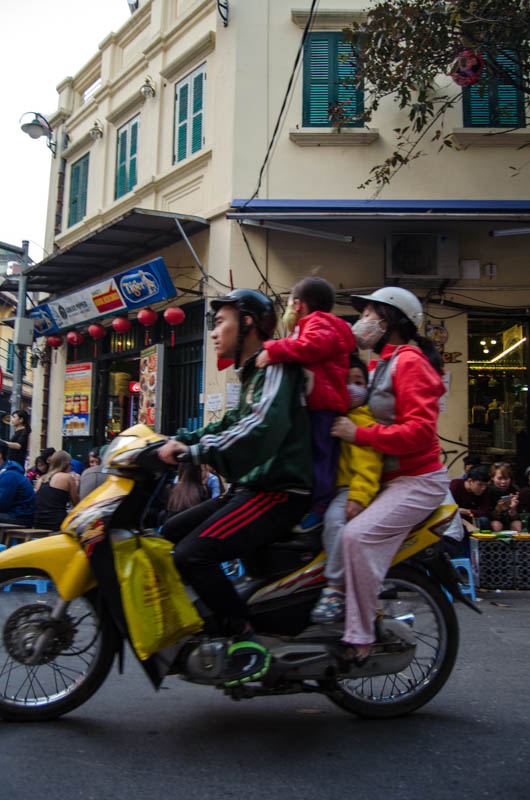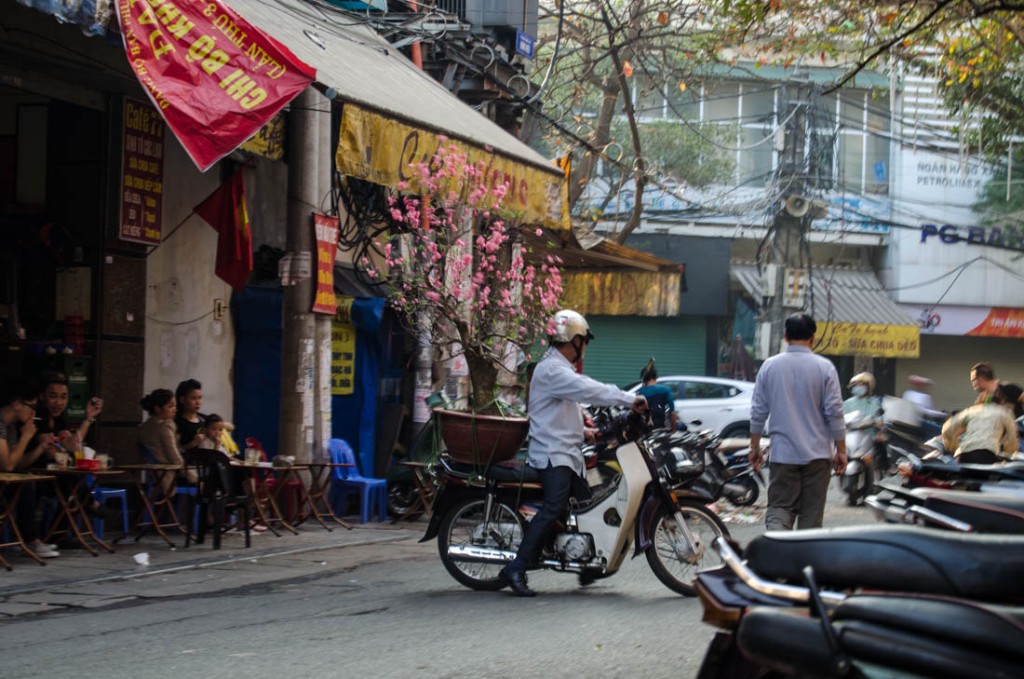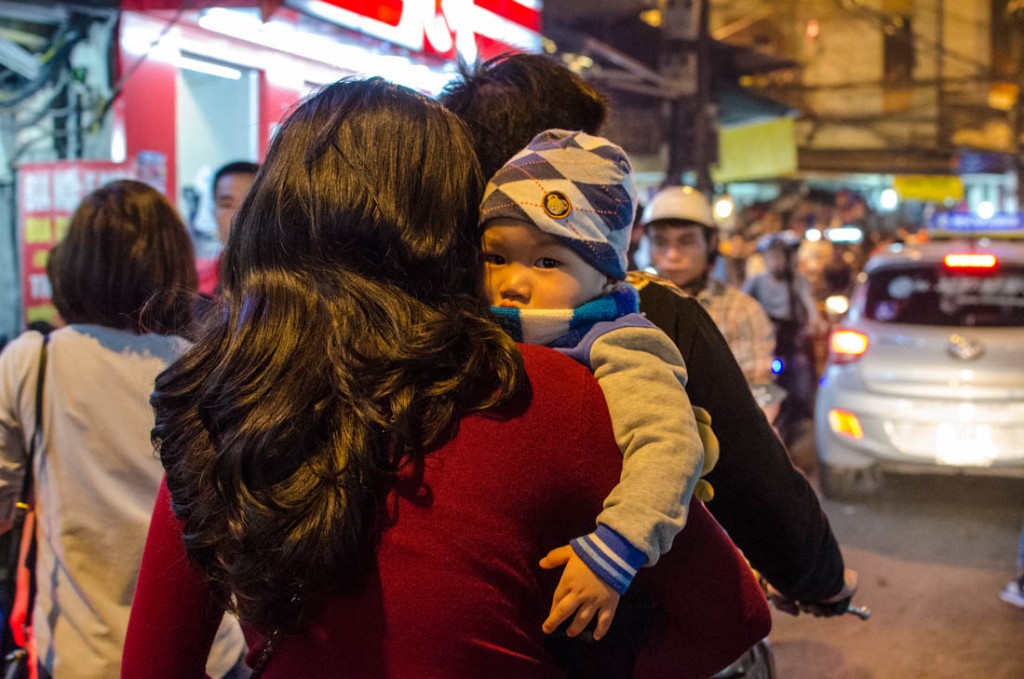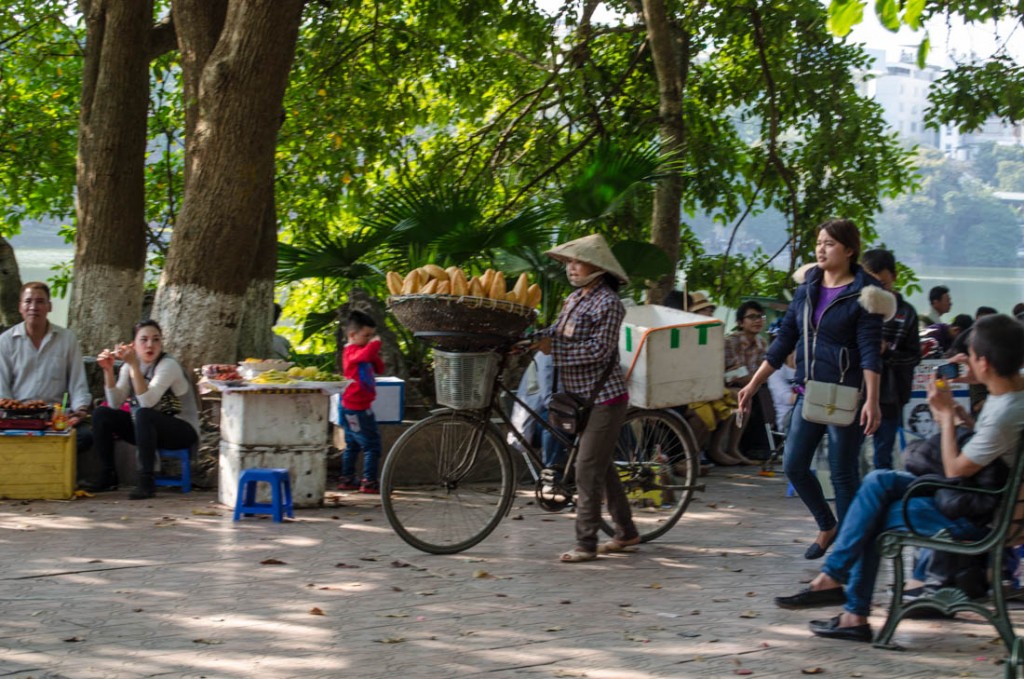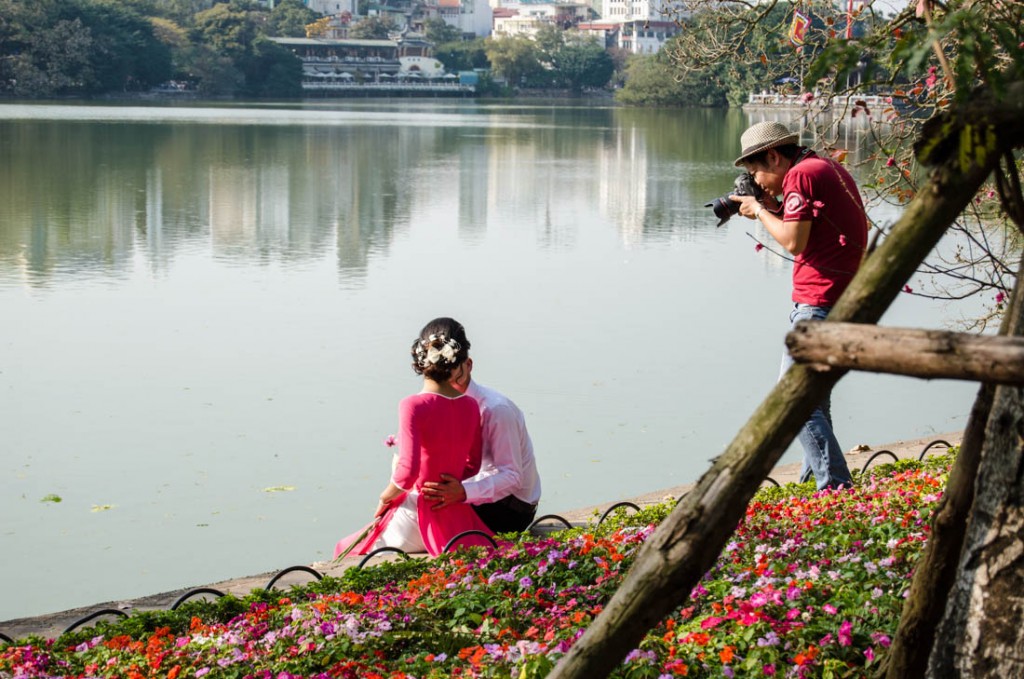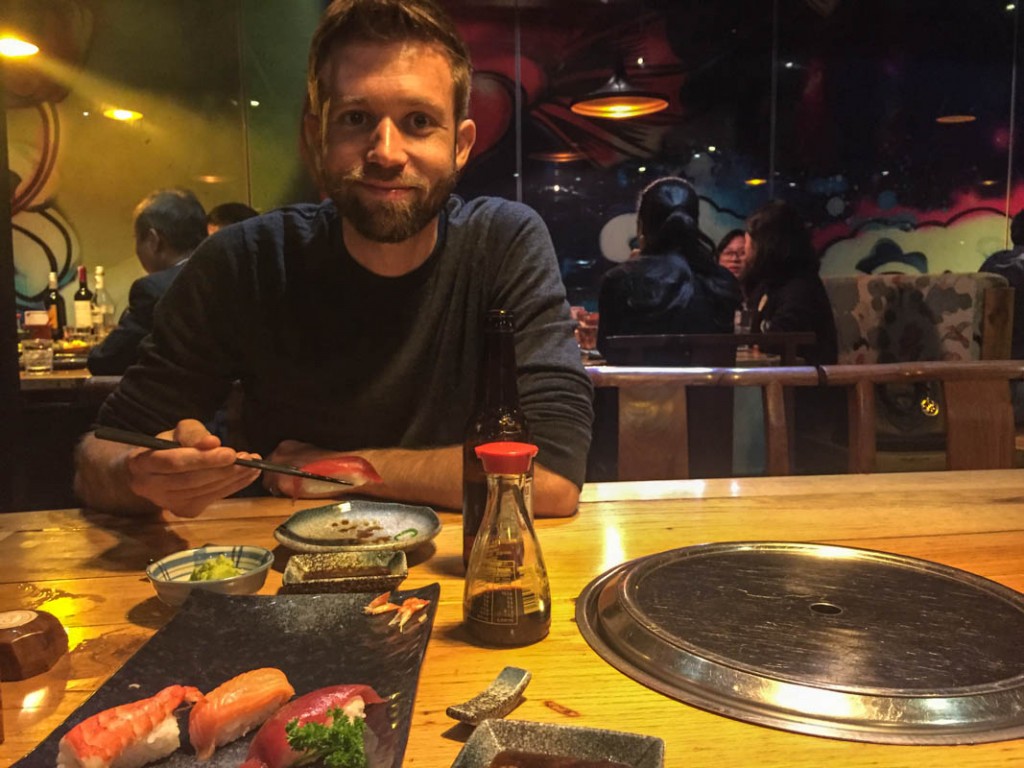 From the micro-ground Balinese coffee to the three-in-one Nescafés found throughout Eastern Europe, we've tried a lot of different kinds of coffee on our trip. But Vietnamese coffee perhaps takes the top spot. Here, you are served a glass of dark-roasted iced coffee with as much as half the glass filled with sweetened condensed milk. At the satirical, Communist-era Cong Caphe, which we visited every day while in Hanoi, I even got to try frozen coconut yogurt with mine.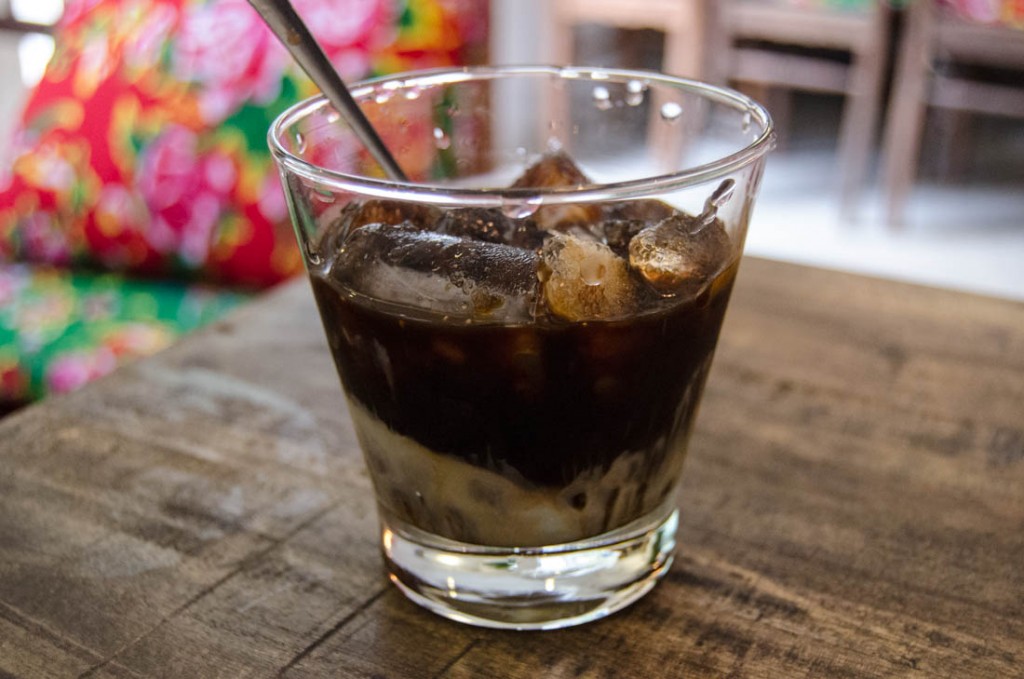 The Vietnamese rarely dine out, and when they do, it's almost always to grab a quick bite at a tiny food cart while sitting on an even tinier plastic stool. It's an intimidating experience to pull up a stool and try to decipher the bún chảs (pork and noodles) from the chả cás (fish and noodles). Thankfully, we were smart enough to sign up for a tour with Hanoi Street Food Tours and got to spend three scrumptious hours being led around by our charismatic tour guide to some of the best back-alley street food stalls in the city.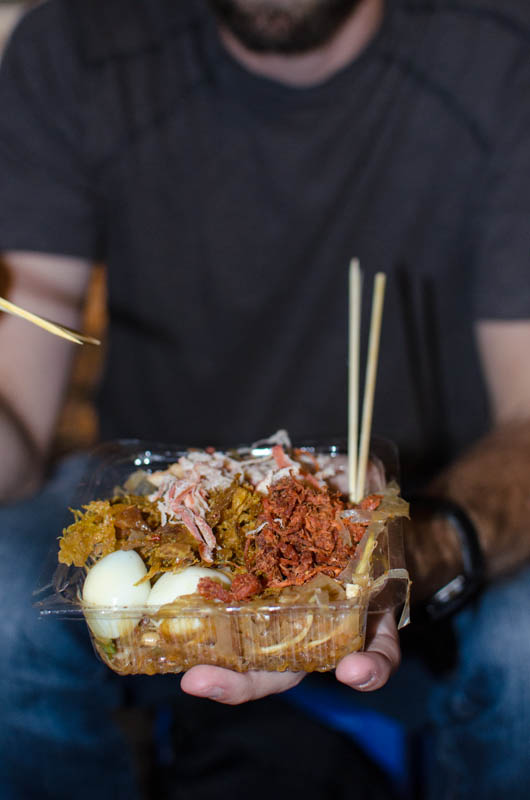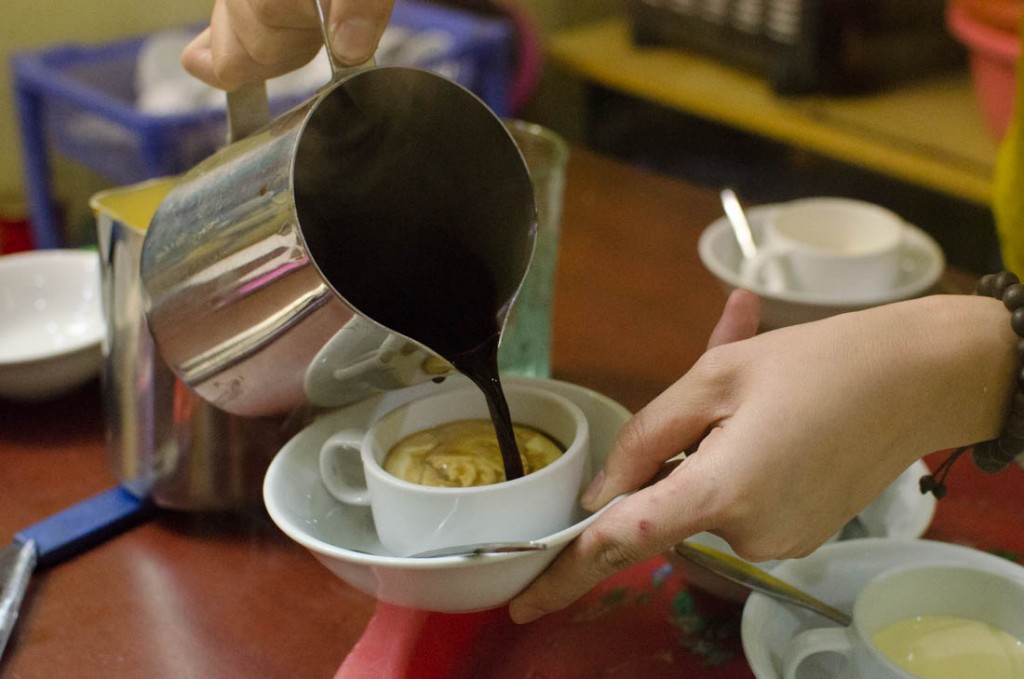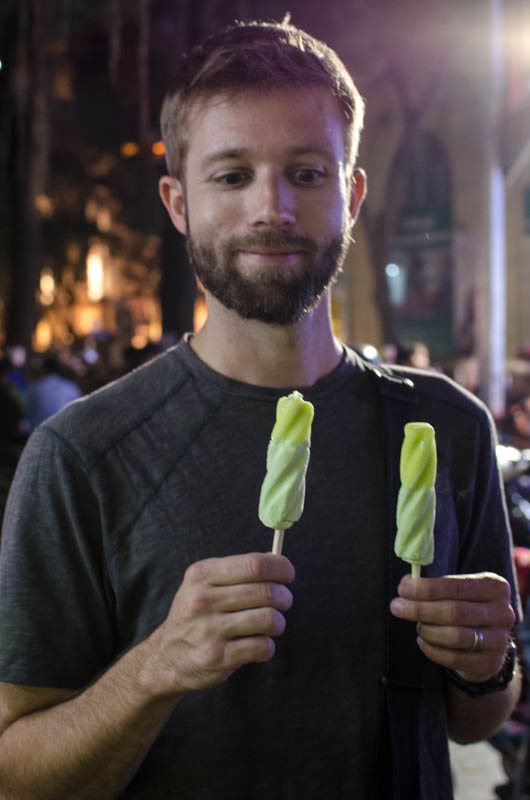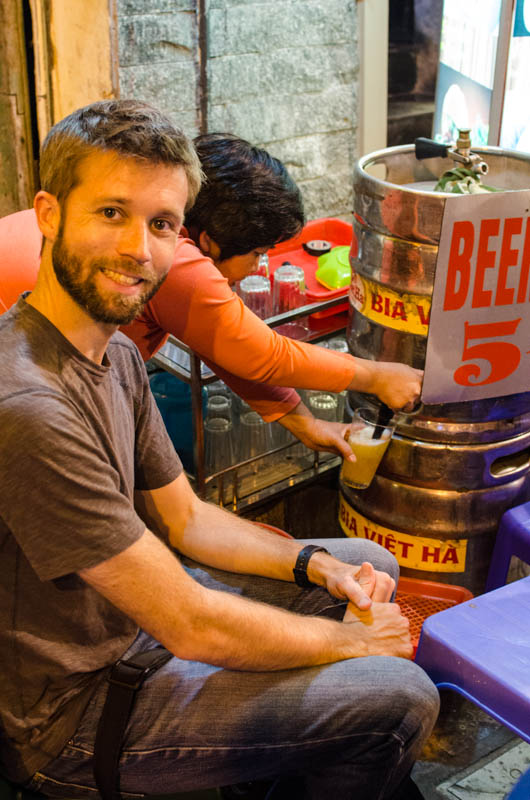 We discovered another quintessential Hanoi experience at Bia Hoi Corner. At a specific intersection within Hanoi's old quarter, you can find all the establishments on the corner serving up ridiculously cheap bia hoi (fresh beer). Chris and I visited earlier in the evening and, as the night wore on, watched in fascination as the proprietors began adding more and more rows of plastic stools, slowly narrowing the path for traffic. We enjoyed a few of the green-bottled Saigon beer and some fantastic people watching.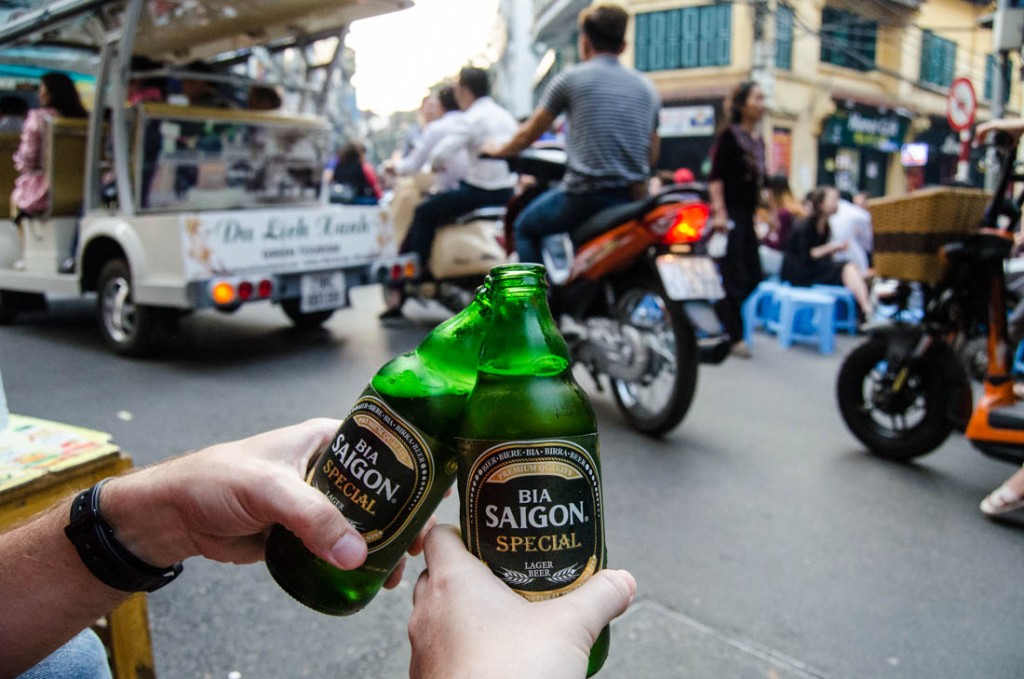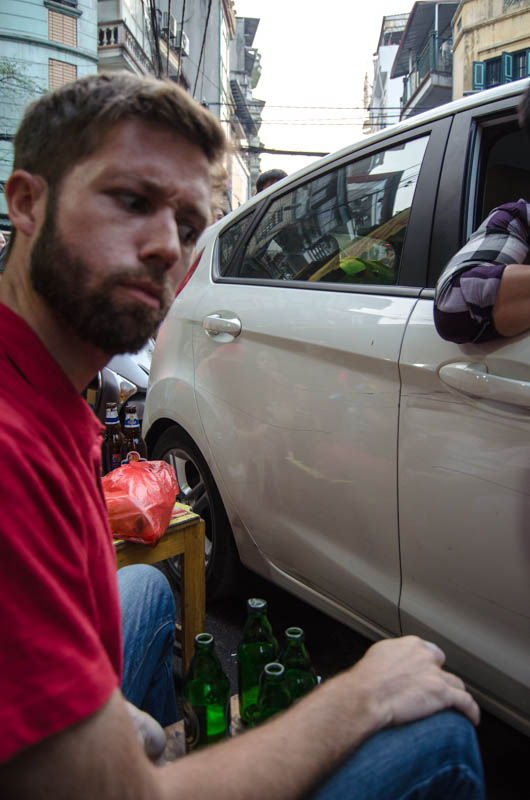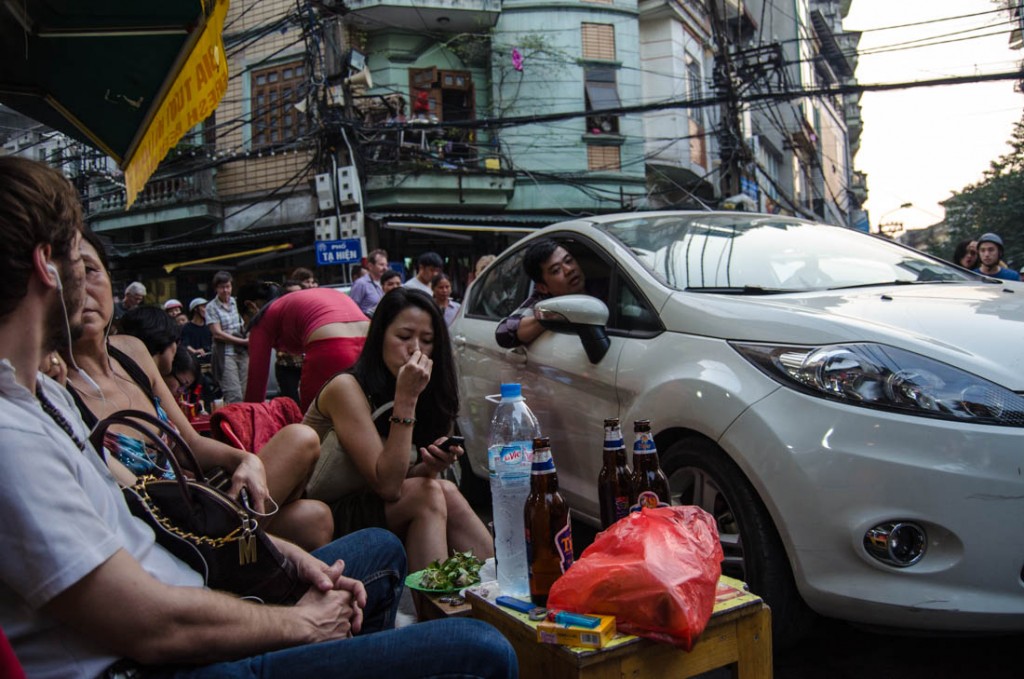 After enjoying the city's street food, sweet coffee, and cheap beer, we thought we should also do something educational with our time. There is another Hanoi Hilton even more famous than the hotel we were staying at to visit. Hỏa Lò Prison—nicknamed the Hanoi Hilton by American POWs during the Vietnam War—was originally built by the French to house political prisoners during colonial times. Most of the museum is focused on the Vietnamese colonial victims, but there are several rooms dedicated to the Vietnam War and its most famous prisoner, John McCain. They even have the flight suit that McCain was wearing when his plane was shot down over a lake in Hanoi on display.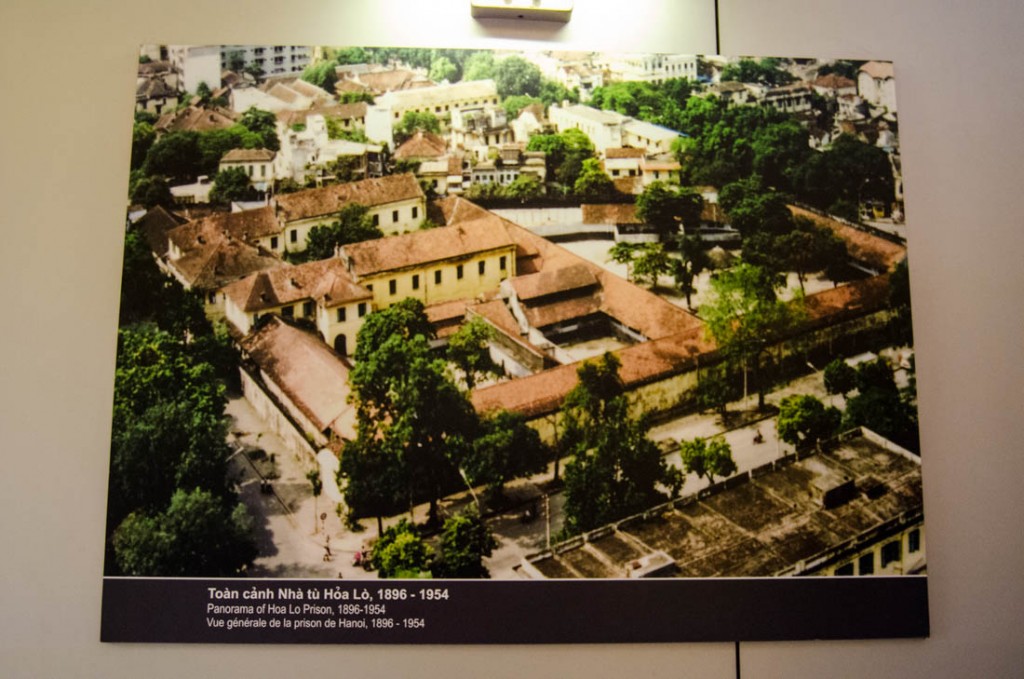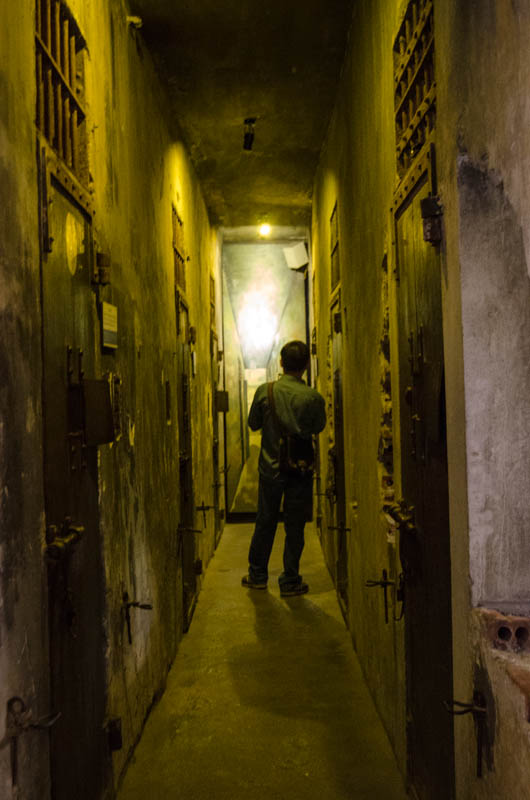 It was fascinating to see the depiction of the war from the perspective of the "other side," and the level of one-sidedness and propaganda was astounding as an American visitor. Countless photos were dedicated to claiming that the world supported the North Vietnamese or how well the American POWs were treated while at the prison. They even have a picture of John McCain being pulled out of the lake where he was shot down (but neglect to mention how his captors crushed his injuries with rifle butts and bayoneted him) and lying in a bed at the prison hospital (even though he was denied medical care for an extended time and regularly tortured during his five and a half year time as a prisoner).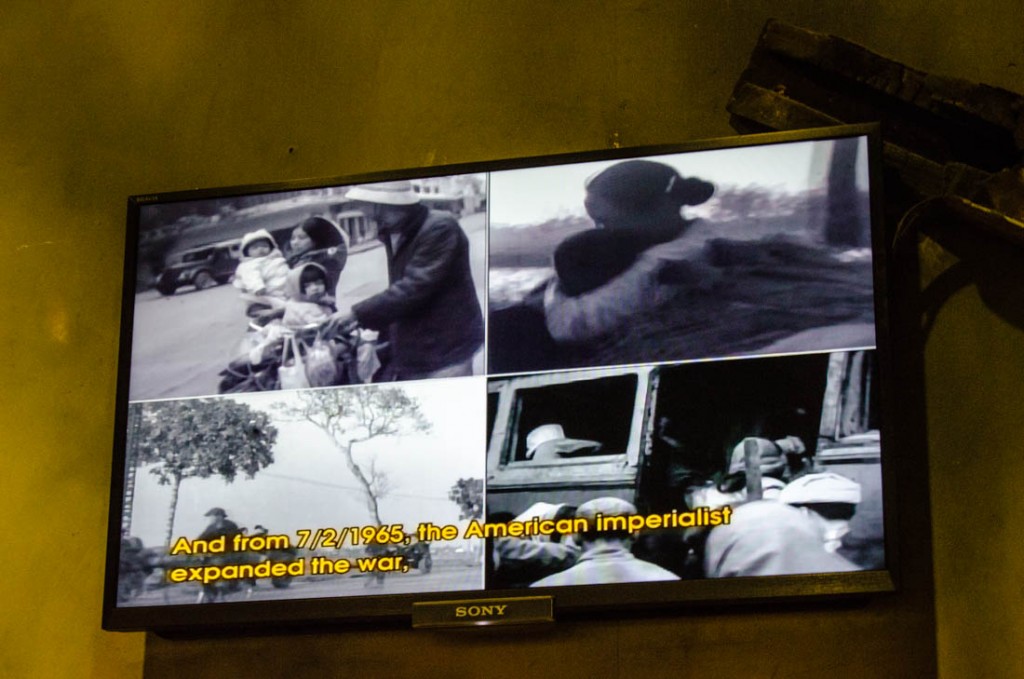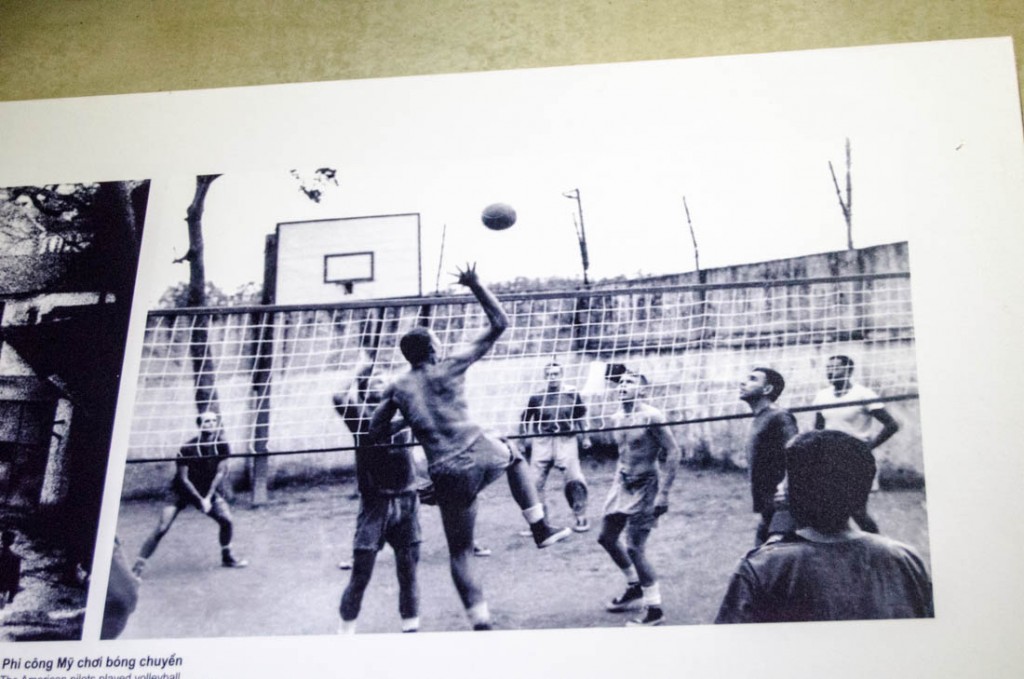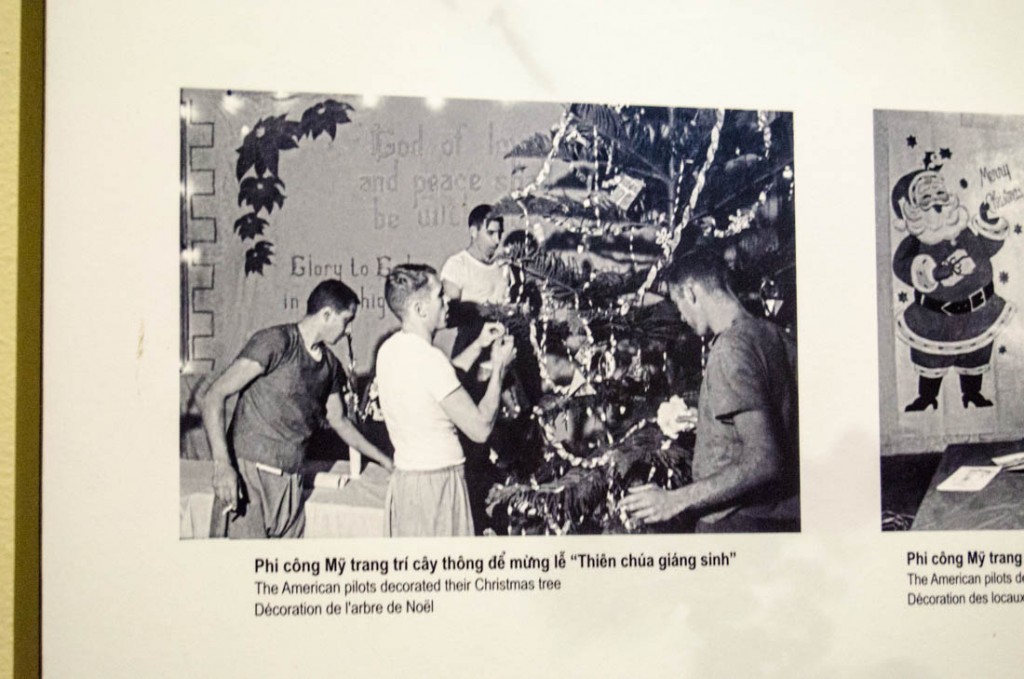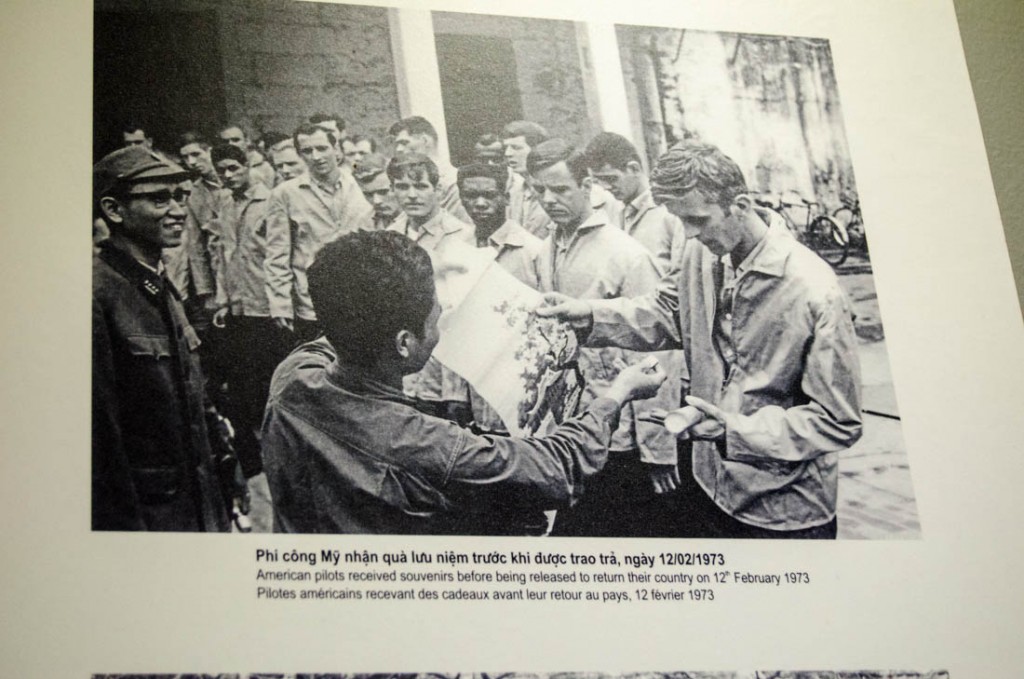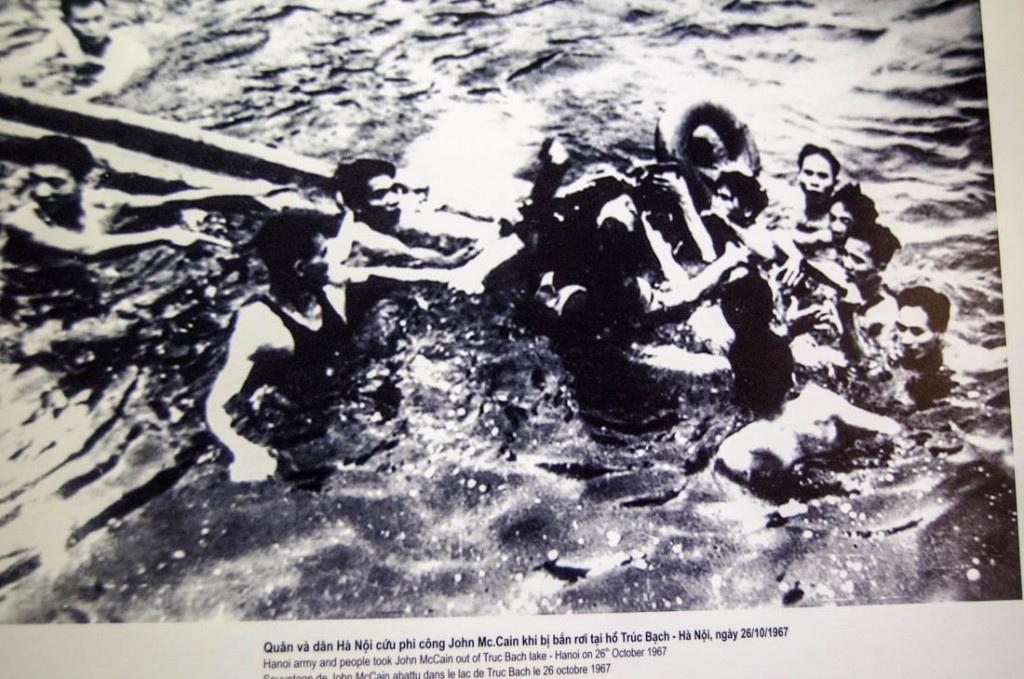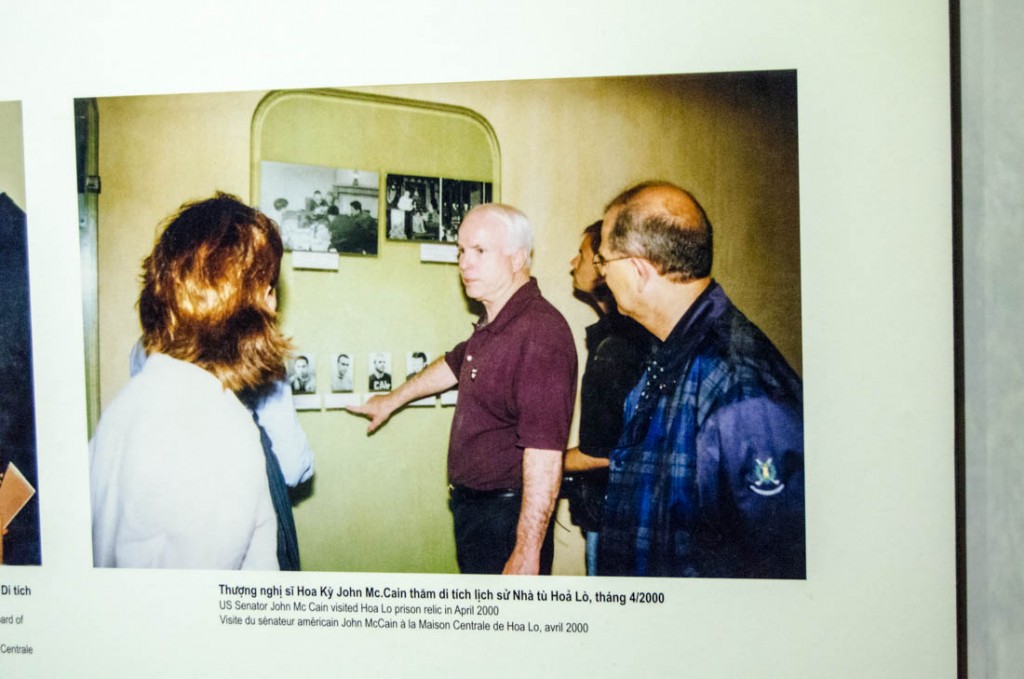 The prison was a harrowing reminder of the not-so-distant history of this beautiful country. Even though the Vietnam War was one of the darkest times for both the U.S. and Vietnam, it made me hopeful for other contemporary conflicts that Chris and I are now free to visit this former war zone and welcomed as guests. Despite the overt propaganda of the prison, I left Hanoi with an appreciation for the power of reconciliation and the potential for even the bitterest of enemies to one day be friends.