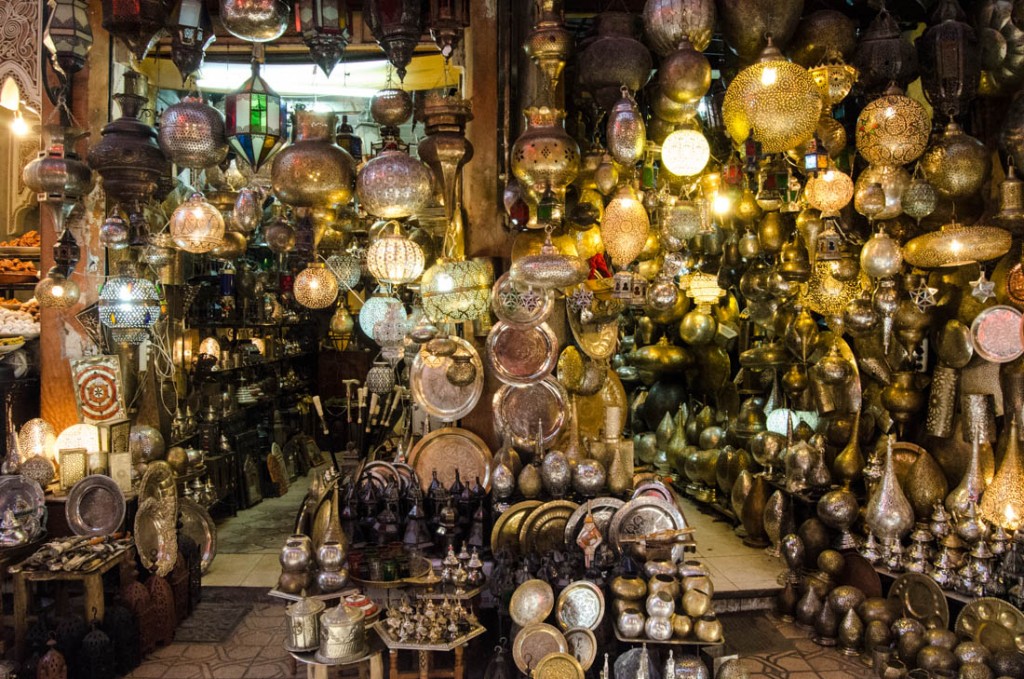 At first glimpse, we preferred Marrakesh—our second destination in Morocco—to Fez. The streets were generally wider and easier to navigate than Fez, so we didn't need a guide. The main square of the city—Jemaa el-Fnaa—is the busiest in all of Africa and is chockfull of henna artists, snake charmers, and orange juice sellers by day and street performers and food vendors by night. Even our riad—with its courtyard filled with green vines and purple flowers—was more beautiful here.
But, sadly, Marrakesh was also where we lost our patience with Morocco. While exhilarating in small doses, the streets of the old city started to wear on us over time. Going out required dodging motorbikes (with their incessant engine revving) and donkey carts (which caused frequent traffic jams down narrow lanes) and ignoring the calls of persistent souvenir vendors (one tried to block us into his store) and false guides (many get commissions for luring tourists to shops and restaurants). Going anywhere was an assault to the senses. Perhaps that is why riads sprouted up over time to be calm oases in the midst of the city. French fashion designer Yves Saint Laurent considered Marrakesh his adoptive home, but even his house here is walled off from the chaos and surrounded by thick gardens.
I've been many places before with pushy locals, and I always try to remind myself that they are simply trying to earn a living for themselves and their families. But that was easier to do in places like Bali and Cambodia where conversations with insistent taxi drivers and tuk tuk men usually always ended with a joke and a smile. In the tourist areas of Morocco, for every one person who was legitimately trying to be helpful, there were at least two trying to lead us astray, and unfortunately it caused us to be on the defense and distrustful of everyone.
I think one full day in Fez and Marrakesh would have been perfect to wander the markets, sample the delicious cuisine (which was our favorite part of the entire Moroccan experience), and get a taste of this exotic place. Instead, we had set aside seven days for Morocco, and our nerves were worn thin by the end. I hate to be negative about any particular place, and readers of this blog know that I almost always have glowing reviews our destinations (now at 29 countries and counting). Chris and I planned our one-year RTW trip to learn about other cultures and meet people with different perspectives. And we did meet some absolutely fantastic people here. Both of our Airbnb hosts were incredibly gracious and amazing examples of hard work and perseverance (one worked his way up as a souvenir salesman to own his own riad), and I'm not sure there was anyone with a better heart than our waiter at Kui-Zin (which we visited two of the three nights in Marrakesh). But I would be lying if I told you we weren't relieved to get on that flight to Madrid. Adios, Morocco, and hasta luego (though probably not anytime soon).