It's been awhile since I've done a Miles and Points Moment, but our recent streak of amazing hotel deals in Africa has inspired me to write a quick one on Marriott Rewards. We started our trip with a bank of around 150,000 Marriott points after taking out two credit cards: the Marriott Rewards Premier credit card (60,000 sign up bonus) and the Marriott Rewards Business credit card (70,000 sign up bonus). In addition, each year these cards come with one free night certificate that can be used at any Category 1-5 property worldwide. Now, these certificates wouldn't be much use in big U.S. cities where Marriott properties are usually all Category 7 and run you 75,000 points a night. However, there are some real steals to be had internationally if you know where to look. (We've learned over the course of our trip that certain hotel chains—much like airline alliances—have their geographic strengths… for instance, Marriott has some great values in the Middle East and Africa while Hilton reigns supreme for deals in Asia).
We discovered some super deals after stumbling upon a South African hotel chain called Protea that was acquired by Marriott in 2014. Protea has nice, modern properties in nearly every city we wanted to visit throughout South Africa and also in Victoria Falls, but for whatever reason Marriott has only classified them at the lowest tiers. Because of this, we were able to stay for four nights at the Protea Livingstone Hotel (which included a fantastic breakfast buffet) for 7,500 points a night and one night in the Protea Johannesburg airport hotel for another 7,500 points. We had also planned on staying at other 7,500 points per night Protea hotels along the coast of South Africa's Garden Route before our time in the country got cut unexpectedly short. Each only 7,500 points per night! We would be able to stay for ten times as many nights in these hotels compared to using our points in say New York or Chicago.
In addition to finding low-tier, high-quality properties, the second pillar of our hotel points strategy is maximizing the heck out of our free night certificates. We figured that if we're going to get a free night somewhere, it might as well be the most expensive hotel possible (like the Park Hyatt Vendôme in Paris). Each hotel chain has slightly different rules for free night certificates (Hilton lets you use them at nearly all their properties but only on weekends, while Hyatt—the most valuable from a free-night perspective—has no restrictions for their use), and, of course, free nights need to be weighed against other benefits like free breakfast, hotel availability, and sign up bonuses when choosing which card is right for you (or if you're going on a one-year RTW trip like us, you can just get them all).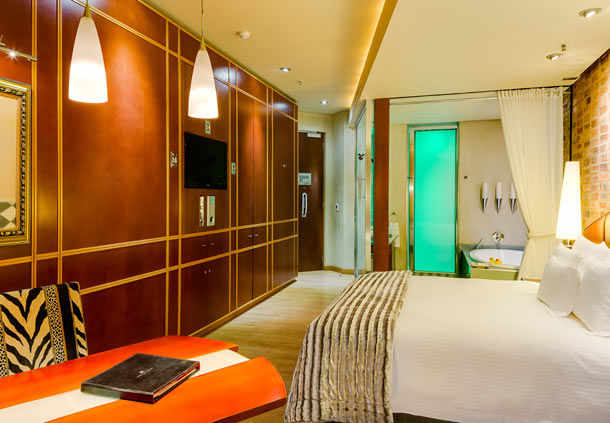 We found the perfect place to use our certificates in Johannesburg: the African Pride Hotel. African Pride is an exclusive label under Protea, and there are only six of them in the country. Typically, they run several hundred dollars a night. And it is pure luxury. We walked into a massive hotel room with modern décor, a full soaking tub and separate rain shower, and had a balcony overlooking the private cabanas that we would spend most of the next day lounging in. After checking in, the staff advised us to let them know if we wanted to reserve the movie room. And anytime we walked by the front desk, we were free to grab a champagne glass of juice or a handful of M&Ms. I didn't want to leave, and I'm counting down the days until we can cash in our next certificate.