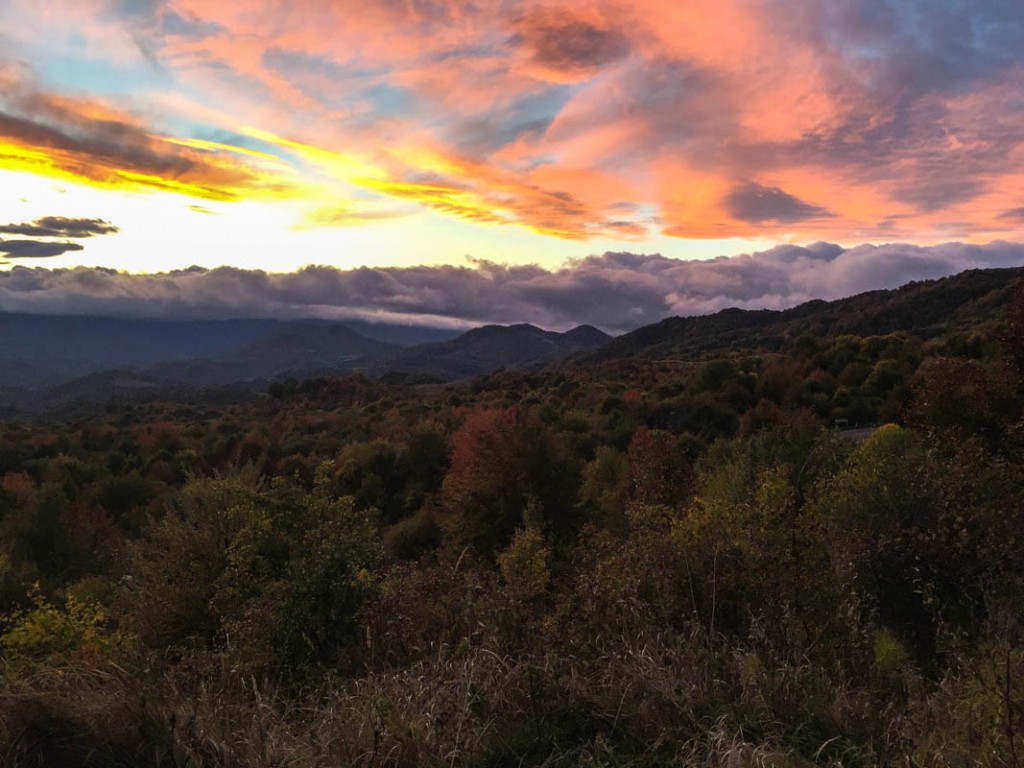 Georgia (the country) was one of the fifty countries on our list for our one-year RTW trip, but one that I knew very little about and had pretty nonexistent expectations for. That all changed when, in the effort to minimize the amount of Russian food we had while in Russia, we stumbled upon a Georgian restaurant in Moscow. The delectable, comfort-food cuisine definitely wetted our whistle for Georgia, and we were eager to learn more about this hidden gem of Eurasia.
After overcoming some Googling issues between the U.S. state and the country, I learned that the country of Georgia is located in the Caucasus region at the crossroads of Western Asia and Eastern Europe. It is bordered to the west by the Black Sea, the north by Russia (who has ruled over it throughout recent history and even fought a war against Georgia over disputed territory as recently as August 2008), the south by Turkey and Armenia, and to the southeast by Azerbaijan. Georgia wants the world to know that it exists and where it exists so bad that it actually puts a mini-map of the region—with Georgia highlighted—on its 5 Lari bill.
And, after spending a few days driving around Georgia, I can't believe how little known this spectacular place is. From the mountainous scenery to the authentic village life, Georgia is breathtakingly beautiful. As we left the city, we met rugged mountains that turned all shades of purple and blue as the sky set and leap-frogged with a Soviet-era car filled to the brim with potato sacks along the road. We were reminded of Romania as we passed horse-drawn carts and saw more livestock—often right alongside the car—than we have anywhere else. We got to breathe the mountain air during a hike in one of Georgia's national parks. And just when I thought Georgia couldn't get more enchanting, we befriended a dog (that we named Savannah) that acted as our guide along the mountain trail.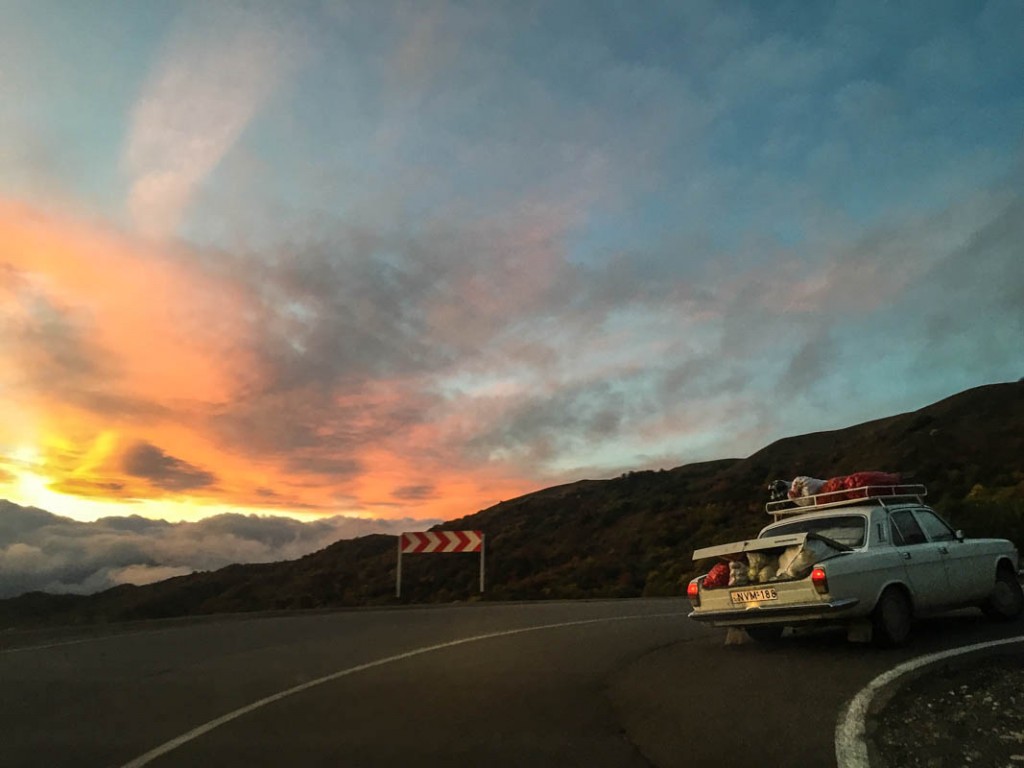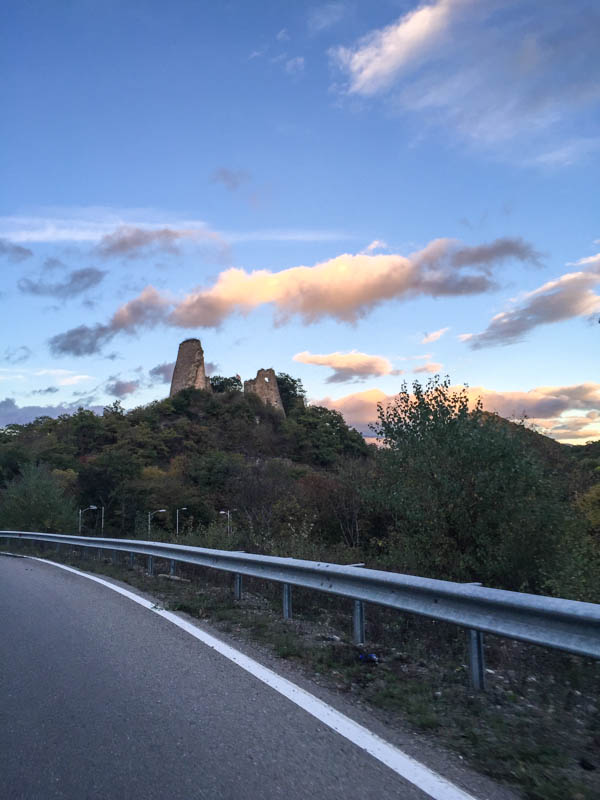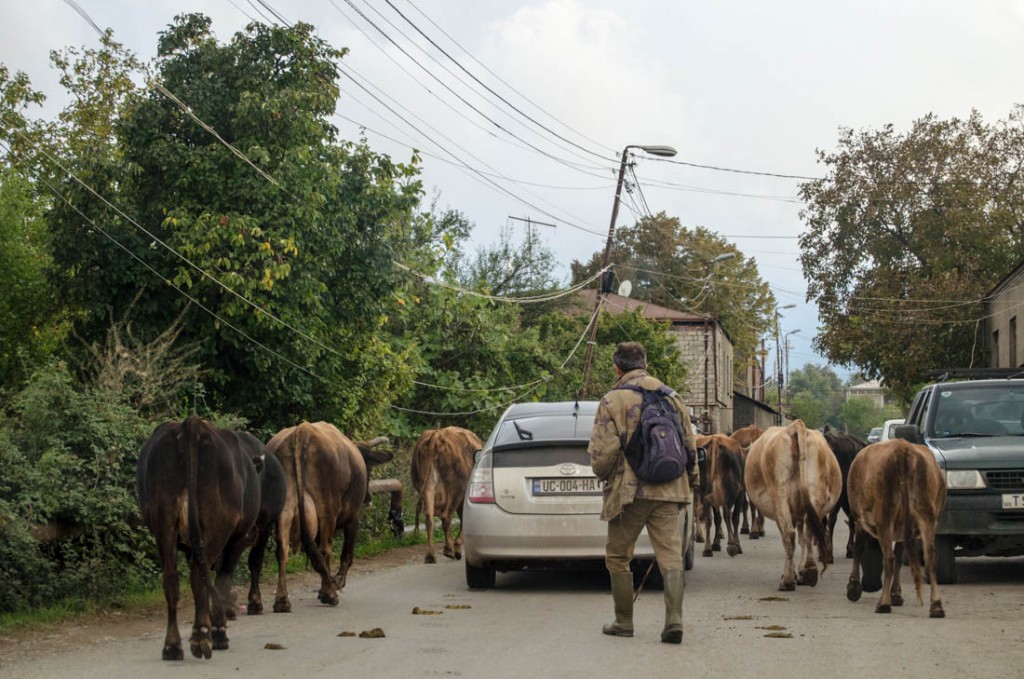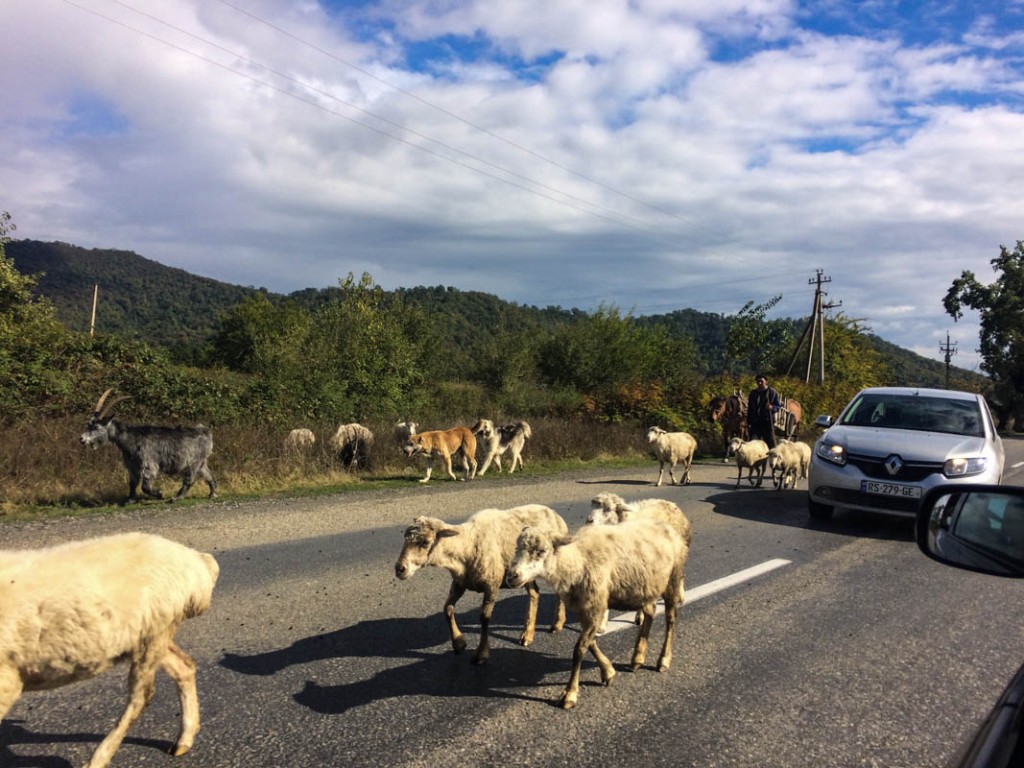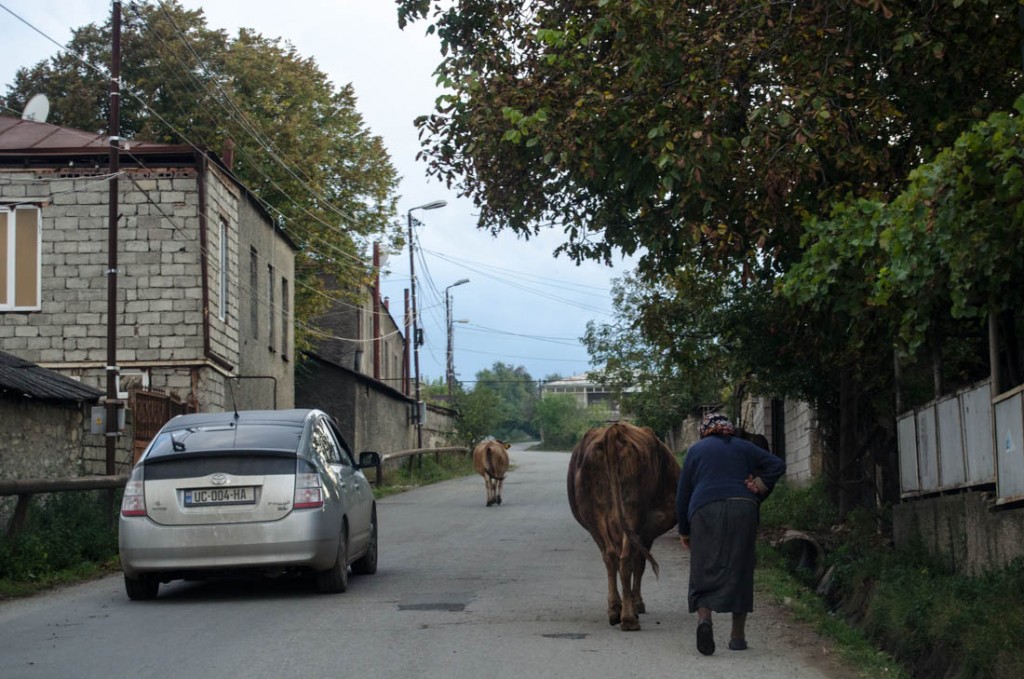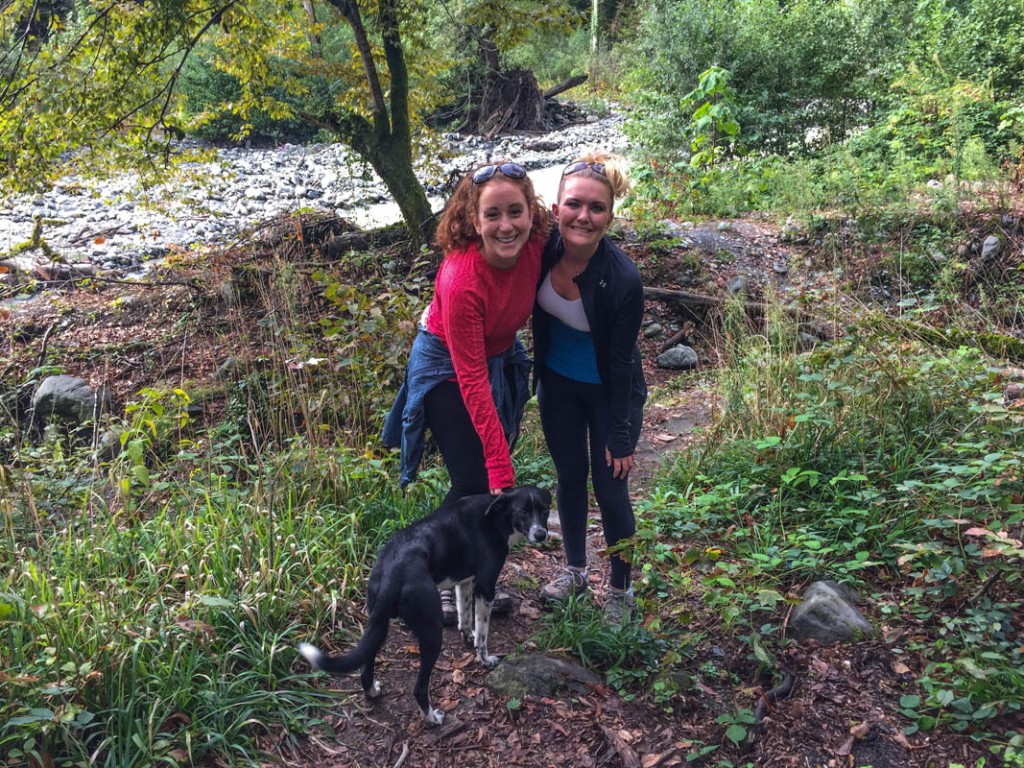 Despite the proximity to its neighbors, Georgians aren't Turks, Persians, or Russians; they self-identify more with contemporary Christian, European culture instead. They are also fiercely proud of the things that make them uniquely Georgian. It is the only country in the world that uses its own Georgian alphabet (a curly script that makes deciphering checks quite difficult).
And the food. Oh, the food! There's an abundance of cucumber and tomato salads and other vegetable dishes like pumpkins, squash, eggplant, and potatoes served with herbs, plums, or walnuts. The wide variety of cow and sheep milk cheese reminded me of Macedonia. Khinkali are delicious cooked meat dumplings. Trout is the most popular seafood, and Chris and Jen (who are better meat eaters than I am) enjoyed many dishes of beef, pork, and lamb. And, probably the most characteristic, all the forms of cheese bread that can be found. The most famous is khachapuri, a kind of cheese bread that gives pizza a serious run for its money. I also got to try adjarian khachapuri, a boat-like bread with a well of cheese, egg, and a pat of butter in the middle, for breakfast one day. For dessert, we bought strings of walnuts dipped in reduced grape juice (the "Georgian Snickers") from street vendors.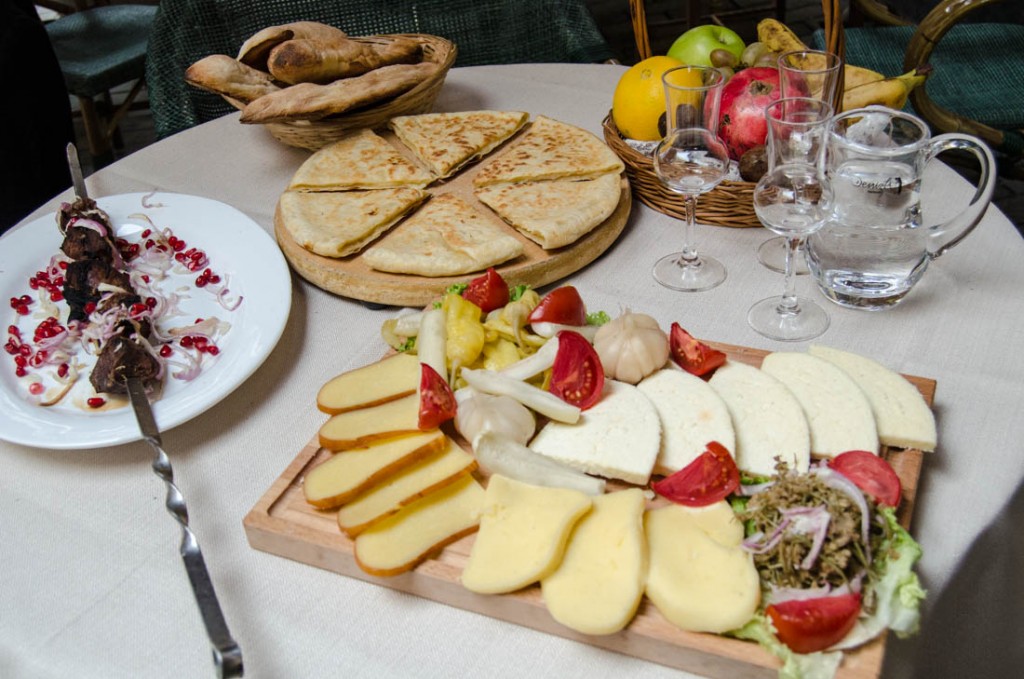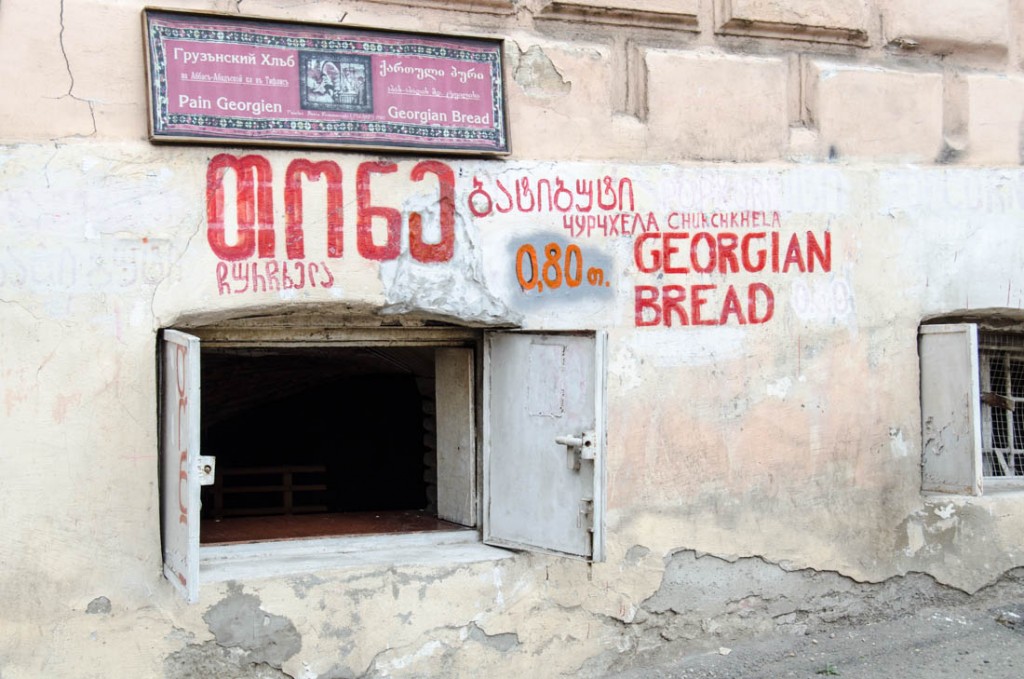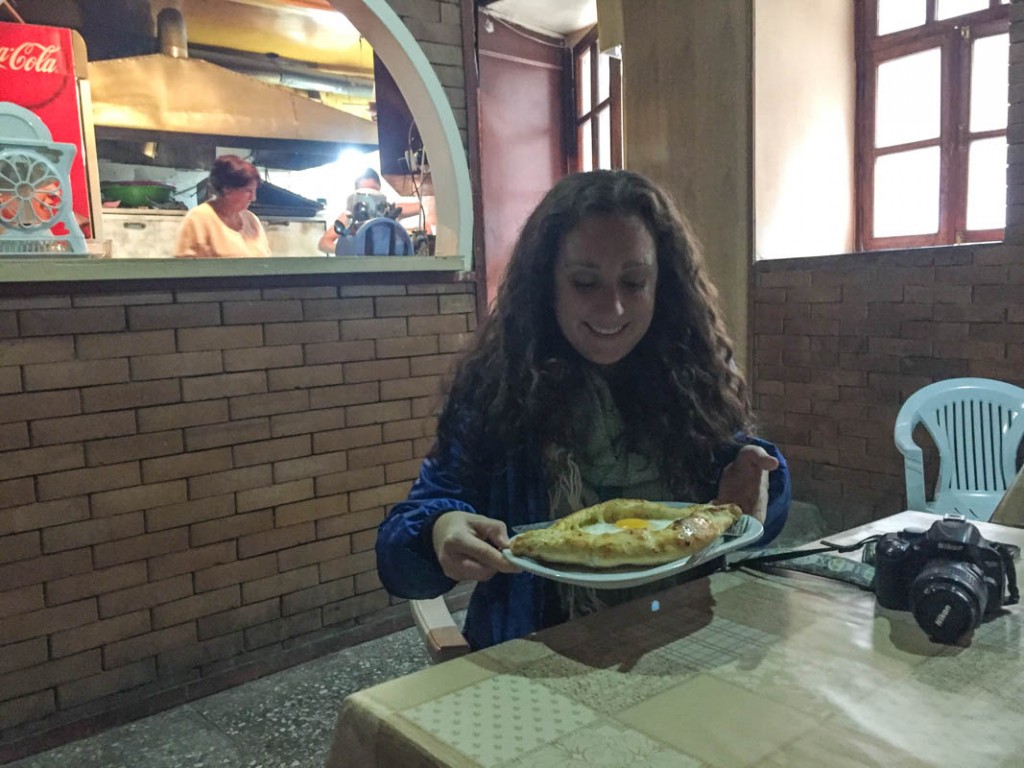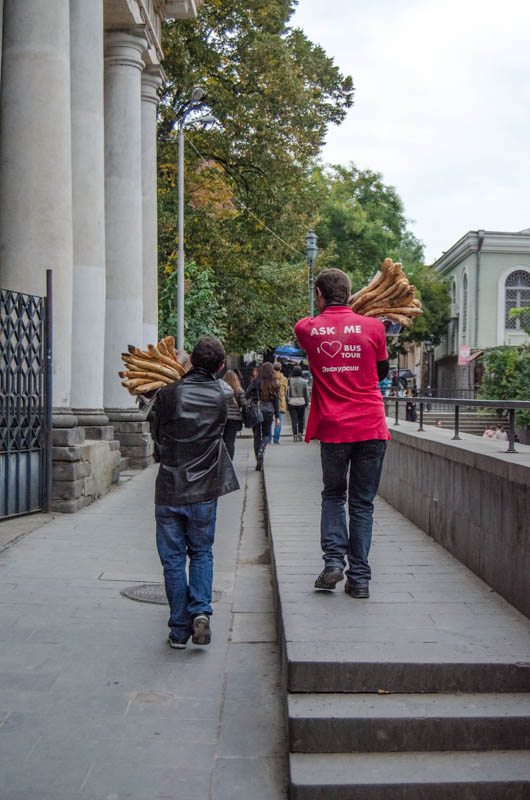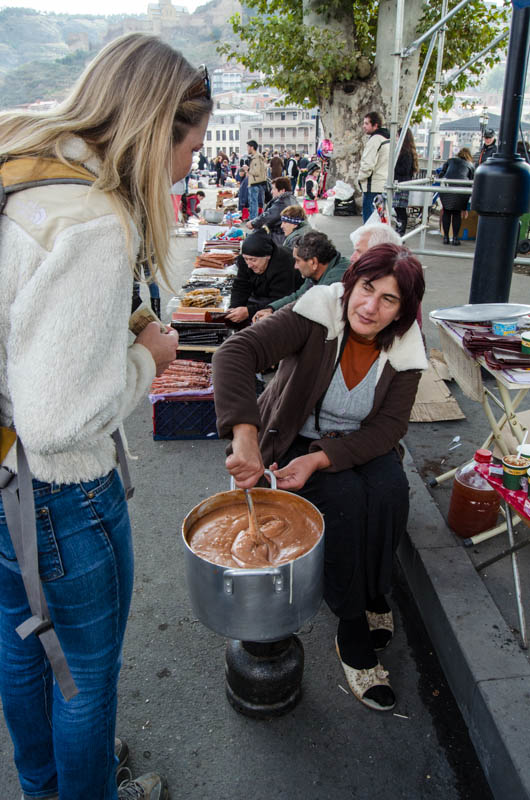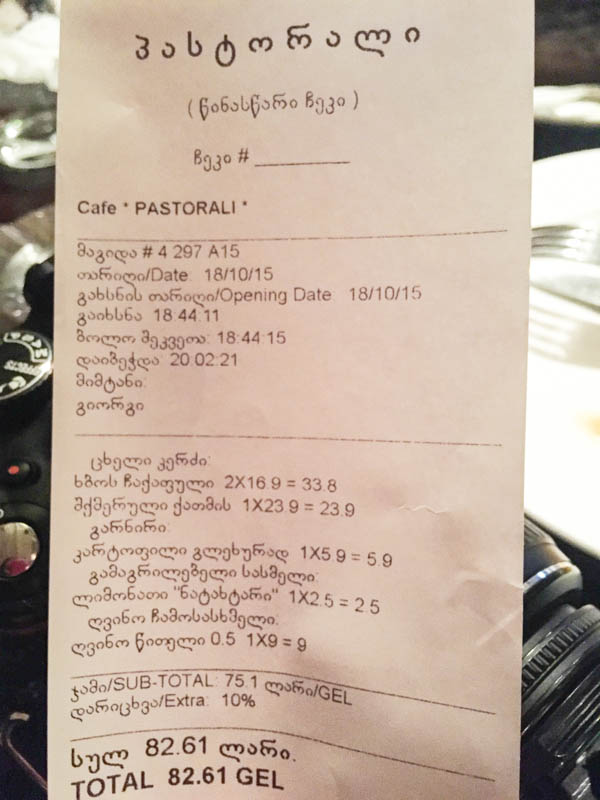 On par with Georgian food is Georgian wine. Georgia has one of the oldest wine regions in the world, and the earliest winemakers stored and aged the fermented juice in buried clay vessels called qvevris. Wines are still made using this traditional technique; Chris and Jen both loved the unique taste of qvevri-made wine, but for me it had too much of a sharp, vinegar taste. Luckily for me Georgia also makes wine according to European technologies, and we were able to try some really fantastic new varieties like Saperavi (and the special version of Saperavi that became our group's favorite known as Mukuzani that is grown in a specific location and aged in oak barrels longer), Rkatsiteli, and Kisi.
Although Georgian wine suffered during Soviet times (its reputation was so popular that it was often slapped on non-Georgian wines… in fact, the wine sold under the Georgian name in the Soviet Union actually exceeded the country's actual ability to produce) and, much like in Macedonia, we found the wine tourism extremely underdeveloped. One exception was the German-owned winery Schuchmann. With Georgian grapes and winemaking and German efficiency and business standards, our two-night stay at the wine chateau was absolute bliss.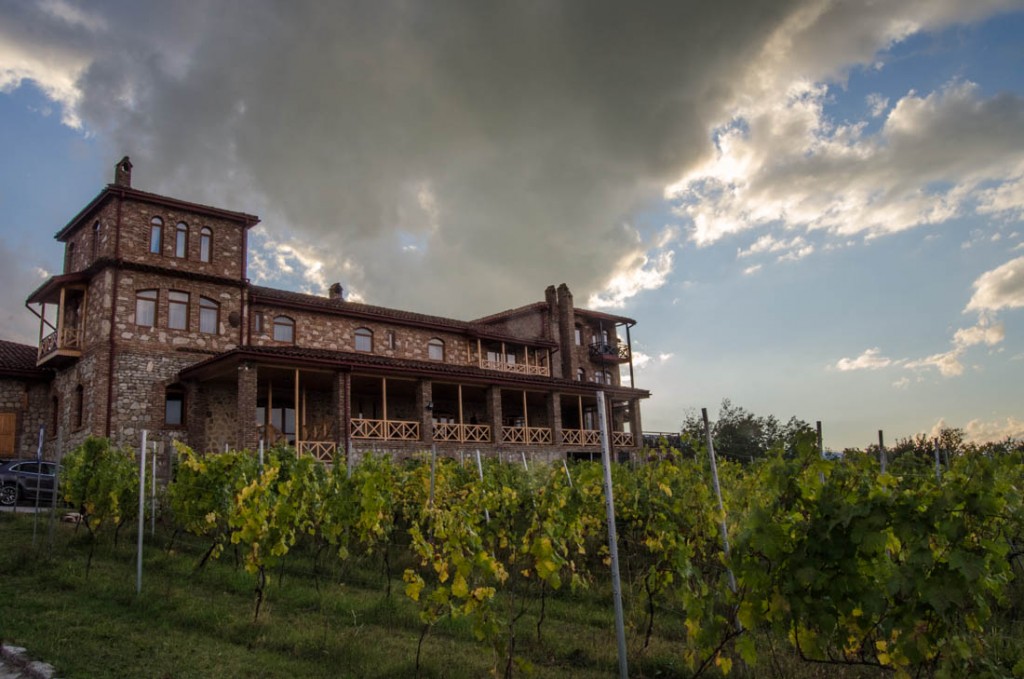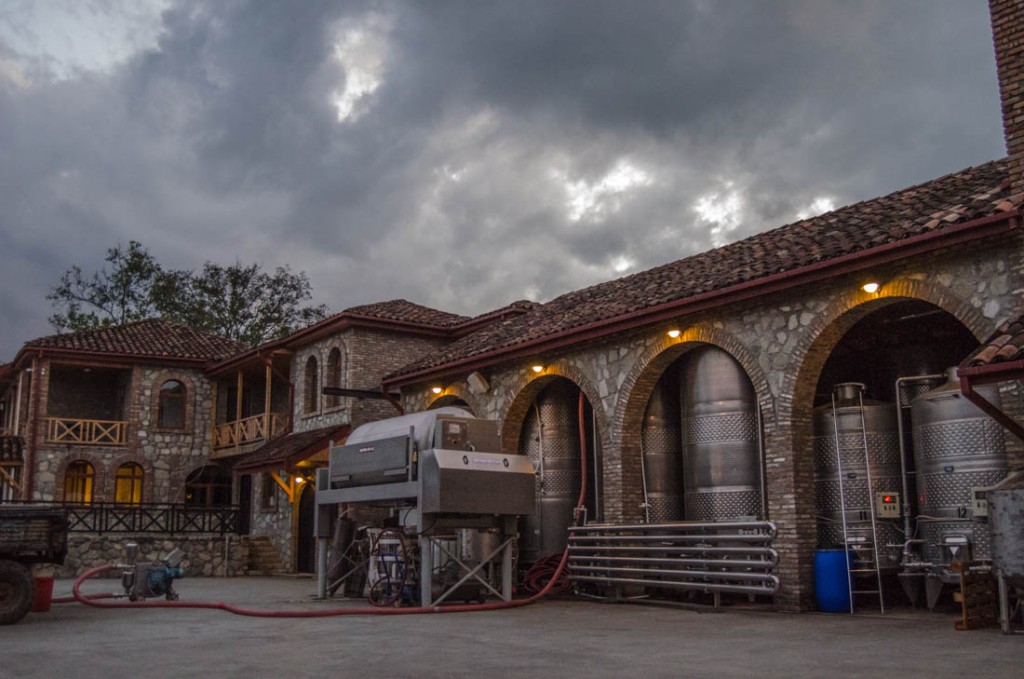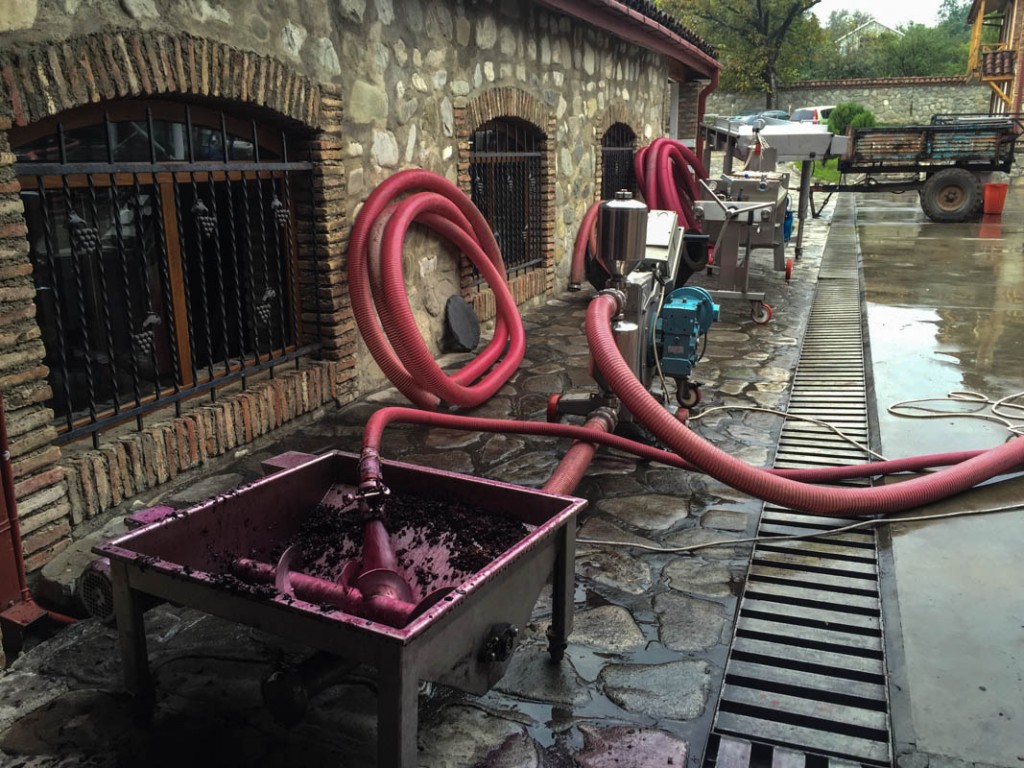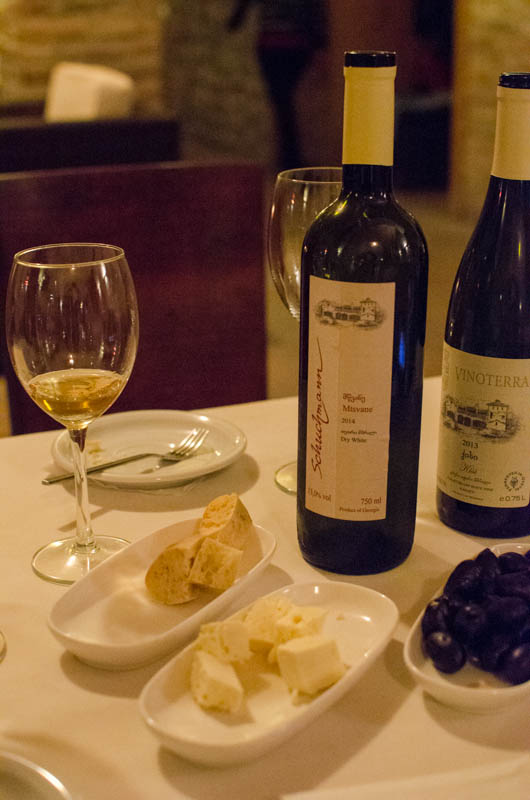 After a few glorious days in the Georgian countryside, we weren't sure what to expect from the capital city of Tbilisi. We checked into our Airbnb and immediately were struck by how decrepit most of the buildings looked. This reminded us a lot of Sarajevo, where buildings that looked rundown on the outside were actually quite beautiful inside. It seemed like the exterior of most buildings just wasn't important…I'm not sure the cause of this and eager to know it if any readers can shed some light. This isn't the case in all areas of Tbilisi (much of the tourist, old town area looks like it has undergone renovation), but definitely in the majority of what we saw and contributed to the authentic realness that we felt while we were there.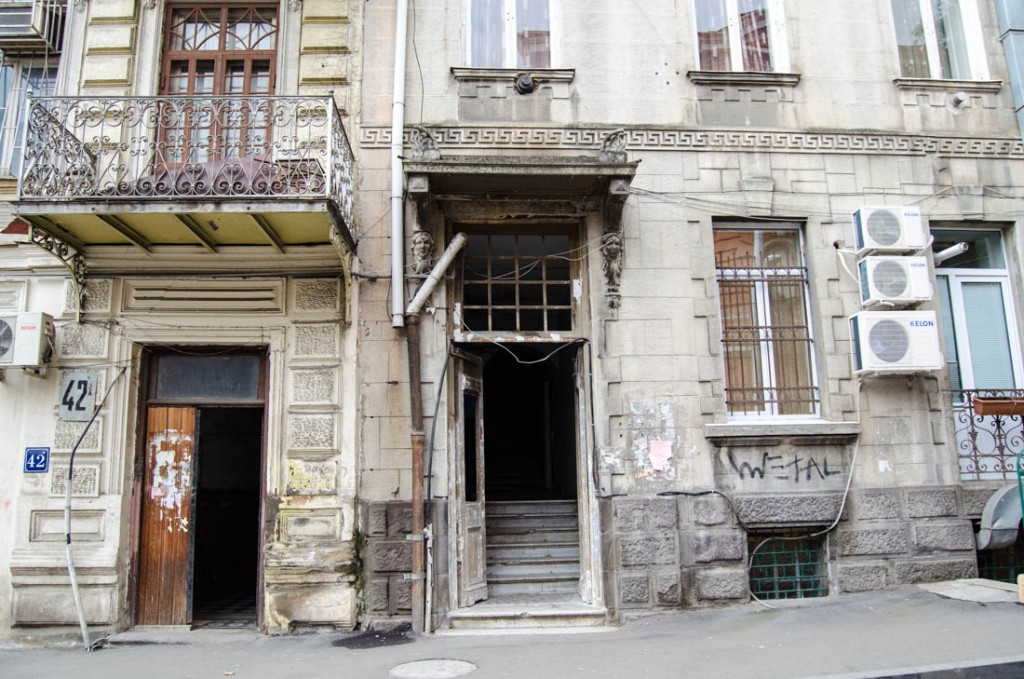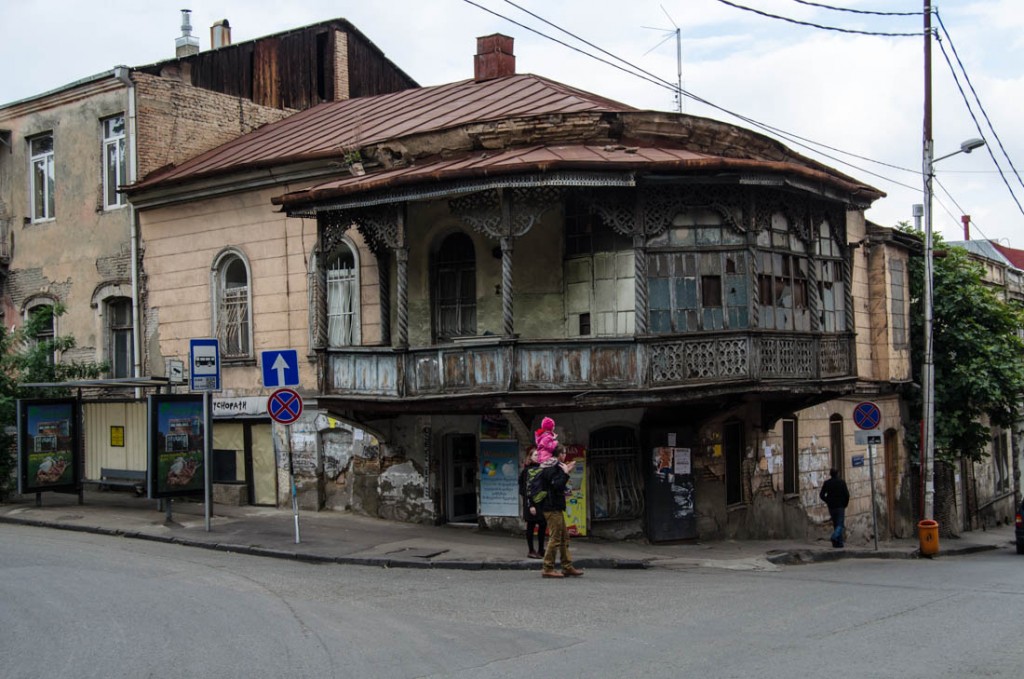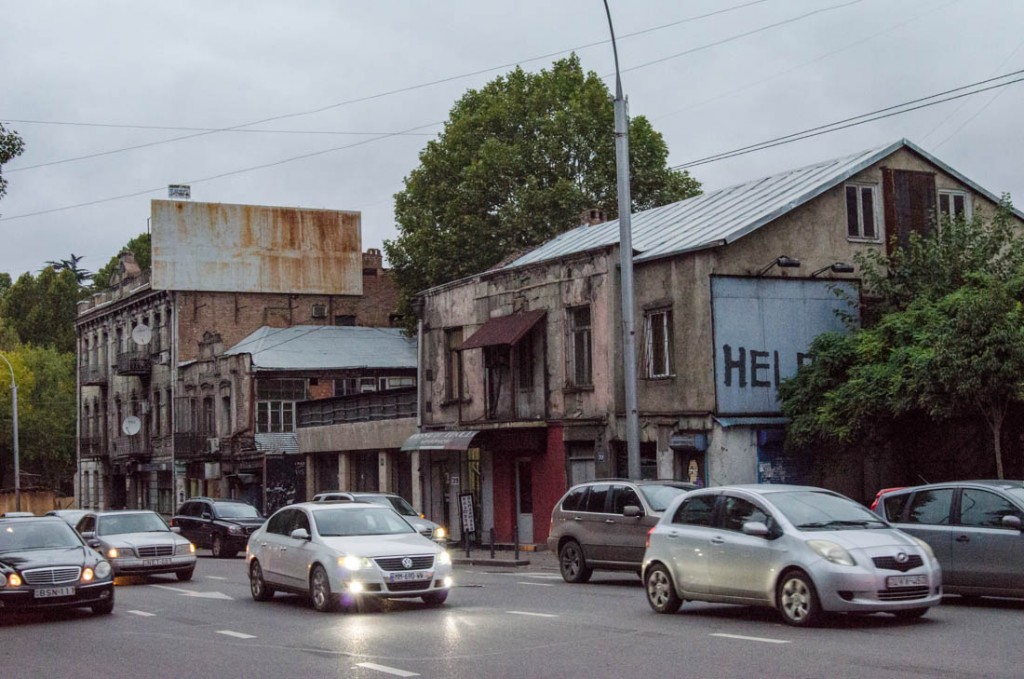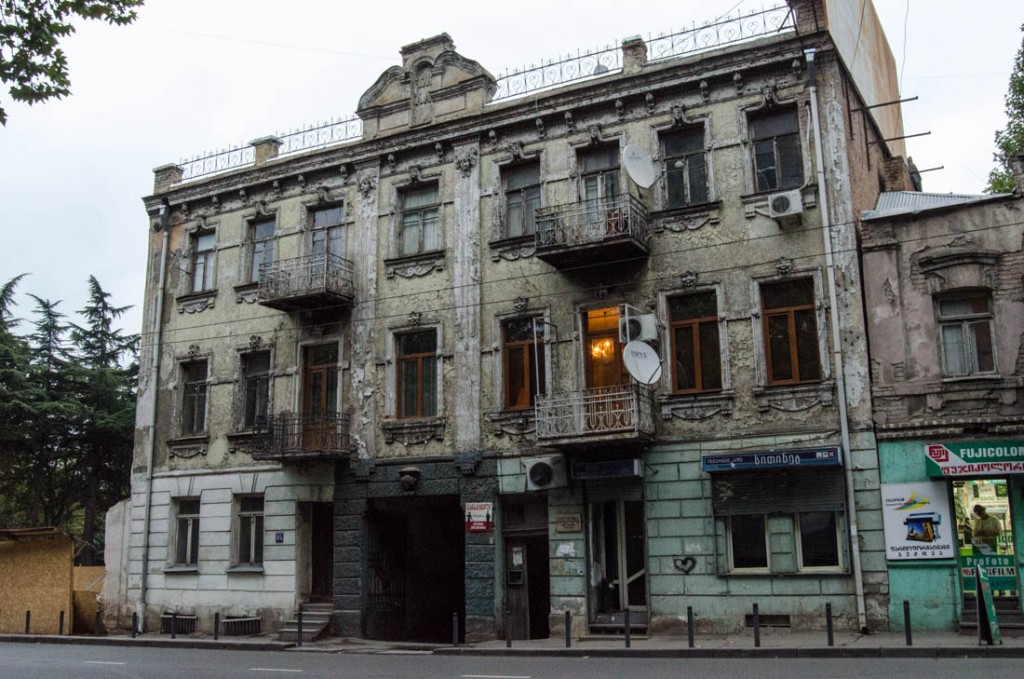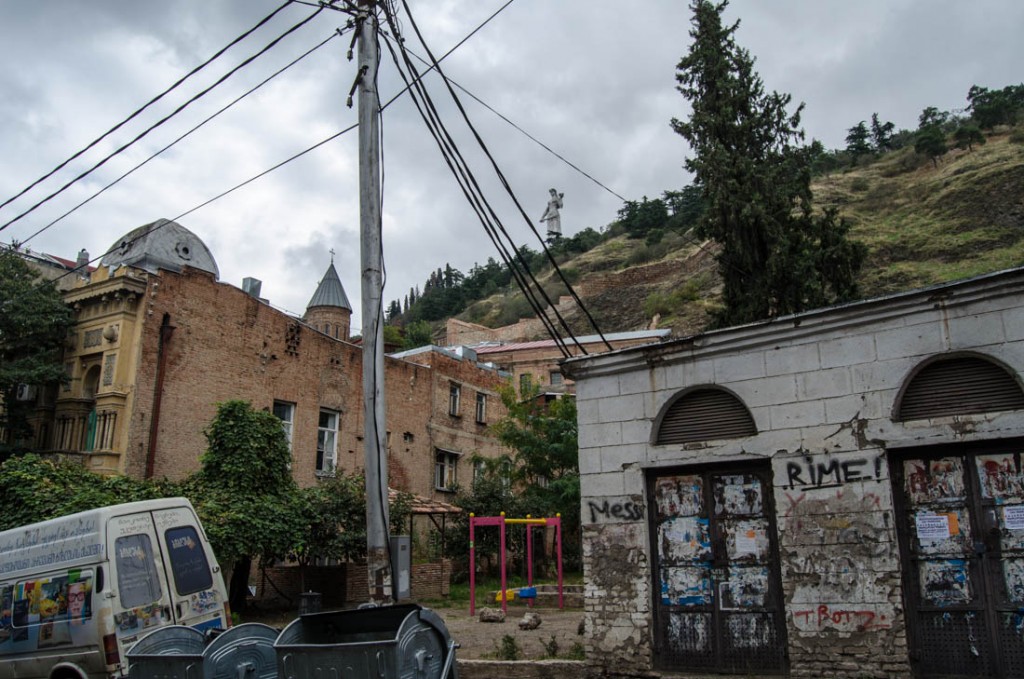 Chris, who had been in Tbilisi while we were in Turkey, had curated a great New York Times-style "36 Hours in Tbilisi" for us. On our first night he took us to one of the main commercial streets outside of the tourist area, and we had dinner surrounded by locals at an incredibly trendy restaurant. When we noticed a line of restaurant goers congregate around a nearby table, we asked our waitress what was going on. Apparently we were dining right next to the most famous Georgian, rapper Bera Ivanishvili. We, of course, began Googling him and learned that he is the son of a Georgian billionaire and former Prime Minister and currently lives in Los Angeles. Readers, even though I knew you'd want to see a picture of me with the most famous Georgian, I have to admit that I was too chicken to go ask for a picture. But thankfully for you, Jen—fueled by a couple glasses of Georgian wine—was the brave one, and I followed behind her as she confidently strode up and asked for a picture. After hearing we were from the U.S., Bera asked one of the guys at his table to come over and introduced him as "my friend Nash from the U.S." We took a few pictures and said thank you and goodbye (Bera was incredibly friendly and gracious) and returned to our table triumphant. Later, when checking out Bera's music, we noticed that his friend Nash was actually the director of his music videos and also an internet celebrity on Vine. Also, these incredibly successful gentlemen were only 20 and 17 years old, respectively. I officially felt old.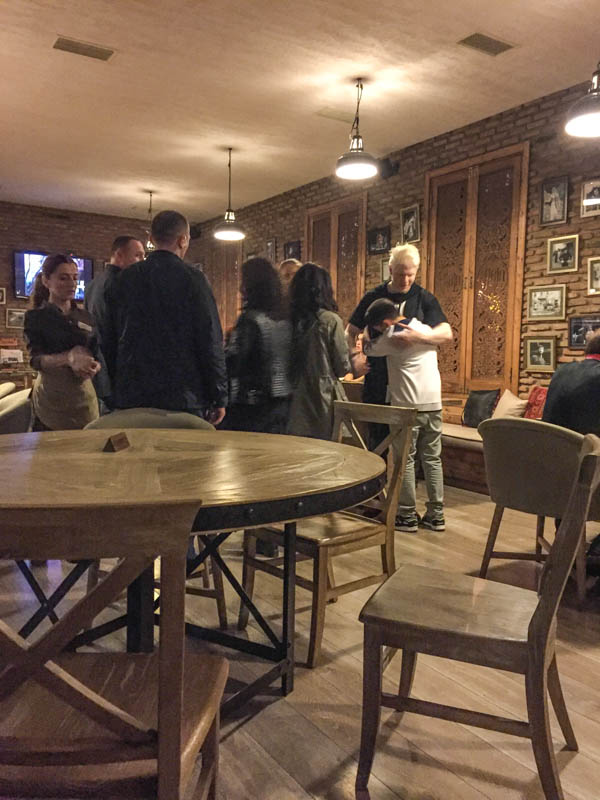 The morning after our celebrity sighting, we spent our full day in Tbilisi walking around the old town and hiking up to the top of the ancient fortress overlooking the city. There was a bustling street festival going on, and the city was alive with music, games, street food, and wine. We had dinner on one of the very nice, touristy streets and closed the evening with backgammon and hookah.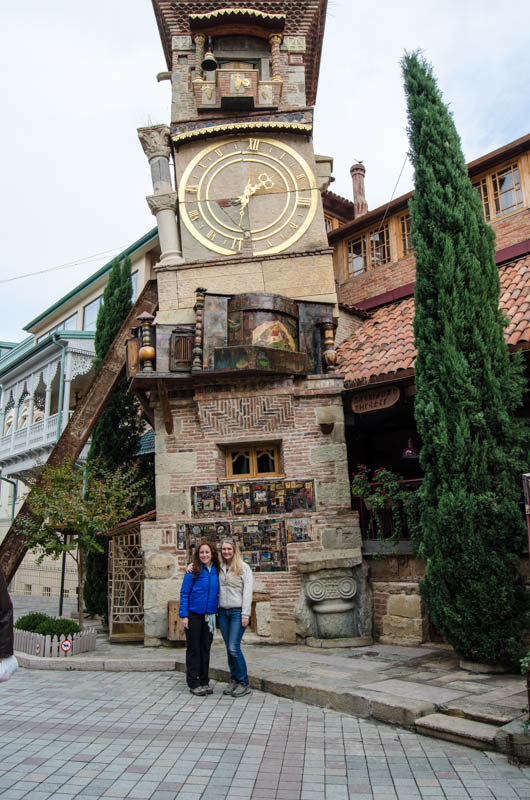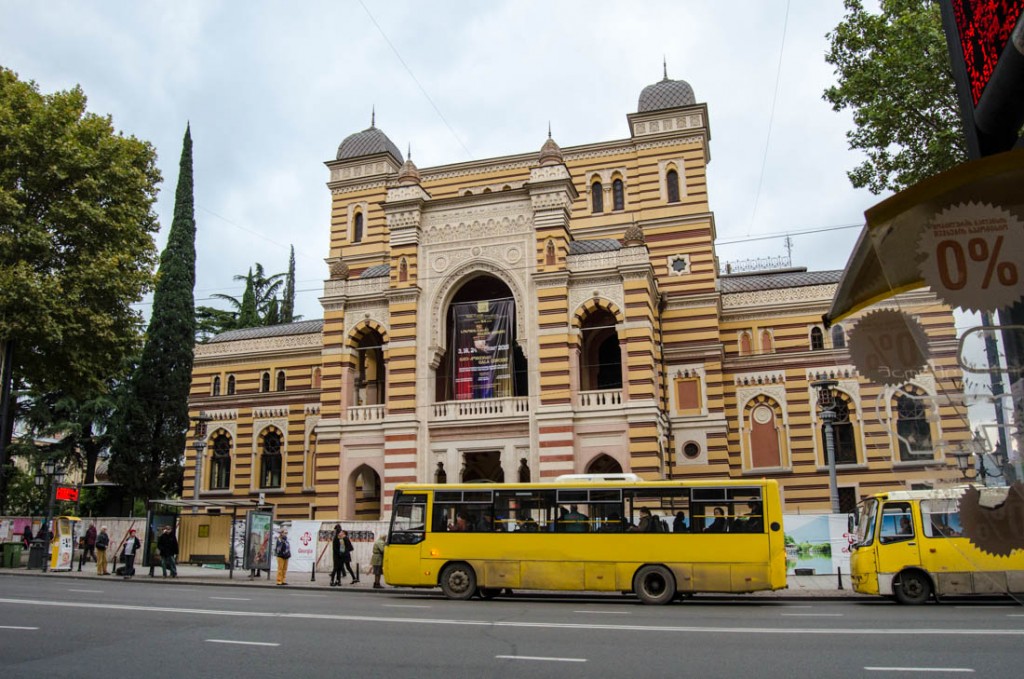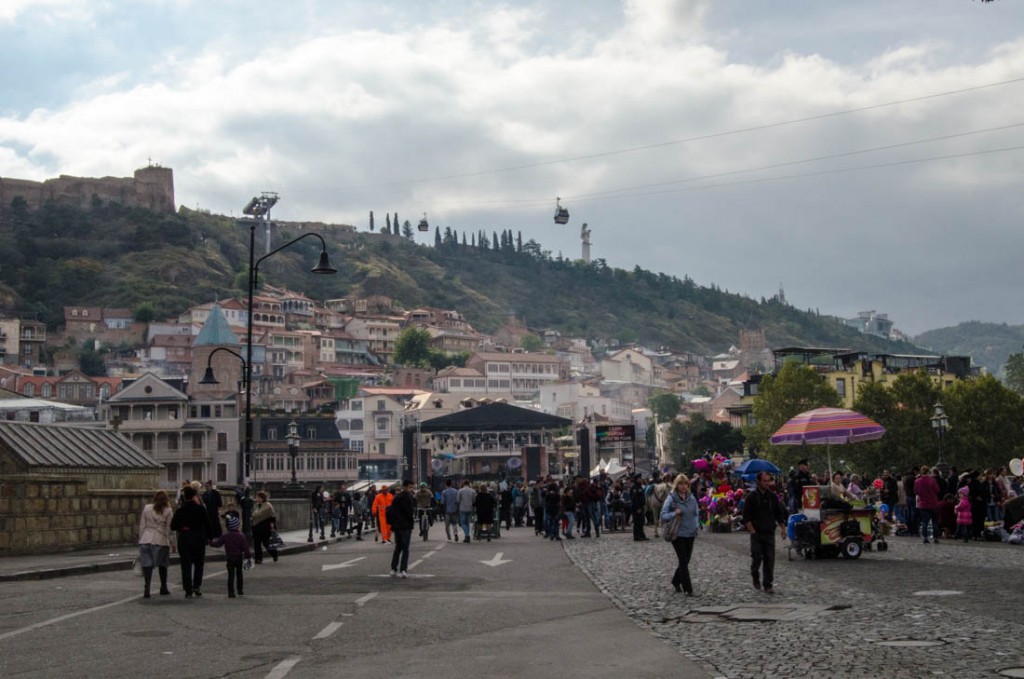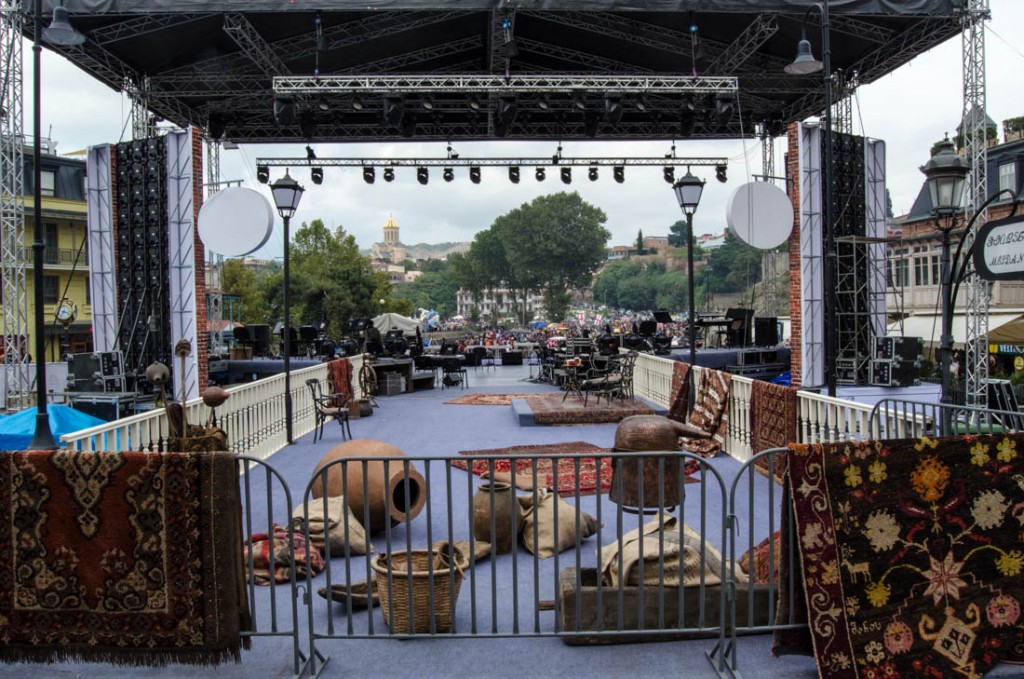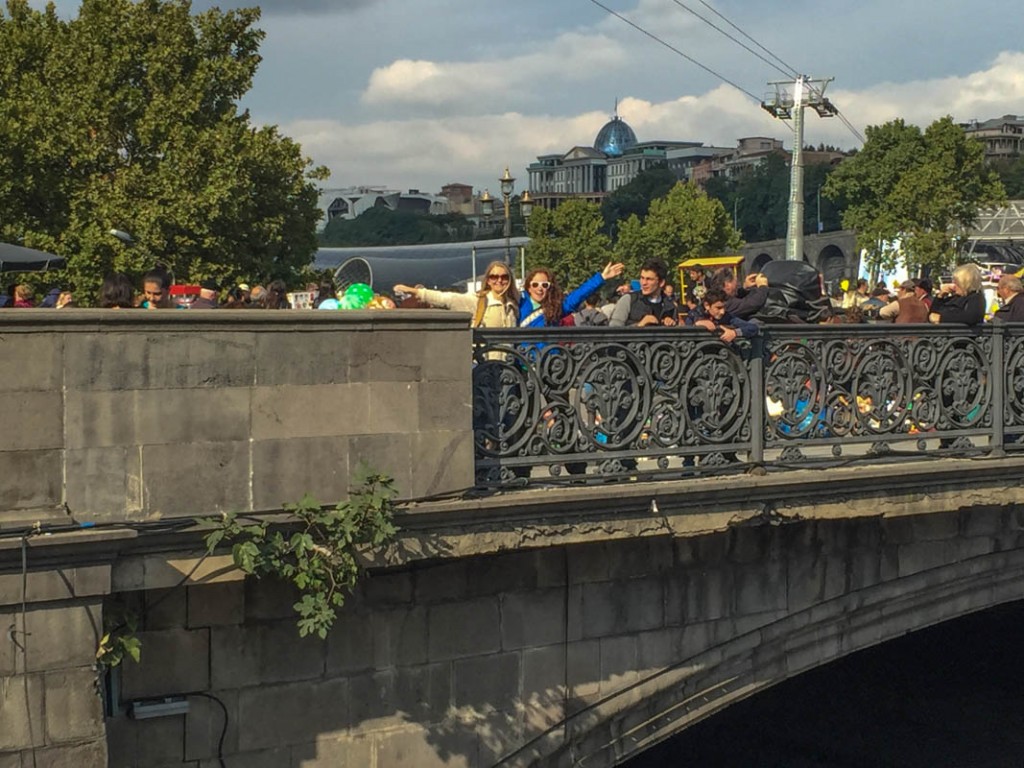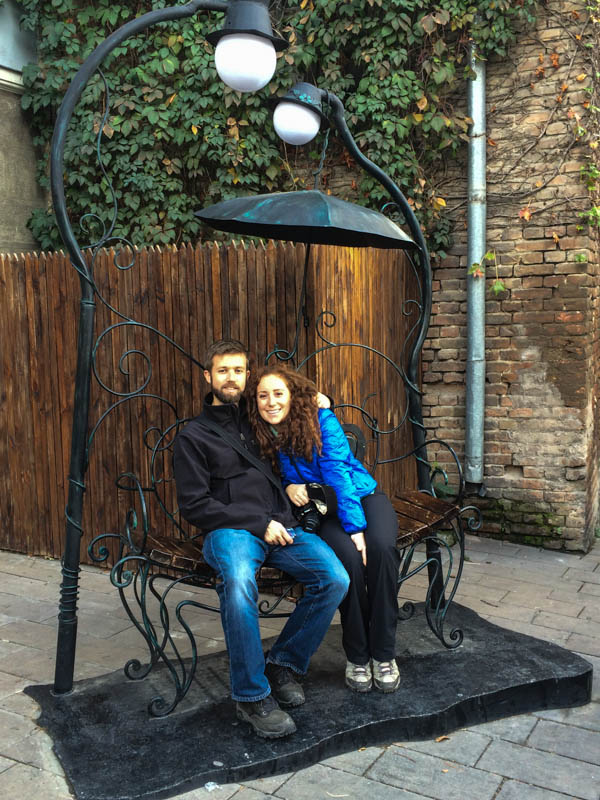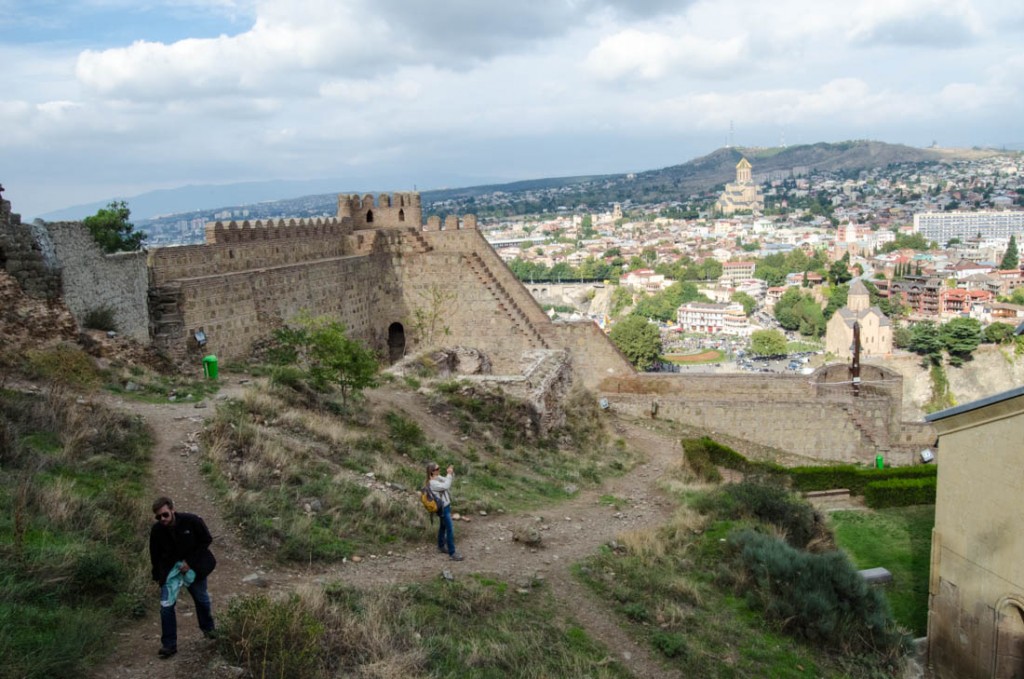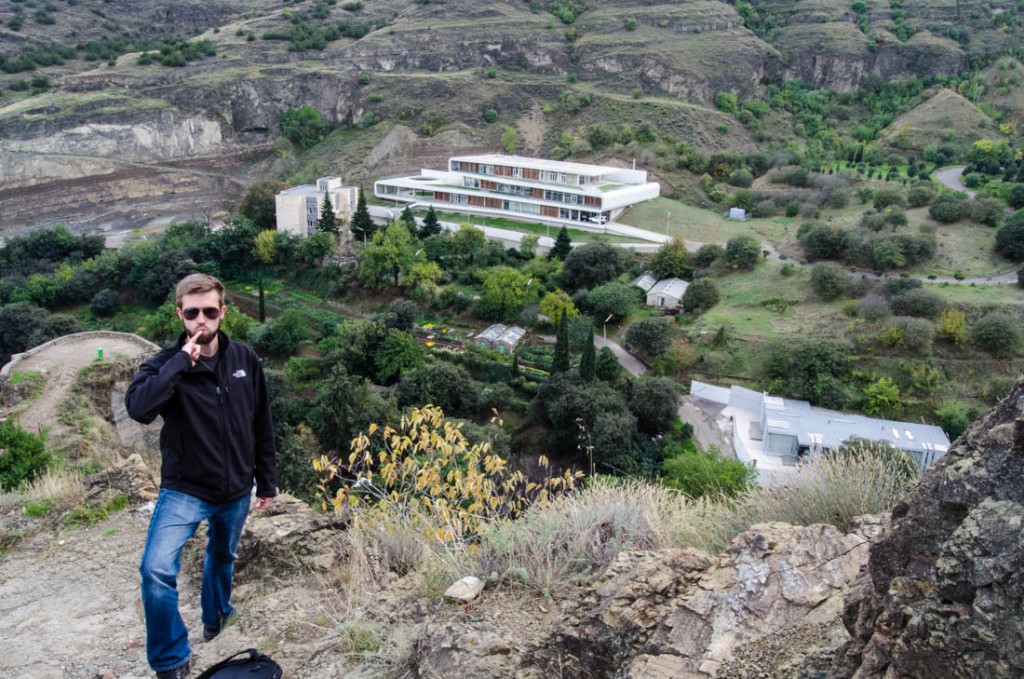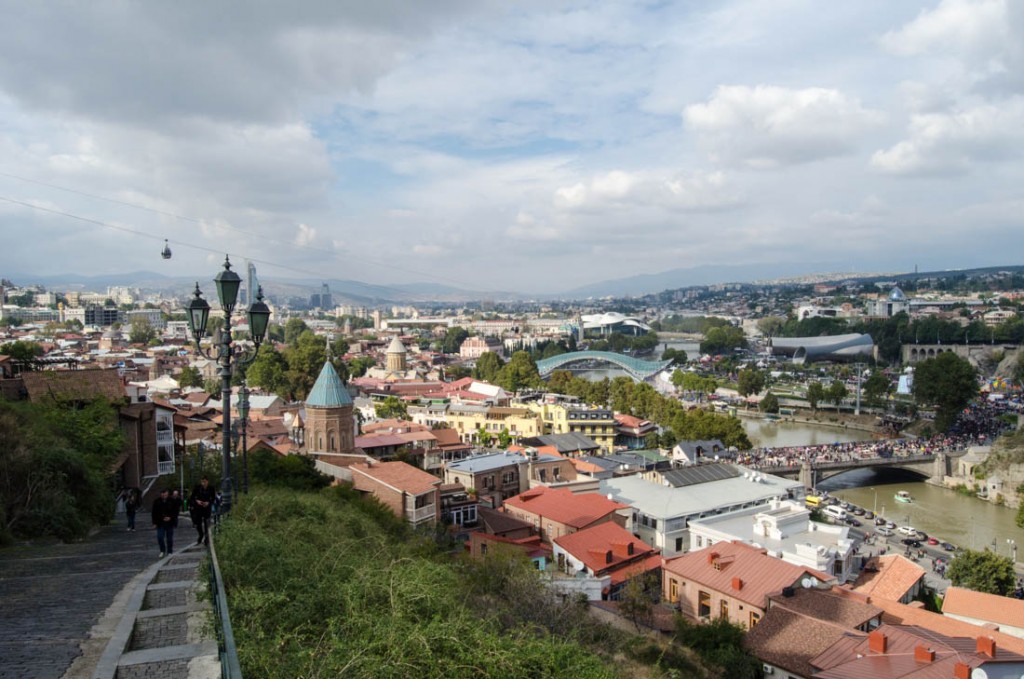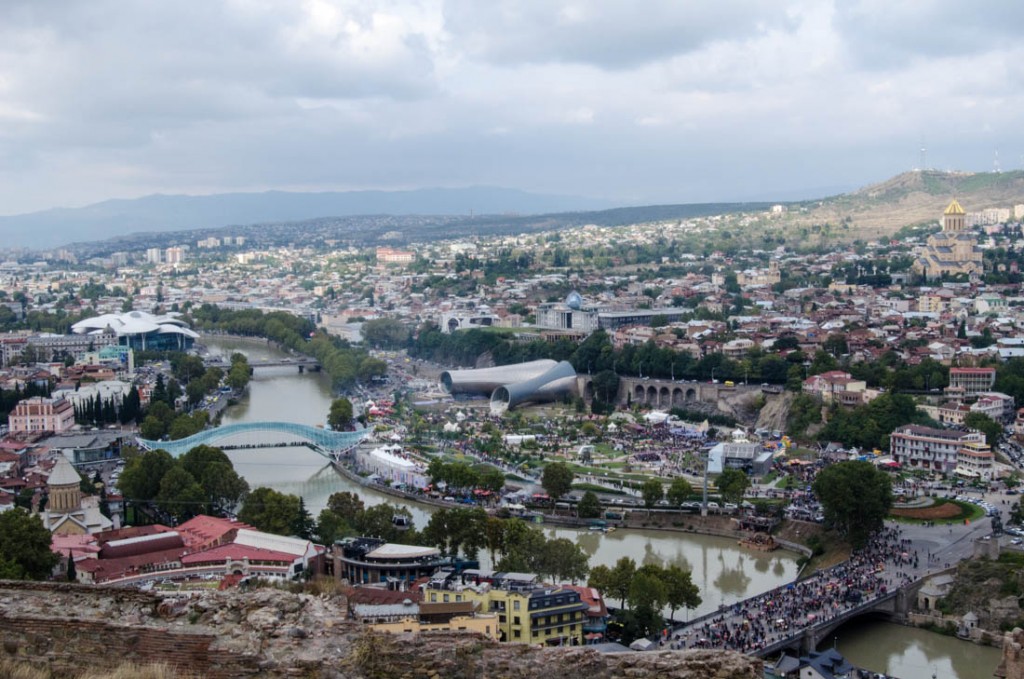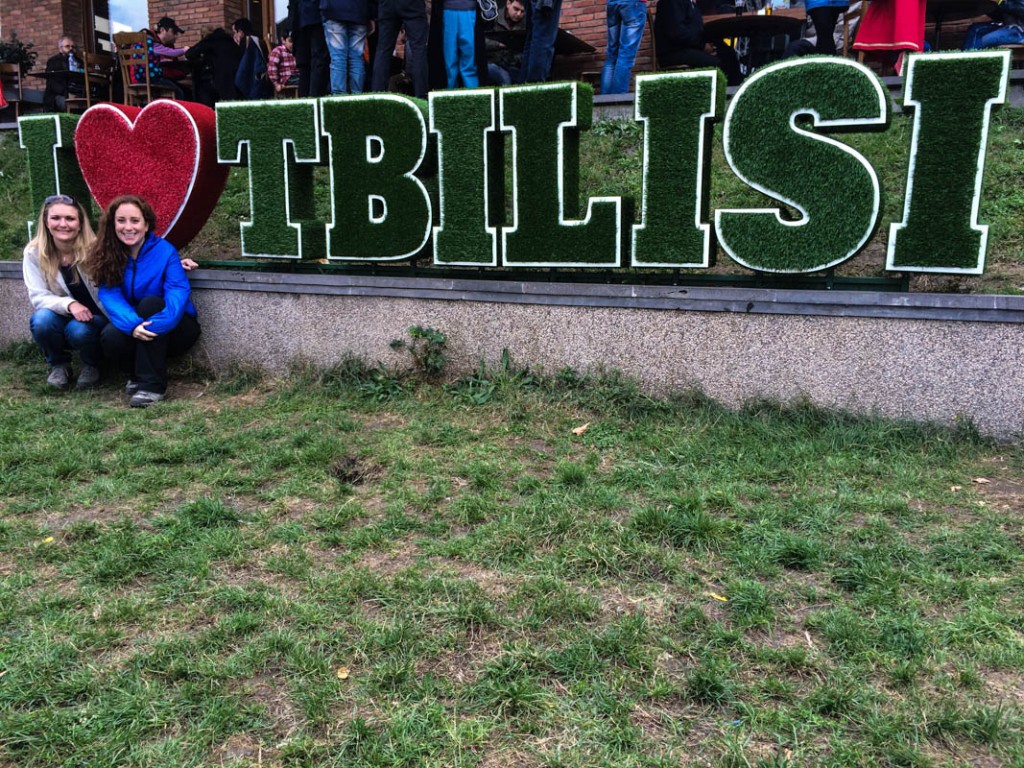 Our visit to Georgia was one of our favorite travel experiences so far. From the rugged mountains to the incredibly real capital city, I have no doubt that Georgia will soon be at the top of more travelers' itineraries. For my part, I feel very lucky to have seen it while it was still so raw and real.