Describing our combined budget for Malaysia and Singapore is a little bit like trying to average your restaurant bills for a hamburger joint and a steakhouse. The average costs for each place are just so different that lumping them together doesn't give you an accurate picture of what it costs to visit each place on its own. Yet for us, given how we used Malaysia as a jumping off point for Singapore, there is just no easy way to separate the two, so here you have it: our combined Malaysia/Singapore budget. But any way you slice it, we did a fantastic job traveling cheaply while we were in these two countries. We spent a total of $1,777 during our 16-night stay in Malaysia and Singapore. This equates to $778 a week and well under our $1,000 goal.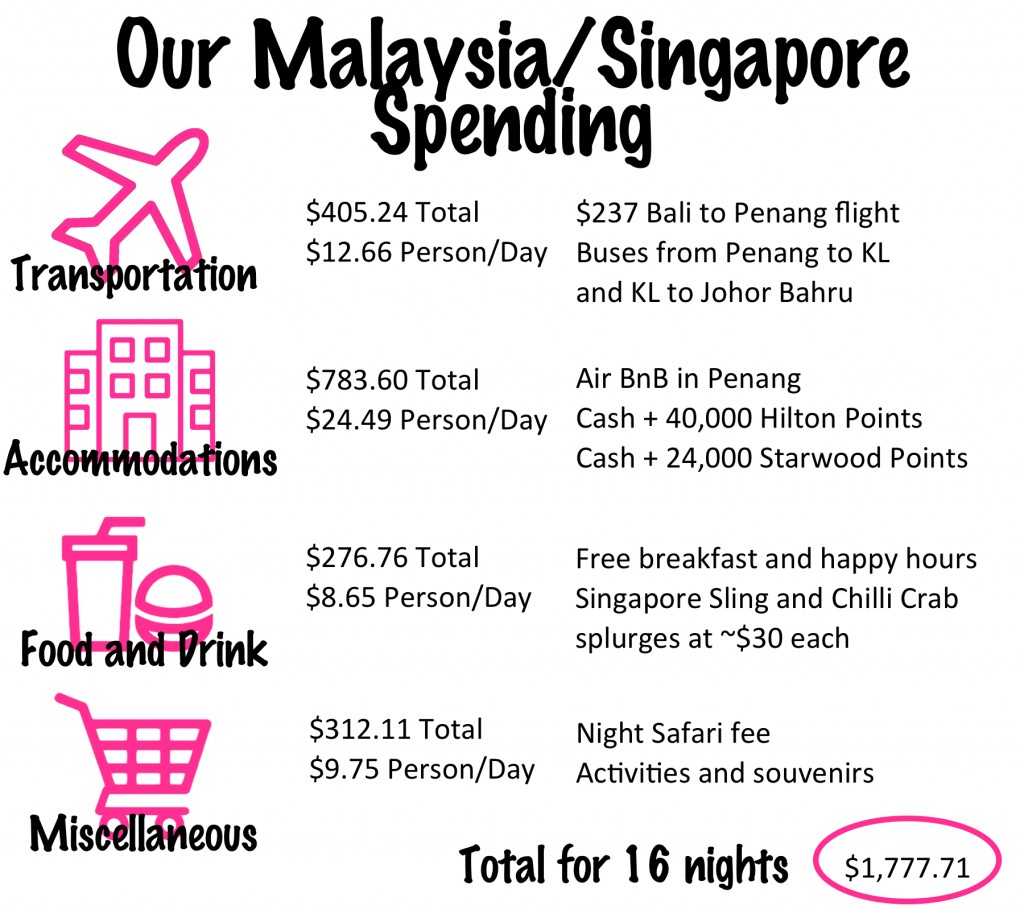 Our low spending in Malaysia and Singapore was mostly thanks to our friends at Hilton Doubletree, which I'll talk about more below under Accommodations and Food and Drinks. Also, we were able to see Singapore—one of the most expensive cities in the world—and still stay on budget by using neighboring Johor Bahru (JB) as a budget-friendly jumping off point for day trips into Singapore. JB is a city at the very tip of Malaysia and connected to the island of Singapore by a 1 km-long bridge. Our plan was to stay in JB for four nights and go into Singapore during the day to get in our sightseeing. Then, after seeing most of the main sites and getting our bearings, we would splurge for two nights at the Sheraton in Singapore and be able to relax at the pool and have two leisurely days before Chris left for his Qatar/Iran/Kuwait trip and I had nearly 30 hours of travel back to the States in front of me. Sounds like a good plan, right? Sadly, we grossly underestimated the time intensity of crossing the border between two sovereign nations, especially one like Singapore that is such a stickler about immigration.
Visiting Singapore from JB required us to walk from our hotel to the Malaysian checkpoint, wait in line to get our passports exit stamped, wait in line for a public bus that would take us the 1 km across the bridge to the very imposing and heavily fortified Singapore checkpoint, fill out an immigration card for Singapore, wait in a very, very long line that moves at an almost imperceptible pace to get our passports entry stamped (which gives you ample time to agonize over whether you chose the correct line), and then get back on the public bus after customs to take us from the very top of the island down to the other end where all the sites are. Getting from JB to our first tourist destination in Singapore took three hours (one way… we had to do it again to get back that night). Suffice to say, we did this one time during our four-day JB stay and never again. Instead, we packed the rest of our sightseeing into our two nights at the Singapore Sheraton.
Budget travel is not without its challenges, friends.
Transportation
To get from Bali, Indonesia to Penang, Malaysia we booked a fairly cheap Air Asia ticket. To get from Penang to Kuala Lumpur (KL) we debated several options and settled on trying a "luxury" coach bus. We did a lot of research and found Aeroline to have the highest reviews, and we would have had a very comfortable ride if it weren't for the swarm of mosquitoes that tried to hitch a ride to KL with us. Chris and I went on a bit of a mosquito-killing rampage, establishing ourselves as heroes of the bus (in our minds, at least), and then tried to settle in and enjoy the surprisingly good food on board and great selection of movies available.
We ran into some trouble when we tried to find a way to get from KL to JB six days later. We had failed to consider that we would be traveling on the eve of Eid al-Fitr (the end of Ramadan), the equivalent of the night before Thanksgiving in the U.S., and we found nearly all buses to JB were booked up. We ended up deciding to take another Aeroline bus, but into Singapore instead of JB (since this when we were still under the illusion that JB to Singapore would be a piece of cake). Imagine the process I described above in reverse, except this time we had all of our heavy bags and had just gotten off a six-hour bus ride. Not the most fun day to say the least.
Accommodations
Our accommodations were definitely a major highlight during our stay in Malaysia and Singapore. In Penang, we stayed for four nights in an absolutely adorable Air BnB for $37 a night. We had to go downstairs to use the shared bathrooms, but the inn was in a beautiful old building, the rooms were spotless, and the proprietor was incredibly friendly and knowledgeable about the area.
We spent six nights in Kuala Lumpur at the Hilton Doubletree for $35 plus 4,000 points a night and four nights in Johor Bahru at the Hilton Doubletree for $40 plus 4,000 points a night. After a stretch of Air BnBs in Indonesia and Penang, I was ready to take full advantage of all the amenities of the hotel and fully enjoyed using the bathrobes, slippers, gym facilities, and pool.
Lastly, for our two nights in Singapore, we chose to use cash + points to stay at the Singapore Sheraton Towers for $130 plus 12,000 Starwood points a night. The cash and the points values were much higher than we usually like to spend for this trip, but affordable accommodation options in Singapore are limited (without points, the Sheraton goes for at least twice or three times that a night), so we used points to help cut down on the out of pocket costs. In the end, it was a small price to pay to stay at the beautiful hotel in a great location so we could see Singapore without spending hours in Malaysia-Singapore immigration purgatory.
Food and Drink
Our food and drink spending in Malaysia and Singapore—including a few splurges like $27 Singapore Slings and chilli crab—averaged only $8.65 per person per day. Once more, we have our friends at Hilton to thank for this boon to our budget. With our Hilton credit card that confers automatic Gold Status, we once again got access to the free breakfast buffet, which is an absolute smorgasbord of any type of Malaysian, Indian, Chinese, or Western-style breakfast food you could ever want (except pork bacon, which Chris was very sad to find out isn't on the menu in Muslim countries) that left us stuffed until dinnertime. And the wonderful people at Hilton decided to give us access to the Executive Lounge in both KL and JB. This meant free soft drinks, coffee, and snacks during the day and two hours of cocktails and appetizers at night. The lounge access isn't always guaranteed for Gold members, so it's a nice treat when it happens. We took full advantage of the opportunity and, for ten days, ate primarily at the hotel and only spent money on things elsewhere that we wanted to try for experience's sake.
In Penang and in Singapore, when we weren't staying at the Hilton, we ate primarily from the hawker centers that offer all the delicious forms of Malaysian, Indian, and Chinese cuisine for only a dollar or two a plate. More so than anywhere else we've been so far, in Malaysia, and even in the otherwise pricey Singapore, you can eat like a prince on a pauper's budget if you don't mind pull up a stool next to a street vendor.
Miscellaneous
We spent $312 on miscellaneous items in Malaysia and Singapore. About a third of that was souvenir spending at the gorgeous Peter Hoe Evolution store we found in KL (and I count ourselves lucky to have gotten out of there so cheap given how I wanted to buy the entire store), and the rest was entrance to attractions like the Singapore Night Safari and our cooking class in Penang.
Tips for Visiting Malaysia and Singapore
Language
Bahasa Malaysia is very similar to Bahasa Indonesian. Much like in Indonesia, thank you = terima kasih (tuh-ree-muh kah-see). Hello is time dependent with the greeting starting with selamat (suh-lah-mat) then pagi (pag-ee) for morning, tengah hari (teen-gah har-ee) for afternoon, and petang (puh-tong) for evening. 

There are four official languages in Singapore: English, Malay, Mandarin, and Tamil. But the common language of tourism and business is English.
Money
Credit cards were much more widely accepted in Malaysia and Singapore, though we always made sure to carry cash for the hawker centers. Small change also comes in handy for buses that require exact fare when you pay onboard. In Singapore and other places we've visited like Tokyo and Beijing, it often makes sense to look into whether the public transit system offers a one or multi-day pass. You usually end up saving a lot of time and money if you plan on using the system a lot in a given day. But if the passes require a deposit, just make sure you actually return the card to get your deposit back, otherwise it cuts into your savings.
Tipping is generally not practiced in Singapore since it is frowned upon by the government. But in certain circumstances, like with luggage or spa services, it is still common to give a small tip.
Survival Tips
We found George Town, Penang to be a wonderfully walkable, quaint area that was very comfortable to be in as a tourist. Even in places where there are primarily locals like hawker centers, people are very nice and want to help you. A friendly food vendor showed us the ropes for how to order and eat at a hawker center: peruse the vendors and decide on what you want to eat, order it directly from a vendor, point him or her to where you want to sit, go grab a table, order a drink from the drink vendor that approaches you (since they generally host the tables, you are not supposed to bring in outside drinks and instead order from them), wait for the food vendor to bring your food to you, and then pay in cash when it arrives.
Likewise, the area we stayed in Kuala Lumpur's city center was incredibly safe and well-to-do. We regularly walked the well-lit streets each night to catch glimpses of the shining Petronas Towers. The only place we did not feel very safe or comfortable was in Johor Bahru. People in Singapore had warned us to watch our bags when going into JB, and we initially discounted their warnings, assuming that compared to their city, Singaporeans must think everywhere else is a den of iniquity. However, as we started to explore the area surrounding our hotel, we found packs of rough-looking young men just prowling around the shopping malls, overpasses, and street corners. I have no idea where all the women were, but the streets were full of groups of five or six guys just hanging out and staring at passersby. Unlike anywhere else we've been yet, Chris and I just got a bad vibe from the place, and we decided to stick mostly to the hotel and enjoy the amenities there during our stay in JB.
Be on your best behavior in Singapore. I already talked about the strict penal code that Singapore employs. But as long as you aren't doing anything wrong, you don't have to worry and generally can sit back and enjoy the benefits of being in such a safe and clean city. Keep in mind that some things that are ok back home like jaywalking or eating on the train could land you with a hefty fine or at least some hassle from a law officer in Singapore.
Highlights and Lowlights of Malaysia and Singapore
Favorite Dining Experience
Hers: The vegetarian buffet at the Indian Temple of Fine Arts in Kuala Lumpur
His: Chilli crab. It was worth every bit of the blood (those crabs have sharp claws), sweat, and ruined shirts it took to eat it
Favorite Sightseeing Experience
Hers: Our market tour and cooking class in Penang
His: The Supertrees and the light and music show at the Gardens by the Bay
Most Frustrating Travel Experience
Hers and His: The Malaysia to Singapore border crossing experience