We thought Indonesia was going to be very, very cheap for us. Our total spending of $3,476 for two people over 21 days wasn't terrible, but we'll likely need to make some of that up in Malaysia or Eastern Europe to get us back to our goal of under $1,000 per week.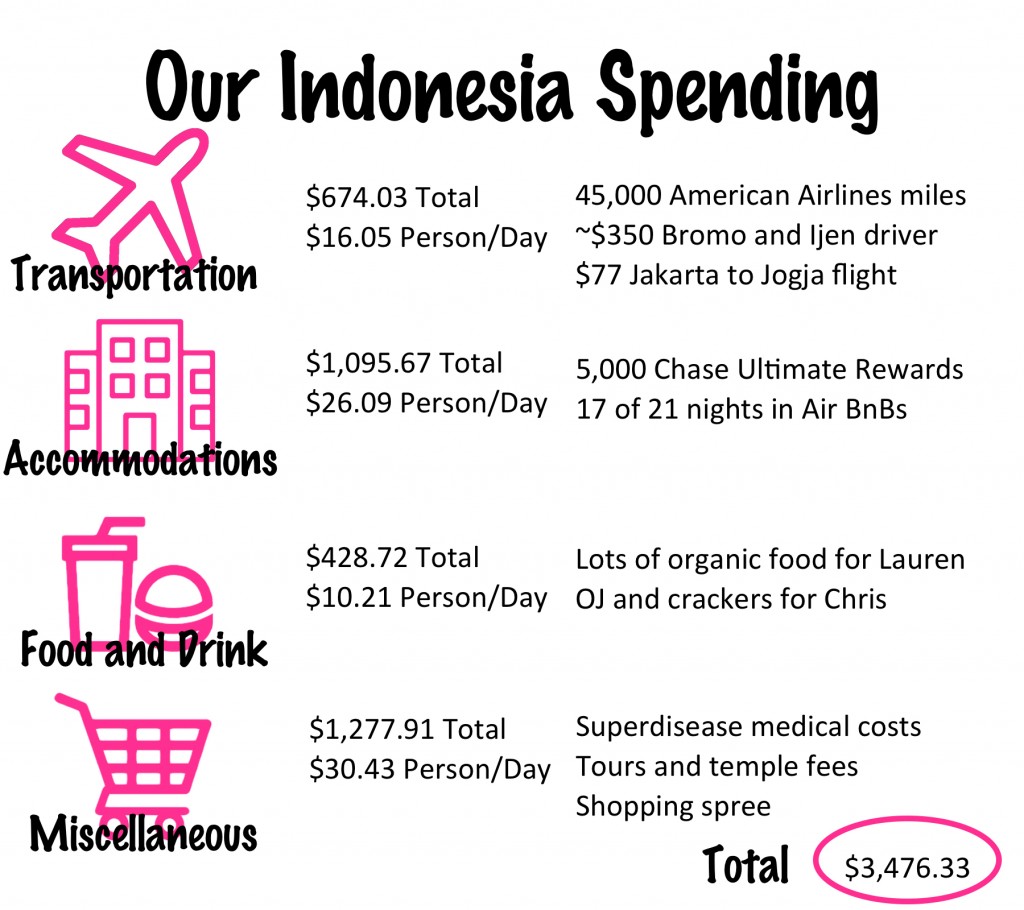 The reason we were over budget in Indonesia was half intentional and half due to bad luck. The intentional part was paying for a private driver to take us around to Mount Bromo and Ijen. Sometimes we decide to scrimp on things, and sometimes we decide to splurge. At around $600 for three days, this was calculated splurge within reason. Also, we got our shop on while we were staying in Yogyakarta.
The part we weren't counting on in Indonesia was Chris contracting not one, not two, but three tropical illnesses. This added about $250 in medical costs (which is actually amazingly low considering the super-disease situation) to our spending and forced us to eat the cost of two prepaid nights in a fairly-pricey Air BnB when we decided it was best to stay put in Ubud for longer.
That said, during his convalescence, Chris wasn't dining out, getting massages, or doing yoga (sadly), so that was a small offset. We've submitted a claim to our travel insurance company, so we may get that back in 1-2 months when we're in Eastern Europe. If that claim comes in, we'll be sure to put the money to good use…. like buying vodka in Russia. [August 2015 update: we got reimbursed! Our spending for Indonesia now drops down to $3,227.81]
Transportation
I already discussed our awesome Cathay Pacific experience from China to Indonesia. That cost us 22,500 American Airlines miles each, so I'll deduct that from our Miles and Points Bank on the sidebar. To get from Jakarta to Yogyakarta, we paid cash for a quick one-hour flight on Garuda Indonesia for a grand total of $77 for two tickets (to quote Kenny Rogers, "You got to know when to hold 'em…." and just pay cash when flights are that cheap). Two days with a driver in Yogyakarta (though each 10-12 hour day still only cost us <$40) and a large portion of our $600 tour also hit the transportation cost category.
Accommodations
Accomodation costs in Indonesia were very low in the grand scheme of things. They weren't the insanely low amount of $9 a day like they were in China when we stayed almost entirely on points, but our decision to stay primarily at Air BnBs during our three weeks in Indonesia helped us save our points for future destinations while still keeping cash spending reasonable. And we didn't scrimp on our Air BnB experiences either. We had four absolutely fantastic places between Jakarta, Yogyakarta, Ubud, and Seminyak. All four places included breakfast, and we were able to ask our wonderful hosts for advice on how to get to/from the airports, the best restaurants, or about trustworthy drivers.
The exception to our streak of Air BnB stays was our Mount Bromo and Ijen tour, as well as our two nights in the Hyatt Regency Yogyakarta. For the latter, we chose the cash + points combination, so the luxurious Hyatt stay only cost us 2,500 Chase Ultimate Rewards points (that we converted into Hyatt points) plus $50 per night.
Food and Drink
We ate really cheaply in Indonesia, averaging only $10 a person per day. We received free breakfast with our Air BnB stays, and, when we did go out, even the nicer restaurants we went to were still incredible bargains by Western standards. That said, we could have put a serious dent in our food budget in Seminyak if we let ourselves.
Miscellaneous
Our miscellaneous spending in Indonesia was very high. We bought a good amount of souvenirs during our day visiting the artisans in Yogyakarta. Miscellaneous also includes admittance to temples like Borobudur and Prambanan, the Ramayana Ballet, the costs of drivers for those days, our village tour in Ubud, massages, yoga classes, and other activity-related spending. Here, also, is where we recorded Chris's medical costs ($250) and the lost Air BnB we booked for two nights Canggu Beach, Bali ($164).
Tips for Visiting Indonesia
Language
After being in Japan and China, we found Bahasa Indonesian much more manageable. It uses Latin characters, and you can mostly sound out the names of places you want to go or food you want to order. Our most frequent Indonesian words were: hello= halo (ha-lo), thank you= terima kasih (tuh-ree-muh kah-see), and excuse me= permisi (per-mee-see). It's also fun to say you're welcome= sama-sama (sah-mah sah-mah).
Money
Although it seemed like more places in Indonesia accepted credit cards compared to Japan and China, most vendors try to charge you an extra 2% for using a card, so we ended up mostly paying cash again during our time here. Thankfully, ATMs are plentiful (and often air conditioned), so this really wasn't a problem. Tipping is slightly more common in Indonesia compared to Japan and China, and some nicer restaurants will automatically add a small service charge (5-10%) to your bill. When they don't automatically, it's always nice to round up a little bit when you pay.
Culture
I'm going to break the culture section into two parts, since those of Java and Bali are very different.
In Java, I had my first experience being in a Muslim country for an extended period of time… let alone during Ramadan. Indonesia is actually quite progressive compared to other Muslim countries, but you can still see most women wearing headscarves, public displays of affection are frowned upon, and alcohol is taxed heavily to discourage its consumption. Most food shops were closed or had coverings over their storefronts during the daylight hours, and we sometimes felt uncomfortable eating in public when we were away from our hotel and it was still light out.
All that said, our discomfort was primarily due to our ignorance of the Muslim culture rather than anything anyone did to make us feel bad. Our Air BnB hosts helped to educate us, as well as the days spent with local drivers in Yogyakarta, Bromo, and Ijen. Our drivers would drop us off at our stop and then often go to a mosque to wash and pray while they waited for us. They also would not eat or drink anything from sun up to sundown, despite the hot temperatures and the fact that their workdays continued as usual. And they would always help us find somewhere for lunch and told us to eat without feeling bad about it. From them, we were left with a great amount of respect for their degree of dedication to their beliefs.
Of course, all places have their exceptions (like the tout we met in Jakarta who started off very friendly, but quickly started angrily shouting at us when it became apparent we weren't going to pay him to take us to Barack Obama's elementary school).
For Bali, you've already heard me opine on the wonderful culture that exists on the Island of the Gods. It is a place unlike anywhere else, and I hope to bring some of its smiling, relaxed, and intensely spiritual aura back with me from this trip.
Survival Tips
Public transportation in Indonesia is pretty rudimentary, so we stuck almost exclusively to taxis, which are incredibly cheap. However, we were warned to use Blue Bird taxis whenever possible (as they have the best reputation) and to always ask for the meter. And when you may not need a taxi, still try not to let the incessant calls of "Halo! You want taksi?" get to you. Yes, you may be asked 13 times within your one-block walk to the corner store from your hotel, but try to remember these guys are just trying to make a living out of a few dollars a day. I know that helped me keep my patience when I was considering making a t-shirt that said "NO TAKSI, THANK YOU!"
Highlights and Lowlights of Indonesia
Favorite Dining Experience
Hers: The inventive salads and exotic juices in Ubud
His: The night we forwent our usual dining street in Yogyakarta and ventured into side-of-the-road place that was packed with locals. We may have gotten a few curious stares, but it was the best fried chicken I have ever had
Favorite Sightseeing Experience
Hers: Our day in Yogyakarta visiting the craft villages and seeing the artisans work firsthand (and, of course, shopping)
His: The walk down from Ijen as dawn broke over the mountains
Most Frustrating Travel Experience
Hers: The overpriced, uncomfortable hotels we stayed in the night before our Bromo and Ijen visits. Guess it's nice to have monopoly power!
His: The obvious…. getting sick for one week with a super disease
Where We're Going Next
Malaysia! We'll be in Malaysia, and a little in Singapore, for the next two weeks. Stay tuned for our adventures in Penang, Kuala Lumpur, Johor Bahru, and Singapore.