Poland and Prague: another random grouping for expediency's sake. Besides their first letters, these two don't have much in common (especially since one is a country and one is city… but let's not split hairs here :-), except they happened to fall next to each other in our itinerary… and be two places where we absolutely crushed it with our spending. We stayed a week in Poland and two nights in Prague. Over the course of nine nights, we spent under $800 total. That's a weekly rate of $620, and the cheapest we've traveled since the start of the trip. Go us.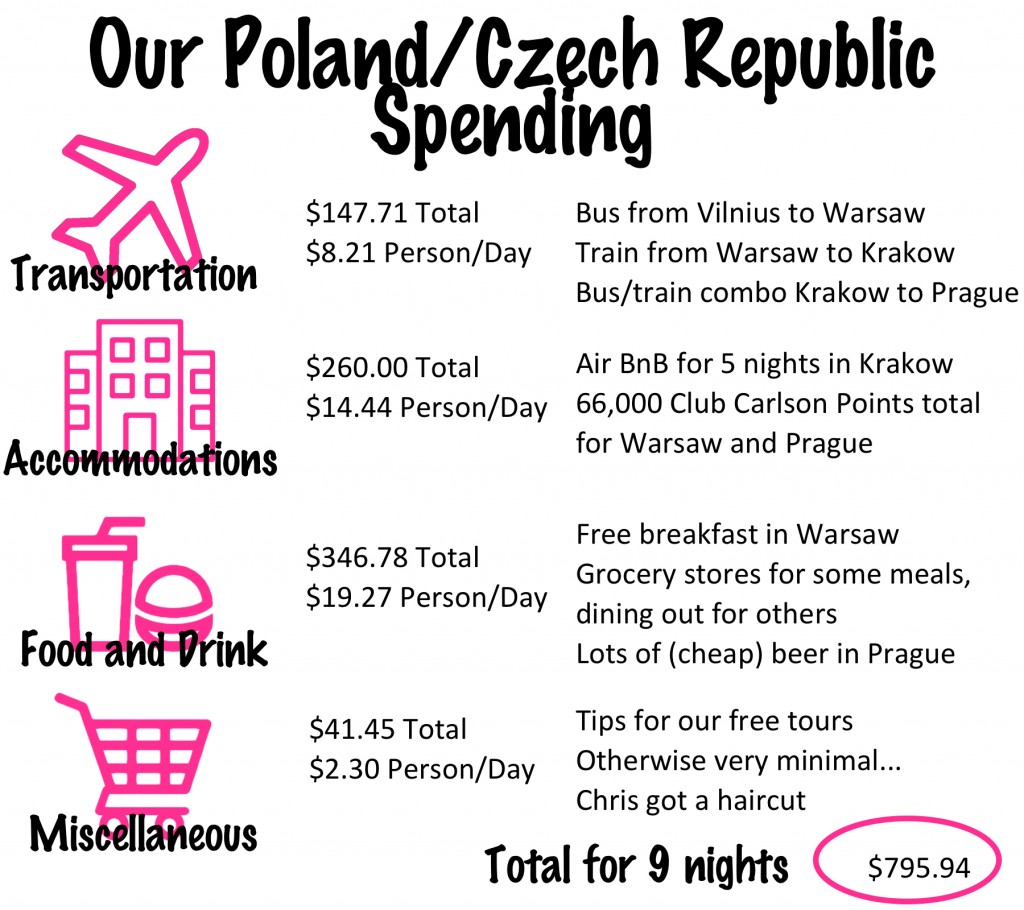 Transportation
We relied on our trusty Ecolines bus company, which had reliably shuttled us down through the Baltics, to get from Vilnius to Warsaw. I already talked about how it was a bit of a long slog, but it was certainly cheap. From Warsw to Krakow, we took a train and chose the second-class fare. We learned that this meant sharing a compartment with four other people and learning to carefully negotiate your leg placement so as to not knock knees with those facing you. But, again, it was cheap, and we actually ended up enjoying the 2.5-hour ride through the Polish countryside. Finally, unless you want to do an overnight train, the overland options from Krakow to Prague are limited. After a lot of research, however, we were pleased to discover a company called LEO Express that seamlessly shuttles you into the Czech Republic via bus and then transfers you to one of their private trains to make the rest of the journey to Prague (and all for a very reasonable rate).
Accommodations
Four nights on points between Warsaw and Prague was probably the biggest driver behind our low spending for this stretch. Also, we chose a fairly inexpensive Air BnB for the remaining five nights in Krakow. Although there was no elevator for the four flights of stairs, the Air BnB was super comfortable and located nearby the hip former Jewish district of Kazimierz.
Food and Drink
Food and drink was our highest category of spending for Poland and Prague, but we still spent less than $20 per person per day. We like to go to the grocery store to stock up on breakfast items, especially when we have an Air BnB with a kitchen. This savings gave us some room for going out to eat for other meals, as well as trying out the vodka in Poland and the beer in Prague.
Miscellaneous
Miscellaneous spending was pretty tiny again. Usually this includes admission to sights and souvenirs, but practically everything touristy we did in Warsaw, Krakow, and Prague was free. Hurrah!
Highlights and Lowlights of Poland and Prague
Favorite Dining Experience
Hers: The Georgian restaurant we discovered right by our apartment in Kazimierz (I'm learning that I LOVE Georgian food) and the cool vodka bar, Wodka, in Krakow where we got to try a bunch of flavored varieties
His: No meals noteworthy enough to mention (sadly, these two places aren't known for their cuisine), but the authentic beer hall we stumbled upon in Prague was one of the coolest bars I've ever frequented
Favorite Sightseeing Experience
Hers: Strolling through the streets of Prague on our first night and seeing the Charles Bridge and Prague Castle at sunset for the first time
His: "Favorite" and "sightseeing" seem wrong for this answer, but Auschwitz was one of the places I've always wanted to go to during my lifetime
Most Frustrating Travel Experience
Hers and His: The four tall and creaky flights of stairs at the Air BnB in Krakow, especially when carrying luggage and groceries