As we begin our sprint through Europe, I'm going to start combining multiple countries together for our spending reporting. Hopefully the groupings will usually make sense, but no promises. Finland, Estonia, Latvia, and Lithuania are all on the euro, and with the exception of Finland, the cost of living in these places is also similar. We spent just under $1,500 for 11 nights in Finland and the Baltics. This works out to $949 per week and under our goal of $1,000. Woo hoo! We were quite pleased with our budget since 1.) unlike our other destinations, we didn't use a lot of miles and points and 2.) we really didn't scrimp on experiences and dining here.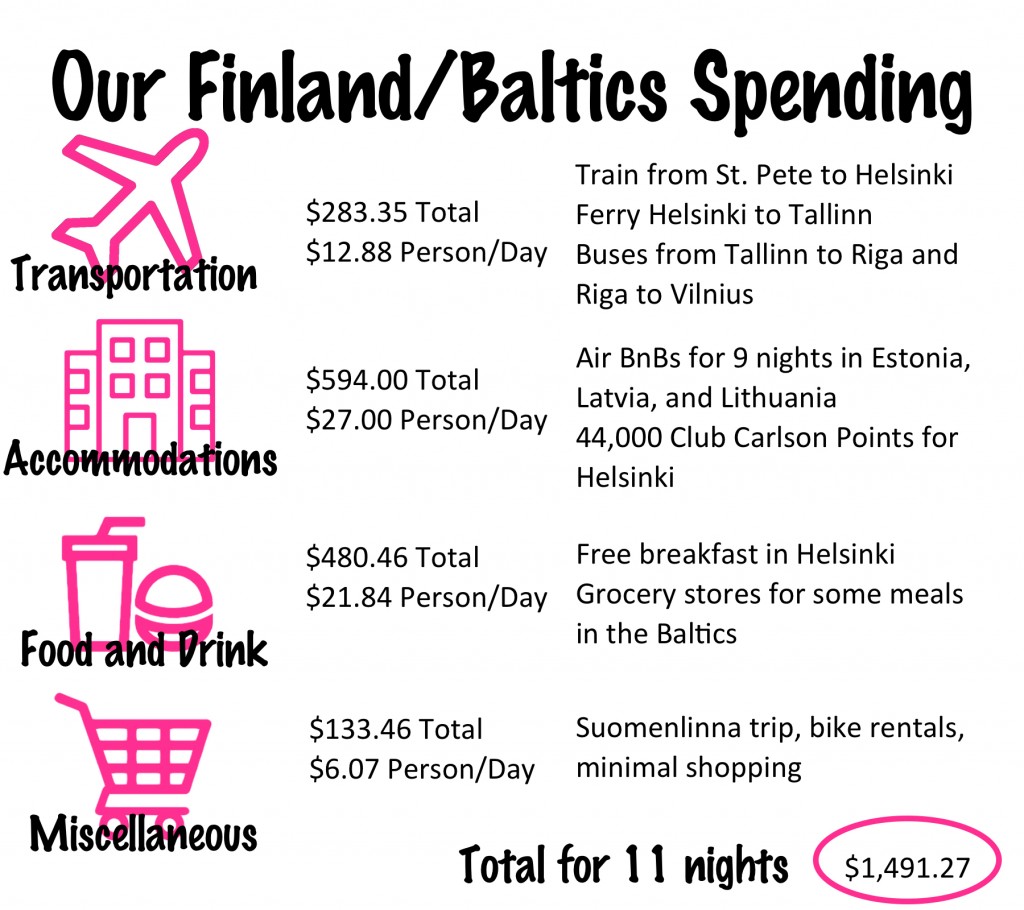 Transportation
We took a break from flying and relied on trains, ferries, and buses for this leg of the trip. Our biggest expense was $125 for the high-speed train from St. Petersburg to Helsinki. The ferry from Helsinki to Tallinn cost about $70. And our buses from Tallinn to Riga and Riga to Vilnius were under $50 each. (All of those figures are total for two people).
Accommodations
As I mentioned previously, in Helsinki we took advantage of Club Carlson's previous offer to get a free night whenever you book a room on points. Before they got rid of this at the end of May, you would get a free night added on whether you booked one night or ten nights on points. Obviously this works out to be the greatest value when only booking one night (buy one, get one free!), so we proactively booked a handful of two-night stays at Club Carlsons throughout Eastern Europe before that offer expired. Even better, the Radisson informed us when we arrived that we'd be getting free breakfast in the mornings too.
We exclusively used Air BnBs in the Baltics. We got to stay in some really charming places smack dab in the center of old town. It was great to have a kitchen and more space to spread out in than a hotel room for a change.
Food and Drink
For being on a budget, we ate extremely well in Finland and the Baltics. We were able to find some great value restaurants in the otherwise-expensive Helsinki, and thankfully the Baltics are some of the cheapest places to visit in Europe. We were pleased to learn that we got a free breakfast buffet at the Radisson Blu in Helsinki, and we bought groceries for breakfast and a few other meals in the Baltics. Central Market was key to eating cheaply during the day in Riga. That left us with a good amount of wiggle room for dinners, and we took full advantage. We found some really excellent restaurants in Estonia, Latvia, and Lithuania that charged a fraction of what we'd pay for similar dishes in Chicago. Braised elk, duck, mussels, salmon, goat cheese salads, chocolate fondant… the works!
Miscellaneous
Nothing really meaningful to talk about here. We spent a minimal amount on touristy things and a little bit of shopping. Unlike Russia, there weren't any visa fees to pay for Europe.
Highlights and Lowlights of Finland and the Baltics
Favorite Dining Experience
Hers: Our awesome dinner at Sfaar in Tallinn… amazing seafood pasta and the best house red wine we've ever tasted!
His: Hands down the duck at Bistro 18 in Vilnius
[Both of these were New York Times 36 Hours recommendations!]
Favorite Sightseeing Experience
Hers: The pub and live folk band in Riga
His: Our free tour in Tallinn led by a great guide where we got to learn some of the stories behind the city's history
Most Frustrating Travel Experience
Hers and His: Nothing of note! Travelling in Europe is easy compared to Asia and the Middle East