Chris fell in love with the Philippines during a solo trip for a friend's wedding in 2010, and he's been looking forward to his return ever since our RTW trip started. And once he heard that the Philippines is also home to the remote coastal town of El Nido that is often compared to paradise, he knew we had to make it happen. As I mentioned previously, Chris has a tendency to build things up… but even with sky-high expectations, the Philippines did not disappoint.
After a long weekend of luxury, Chris, my dad, and I flew from Hong Kong to Manila and stayed at a cheap hotel near the airport that couldn't have been farther from our Intercontinental and Conrad experience. Although it was closer to how we usually stay on our trip, it took my dad a moment to adjust from the quality-standard whiplash. Thankfully, he's a good sport, and we were only in the hotel for less than 12 hours, including our time asleep.
We left early the next morning to catch our flight to the town of El Nido on the island of Palawan, which is southwest of Manila. This flight was a splurge for us, but we decided to fly directly to El Nido rather than to the larger city of Puerta Princessa further south on Palawan and take a very long, nauseating bus ride (as most budget-conscious backpackers do) for the sake of time. ITI aka Air Swift is the only airline to fly directly to El Nido, and most of the other passengers on our tiny 50-passenger plane were guests of the private luxury resorts surrounding El Nido (in fact, most of them would never step foot into El Nido town itself). And the airline definitely catered to this upmarket clientele. Upon arrival to the private terminal, we were seated at our own table reserved with a sign with our name on it, directed to a table with coffee and refreshments, and asked group by group to come check in when it was our turn. Upon arriving at the tiny airport in El Nido (which actually had a cow grazing in the field next to the runway), we were greeted with more treats and some local music. Most of the passengers were then whisked off to their resorts, but the three of us hopped in a motorized tricycle and set off to our hotel in town.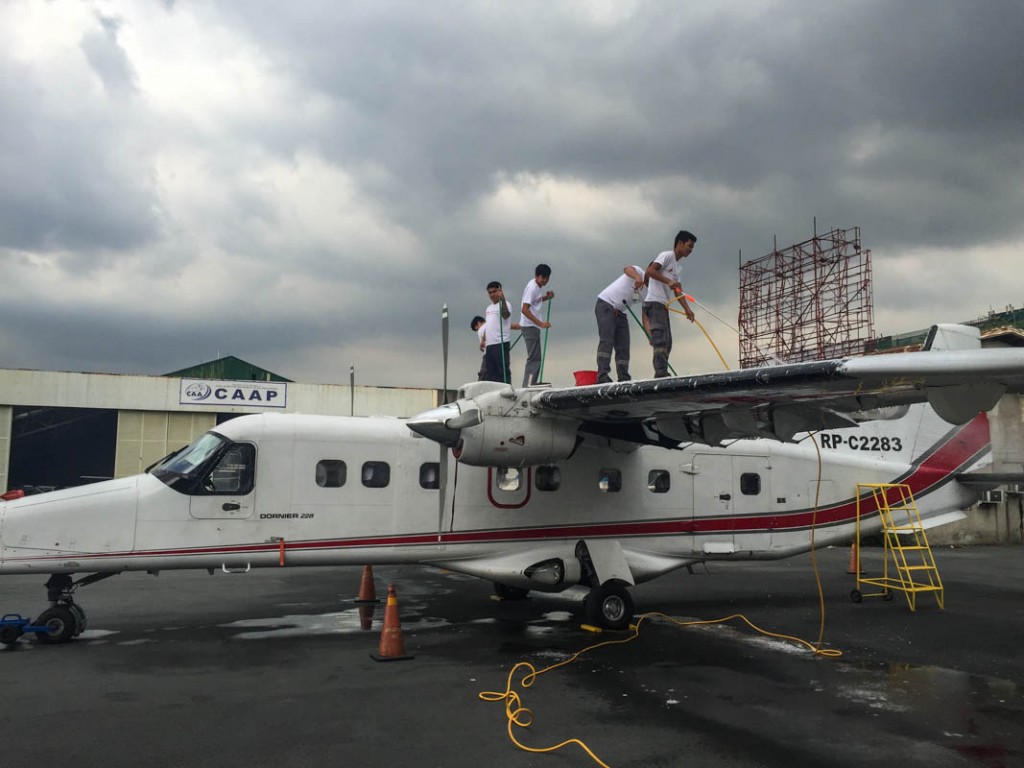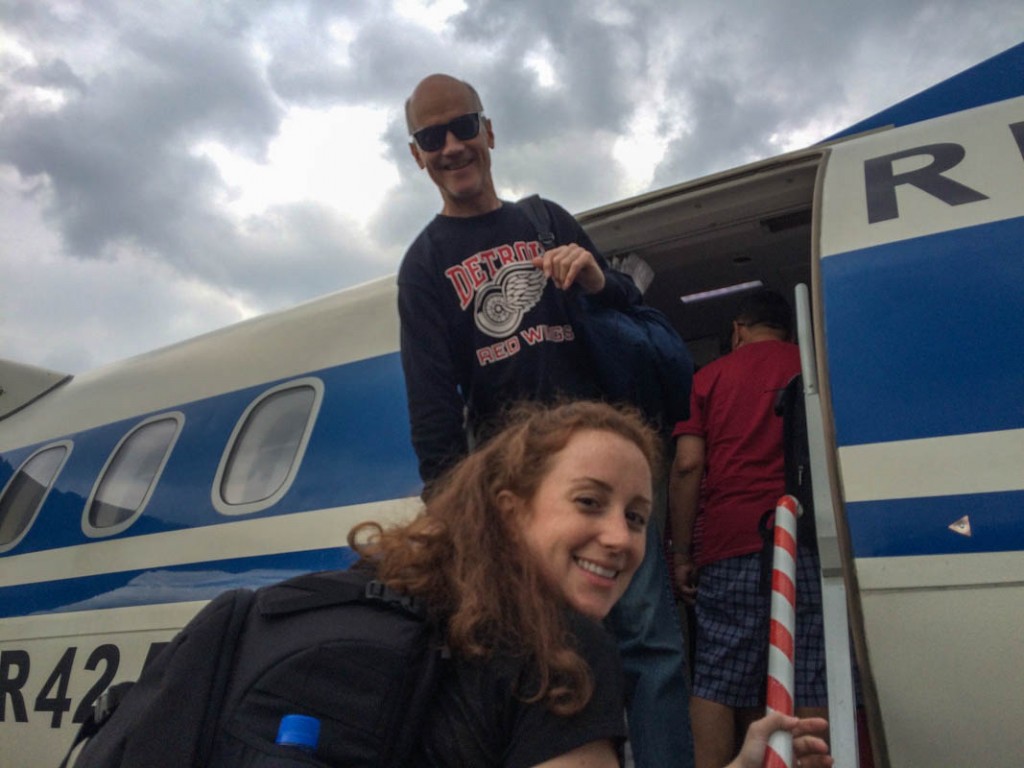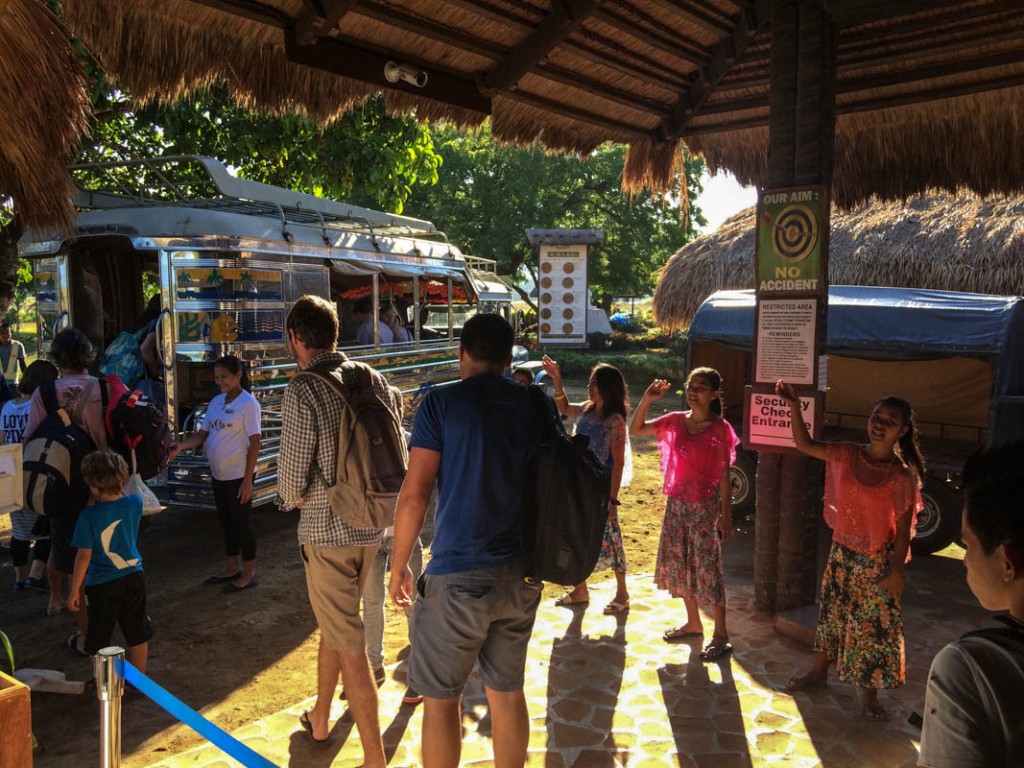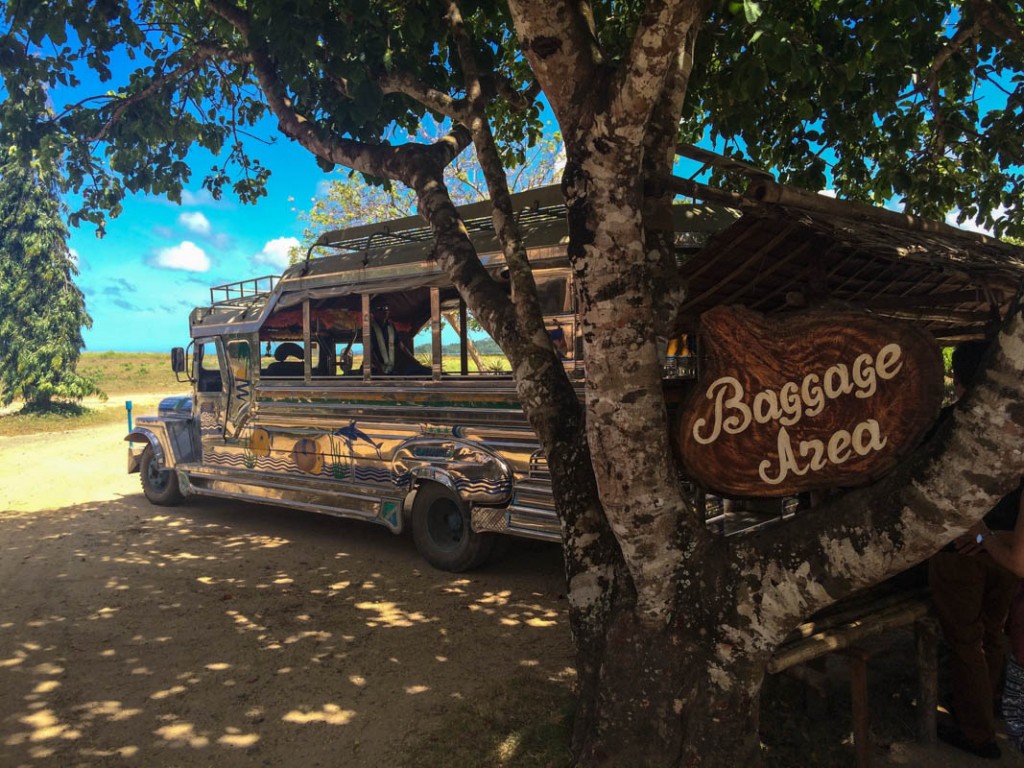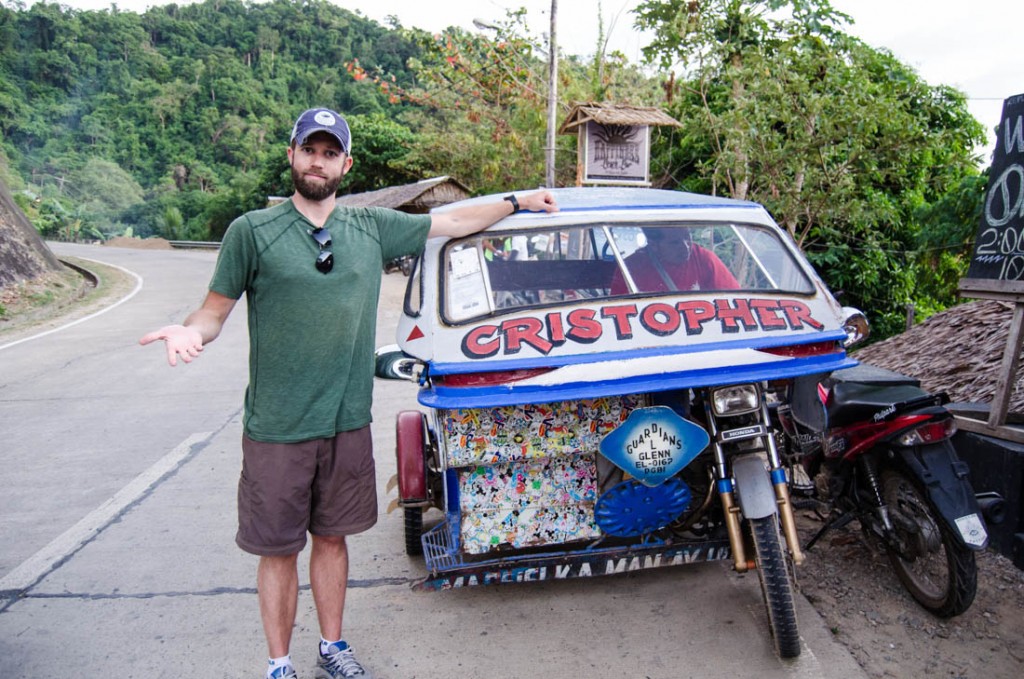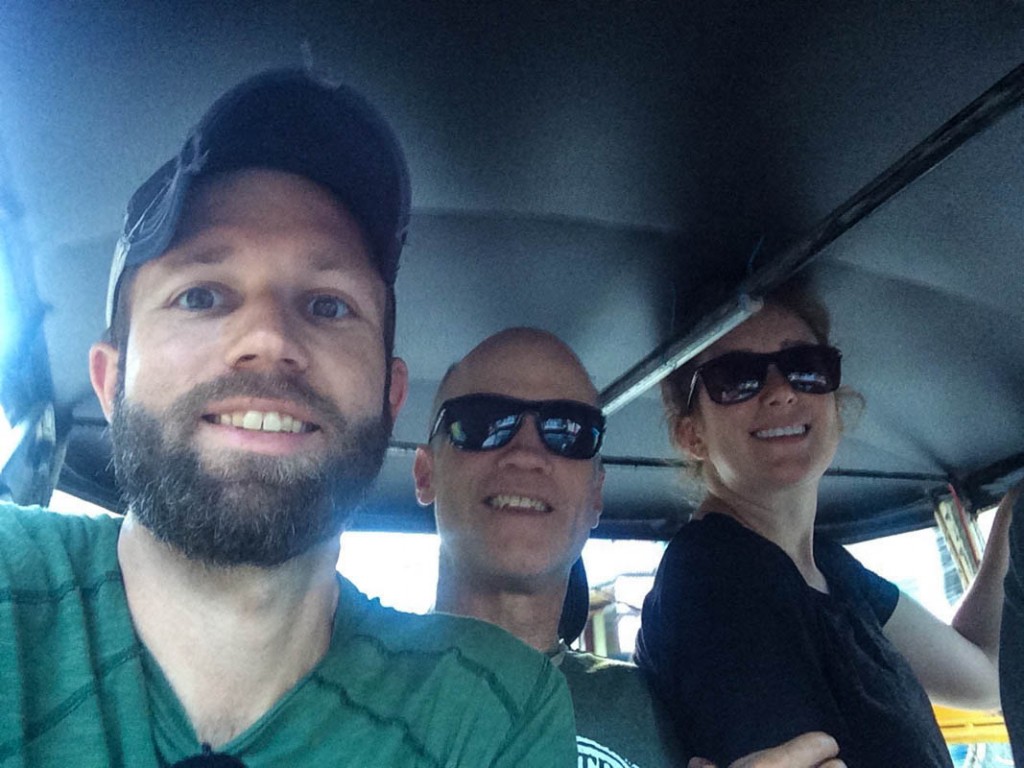 This is a good time to discuss two things I noticed about the Philippines. First, the Philippines definitely wins the prize for having local transportation with the most character. People typically get around in either tricycles or jeepneys. Tricycles are like the Philippines' version of tuk-tuks found elsewhere in Southeast Asia, but they have their own special twist. In El Nido, tricycles consisted of a scooter surrounded by a clunky metal frame that looks like it belongs in a Transformer movie. In Manila, the tricycles look more like scooters with side cars. Either way, they are fun. The Philippines also is the only place I've ever seen jeepneys, which are converted U.S. military jeeps left over from WWII that either gleam of metal or are painted bright colors. We rode in several tricycles during our time here, but only got to experience a jeepney as we were shuttled to our airplane in El Nido.
The second thing special about the Philippines is how incredibly friendly its people are. Now, we've met a lot of incredibly friendly locals throughout our trip; Bali, Jordan, and Cambodia in particular come to mind. But the Philippines wins the top spot. My dad was particularly taken by the people here, and he constantly noted how warm, relaxed, and jovial everyone was. Even though tourism is the major industry now in El Nido, we found none of the touts that have plagued us elsewhere on our trip, and even the people that were responsible for selling you something still did it in a relaxed, laidback manner. It was so wonderful and you found yourself relaxed just being around them.
The town of El Nido is a few dustry streets surrounding a pretty cove. Most of the visitors are tattoo-covered backpackers, and we found their mecca our first night at the Republica Sunset Bar. That said, we were definitely pleased by the bar's gorgeous sunset view and the cold beer. In addition to dreadlocks, you can also find copious amounts of seafood in the town. We walked by tables of seafood caught that day and locals ready and willing to grill you up a whole fish on the spot. On our last night in El Nido, we walked a little ways out of town to have a fantastic seafood dinner with unbeatable views. And just when I was thinking our night couldn't get more perfect, we walked by a tiki bar on the way home that was playing live reggae music out on the beach.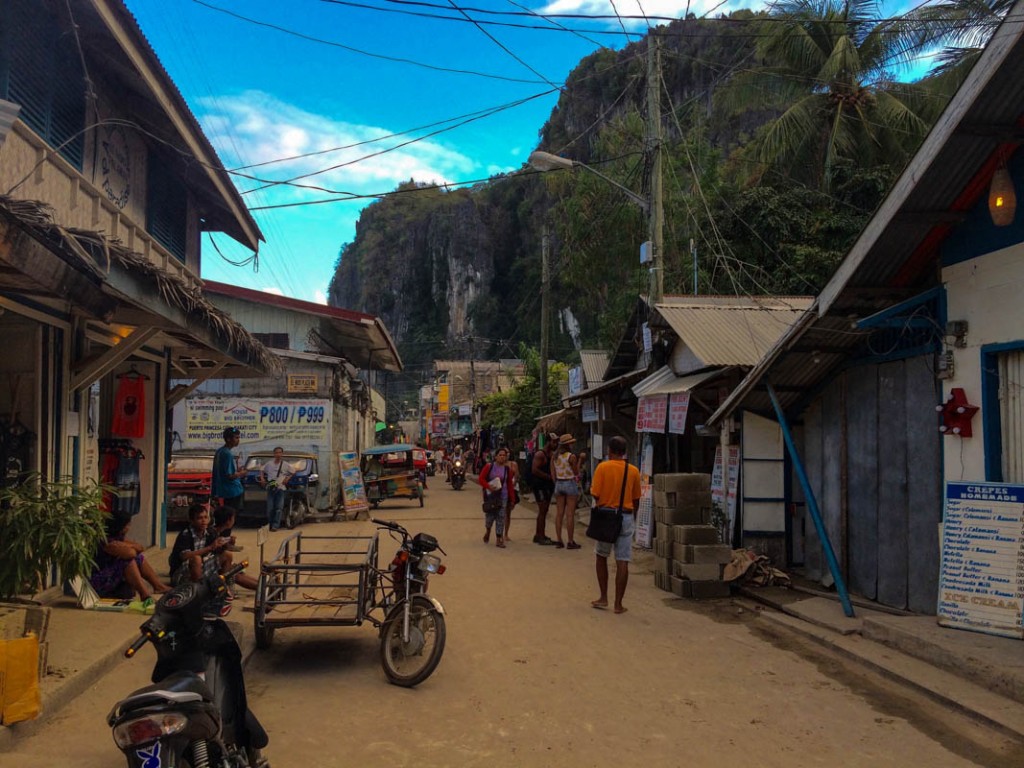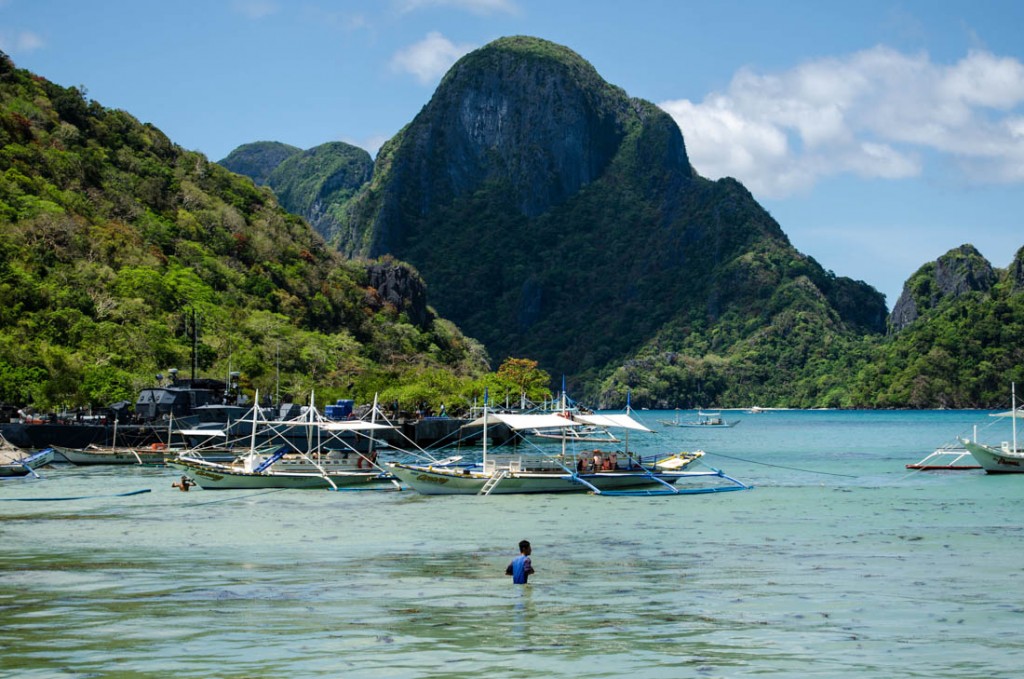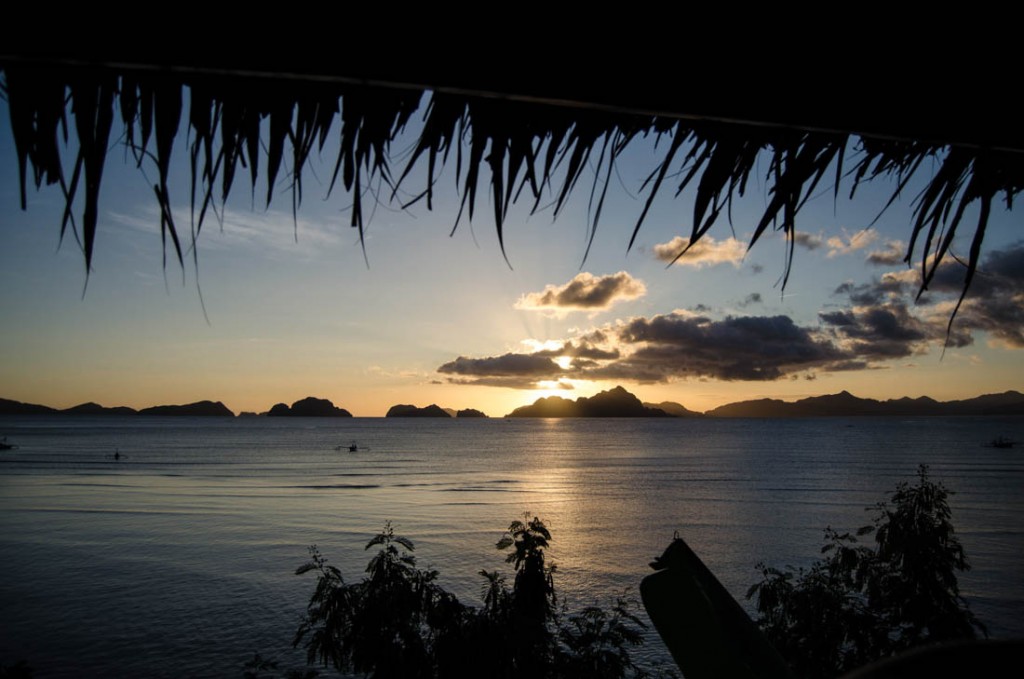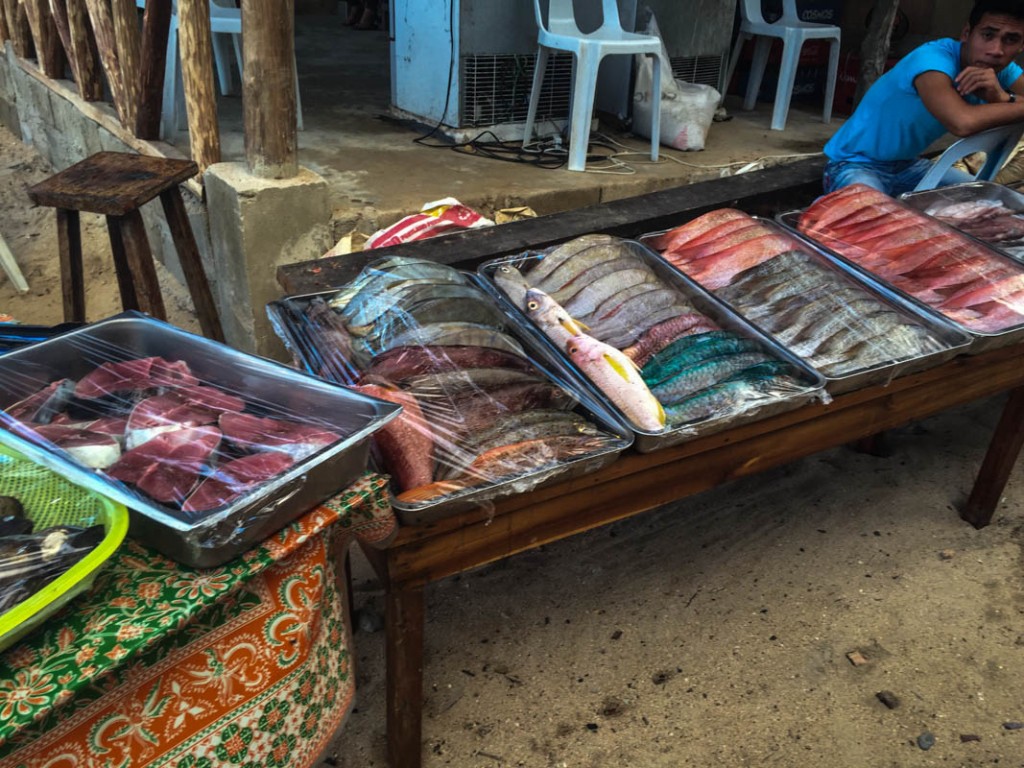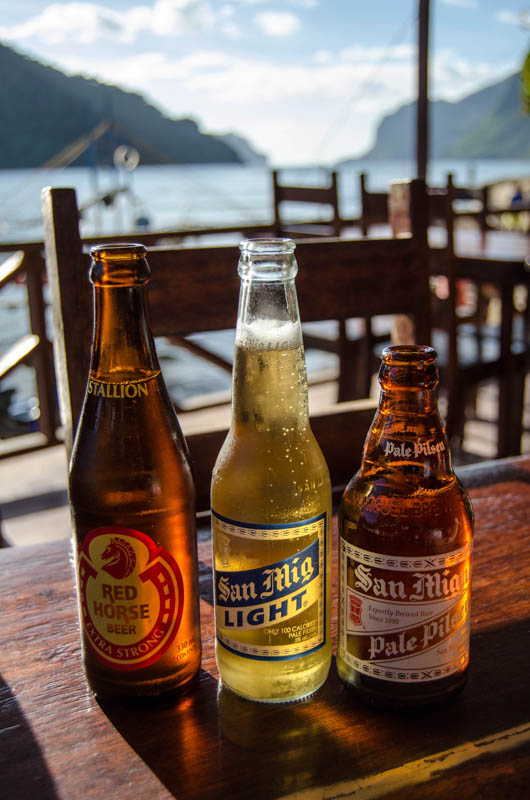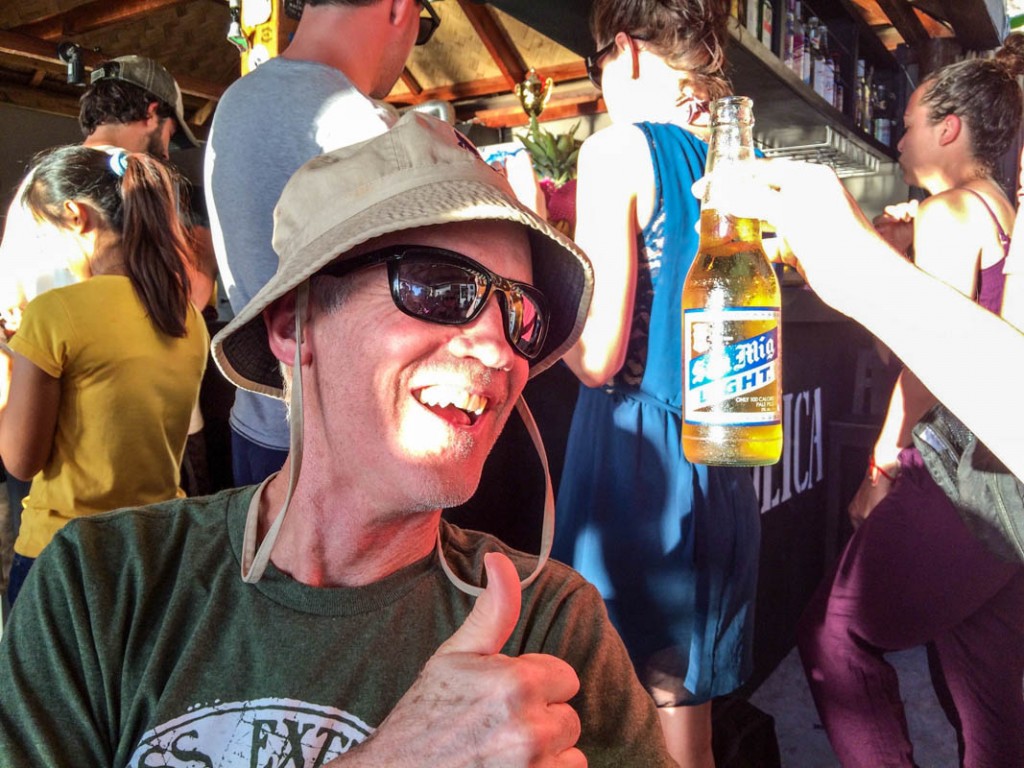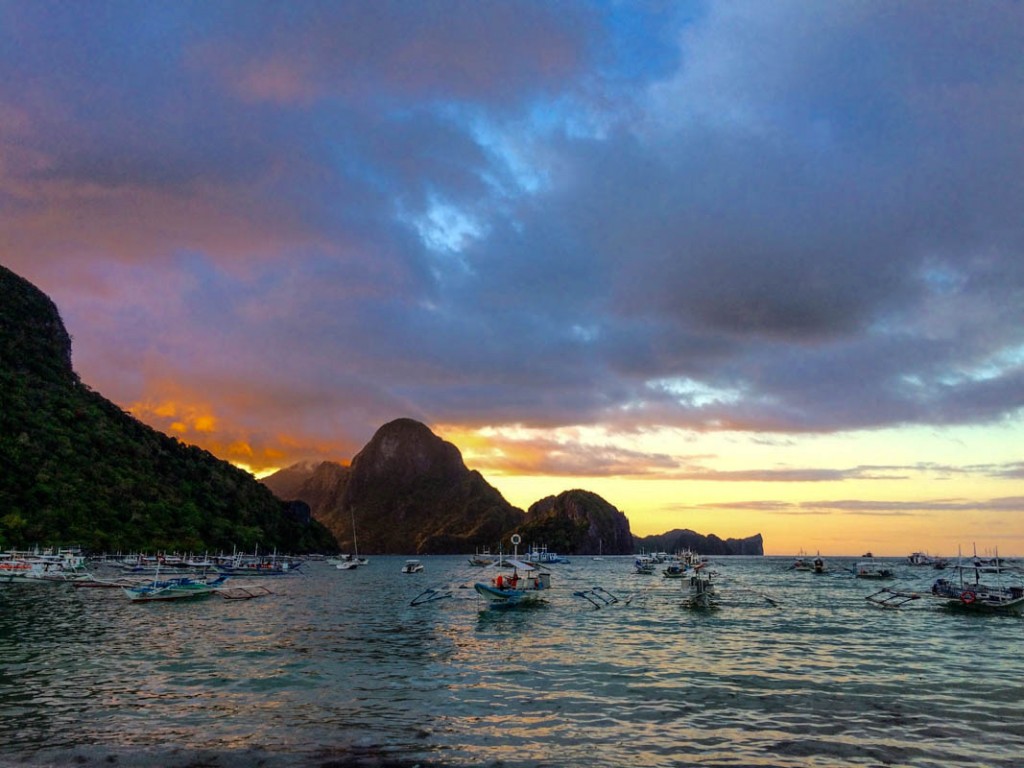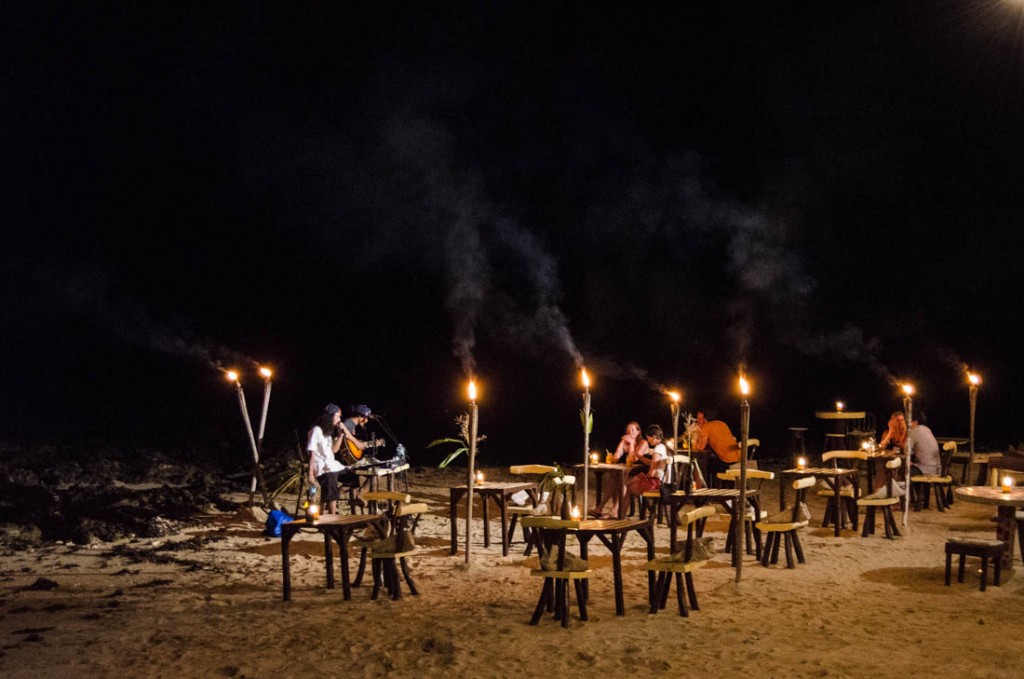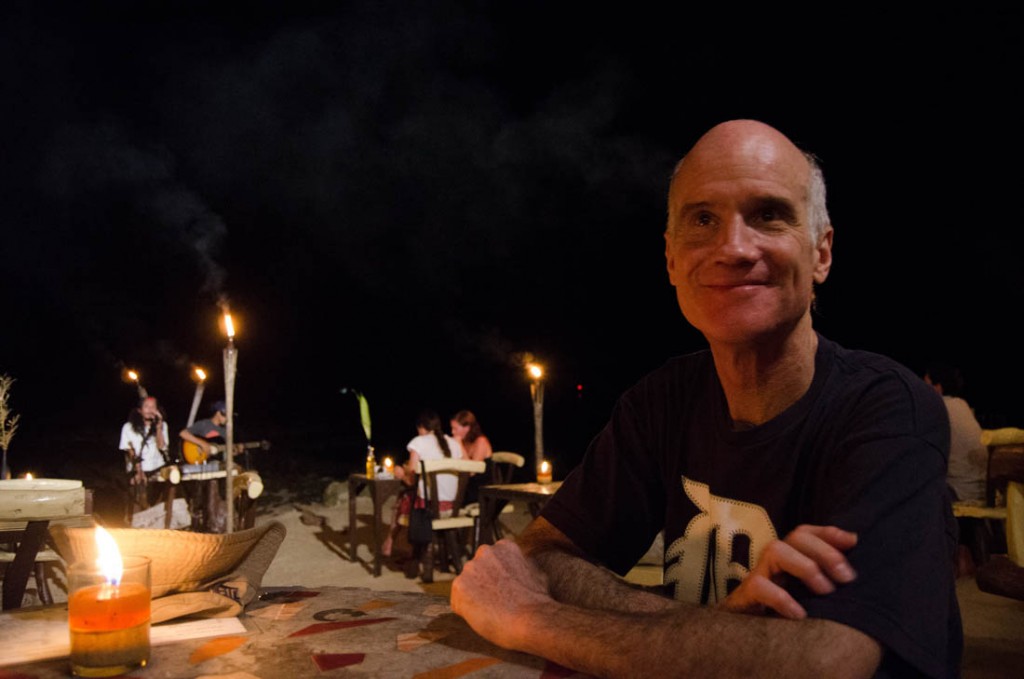 Although the seafood and sunsets were great, the real draw of El Nido is its stunning scenery. The area surrounding El Nido is blessed with a magical combination of white sand beaches, crystal clear turquoise water, dense green jungle, steep limestone cliffs, and tranquil lagoons. The best way to see this splendor is by taking a boat cruise, and Chris found a way for us to rent our own private boat (with a crew of two) with kayaks for the day for the incredible price of around $120 (from Caera Travel here). Chris being Chris, of course, had to name the kayaks (mine and my dad's double kayak was named "The Questionable Banana" while his single was deemed "Mango Thunder"… you'll see why in the photos that follow). Having the kayaks onboard allowed us to drop them in the water whenever we wanted to explore, which we did on several occasions. Our boat took us to several protected lagoons, a "secret" cove only accessible through a small hole in the rock, and, finally, a white sand beach. We also had a break midday while they cooked us a massive feast. I could say more and more about this fantastic day, which is definitely in our top five (maybe even top three) experiences of our trip, but I'll let the photos do the rest of the talking (though Chris definitely has better scenery pictures over on BackpackInvesting.com).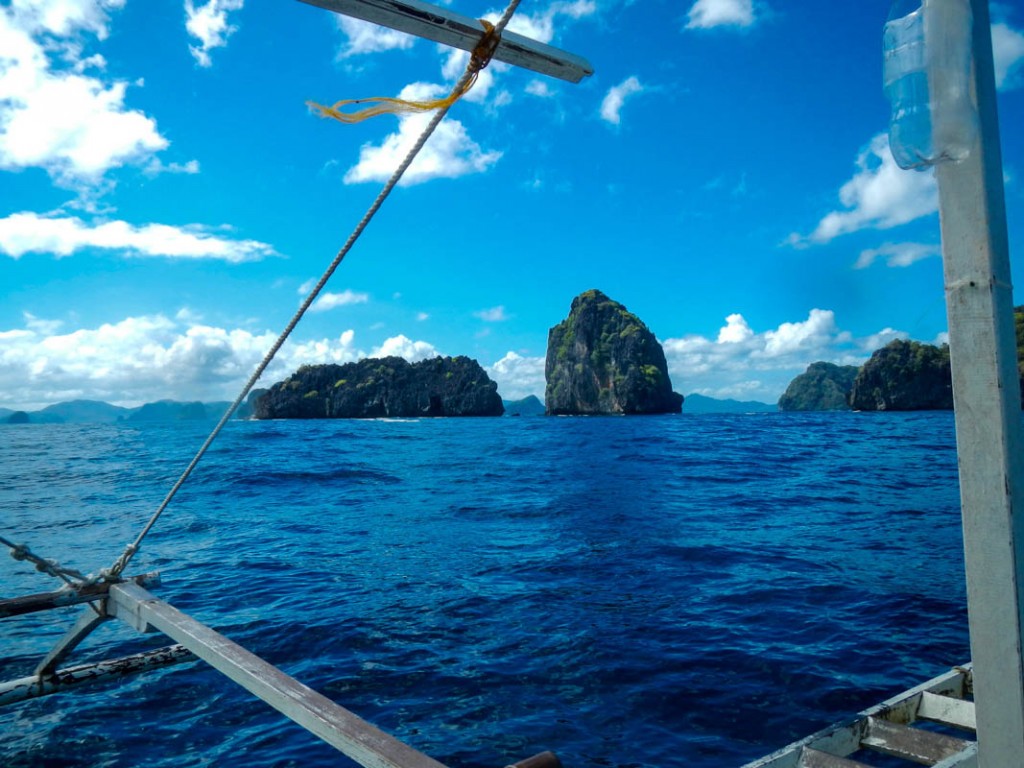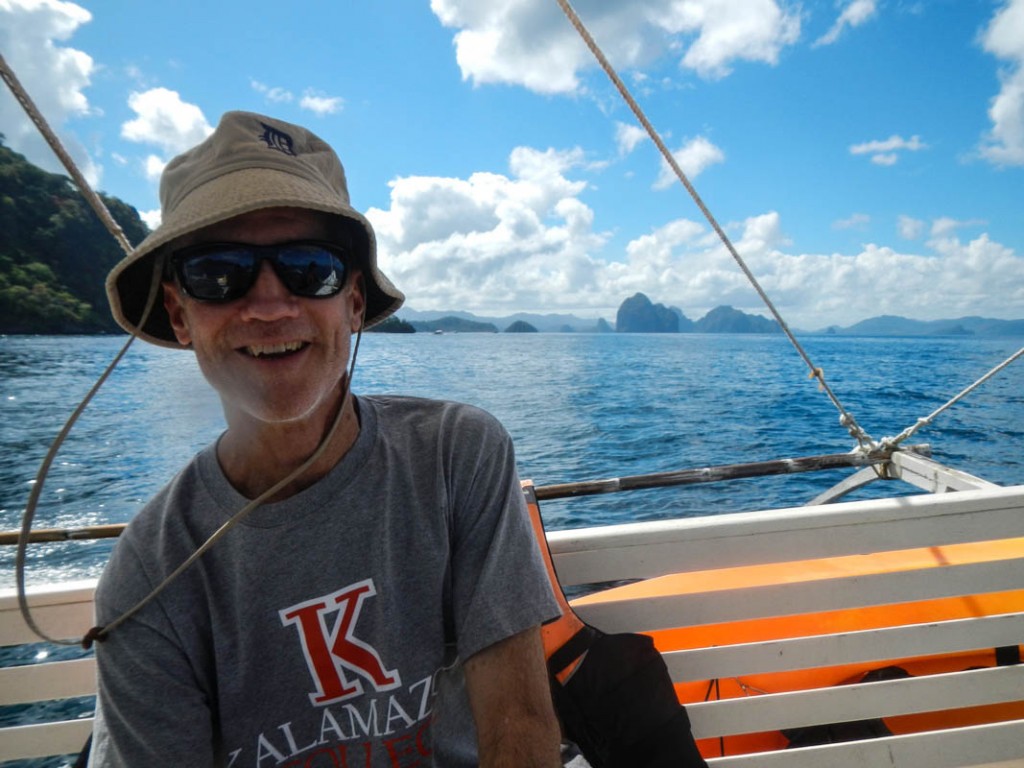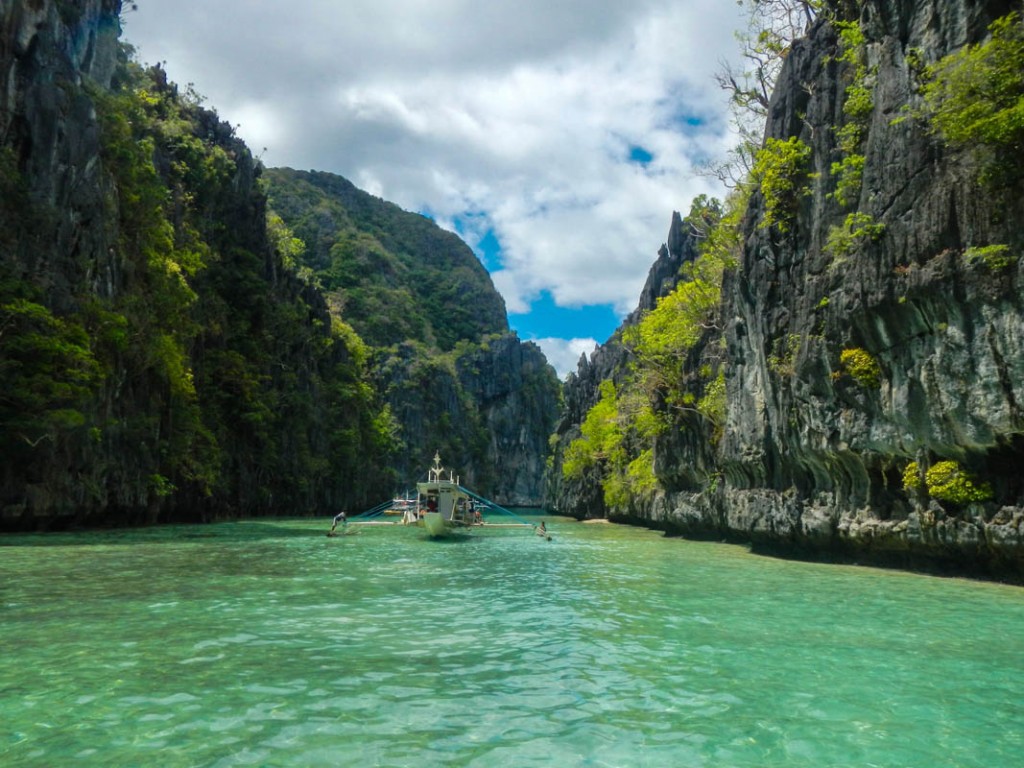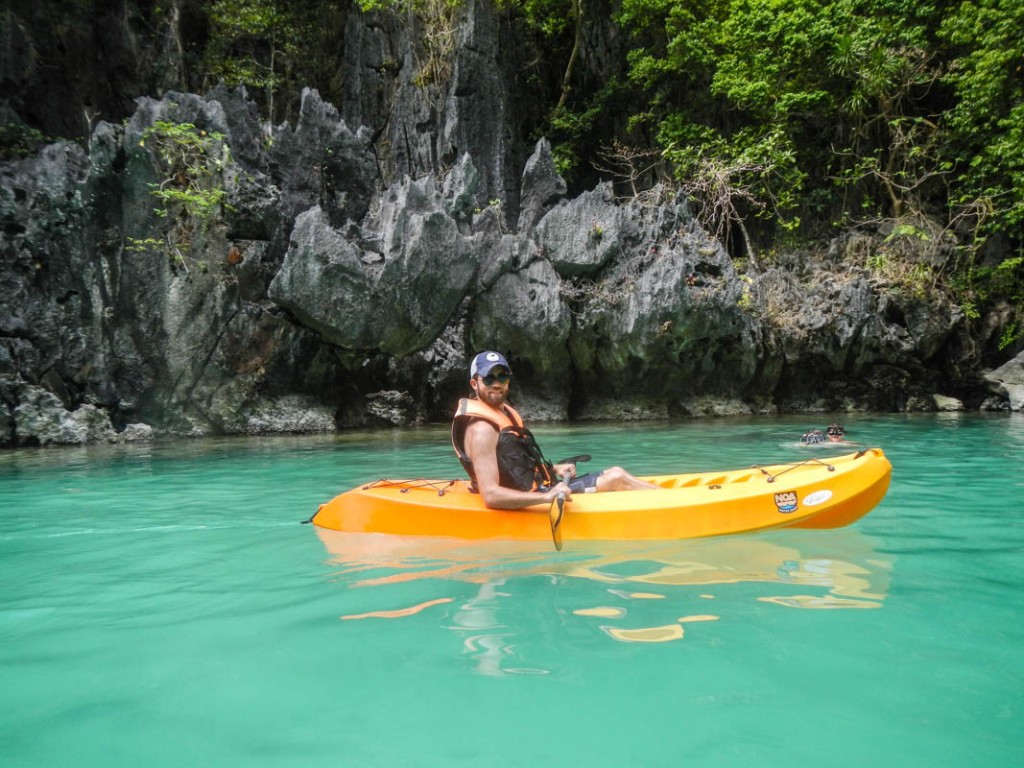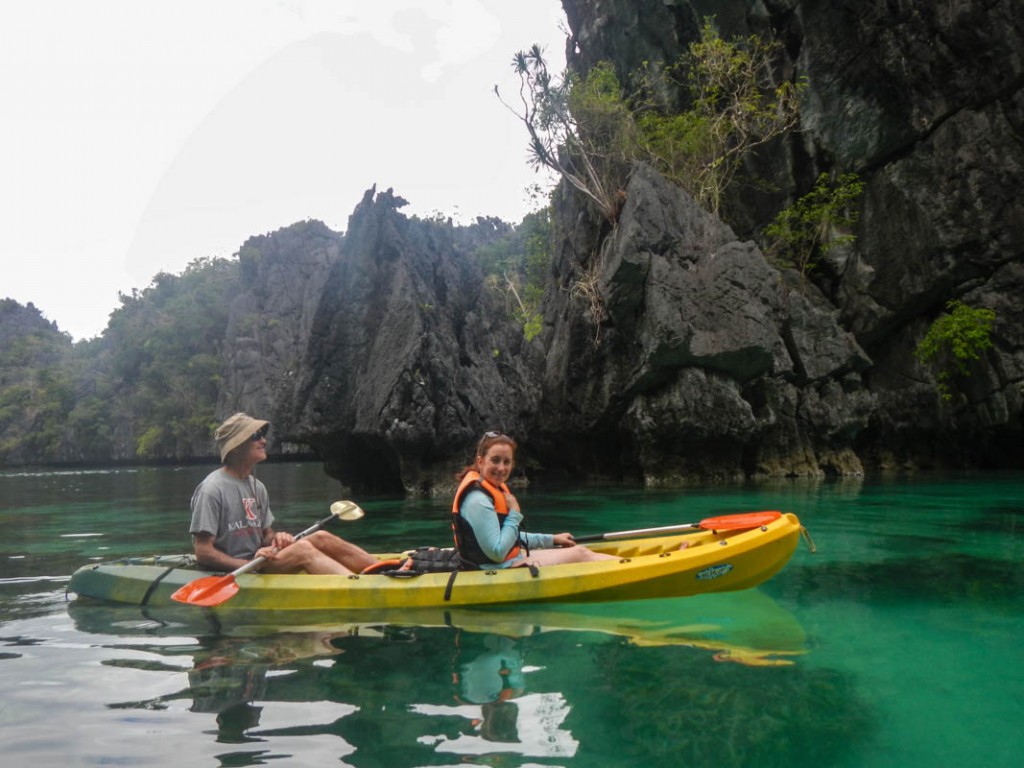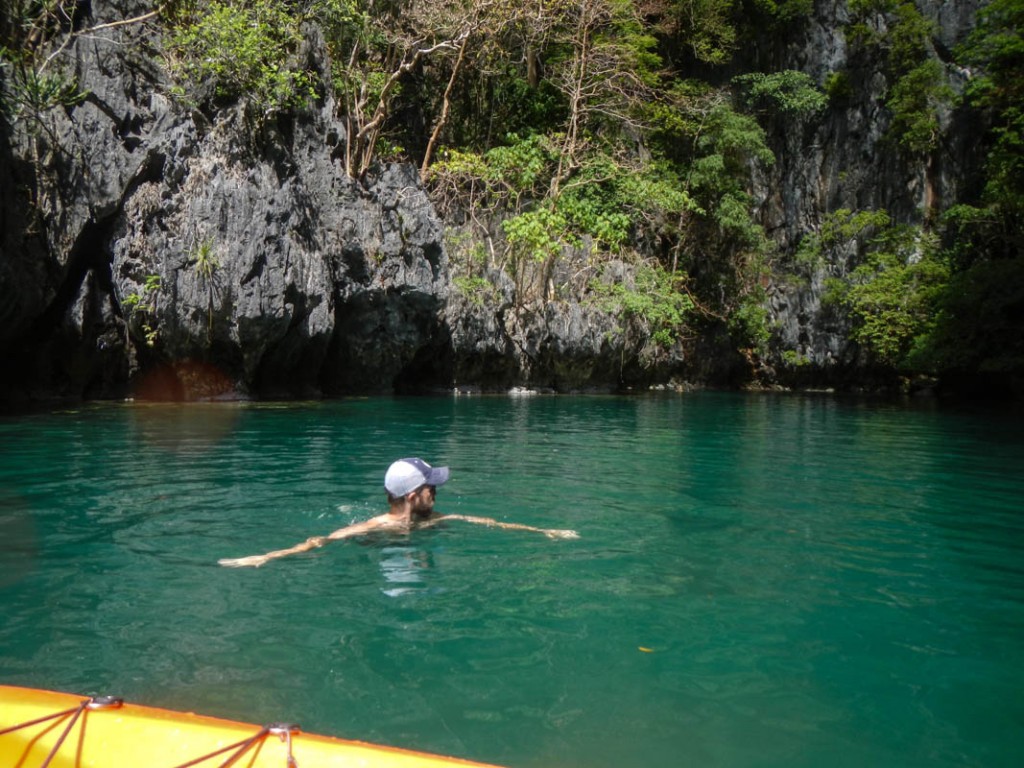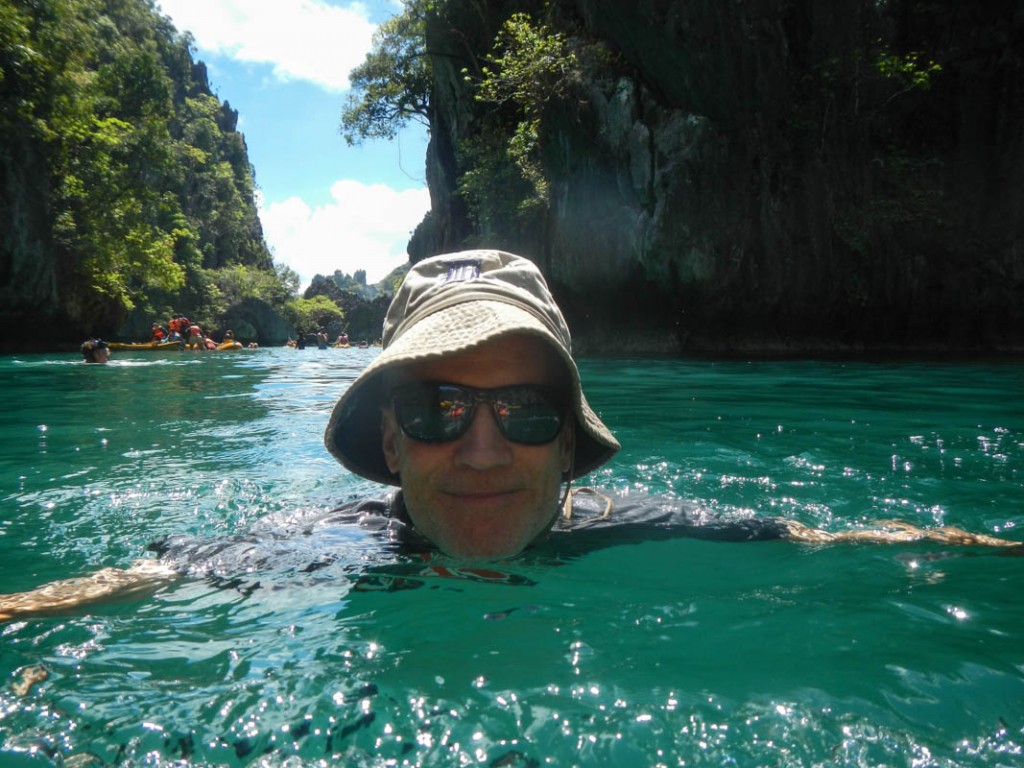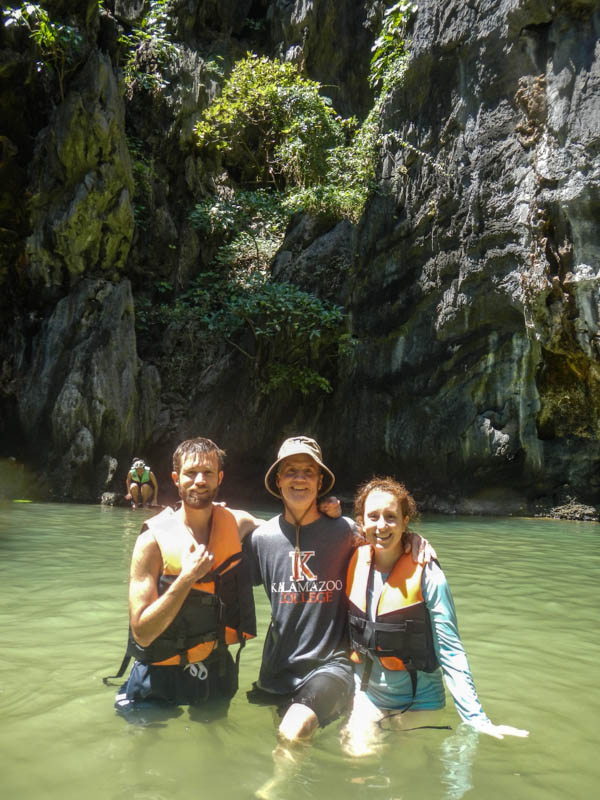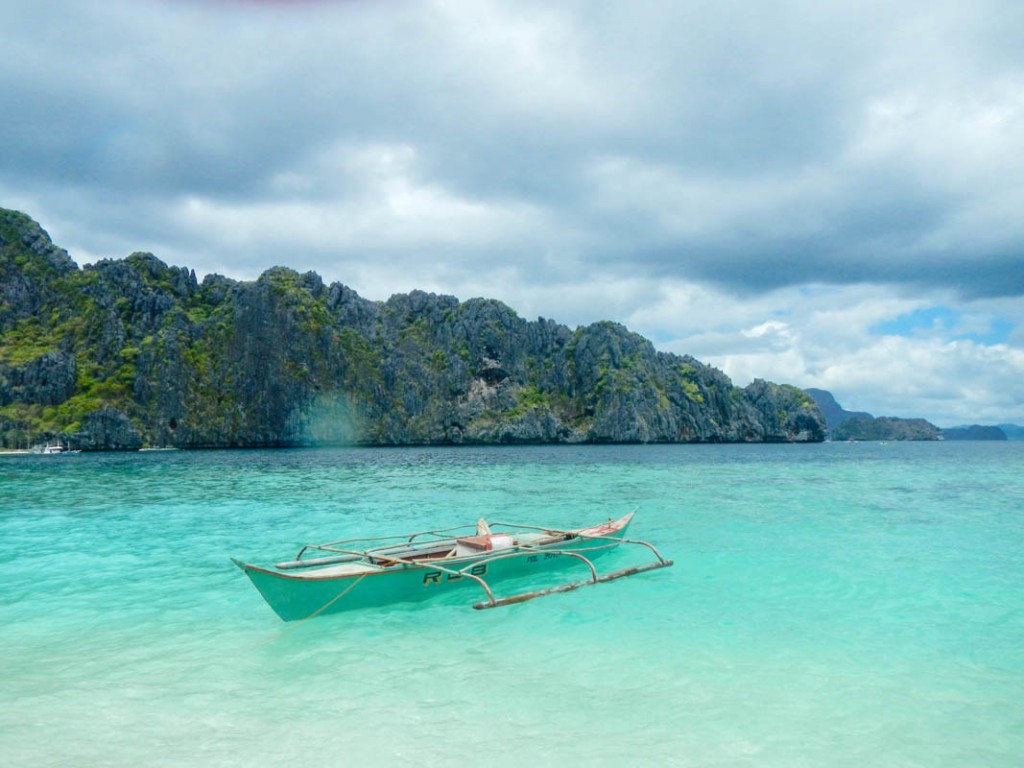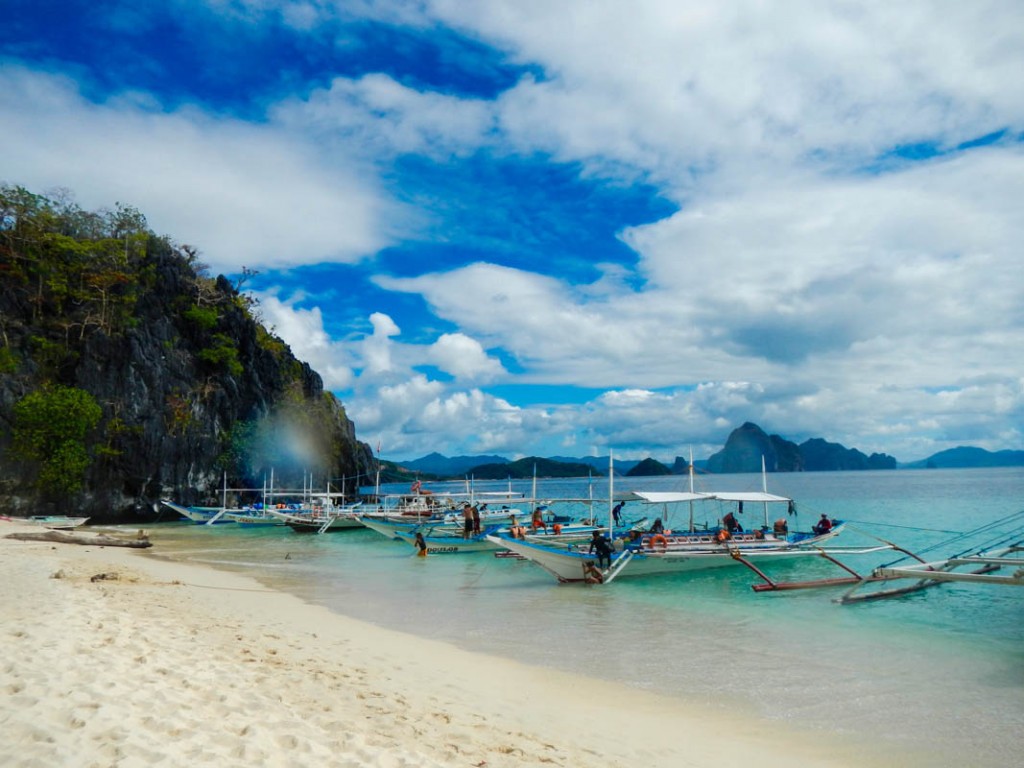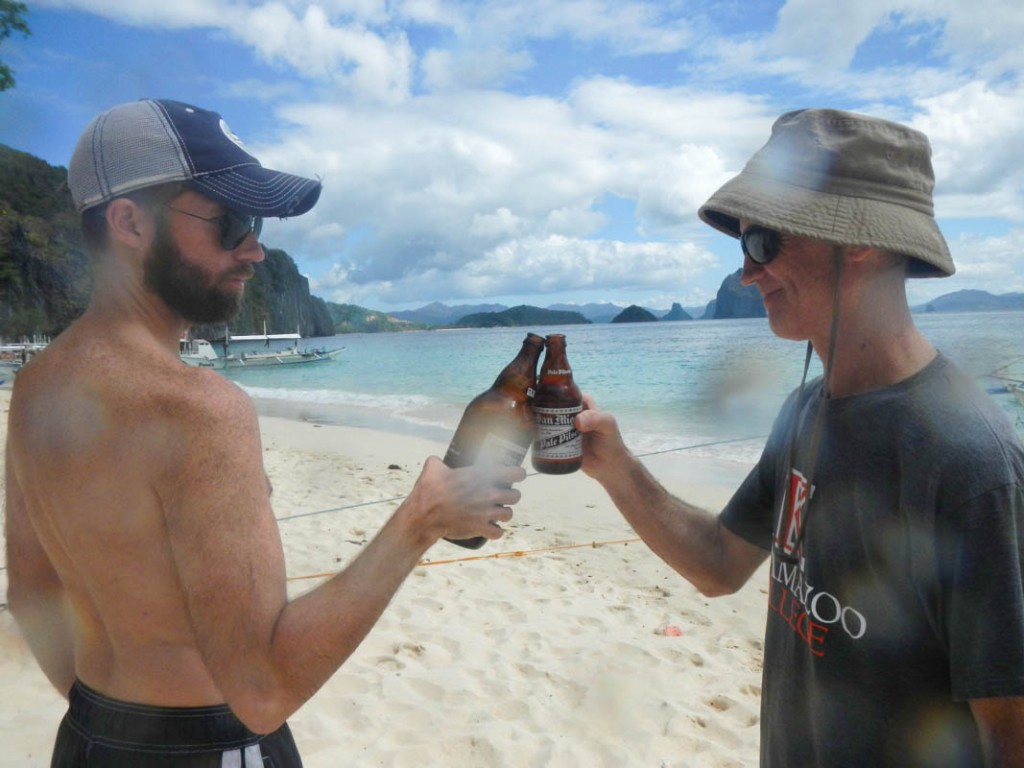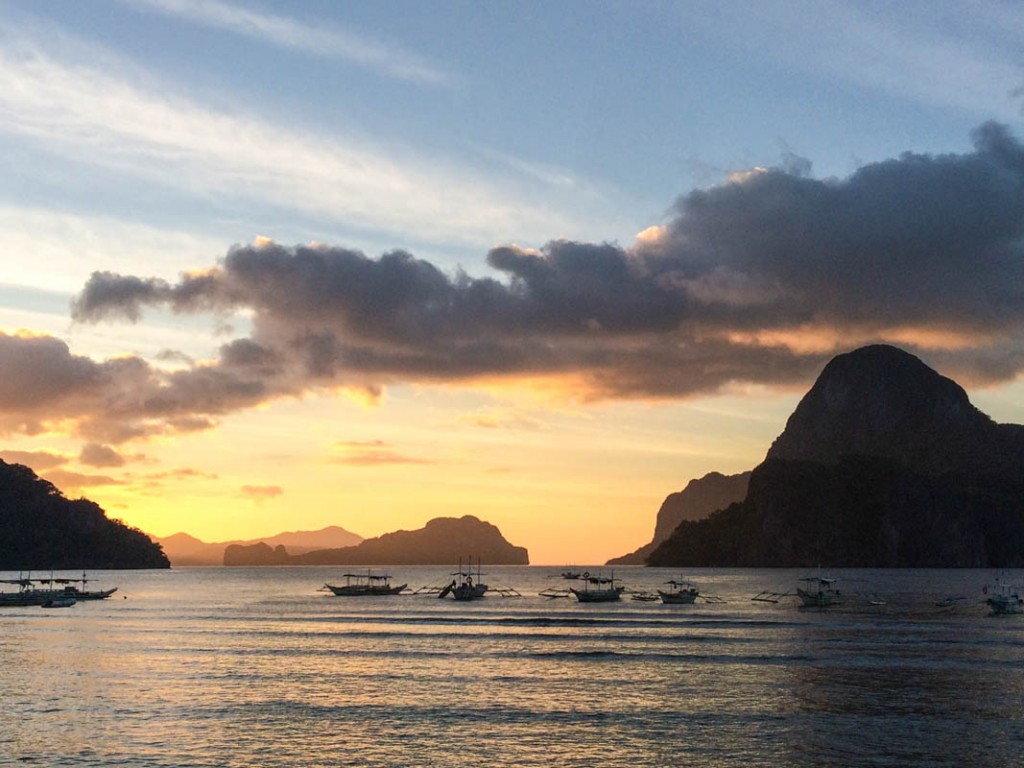 With a private cruise already in the books on day one, we decided to rent kayaks again on day two and power our own selves around. Sadly, Mango Thunder was already rented out when we arrived back at the beach, but Chris rented another lookalike and my dad and I once again hopped in the Banana. We kayaked about an hour through the open sea (getting nervous a few times along the way as our destination appeared to be getting no closer) to a nearby island across from El Nido. We were rewarded for our efforts by a totally deserted stretch of beach where we lazed, floated, and wandered around for awhile. We arrived back in El Nido several hours later with tired arms but a sense of accomplishment. [Added bonus: Chris also thought he glimpsed a whale shark—which are found in this area—on the way back.]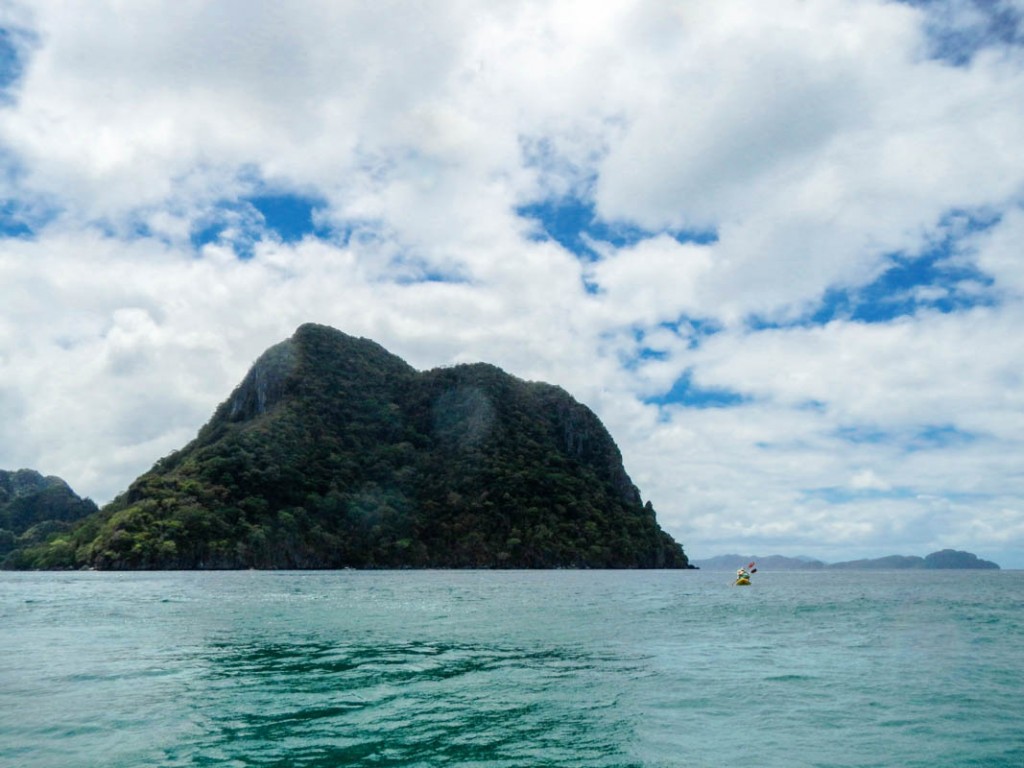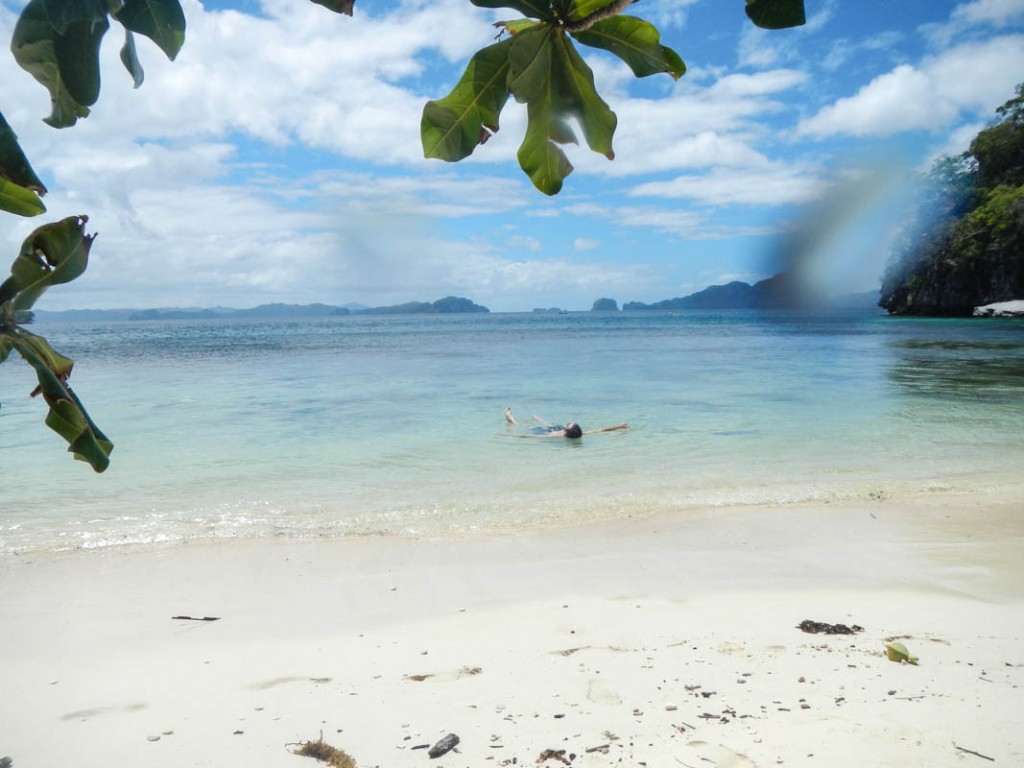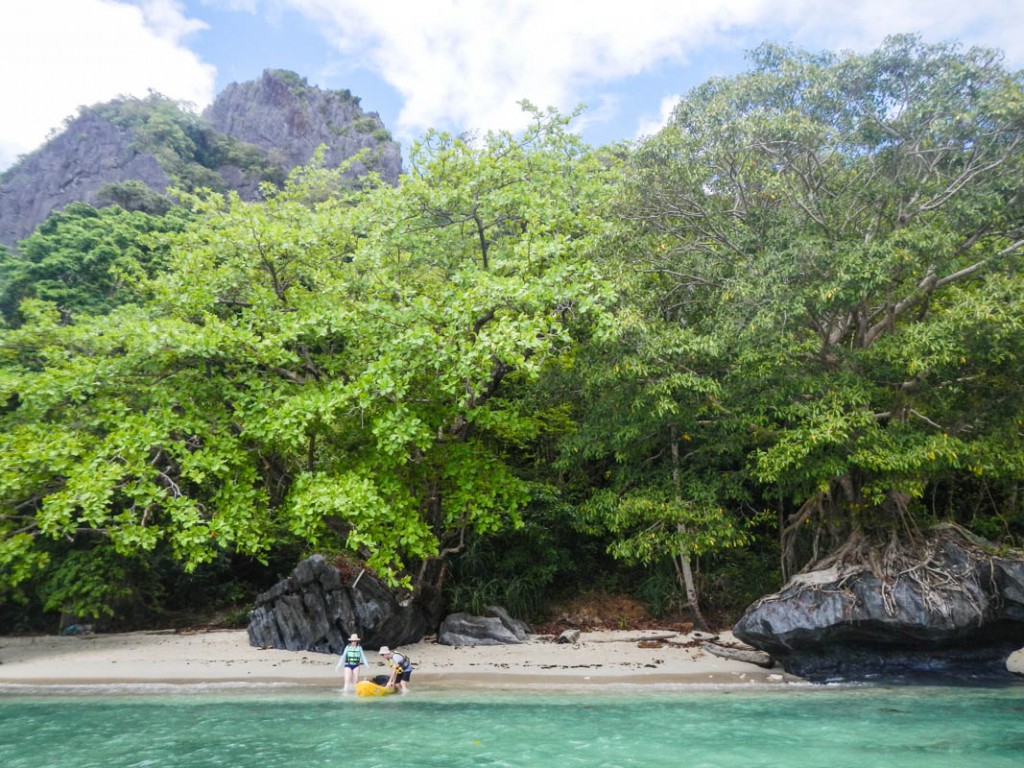 After three nights in El Nido, two full days on the water and at the beach, and several amazing seafood dinners later, we wholeheartedly agree that this place might be as close to paradise as it gets. But all good things must come to an end, and we headed back to our tiny little airplane that would return us to Manila.