I'm grouping together the four countries we visited in the Balkan region: Macedonia, Bosnia and Herzegovina, Montenegro, and Croatia. All of these happen to be members of the former Yugoslavia. Also, I like the alliteration of saying "Our Balkan Budget" 🙂 With the exceptions of the touristy areas of Croatia, all of these countries were really inexpensive and where your dollars go quite far. Once you get there, that is. We had a hard time finding reasonable flights in and out of Macedonia that worked with our schedule. This was also a region where we splurged a bit, opting to rent our own car twice rather than take cheaper mass transit. Our weekly spending rate for the Balkans was $1,043.26, just slightly higher than our goal of $1,000. Given that this stretch of the trip—especially Macedonia and Montenegro—was one of our favorites yet, I'm happy with where we ended up.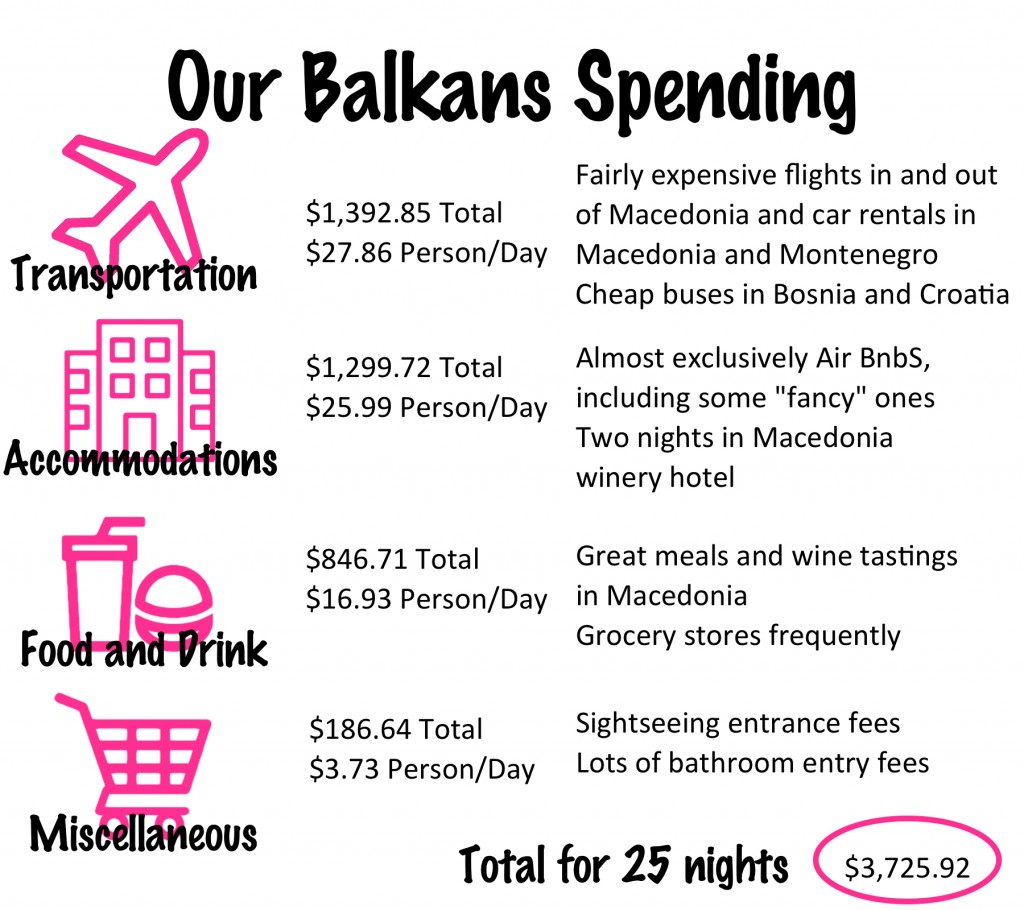 Transportation
Even though the former Yugoslav countries are wonderfully cheap, getting to them isn't always easy, especially if you are averse to taking a bus through Albania (as we were). We spent $400 flying into Macedonia (with a connection in Ljubljana, Slovenia) and $300 flying out (with a seven-hour layover in Zagreb, Croatia). That was pretty rough just to see one country… but luckily the value we found in Macedonia helped us recoup some of those hits to our budget. We spent a total of $500 for our car rentals, tolls, and gas for nine days in Macedonia and Montenegro. Also, totally worth it.
Accommodations
With the exception of two nights spent at a winery, we stayed exclusively in Air BnBs in the Balkans. A few of these—like our place in Mostar—were on the pricier side of what we usually like to pay. In comparison to other budgets I've posted, we didn't use any hotel points during this stretch, so that provided a budget head wind for us.
Food and Drink
Macedonia was absolute bliss for food and wine. The seafood in Montenegro and Croatia was amazing. Bosnia had some hearty eats like burek and ćevapi that we enjoyed. We ate well and cheaply in the Balkans.
Miscellaneous
Quite minimal miscellaneous spending here. There were a few pricey entrance fees to sights like the Dubrovnik city walls and Lovćen National Park.
Annoyingly, we're in the region now where they charge you every time you want to go to the bathroom. This is especially problematic when we're waiting at the train station to go to our next destination and I've already spent all of our remaining currency.
Highlights and Lowlights of the Balkans
Favorite Dining Experience
Hers: Our first night in Macedonia eating at one of the country's nicest and most traditional restaurants. That was the start of my love affair with Macedonian food and wine
His: Our feast at Lake Ohrid right next to the water eating pan-fried fish caught that day
Favorite Sightseeing Experience
Hers: Swimming in the clear pools of Macedonia and the salty Bay of Kotor
His: The twenty-five hairpin turn drive up the mountains behind Kotor to Lovćen National Park
Most Frustrating Travel Experience
Her: Traveling in and out of Macedonia… the seven-hour layover in the tiny Zagreb airport was rough
His: Even though we had a great time doing it, I'm still mad we weren't able to kayak across the Bay of Kotor to make it to the island of Our Lady of the Rocks. Next time, Kotor, next time