It's been nearly two months since my last budget post, and we have visited Morocco (twice), Spain, Jordan, Switzerland, Italy, and Israel before flying back to Detroit on December 9th. During these 42 days, we spent a total of $5,780, giving us at a weekly spend rate of $963. This is much better than my last budget post, though admittedly it is skewed a bit downwards since I was stateside for 10 days during Thanksgiving. Chris traveled through Switzerland and Italy with his mom, Sara, and the totals only reflect his half of expenses during this time, but they did a stellar job sticking to our usual budget-friendly habits without sacrificing an amazing trip.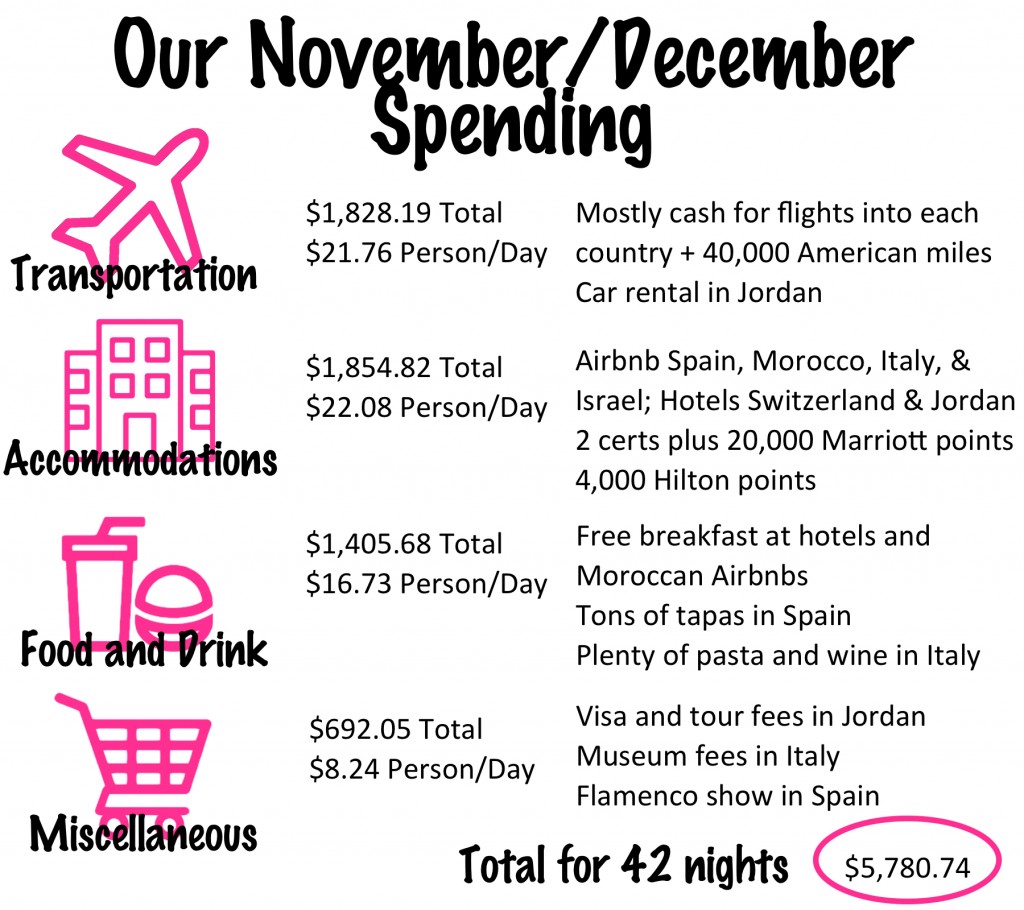 Transportation
All in, we're really happy with our spending during the last month and a half, especially considering how spread out our destinations were and how we had to fly to each of them. Ryanair helped us immensely for Morocco, and Chris (creative genius that he is) figured out that it was actually cheaper to fly from Fez to Madrid and Madrid to Marrakesh than directly between these two Moroccan cities. We used 40,000 American miles to get from Spain to Jordan and paid cash for our flights to Switzerland, Italy, and Israel. A car rental added to our costs in Jordan but allowed us to see the country from top to bottom on our own time (and meet the friendliest security officials ever). And mixed into transportation spending was the occasional taxi, train, or subway fare.
Accommodations
Airbnb allowed us to stay in some authentic riads in Morocco and Chris and Sara to stay in some of the most adorable apartments you've ever seen in Italy (like this). It also allowed us to discover an amazing neighborhood in Madrid and meet a wonderful family in Israel. We used points to help cut down on accommodation costs in uber-expensive Zurich, two certificates and 20,000 points to stay at Marriotts at the Dead Sea and Petra, and a mixture of cash and 4,000 Hilton points to stay at a Hilton in Aqaba. It was a period where having a diverse points portfolio—but also selectively utilizing Airbnbs—really paid off.
Food and Drink
This was one our lowest periods of Food and Drink spending yet. You readers probably wouldn't have guessed it from all the tagines, jamón, mezze, pasta, gelato, and wine you've seen in my posts, but it really was. Free breakfasts in Morocco and at most of our hotels certainly helped. We were also frugal in places like Switzerland where even a macaroni salad from the grocery store costs $8, and we stuck to our regular practice of buying groceries and snacks when staying in Airbnbs. Even though Chris and Sara made the most of their time in Italy (I was drooling listening to stories of dining on whole-roasted seabass, trying pesto in its birthplace, and twirling rich carbonara), they were able to find great local places where the price was good and the food was even better.
Miscellaneous
Miscellaneous spending was right in line for this leg of the trip. The visa, attraction, and tour fees for Jordan made up about half of the total, but were totally reasonable considering that it gained us entrance to Petra and a day playing in the desert and sleeping under the stars in Wadi Rum. Museum and entrance fees really add up when touring Italy, but are worth it many times over to see the David in Florence, the canals in Venice, the Colosseum and Forum in Rome, and the Sistine Chapel and museum in the Vatican.
Highlights and Lowlights from November through Mid-December
Favorite Dining Experience
Hers: The Jordanian feast my fellow K-College alumnus treated us to in Amman
His: Thanksgiving dinner having a whole-roasted seabass in Cinque Terre with my mom (and the accomplishment of deboning it myself)
Favorite Sightseeing Experience
Hers and His: Our day running down sand dunes, four wheeling through the desert, drinking tea in a Bedouin tent, and sleeping under the stars in Wadi Rum
Most Frustrating Travel Experience
Her: All of Morocco
His: Ditto