The last budget post I wrote was for the Balkans as we left Croatia and prepared to enter Western Europe. Over the last month, we visited Munich for Oktoberfest, Vienna, Bratislava, Budapest, all around Romania, Cappadocia and Istanbul in Turkey, the wine country and capital of Georgia, Paris, Bruges and Brussels, and, finally, London. We spent 33 days and around $6,850 visiting these places. These budget posts aren't the most exciting to write (and I'm sure not the most enthralling to read), but I will continue to write them (albeit at increasingly long intervals) to help answer the number one question we get about our RTW trip, "How are you affording this?"
"Not at this rate!" was my initial reaction to that question after Chris gave me the final budget tallies for this most recent month of spending. The weekly spend rate of $1,454 was 45% higher than our goal of $1,000. Ouch. But after the initial sticker shock, I realized that we had expected to spend more than usual during this period all along. We spent a good chunk of this time in Western Europe—one of the most expensive places we planned to visit on our trip—and we had visitors with us for nearly all of this time. Visitors obviously want to maximize their vacation time…. which means moving around more frequently. Visitors also want to go to out nice meals and have some cocktails… which means our usual grocery store meals weren't always going to fly (although everyone was good sports about hitting up the grocery for basics). So it makes sense that our transportation and food spending was much higher. We can make up the budget later, and we wouldn't have traded this month with friends for all the beer in Belgium.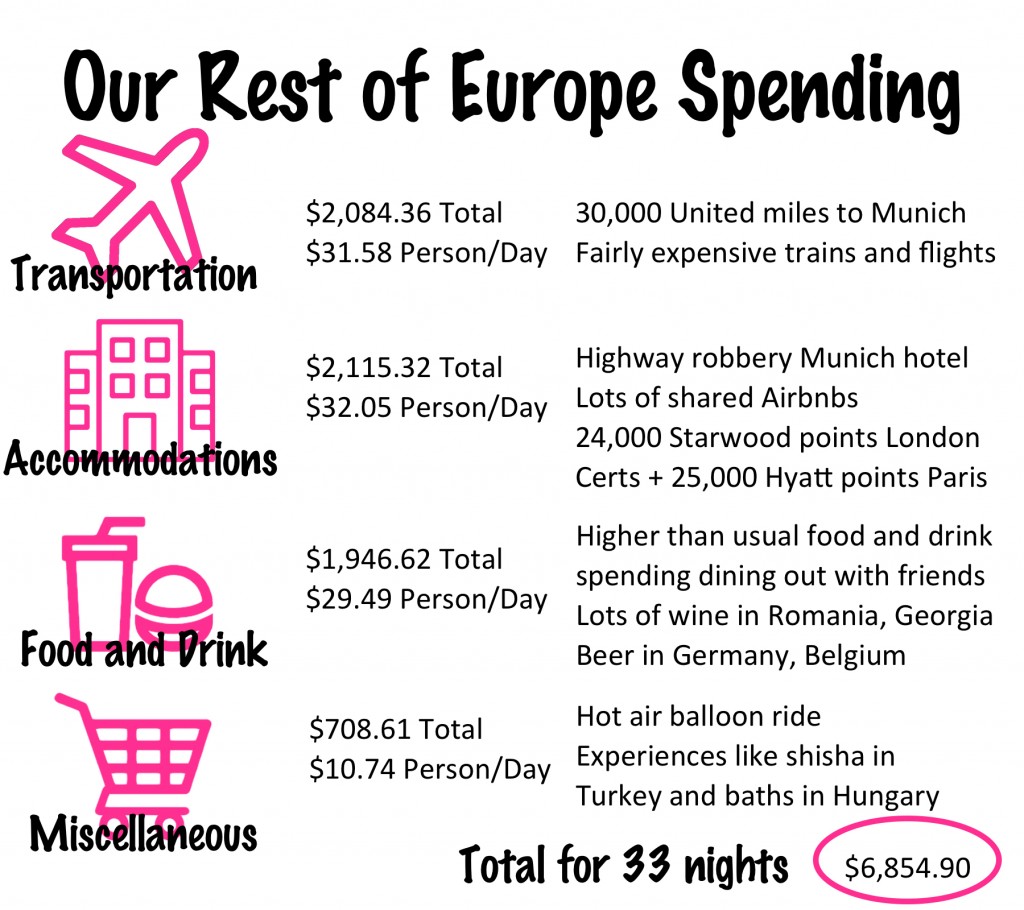 Transportation
With few train possibilities and only overnight buses as options, we had to rely mostly on flights in Hungary, Romania, Turkey, and Georgia. In Western Europe, trains were plentiful, but pricey (our train from Munich to Vienna was $50 each and the Eurostar from Brussels to London was $60 per person). We were only able to use miles for one flight; we spent 30,000 United miles to fly both of us from Split to Munich. Our car rentals were reasonable in Romania and steep in Georgia. Frequent moving around (we visited 15 different cities during this month-long stretch) and few miles options made for a much higher-than-average period of transportation spending.
Accommodations
We relied heavily on Airbnb to be able to stay with friends cheaply during this period. With the Oktoberfest group from Chicago, we were able to find some awesome multi-bedroom Airbnbs with large living spaces, kitchens, and even balconies. With Jen in Hungary, Romania, and Georgia, we witnessed the full spectrum—from modern and perfect to cheap but not so nice. Jen and I also found some cute budget hotels in Turkey, which were a highlight. With Katie and Jared in Bruges, we stayed in a historic old stone house. We were only able to stay on points twice during this stretch, but thankfully they saved us from paying out of pocket in the most expensive places. We maximized the value of our two free night certificates by staying at one of the nicest Park Hyatts in the world in Paris and paid for our third night by converting 25,000 Chase Ultimate Rewards points to Hyatt. We also found a very undervalued points option in London that allowed us to stay for two nights in an adorable luxury boutique hotel right next to King's Cross for 12,000 Starwood points a night.
Food and Drink
This was our highest weekly rate of food and drink spending yet. As I said before, this makes sense because we were in expensive areas and frequently dining out with friends. The conciliation prize, however, was an awesome month of German pretzels, Wiener Schnitzel, Hungarian, Romanian, and Georgia wine, Turkish kebabs, Parisian steak frites, Belgian chocolate and beer, and British fish and chips.
Miscellaneous
The most significant contributor to miscellaneous spending was the hot air balloon ride I took in Cappadocia, Turkey, which set us back $185. Jen and I opted for the provider with the best reputation (and therefore highest price tag), but we thought this wasn't a time to scrimp. The rest of the miscellaneous spending included our James Bond tickets, bike rentals, sightseeing fees, a hair cut, and some minimal shopping.
Highlights and Lowlights of the Rest of Europe
Favorite Dining Experience
Hers: All the Georgian food from the cheese bread to the unique lemonades to the great salads to the amazing wine
His: Only in Paris can you get the best ever duck confit for only 10 euros… so good we went back twice
Favorite Sightseeing Experience
Hers: Probably either hot air ballooning in Cappadocia or biking to the Netherlands
His: Obviously Bran Castle
Most Frustrating Travel Experience
Her: Underestimating London… we needed more of a plan (and more energy) to have seen the city right in two days
His: Our 4am flight from Tbilisi, laying over in Istanbul, then on to Paris with probably the worst group of passengers ever (one lady actually answered her phone mid flight and half the plane got up to take down their bags as soon as we touched down and were still taxing to the gate… that definitely wouldn't fly in 'Merica)