We thought Southeast Asia was going to be extremely cheap. I knew from my previous trip to the region that you can get a plate of pad thai for under $1 or a nice room in a guesthouse for under $30. But our RTW trip demands a fast pace of travel, and we found that visa fees and flights between neighboring countries can seriously add up. In some cases—like Sri Lanka, India, and Burma—the distance between our destinations and the lack of infrastructure amounted to high plane or train ticket costs. In other cases—like Thailand, Vietnam, and Cambodia—our bad luck for traveling during Tet and the Chinese New Year helped drive up the overall cost of visiting these places. We also ended this period with two weeks in the comparatively pricier locations of New Zealand and Australia. All of these factors contributed to the $1,256 weekly run rate for Southeast Asia and Oceania. But since this period lasted nearly 10 weeks, it pushed up our overall weekly spending average to $1,142.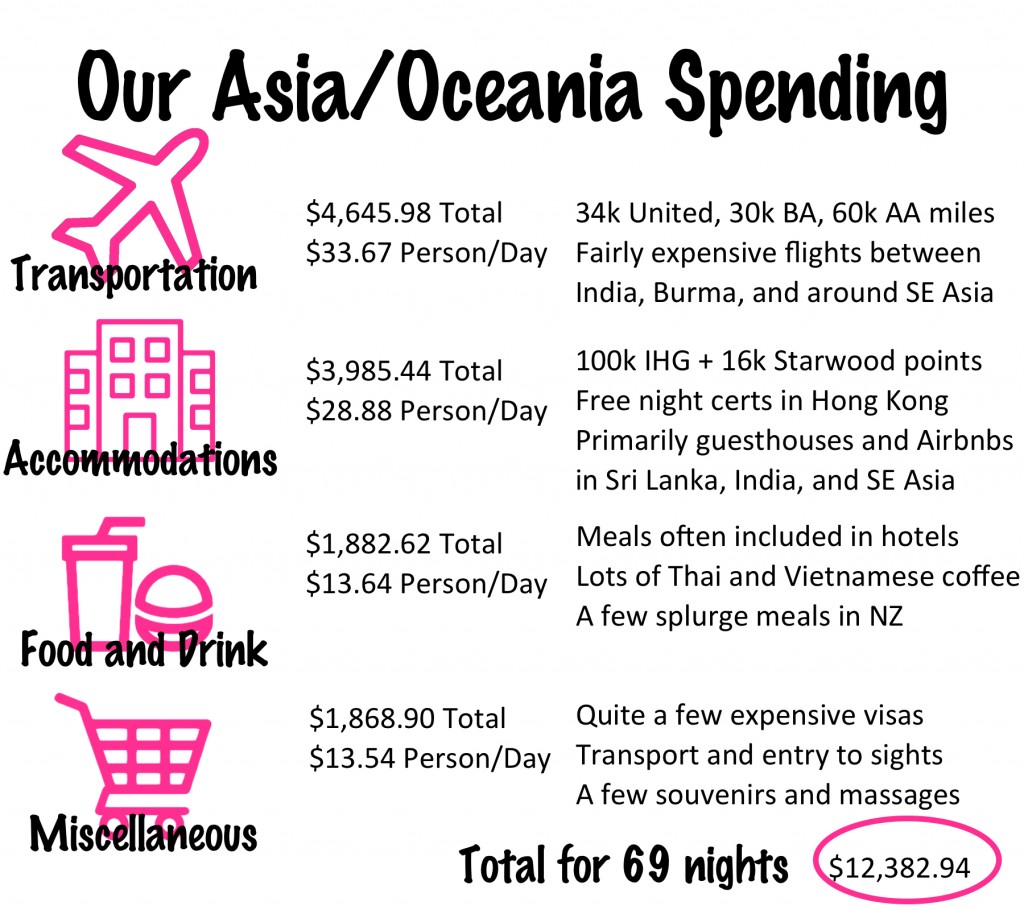 Transportation
We relied on miles for some of the lengthier legs—like from South Africa to Sri Lanka and from Manila to New Zealand—but the short-haul flights really added up in Southeast Asia. With its lack of infrastructure and demand exceeding supply, Burma was particularly a doozy; we spent over $1,000 getting into and around the country. Elsewhere, it was common for us to spend $150 to $200 each to get from one country to the next. This came as a shock to us (and the holiday season was partially to blame) as we had been expecting dirt-cheap Air Asia flights. Our decision to fly to El Nido, which set us back $270 a person, and a $150 a-pop ticket from New Zealand to Australia further contributed to our hefty transportation spending in Asia and Oceania.
Accommodations
Our accommodations were all across the board on this leg of the trip. In Sri Lanka, we typically stayed in Airbnbs for less than $25 a night. Elsewhere in Southeast Asia, where the "Banana Pancake Trail" is well trodden, guesthouses are usually cheaper and nicer than what you can find on Airbnb or traditional hotels. And, of course, who could forget about our most luxurious stretch of the trip yet in Hong Kong (though our out-of-pocket costs were almost nil). On the other hand, our campervan in New Zealand was beloved, but it didn't come cheap. And a private room in someone's home in Sydney still costs around $90 a night. From Airbnbs to guesthouses to luxury hotels to campervans, Asia and Oceania certainly saw us stay in the full spectrum of lodging options. All we were missing was a tree house. We'll see what we can do about that in South America.
Food and Drink
In a period of high spending, food and drink stood alone on the cheap end of the spectrum. We spent under $14 a day each on food, yet had some of our most memorable meals of the trip during this stretch. I particularly remember the lassis in India, the green curry in Thailand, iced coffee in Vietnam, and avocado smoothies in Burma. Although we selectively splurged in New Zealand, our rack of lamb and Bluff Oysters didn't move the overall needle too much against us.
Miscellaneous
Visas were a major contributor to our miscellaneous spending this period. Most notably, India charges $60 for a visa and Burma charges $50 (and then they hit you up for another $20 when you enter Bagan). Elsewhere, like in Sri Lanka, Cambodia, Vietnam, and Australia, $20 or $30 a pop also added up. Also included in this category are entrance fees and costs associated with our visits to landmark sights like the Taj Mahal, Sigiriya Rock, Bagan, Angkor Wat, and Milford Sound.
Highlights and Lowlights from Asia and Oceania
Favorite Dining Experience
Hers: Eating authentic curries and lassis in India and mango sticky rice and iced coffee in Thailand
His: Fergburger in Queenstown… the best burger I've ever had
Favorite Sightseeing Experience
Hers: Seeing the beauty of New Zealand again… this time with our own home on wheels
His: The day we kayaked ourselves across the open water surrounding the Philippines to a deserted beach
Most Frustrating Travel Experience
Her: Dodging both cows and cow piles alike in Varanasi
His: All transportation in India. Blanket statement. Taxis, trains, planes, subways…